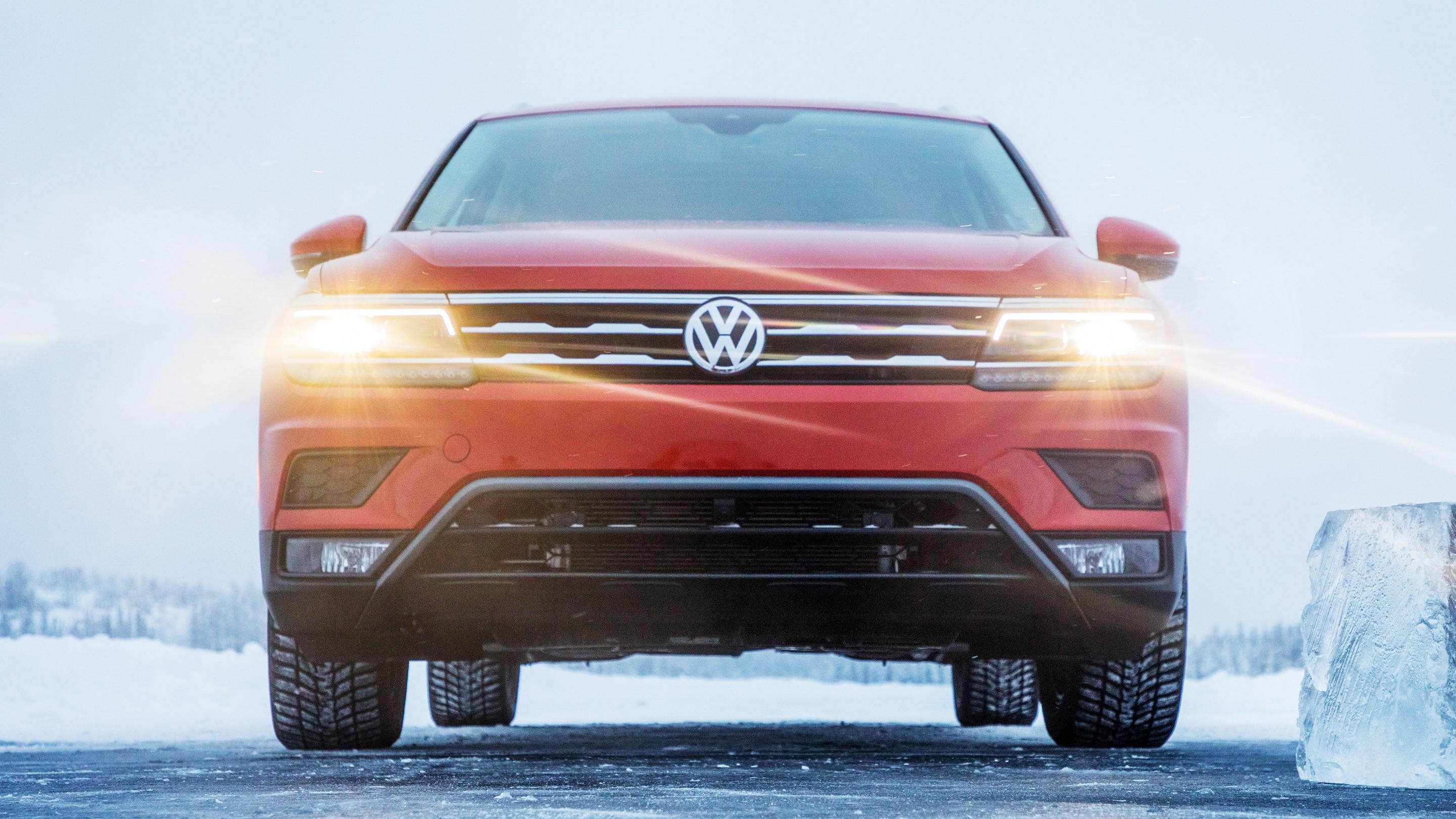 On the Ice Road: Man Meets Machine in the Frozen Heart of Northern Canada
Written by Marcus Amick

Published on

January 09, 2018
Roughly 250 miles south of the Arctic Circle lies one of North America's hidden gems, where some of the greatest beauties and dangers of nature shape the wild landscape.
It's an area located on the northern shore of Great Slave Lake and anchored by a city named Yellowknife, the capital of Canada's Northwest Territories (NWT), which is known as much for its stunning views of the Northern Lights and prized Polar Bear diamonds as it is for the fearless truckers who travel the icy roads, hauling supplies to and from the hard-to-reach areas where the precious stones are mined. The mineral-rich area has long been fertile grounds for testing the endurance of both humans and machines, dating back to the late 1930s when bulldozer-drawn sleigh vehicles called cat trains were used to transport equipment to gold mines in the area.
These days, people manage to traverse the ice—which blankets the region's lakes and rivers from October to as late as June—with everything from traditional vehicles and snowmobiles to some rather odd-looking motorized contraptions called Bombardiers.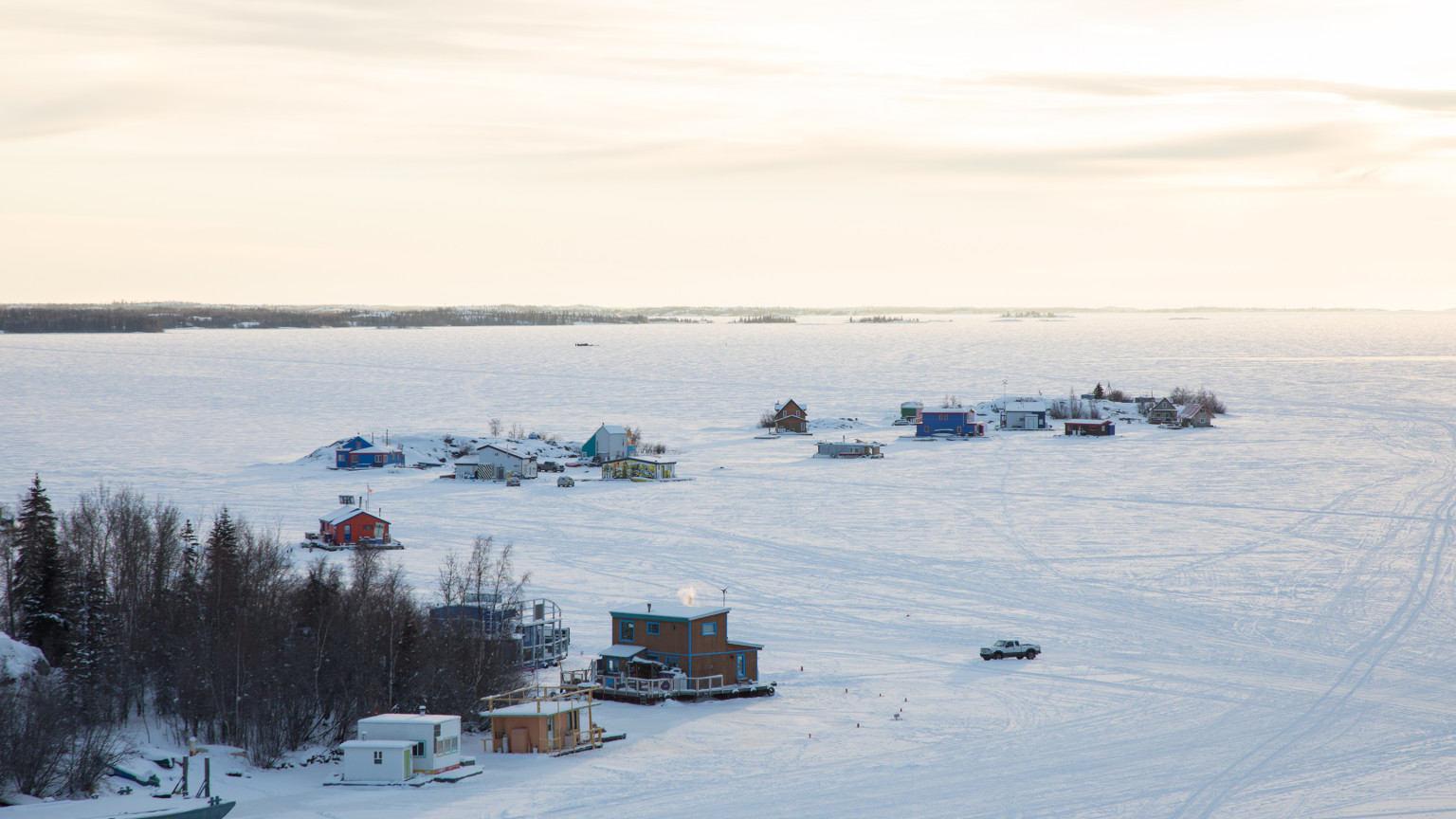 For the 20,000 residents of Yellowknife, which includes direct descendants of NWT's aboriginal Dene and Inuit peoples, navigating the icy, snow-covered terrain has become a normal way of life. But for outsiders, it looks not unlike Hoth, the barren ice planet in
The Empire Strikes Back
. And it doesn't take long when exploring the depths of Yellowknife to realize that the dangers associated with the area's frozen waters are all too real. It's a reality that Alex Debogorski knows well. A semi driver and one of the original stars of Discovery Channel's hit show
Ice Road Truckers
, he has logged more than 300,000 miles across the Northwest Territories' frozen lakes and rivers, delivering supplies.
"When a truck goes through the ice, it'll tend to hang up, meaning a wheel will go through or a couple of wheels will go through and the truck will sit there. The truck will usually give you time to get out before it settles some more and goes through [the ice], whereas heavy equipment is more compact—a Cat[erpillar] or a grader or a loader. So, when the ices breaks, they tend to just drop," Debogorski tells Playboy during a recent Volkswagen-sponsored excursion to Yellowkinfe, which derives its name from copper tools used traditionally by the Dene.
Debogorski says that while he's been fortunate enough to never have a truck break through the ice, beneath which the water can go 130 feet deep on the frequently used Dettah Ice Road, he knows of a few drivers who haven't been as lucky.
Mikey McBryan, general manager of Buffalo Airways, a freight company that uses World War II planes to ship cargo to many of the hard to reach communities in the area, says the mere location of Yellowknife poses a few unique challenges when it comes to transportation.
"Yellowknife is the last city in Canada that has a road," explains the NWT native. "Sometimes…there's no ice or the ice is too thin to drive on. Everything up here isn't paved, it's like a gravel road. Modern aircraft isn't designed to land on gravel. These [World War II-era] airplanes were built before runways, before infrastructure, so they're actually designed to do the job."
McBryan says landing an aircraft on ice presents an entirely different set of problems. "The main dynamic of operating airplanes on ice is that the runway moves, it breathes," he tells* Playboy*. "And when you are landing up to a 100,000 pounds, going 100 or something knots, you're causing waves. Ice usually only last about three months, where you can land massive airplanes on it. Once the ice runways are built, it's a race against time."
For the ice trucker, a timing factor of a different nature can become an issue for drivers, who are often restricted to speeds of 15 mph on their runs during March, the primary month for heavy hauls across the frozen NWT. A slower pace on the ice, which needs to be at least 40 inches thick for lighter loads, can yield benefits as well, by providing a driver with more reaction in the event their truck does break through the ice and they have to quickly exit the cab.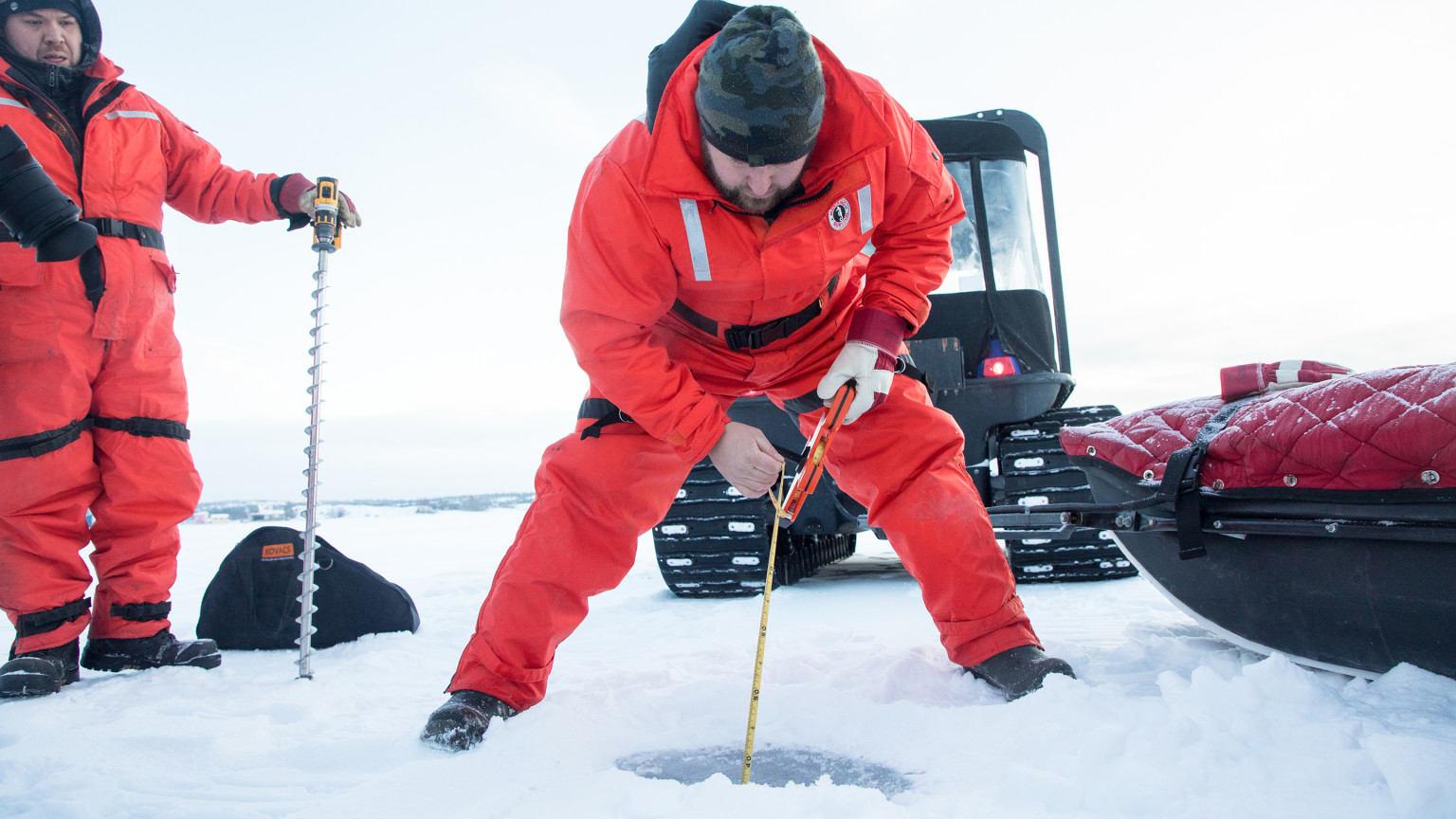 Of course, truck drivers and pilots carrying cargo aren't the only ones who can suddenly find themselves dealing with the eminent dangers of the Northwest Territories' ice-covered waters. The area's numerous frozen lakes and rivers are a threat to the more casual commuter as well, whether it's a snowmobiler who mistakes the thickness of the ice in a certain area, or someone who has simply chosen to ignore the warning signs that indicate when the ice is too thin to cross. Adam Woogh, a member of Arctic Response Canada LTD, an arctic survival training outfit, says respecting and understanding ice is a basic tool of survival in Yellowknife. "If you're on a river with currents, you could be dead within seconds," he tells
Playboy
. "Going through on a lake, the swim failure can settle in within ten minutes. People will drown very easy—or if you're not able to get yourself out, hyperthermia can settle within an hour or two and that can kill you."
In recent years, a noticeable shift in the physical structure and consistency of the area's ice formations have created challenges as well, requiring road crews to use more high-tech methods, including ground penetrating radar, to measure the thickness of the ice. Shawn Buckley, a Dene descendent and lifelong NWT fisherman, says he's been noticing a change in the ice for nearly a decade. "Conditions of the ice during the winter are sketchy these last ten years. Back in the day, [ice] fishing in winter…was quite thick, up to six feet. Now, 4.5 feet," says Buckley, who also operates a Great Slave Lake tour company.
But since most of us aren't semi truck drivers, our hosts from Volkswagen point out that the VW Tiguan SUV has been engineered to meet the sub-below temperatures that grip the area nearly six months out of the year. It's the kind of thing that gives you an entirely new appreciation for features like the Tiguan's 4Motion all-wheel-drive system's Snow Mode as well as the SUV's heated seats, especially when standing on a frozen lake, amid toe-numbing temperatures of minus 22 degrees Fahrenheit.
Jeff Ng, VW's product manager for Tiguan, says there is a lot that goes into designing any VW vehicle to be able to withstand those kind of conditions long-term.
"The Tiguan went through the normal vehicle development process that all VW vehicles do which includes extreme weather testing in real world conditions from negative 40 to 150 degrees Fahrenheit in locations around the globe," explains Ng. "The Tiguan endured many months of these testing conditions, checking every system for performance, reliability and durability. The goal is to find failures in these conditions, develop solutions to prevent the failures, and make the vehicle perform as a customer would expect. The testing is very meticulous and includes everything from batteries, fluids, hoses, electronics, to heated seats and heated washer nozzles."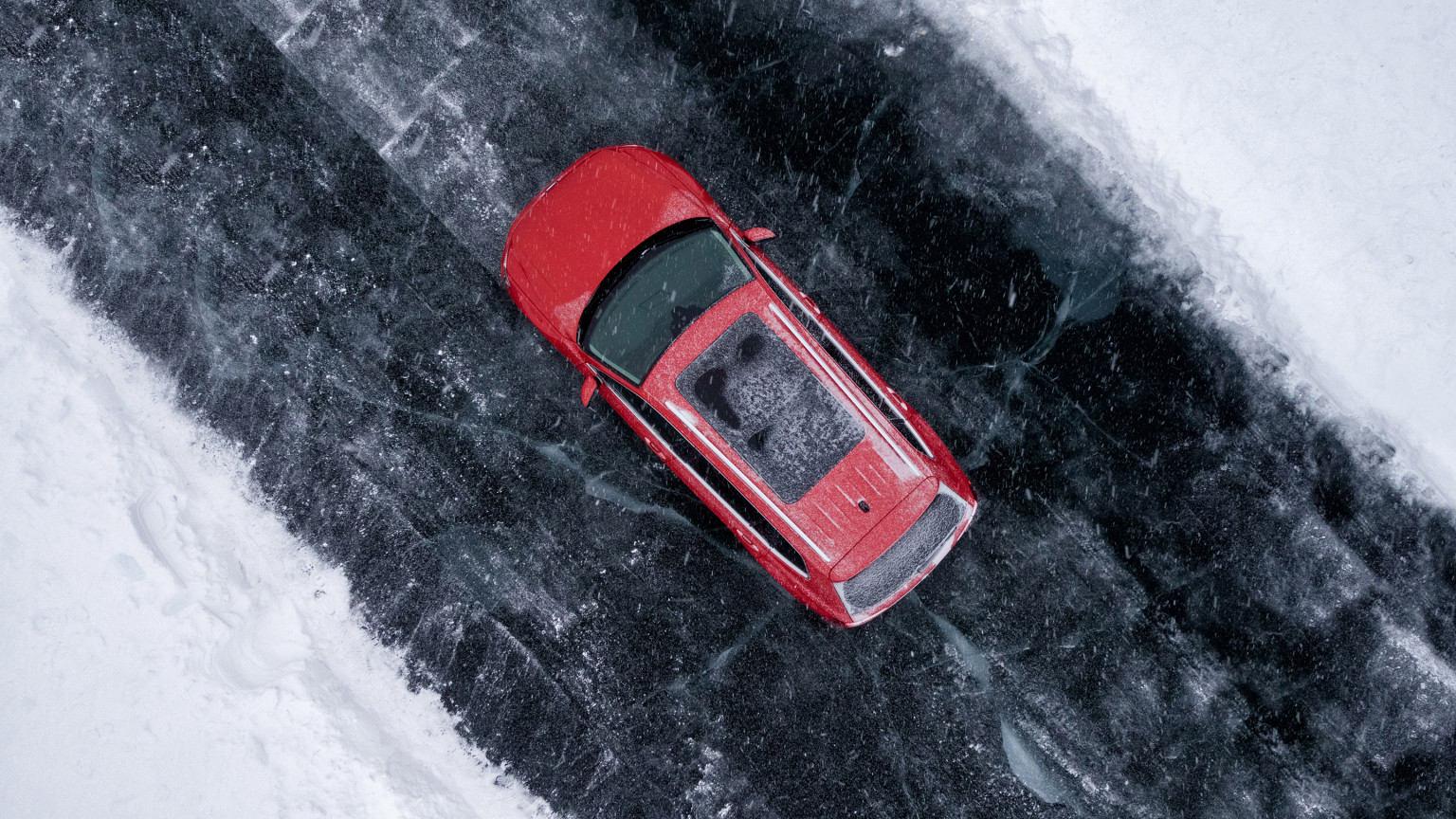 The Tiguan product manager says vehicle dynamic features like the SUV's 4Motion system, traction control, suspension and brakes, also go through strenuous weather and temperature testing. Dr. Kate Breen, a Yellowknife physician who specializes in cold weather-related health issues, says the biggest factors for long-term human endurance in the Northwest Territories, comes down to proper clothing and communication.
"My advice for patients that I see, who I know go out hunting, buy a snow machine or go out for multi-day ski trips, is to make sure they have their spot device, DeLorme InReach or a sat phone to stay in touch, because a common thing that we see is where someone gets lost, they're out on the land and it becomes a search and rescue kind of evacuation," explains Dr. Breen. "My other basic advice is to just learn the physiology around cold weather clothing, proper layering and having a base layer that's going to help keep moisture away from the body."
Our daily outings with Volkswagen required us piling on more than 30 pounds of protective weather gear every morning to battle the frigid temperatures, a routine that's commonplace for most who live in Yellowknife. And yet, even with the bone-chilling temperatures, there's something very captivating about the area that extends well beyond the excitement of seeing the Northern Lights stream across the sky, all of which makes the cold weather in NWT well worth enduring.
Rosie Strong, one of our group's personal tour guides for our VW ice excursion, who moved to Yellowknife in 1990 from Winnipeg, says it's the people that make Yellowknife special. "You form really intense friendships here," says the NWT historian. "This is your chosen family, and it's people from all over the world."