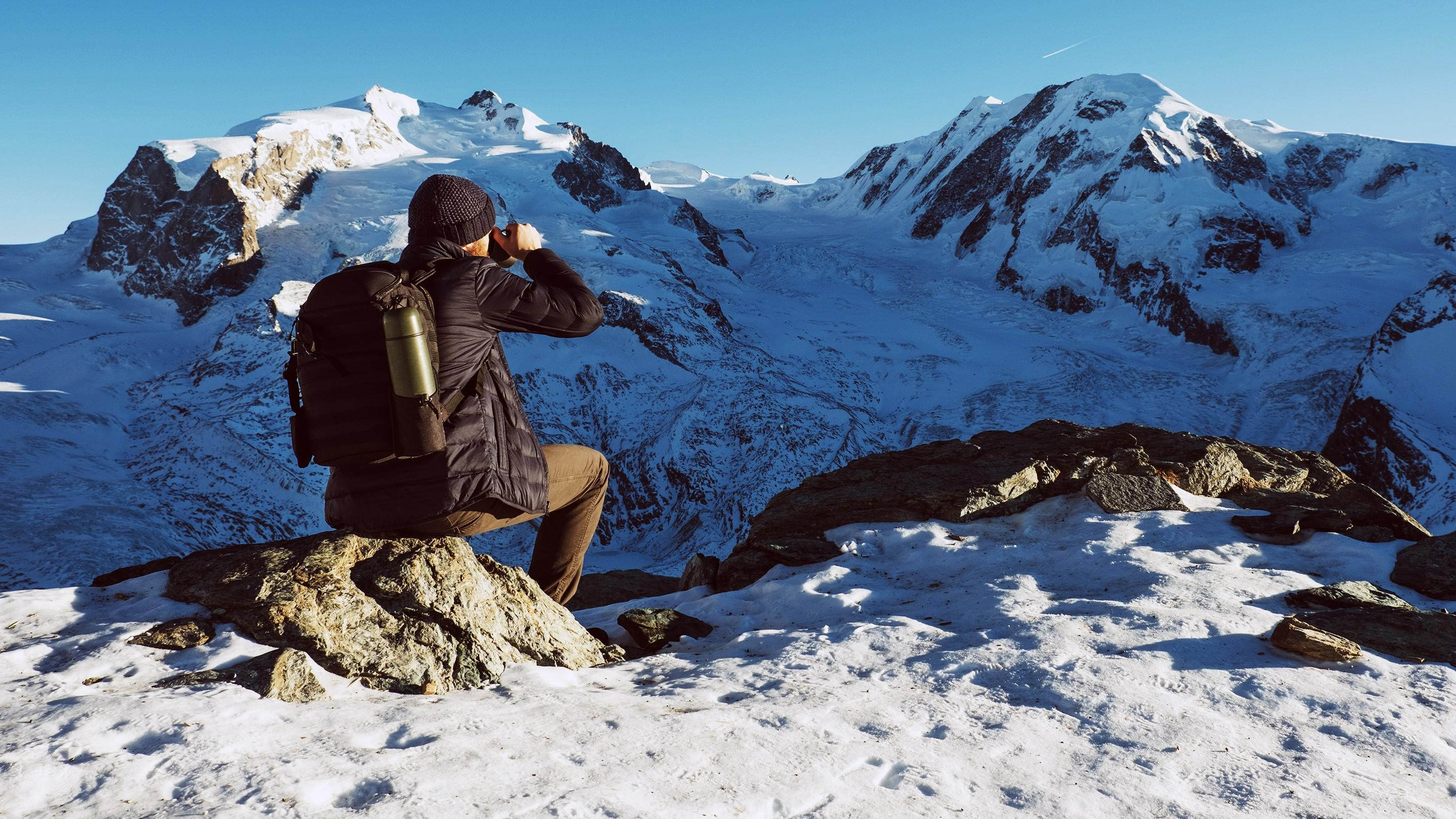 Orgasmic Gastronomy Awaits in Arosa, Switzerland
Written by Tiffany Leigh

Published on

March 27, 2018
In the land of crisp mountain air and evergreen woodlands, the alpine ski village of Arosa, Switzerland is a pleasure pocket you can literally drink up. Top shelf tastes need only apply to the Swiss lifestyle; orgasmic gastronomy has opened the floodgates to newfound drink dynamism. Libations found here were once steeped in simplicity and tradition, but in the last 5 years, there's been a noticeable change. Although you won't see flashy smoke and mirror elements (typically found in big neighboring cities of Davos and Zurich), what you will taste is the surge of innovation and distinct flavor profiles that can't be found anywhere else.

About a 2-and-a-half hour drive or train ride southeast of Zürich, Arosa is situated in Schanfigg Valley and hugged by a towering range of snow-capped mountains. Historically, those addled with bronchial ailments in the 1800s would flock to Berghilf Sanatorium in the summer for the clean, refreshing air. As more people began to descend upon this tiny hamlet, in the winter of 1929, the Sanitorium transformed into the Tschuggen Grand Hotel for ski enthusiasts and ignited a spark; the region developed a reputation for winter activities in pristine surroundings. Today, hundreds of thousands visit the tiny village whose permanent inhabitants consist of a mere 2,500 people.
From fresh air to liquid refreshment, hallmark fare such as swiss fondue and grilled schublig is bolstered with bold cocktails. Whether you're team highbrow apéritif or more apt to party and toast to après-ski culture, there's a spectrum of sips here to whet your whistle.
---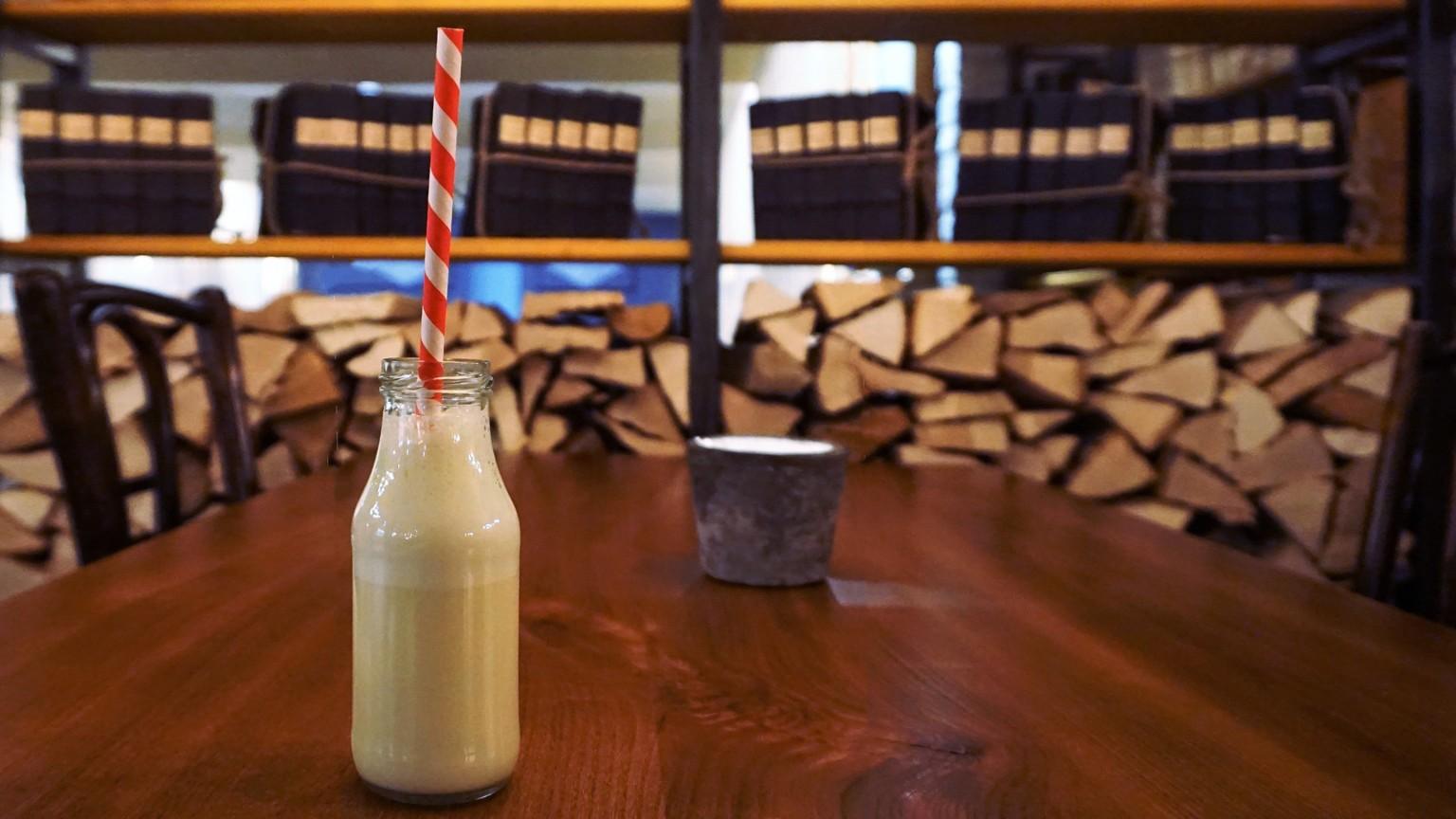 Tucked inside the Tschuggen Grand Hotel, The Basement is a welcome contrast to the grandiose, old-world allure of this property. Just shy of 2 years old, the restaurant concept is a youthful option to the upscale dining choices at the luxury hotel. The Basement serves fine fast food (think burgers, fried chicken, and hot dogs but with a Swiss twist) and is outfitted like a cozy cabin that just so happens to have a bowling alley. The drinks only further its playfulness: the restaurant's bar serves a signature Basement Milk 2.0. Crafted by Anya Schmertosch, drawing inspiration from the classic glass milk bottle design the drink is served in. For those who can remember a time of milkman deliveries, the cocktail is nostalgia in a bottle—but flavors here are definitely rooted in the adult variety. The cold beverage is a sweet but balanced with a heady melange of brandy, homemade hazelnut liqueur, vanilla, apple, along with the tang of orange and pineapple juices; all that's missing are the cookies to go with this glorified milk sip.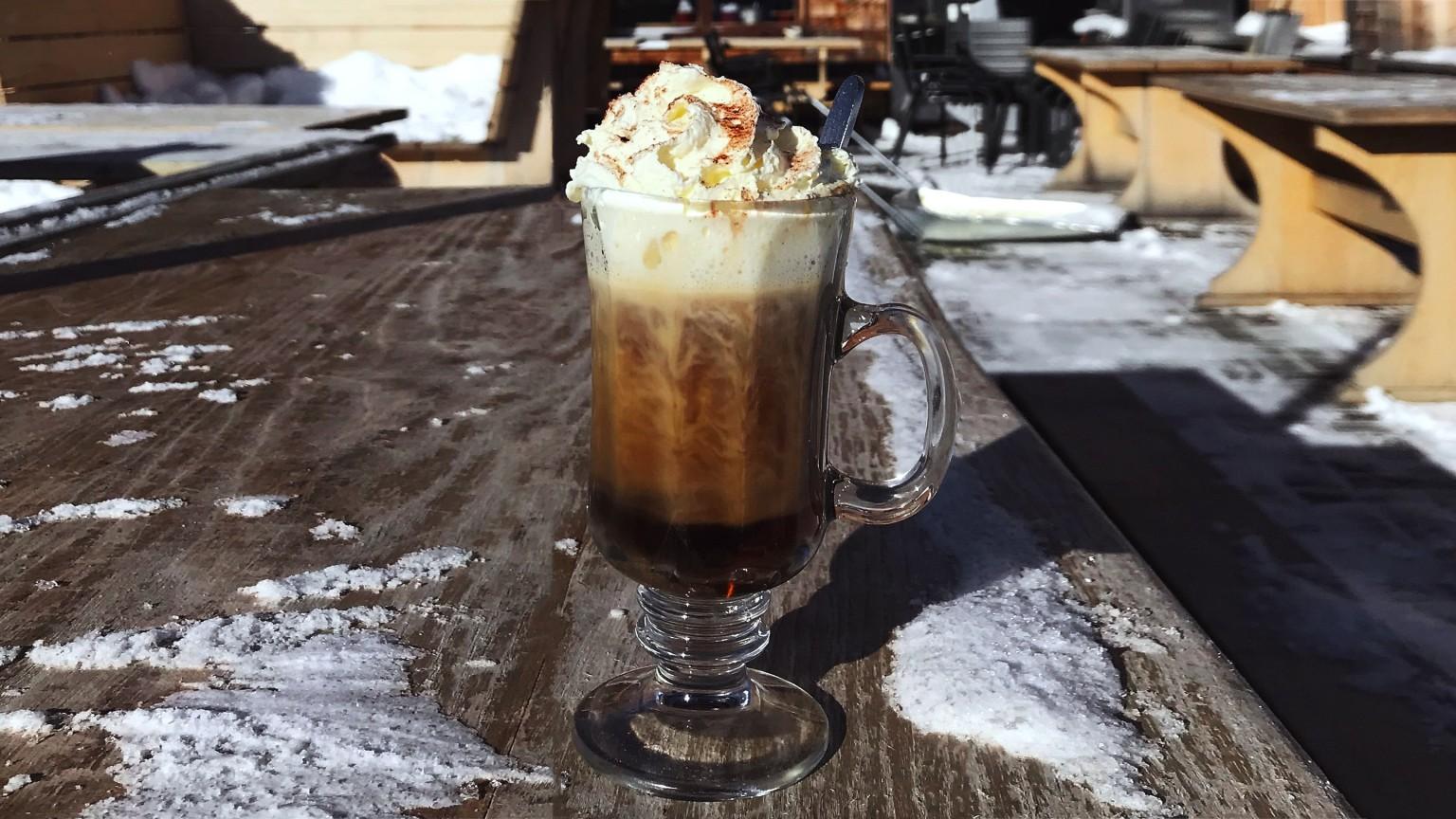 Since 1923, this hut has provided food, accommodation, and all-around a welcome respite from the summer hiking heat to the frosty alpine slopes. Hörnlihutte is situated on the highest point of Hornligrat, a mountain ridge and crossing path between the Hörnli and Tschirpen mountains. It feels like you're floating in the clouds; you're enveloped in mountain peaks and azure skies. Many ravenous skiers carve out their own nook on the outdoor patio or inside the restaurant. Smells inside dominate; they're of funktacular gooey cheese fondue and roasted bacon from legendary Alpine Rösti. With ample amounts of sustenance, it's best to wash it down with a winter warmer aimed to jolt your senses awake and loosen up muscles in preparation for round two in the mountains. The famous Hörnli Cafe mit eingelegter zwetschge aka Schümli Pflümli is the item to order. Think of it as Irish Coffee's cousin and it sees the use of local plum schnapps, water, coffee, sugar in the mix along with a pickled plum nugget at the bottom; topped with fresh whipped cream, the steamy mug is a like a warm embrace from your lover. The kicker here is the tangy twang from the plum—it's a bit of an eyebrow raiser at first but by the second sip, you're hooked.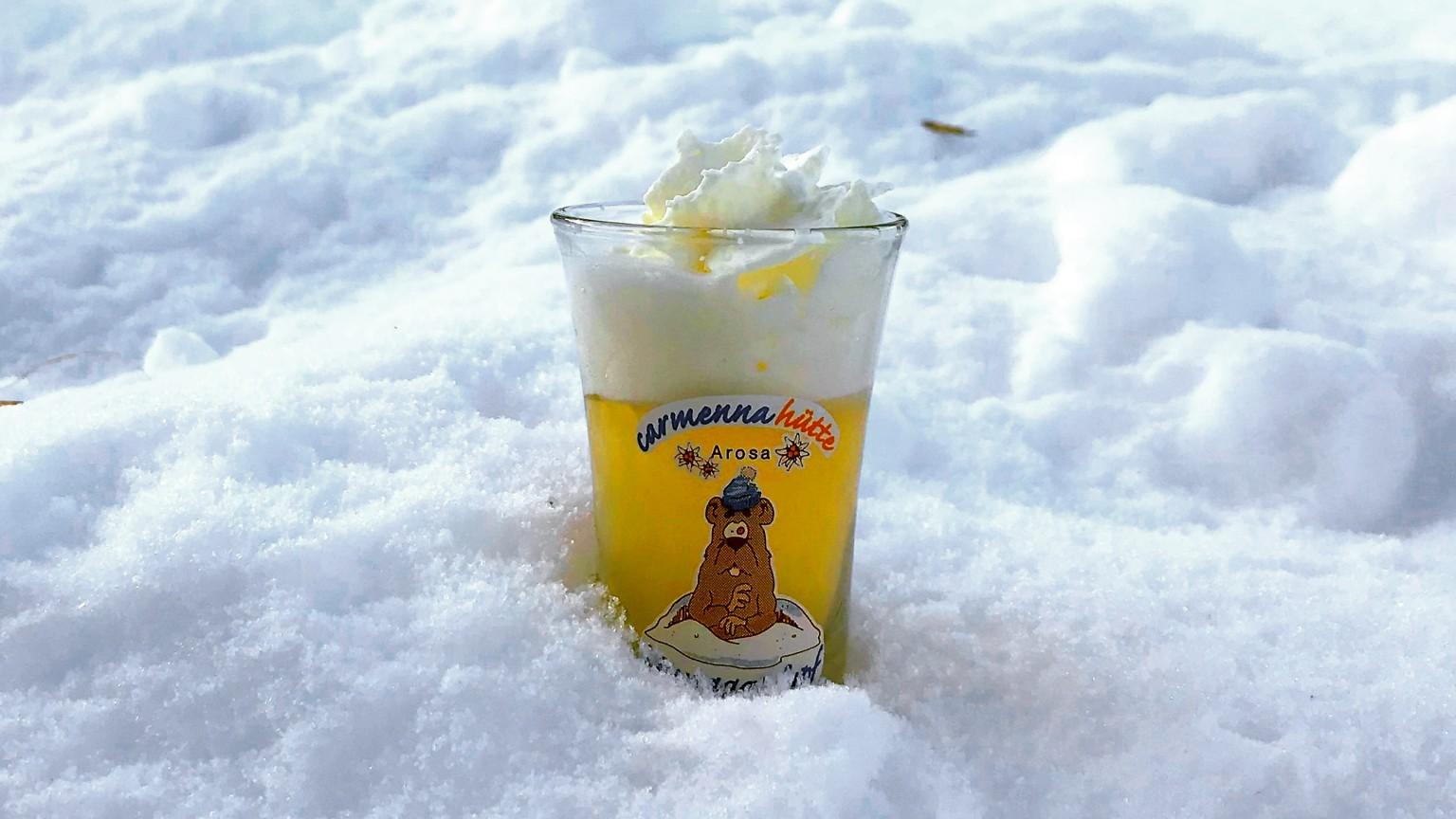 Nestled in the heart of Hörnli mountain, Carmenna Hütte is located on the ski trail nearest to Weisshorn peak. 2,134 metres above sea level, this spot is referred to as the party and pleasure hut; and undoubtedly, it sets visitors up for a celebration of Munggapfupf proportions. Owned by Tschamp Patigler, for 16 years, this tall wooden outpost stands out against a backdrop of white mountains and piercing blue skies.
The famous (or, perhaps, infamous) drink offered here is a "greyhound quickie" called Munggapfupf. The recipe is top secret but what we could glean from Patigler is that it is a special brew that steeps milk, mountain flowers, pure alcohol and caramel together. Similar to a hot toddy, the drink is heated, poured into a shot glass and topped with fresh whipped cream. What you're supposed to do next is tap the glass and let the cream mingle with the home brewed hootch, toast and down it in one go. While it may or may not smoothen out your ski turns is quite another matter: Patigler does joke that it clears your sinuses; and why wouldn't it, each shot contains 20 prcent alcohol. The taste will appeal to those with a sweet tooth—a taste that can be compared to Cadbury Caramilk bar in liquid form.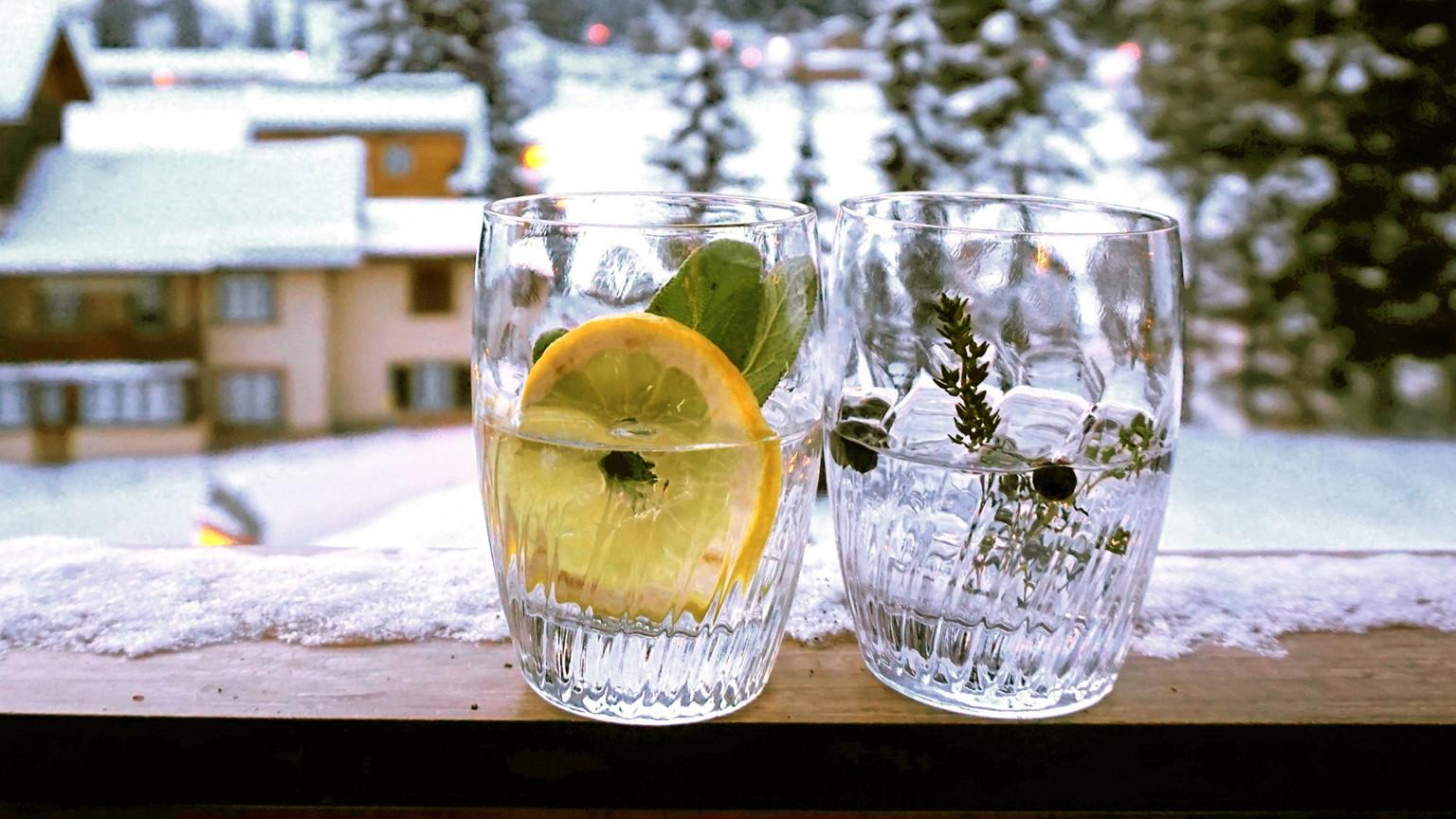 Twist Bar
Located inside the brand new Valsana Hotel—luxurious digs powered by eco-friendly forces via an "ice battery"—the bar is a testament to the intermingling of worlds. Unstuffy and welcoming, it's a contemporary look and feel with Swiss chalet hallmarks: a panoramic mountainscape, dense spruce forest, and situated near a glittering lake. It's located in the "living room", where the main floor spills into the lounge and dining areas.

The drinks menu is concise where straightforward recipes feature local, premium ingredients, like Swiss Mountain Tonic or The Wild Alps William Morris (a small batch producer located in Balgach, two hours north of Arosa). The latter is based on a classic London Dry Gin recipe; it's creamy and smooth on the tongue, with a hit of piney juniper, herbs and citrus finish. Breilpur Gin is another local darling; the gin is infused with nearby juniper berries, rhododendron and mint on top of a bright citrus bouquet of orange and lemon. Whatever you opt for, it's all an alpine adventure in a glass.