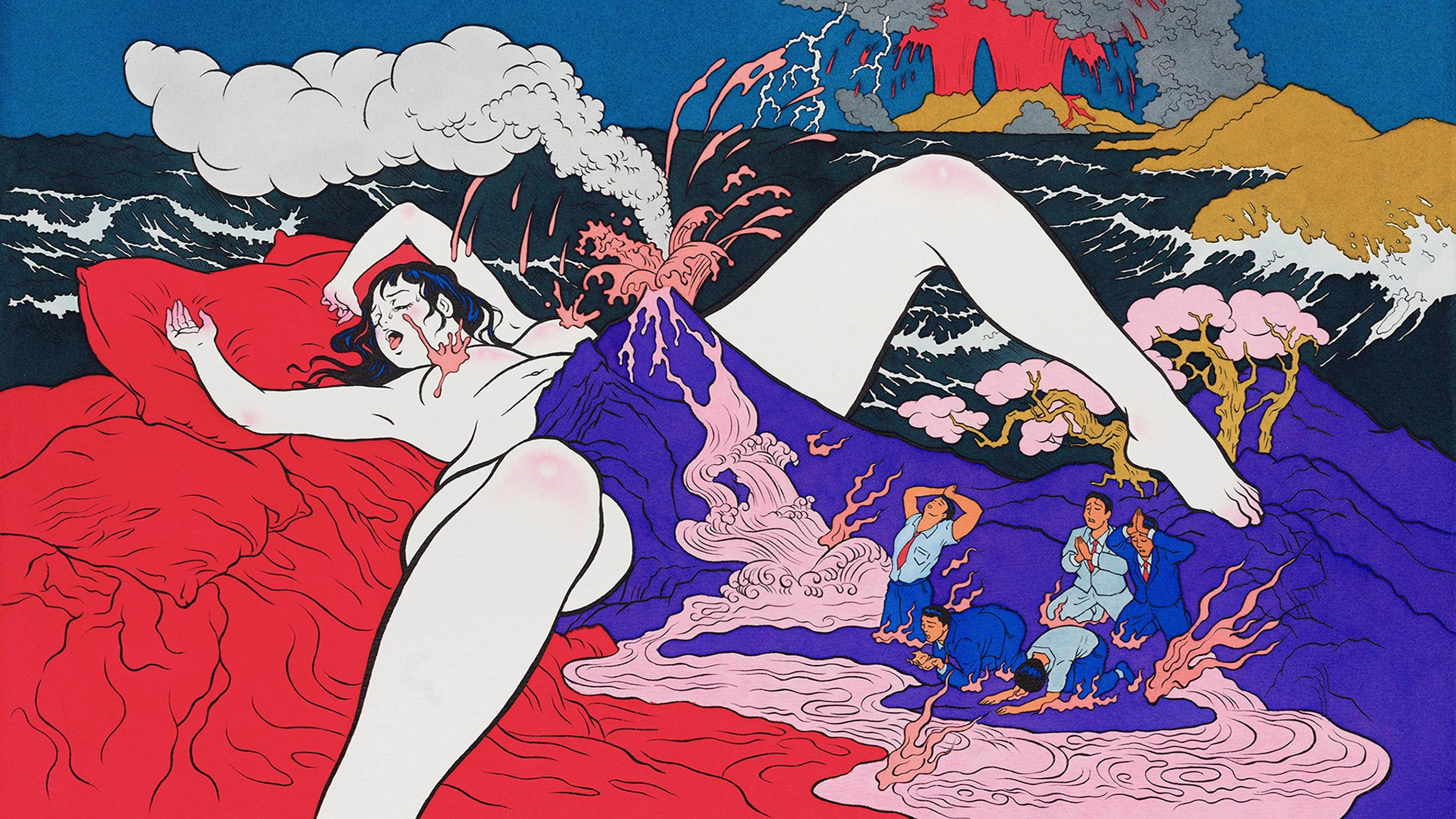 Manga is Reinvented in Pigo Lin's World of Fantastical Women
Written by Alexandra Pereira

Published on

April 23, 2018
A hundred small clocks are ticking and the monotonous day of one young watchmaker in Taipei City, Taiwan is about to turn into a technicolor night. As he locks up, the inner recesses of his imagination begin to unlock as he steps into a bustling city of creativity, precision, commerce and industry. Toys upon toys.

After a full day surrounded by the cacophony of ticking hands and tiny machinery, in his small and understated studio in the city, Pigo Lin is ready to relinquish some control, to put some distance between the routine and order of the daylight hours. Like so many of us, whose dull Tuesdays and Thursdays give way to rebellious late night adventures, he's a nightcrawler—or rather, a night drawer.
Lin arrives at the door of his home, where he lives alone. He thinks of the ladies who lie in waiting, ready to spend the evening ahead with him. Some of them don't exist yet, but that won't stop them from engulfing and swallowing by the night's end. Devoured by sexual prowess and appetite, Lin lets his ladies consume him when he step inside his single room. Scores of vivid erotic illustrations fill his apartment; some generated on screens, some hand drawn and reminiscent of Japanese master creator, Hokusai—if he painted
The Great Wave off Kanagawa
with a busty, ravenous mer-woman crashing on to the waves. "I think the ocean combines beauty, power and danger. I always use the ocean to represent woman." He goes on, "Guillermo del Toro said 'Everyone that is dreaming of using fantasy to tell the stories about things that are real in the world today, you can do it.'" Fleshy, bright and hyper-sexualized, the women of Lin's work dive in and out of the East China Sea, sometimes part fish, into private spaces with voyeurs filming on smartphones The images are as boldly erotic as they are ambiguous, portraying the female form as cartoonish, with unrealistic proportions in various states of ecstasy and delight.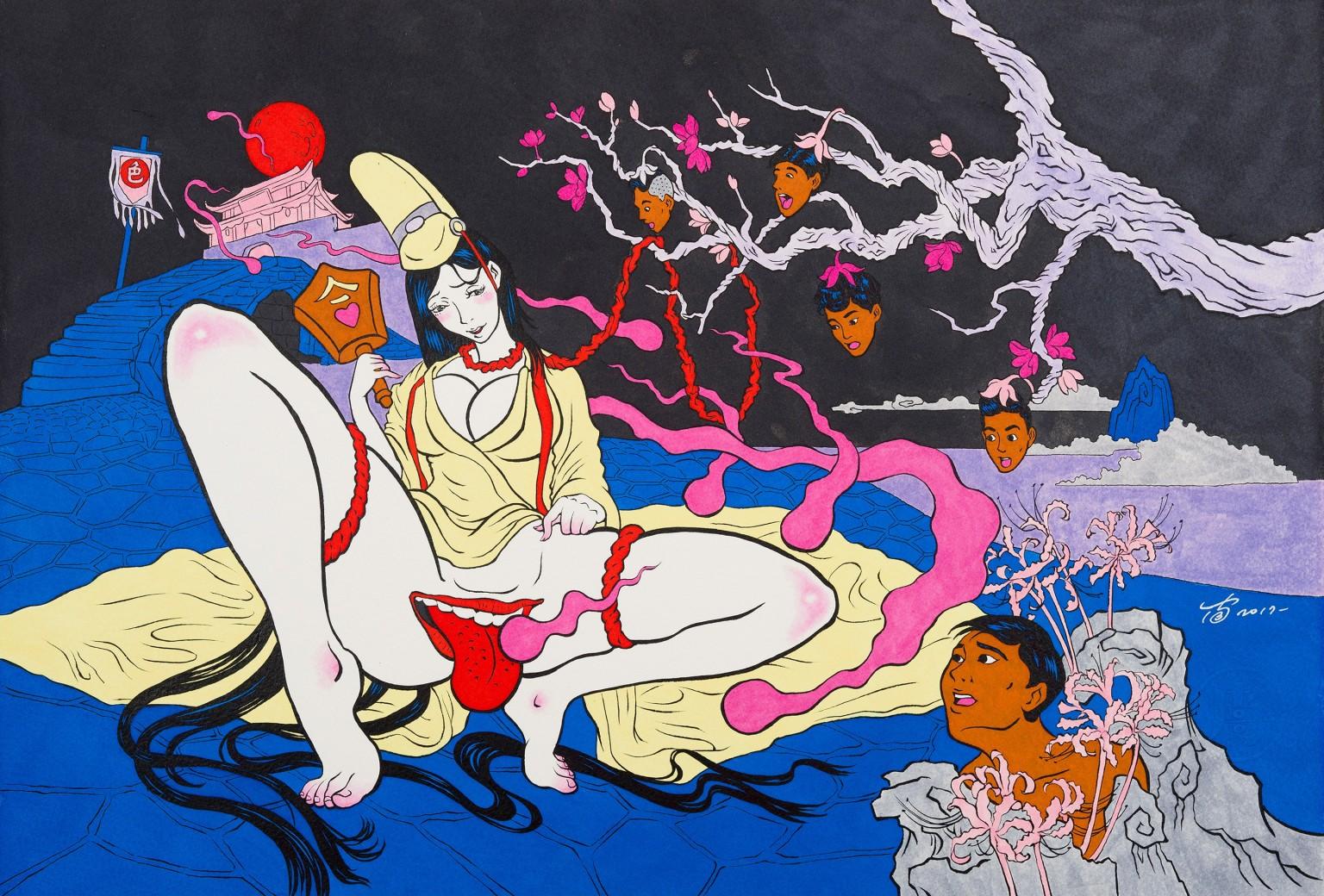 The boundaries between daydreams and reality are blurred for this Taiwanese watch designer-cum-artist. And with nocturnal urges that are explicitly, unapologetically sexual, his ever-growing
online
fanbase confirms that he's not alone. Lin notes that his erotic expression is an almost classic trope of a repressed unmarried Asian man, stifling the desires Western society has more readily accepted and encouraged. It's a place where lust is trapped in the proverbial boxes of love hotels, brothels, used-panty vending machines and strangely baby-like manga and fetish spaces all behind closed doors.
Lin wants his art to play any role in a potential break from censorship. "Sex is normal and healthy. Sex positivity means a lot to me," he says. The mere existence of his Instagram is an act of protest in itself. While his daily life in Taipei is inhibited, the world he creates is gutsy, hungry, vampiric without the gothic. Like a fairytale—with gargantuan figures enveloping or sucking up others with tentacles, vaginas, liquid mouths—the former children's book illustrator unabashedly portrays scenes such as a couple having sex on top of a fountain of menstrual blood and a young woman reclining to show an old man her everything. He is dramatic, a carefully edited and presented character of himself, maybe, that embraces perversion as a normality.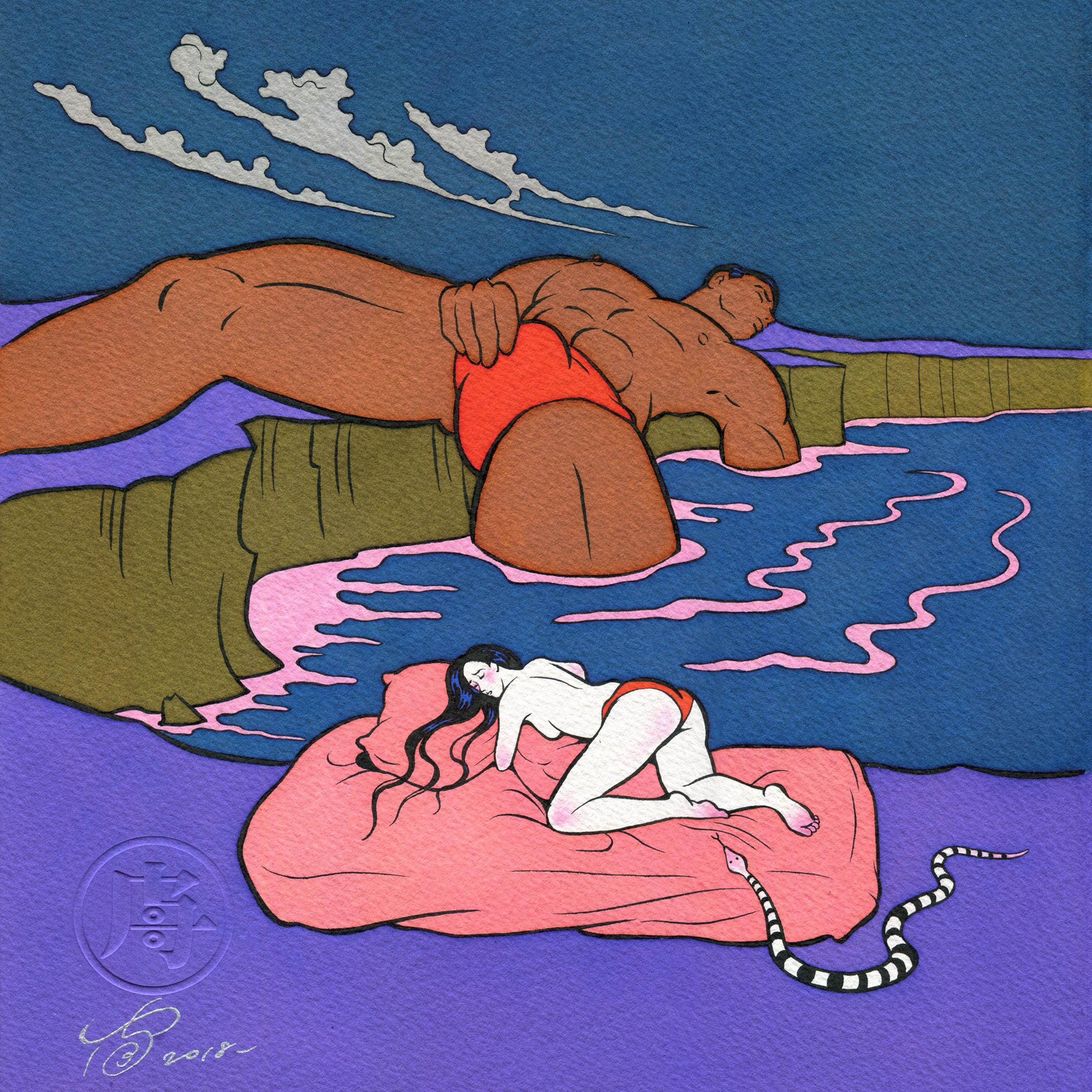 At the same time as Lin admits that he would love to see his fantasies comes to life, he argues that the impossibility of these creatures and scenarios is what garners so much attention. "The ideas come from real life. But it's fantasy that is full of intrigue," he details. His treatment of the female being is complex—all at once baffling, empowering, disconcerting and eye-popping. A lot of the women in Lin's illustrations display signs —some blatant, others more subtle—that they've been submissive or participatory in rough sex that includes ropes, blood, burns and bandages on knees. When asked about the little, bruised details, the artist stresses they too have a higher meaning. Actually in Lin's universe, abrasions are a sign of sovereignty. "I think 'soft' gives way to flexible, tenacity, power," he says.
In Taiwan, it is true that women rule. And men are beginning to appreciate their power, fantasizing over them, because the female form is becoming fewer and farther between. The Taiwanese male population by far outweighs the female and, according to
demographers
, there will be a jaw-dropping 500,000 more marriage-age men than women by 2020. Lin's Border of Skirt—like many of his voyeuristic, burlesque-like themes—is meant to remind viewers how we all picture each other naked, some more than others. Whereas his Gulliver-esque, Murakami-referencing piece, Kafta on the Shore, showcases a sexualized male at the center. "Today is a world of pluralism. I think unconventional and conventional art are equally important. I think erotica can exist in a variety of modes," he elaborates on his use of male and female figures.
As for his inspiration? Without hesitation, Lin points to Manga, Toshio Saeki, Suemiro Maruo, Renee Zellweger and Scarlett Johansson. As for fantastical muses, there is only one: Motoko Kusanagi from Ghost in the Shell (yes, played by Johansson). "Real life and fictional females nourish my life," he enthuses before quickly insisting that when it comes to consent, both in make-believe and reality, "'respect'" is the keyword. I try to always apply that."