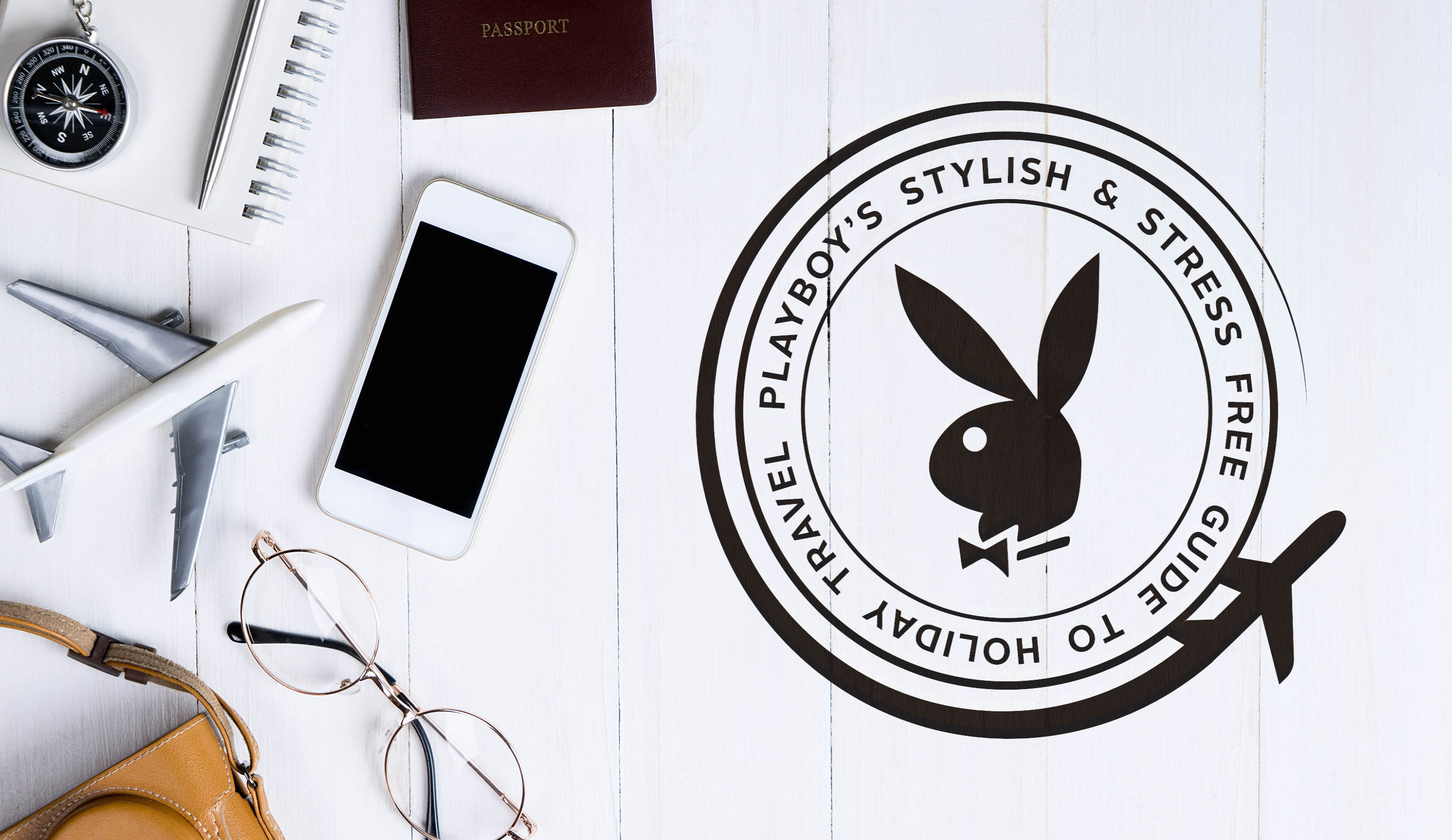 Playboy's Stress-free, Stylish Guide to Holiday Travel
Written by Nicole Theodore
Illustration by Andrew Marchbank

Published on

November 17, 2017
Knowing how to travel in style has little to do with how many passport stamps you've accrued, especially when you're racing toward a holiday function. Most of the 48.7 million Americans who traveled last year for Thanksgiving looked how they felt waiting in the TSA line or honking in traffic: miserable. With a little bit of planning and research, it doesn't have to be this way. Repeat after me: It doesn't have to be this way. Knowing how to travel with few hiccups, or at least knowing how to deal with stress in good spirits, comes down to thinking ahead. From when to book flights to looking comfortably stylish at the airport to getting away with just a carry-on, welcome to Playboy's guide to being Hugh Hefner-level cool while traveling.
---
BOOK A TRIP LIKE A PRO
If your flight confirmation for the holidays isn't already in your inbox, stop reading this and book your trip now. Deal-tracking sites like Travelocity, Orbitz and Expedia are excellent since they allow you to compare prices of all airlines on the days you're lookin to fly (and may off car rental and hotel discount bundles), but Google Flights compiles the same airline information for you with a better user experience. Give it a shot.
Research from Expedia has shown booking Thanksgiving flights at least 60 days in advance (so no later than Halloween) nets travelers the lowest prices. That being said, price data from Hopper, another handy price-tracking app, shows the most expensive day to depart is always the day before Thanksgiving. Flying out one day earlier or on Thanksgiving Day can save you hundreds of dollars.
Think beyond the plane, too. If you're not married to being squished into the middle seat of an overpriced flight, compare prices and travel time with bus and train schedules.
GET ORGANIZED
Having an updated calendar always pays off. If you're able to confirm travel dates in advance, flight tracker sites like Hopper and Skyscanner will send real-time email updates of price fluctuations. Don't forget these apps during wedding season; the average guest in 2016 spent $888 per wedding. Cut corners where you can.
Planning too far in advance can make booking travel and accommodations gets tricky. Purchasing anything with restrictions on refunds without travel insurance can be complicated for events that require strict itineraries like bachelor parties or a college reunion. Or, your party on the other end may ask you to arrive at a certain time to share a shuttle from the airport. Booking an Airbnb or a flight before you get an itinerary will set you back if you have to shell out for a change fee.
A general rule of thumb for winter weddings: if you're in the wedding party, wait until you receive the full invitation to make sure there isn't an extra event or cocktail party you're required to attend. Merely texting your buddy and getting the details will suffice. Nothing is worse than booking a flight thinking you're saving some dough only to have to pay a change fee after you find out you have to be there earlier.
BREEZE THROUGH SECURITY
It's too late to get TSA Precheck for the holidays, but that doesn't mean signing up now won't help you. For anyone who flies more than three times a year, it's the best $85 you can spend at the airport. A one-time background check fee and on-site screening fast tracks you into a separate security line where shoes, belts and jackets stay on and laptops don't need a separate bin. TSA Precheck is allowed at more than 160 domestic United States airports and your clearance will last five years.
If you want the service before your next trip, note that acceptance can take anywhere from three weeks to five months depending on the season and city. Research all available enrollment centers in your area and compare wait times for on-site screenings (which is just an interview). If your application is pre-approved online, call your local center and see if they allow walk-ins.
If you occasionally go abroad, opt for the U.S. Customs and Border Patrol's Global Entry program. For $15 more, the program puts you in the fast line through customs when you re-enter the country and includes TSA Pre-Check in the package.
BALANCING STYLE AND SECURITY
The only rule of thumb you need to remember for airport style is dress as if you're about to see your ex. A dark pair of jeans with a graphic sweater will get you far. Wear a T-shirt or something light under it so you can quickly remove layers if it's hot on the plane. And yes, travel accessories matter. Go with a stylish, versatile weekend bag that you'll get a fair amount of use of, like these picks by Beckel and Gallantry. Opt for darker fabrics and luggage since you're likely to pick up dirt along the way.
Since shoes are also coming off, go with a pair of modern loafers for easy removal that still adds casual flair, like Cole Hann's pinch penny loafer in papaya. If you're heading into arctic hell that requires heavy duty boots, try Thursday's Duke boot in brown that don't require dealing with laces as you're rushing through security. As always, make sure your sock game is in A-plus shape, since your feet are going to be on display for the whole security line to see.
HOW TO GET AWAY WITH JUST A CARRY-ON
Nothing is worse than traveling for half a day and having to wait and then lug your belongings to your final destination. Light packing is a hack all savvy travelers exercise. This comes with planning ahead. Instead of stuffing random clothes into your bag in the hopes they will assemble themselves into a few outfits, strategically pick out what you're wearing each day.
As always, throw in a sweater or button-up you can wear with anything. Versatile, warm outwear is critical for holiday packing. Wear your jacket or sling it over the side of your luggage at the airport to save room. If you have to do work on the plane or while you're at home, you can also get away with bringing a backpack or suitcase along with your carry-on or roller. A backpack is a great place to stuff last-minute grabs like your iPhone charger, medications, headphones, snacks and toiletries.
If you're flying on a budget airline that charges you for every added service, like Spirit and Frontier, the devil is in the details. Anything larger than a backpack or a purse on those airlines will cost you an additional fee of $25 or more. When booking on budget-friendly airlines, always pay the baggage fee at booking or forego bringing more than backpack altogether.
Already did your holiday shopping? Do yourself a favor and ship all of the presents ahead of time to your final destination. Having to worry about delicate items, and possibly even having to check them if they don't meet carry-on requirements, is going to be a pain and only slow down your ETA to the bar. If you know some of your shopping can be done at your final destination and can wait, consider going that route.
GOING ELECTRONIC IS THE MOVE
I'm still confused as to why people with smartphones show up early to the airport just to check in and download a paper ticket when you can have a digital pass already sent to your Apple Wallet or on your airline's app. It's more difficult to misplace a ticket when it's on your phone, and it genuinely saves time at the airport when you can walk in and go straight to security with your perfectly packed carry-on.
Airline apps provide real-time updates of flight delays and gate changes. In case you need to talk to an airline representative about changes, delays or any mishaps at the airport and the line is too long to speak to some IRL, the apps already provide the contact numbers you need. Embracing the tech we have in travel makes some processes honestly stress-free.
IN-FLIGHT ENTERTAINMENT OFFLINE
Unless you're flying on United, Jet Blue or American, most in-flight entertainment on domestic flights has a long way to go before it can it's close to being decent. In case you're not on one of these airlines, or you're stuck with the same in-flight movies and TV shows you watched last time, do a little bit of prep work with your go-to streaming apps.
Netflix rolled out its "offline" feature in 2016 and it's been a game changer for in-flight entertainment. In the Netflix app, you can download a movie or show without being beholden to spotty Wi-Fi. Options include full seasons of Strangers Things to Unbreakable Kimmy Schmidt to Orange is the New Black to Narcos.
When it comes to listening to music and podcasts, Spotify and Pandora Plus also have downloadable options that allow you to listen without cellular service. To avoid losing all the space on your phone by downloading your entire song list, create playlists ahead of time and download playlists individually.
HOW TO SURVIVE A FLIGHT DELAY
If you're delayed a few hours, don't leave the airport. The only time it's acceptable for you to peace out during a delay is if your flight is officially moved to the following day or the airport is giving you money toward a hotel to spend the night. Flights get bumped and then thrown back on track all the time. If you're not in the airport to catch the flight that ended up working out, that's your own fault.
However, I did run into a situation where I was on a grounded plane to a connecting flight. If I didn't make this connection, I would be stuck until the next day. This is a good example of when you need to get savvy with your smartphone. If the flight attendants are telling you they can't give you an update on if you can make your connection and the odds are getting worse, immediately look up other flights on all airlines and see if there is a flight that'll make that connection. I ended up getting off the plane, convinced a United representative to cover the change fee for a Delta flight since it was their fault (I know, I'm shocked too) and somehow made my connection.
Now, back to being stuck in an airport if there's nothing you can do. Find an airline lounge that sells day passes, where you can grieve in peace with a cocktail, Wi-Fi and a good book for a small fee.
CREATE YOUR OWN HAPPY HOUR
So, you want to show up early to drink at the airport and feel mildly relaxed before reuniting with family for 48-plus hours? That's fine if you've found a great go-to spot at your local airport, or you're flying out of one of these nine airport bars you wouldn't mind getting stuck at.
If you want to be the one in control of finding a decent drink, save time and money by skipping the pre-flight drink (or limiting it to just one) and bringing a cocktail kit. These kits by W&P Design are great travel companions at 30,000 feet. The mini-packages include everything from an old-fashioned to a gin and tonic to a hot toddy. There's also no excuse for mediocre spirits with a range of TSA-approved sizes available. Looking for a great beer? Baltimore, San Diego, Boston, Birmingham, Cleveland, Denver, Tampa and Portland airports all have legit breweries. Warning: Per FAA policy, airline passengers cannot serve themselves alcohol, so tear into your kit in the terminal beforehand or do so discreetly in your seat—and wait until you exit the plane to toss your empty bottles.