I'm on set with Stephanie Beatriz, interviewing the headline-grabbing actress between set-ups for her Playboy photo shoot. As Beatriz has secured a voiceover role in 2019's The Lego Movie 2: The Second Part, we've found ourselves in a conversation about animation, which has led, of course, to a conversation about Disney princesses. (This, despite our average age being 32). If you're wondering, Beatriz doesn't have a favorite Disney princess. And as a woman who grew up obsessively rewinding dusty VHS tapes of Aladdin and Cinderella—and who heavily relied on them as a substitute for a personality until junior high—this information has thrown me for a loop. So I press her.

"I guess I really loved Sleeping Beauty—but not for the princess," she says. "For the fairies. I just thought they were so cool and powerful. They were this little coven, this little coven of witches." Beatriz, who before me is both vivacious and expressive, seems in every way unlike the hard-boiled character, Detective Rosa Diaz, she's played on Brooklyn Nine-Nine for the past five years. But this particular admission clues me in that there's definitely a bit of Rosa Diaz beneath her spritely exterior.

Then again, the more you know about Beatriz, the more it makes sense she sees heroes in the places you wouldn't expect. After immigrating from Argentina at age three and growing up in a conservative town outside of Galveston, Texas, Beatriz never saw "heroes" who looked like her. They were rarely Latina, and they were never queer.

"There were specific standards for what was considered beautiful. It was a certain skin color, a certain color of hair, a certain body type, even down to certain interests. What was hard for me as an immigrant was being pressured to assimilate by my own parents. They didn't want me to be picked on."

In addition to encouraging Beatriz to speak English as much as possible (even when at home), they wanted her to become a cheerleader or join a dance team—those time-honored extracurriculars of America's high school elite. With her super-cropped hair and boys' clothes purchased from Goodwill, Beatriz quickly deduced that her best shot at finding her tribe was to join theatre, a space that—as anyone who's ever watched the Tonys would say—is queer as fuck. At a high school where the "other" F word casually cut hallway conversations, and her classmates slung around "gay" as a slur, Beatriz wouldn't come out as a teen. But at least the theatre offered her a platform to safely let out tiny expressions of her sexuality, through acting.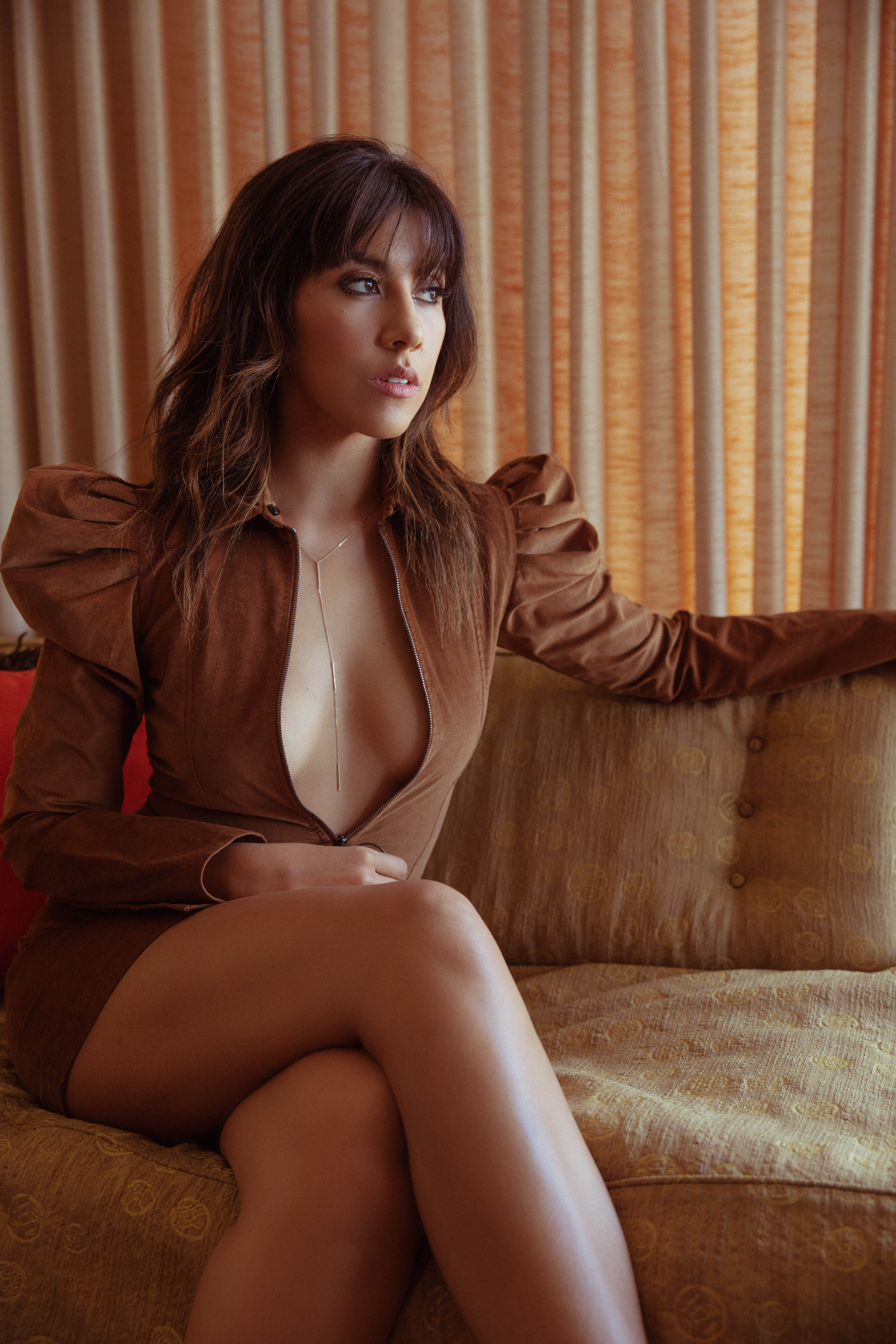 Sometimes you don't get kicked out of your house, and you don't get all communication cut off from you. Sometimes it's in the middle where your family loves you, but they don't want to discuss it. Sometimes it's complex."

"The first role I was cast in was Jo in
Little Women
, which is a great role for a young woman because there's this budding of her sexuality, but this very tomboyish expression of girlhood, too." Fast-forward two decades: At 37, she's won praise for both her film and television work. Her performance in 2013 indie darling
Short Term 12
helped propel the film to collect accolades from critics' groups and film festivals across the country. That same year, she nabbed both a three-year guest stint on ABC's
Modern Family
and more importantly, what can arguably be deemed her breakout role, that of the
beloved Rosa Diaz
on the Golden Globe-winning
Brooklyn Nine-Nine.
Beatriz's
work on the sitcom, which was recently
dumped by Fox and rescued by NBC
, has won her and her cast mates (including Andy Samberg and Andre Braugher) many honors, and most recently a 2018 GLAAD Media Award for outstanding comedy series. The GLAAD Media Awards, of course, recognize films and television championing positive representations of the LGBT community. In December, the show revealed Beatriz's character to be bisexual in a widely celebrated "coming out" episode, giving the show its second queer character (Braugher's Captain Holt is gay). As
Playboy
's Molly Horan
wrote at the time
, "
Brooklyn Nine-Nine
was able to move beyond the tired tropes and stereotypes that often plague bisexual characters, and specifically deal with the rejection and lack of understanding someone can face when coming out as bi to their parents."
Because of this,
Brooklyn Nine-Nine
's fans weren't ready to say goodbye to it when Fox announced its cancellation last month. Upon the news, Beatriz had resigned herself to the end of Rosa Diaz, going home that night to pop open a bottle of champagne with her partner and cuddle up with some reality television. "I told myself, 'You had a blast, you never took anything for granted, you had an amazing fifth season, and it was incredible.'"
Meanwhile, hashtag campaigns like #RenewB99 soon began trending on social media, with even celebrities like Lin-Manuel Mirada and Mark Hamill joining in. Until the online uproar, Beatriz and her co-stars hadn't completely grasped the reach the show had. "It's not one of those shows where everyone is talking about it all the time—but it's one of those shows that has a vocal, dedicated following. That vocalization was part of the reason NBC decided to pick it up."
As someone who formerly went to great lengths to not out herself as queer, it's ironic that Beatriz's sexuality—and her character's—is what everyone has been talking about, at least since December. It's even more ironic when you consider that NBC's decision to save the show may have been based on its racially and sexually diverse cast of characters. And all that speculation is why—at least, what I assume to be why—Beatriz marked the start of this year's Pride Month by spending a balmy afternoon at a house in the Hollywood Hills with
Playboy
.
In a tucked away mansion boasting an aesthetic that could only be described as cowboy rustic meets Eastern eclectic, a photo crew gingerly steps around Beatriz, styling her and snapping away as she comfortably lounges across the typical photoshoot accoutrements: velvet sofa, pool chair, baby grand piano. Being a transplant three times over—from Argentina to Texas, then from Texas to New York, and finally from New York to California—Beatriz has developed that rare skill of being able to look as if she's right at home. But don't let the free-flowing tresses, the impeccable eyeliner and gel manicure fool you. She's still every bit the theatre nerd from Clear Brook High School. She's just more of herself now.
---
You could say in a relatively short span of time, Beatriz has had two coming-out stories—one on-screen and another off. Beatriz came out as bisexual to her fans via Twitter in 2016, responding with a simple "yup" to a story where actress Aubrey Plaza discussed her bisexuality. It was not long after that her character came out as bisexual, notably in the series' 99th and 100th episodes. When asked whether her public coming out foreshadowed her fictionalized one, she explains that creator Dan Goor and the writers did allow her queer experiences to inform the storyline.

"Coming out sucks, and it's unfair because straight people don't have to come out. And not everyone is good at it. Sometimes it just doesn't go very well," Beatriz tells me after the shoot, over coffee in Echo Park. "[I wanted to] show the shitty-ness of Rosa coming out to her parents, them holding her at arm's length and not giving her what she wanted, which was a full 'We love you, not matter what.' That is my family, that's true to my life."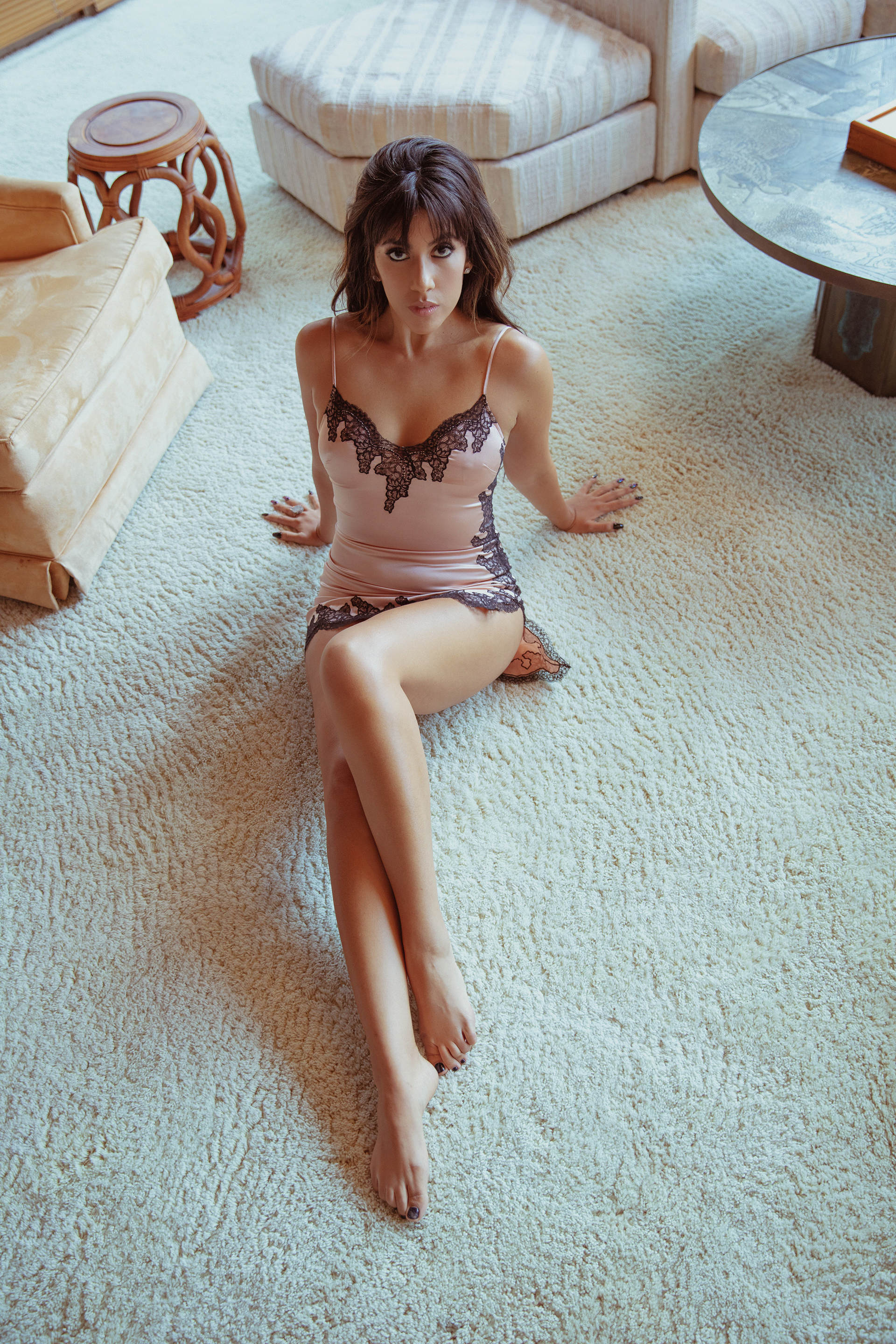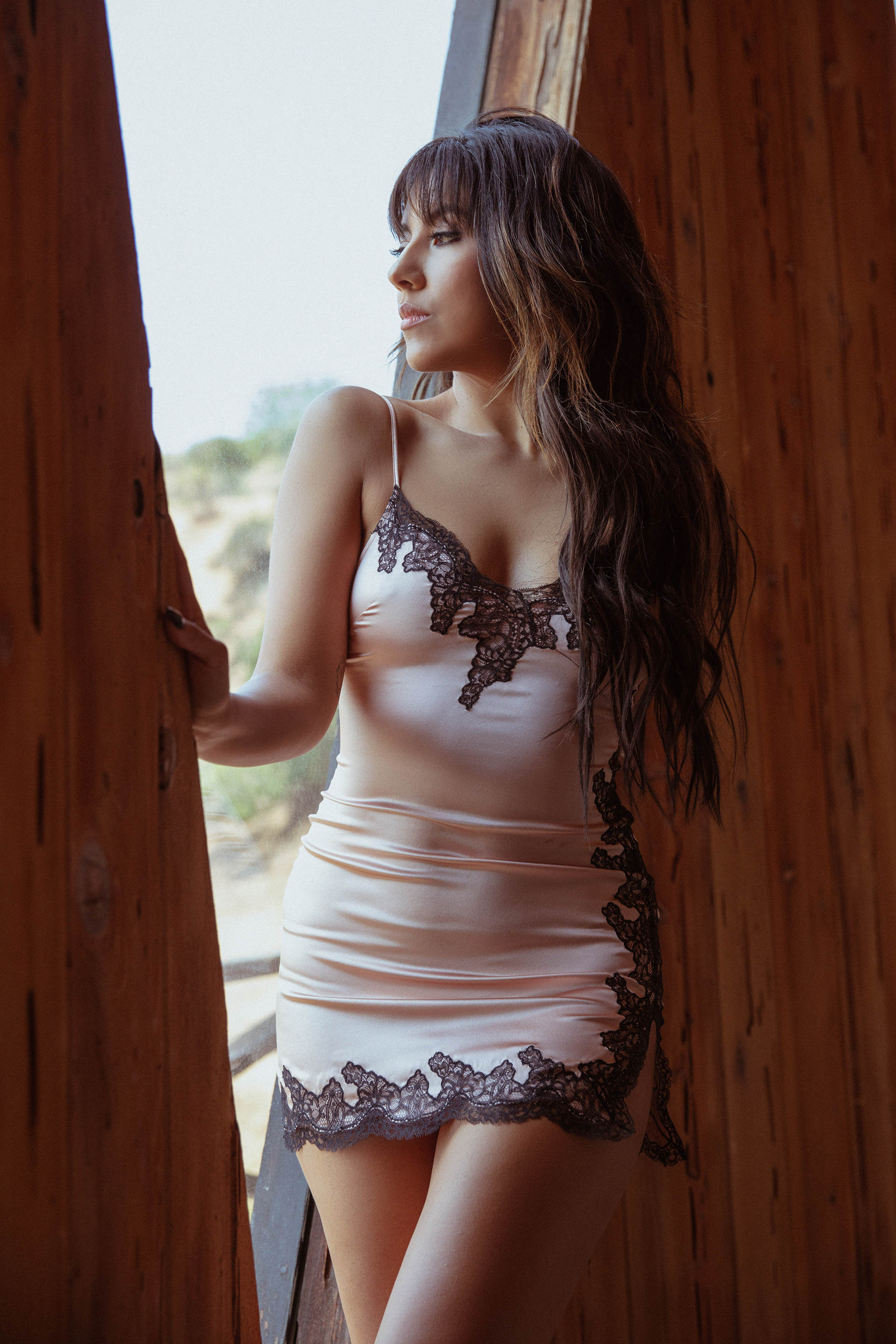 It was important to Beatriz that Rosa's coming out reflected what queer Latinx can face at home. There can oftentimes be an unwillingness to acknowledge sexuality altogether, let alone speak of sexuality that's not heteronormative. Beatriz's parents devotedly watch every single episode of
Brooklyn Nine Nine
, so the actress knows they've seen Rosa's coming out episode. They've never once talked about it together, however.
"Sometimes you don't get kicked out of your house, and you don't get all communication cut off from you. Sometimes it's in the middle where your family loves you, but they don't want to discuss it. Sometimes it's complex," she says.
Nearly
40 percent
of LGBT adults have at some point been rejected by their biological families or communities because of their sexual orientation. Part of what makes
Brooklyn Nine-Nine
so queer-affirming is how the concept of a "chosen family" informs the ethos of the show. For example, main characters, Amy Santiago (Melissa Fumero) and Jake Peralta (Samberg), are married by their boss, Captain Holt (Braugher). Sergeant Terry Jeffords (Terry Crews) asks Jake to be his newborn daughter's godfather.
"Something
Brooklyn Nine-Nine
does really well is it brings together this squad who become each other's chosen family. These are the people they depend on, rely on. They tease, they fight with, they love," says Beatriz. "The show reflects a world we would want to live in, a world where you feel comfortable coming out to your coworkers."
In a reality where policies like "stop-and-frisk" and "hot spot" policing exist, it's safe to say
Brooklyn Nine-Nine
also represents an idealized version of the NYPD. Silly and pure-hearted, the cops of
Brooklyn Nine-Nine
sometimes present a jarring contrast to the ones often splashed across headlines for alleged police brutality, racism and corruption.
It's great to imagine a world where the police officers are like the ones on Brooklyn Nine-Nine—where all of them are really there to serve and protect, where they all believe that black lives matter, where feminism is the baseline, where homophobia is literally punched in the face.

Playboy does some time with one of TV's favorite cops, Stephanie Beatriz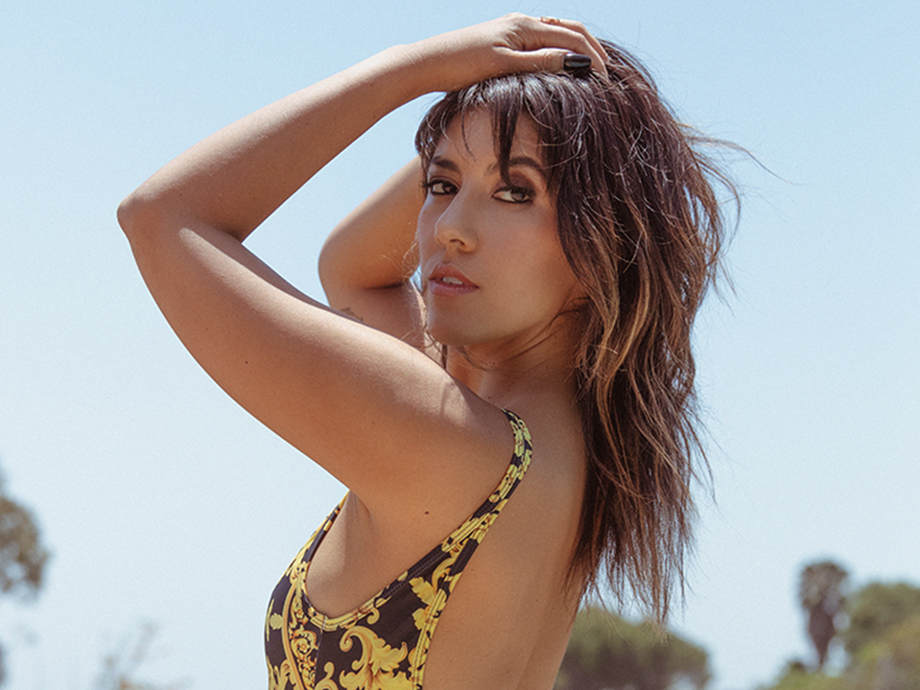 It forces the question: What does it mean to have a show like Brooklyn Nine-Nine on air (and saved from cancellation, might I add) in the milieu of the Black Lives Matter movement? Beatriz says what she loves about television and film is it allows us to envision a society that's better than our own. "It's great to imagine a world where the police officers are like the ones on Brooklyn Nine-Nine—where all of them are really there to serve and protect, where they all believe that black lives matter, where feminism is the baseline, where homophobia is literally punched in the face."

A show has only been canceled on one network and then picked up by another network a handful of times in the history of television. That short but celebrated history is proof that hashtags and tweets aren't just shouts into the wilderness but can have offline impact. The phenomenon of
Brooklyn Nine-Nine
being saved by fans at the 11th hour also suggests that entertainment's entire system for evaluating a television show's reach is woefully antiquated.
"I don't know anyone who has a Nielsen box, do you?" Beatriz asks me. "I've met so many people in L.A. who are like 'I don't even own a TV,' but they own a computer. There's this outdated method of measuring a show's success, and Twitter has an amazing way of showing when you're not creating in a vacuum."
It also illustrates how starved television is for characters like Rosa Diaz, even when the LGBT community is experiencing a high point in terms of the number of queer characters represented in media today. But while the relative number of gay and lesbian characters has grown in recent years, positive representations of bisexual characters remain few and far between. Mainstream media simply doesn't know how to talk about bisexuality outside of threesomes or college experimentation even though, according to recent estimates,
more than half
of the LGBT community comprises bisexuals.
The nomenclature for how we describe ourselves in the queer community has changed over time, so I understand some people's frustration.

When they exist at all, bisexual characters have often been played as duplicitous or void of bisexual identity. A recent trend in shows such as
Orange Is the New Black
and
House of Cards
is bi-erasure, or when characters who are ostensibly attracted to men and women are rarely referred to as bisexual. Because of this vilification, Beatriz has a strong identification with the term
bisexual
as opposed to
pansexual
, which has entered mainstream dialogue after the public coming outs of celebrities like Janelle Monáe and Miley Cyrus and the
pansexual plot lines in
Solo: A Star Wars Story
and
Schitt's Creek
.
"If I were growing up now, I would likely describe myself as pan," admits Beatriz. "But growing up, I connected to that word in a way where I can't let it go. The nomenclature for how we describe ourselves in the queer community has changed over time, so I understand some people's frustration. But God forbid we tell anyone they have to describe themselves as a certain way."
She felt such an affinity toward the word
bisexual
as a girl because of a heroine for whom she spent hours poring over books about. Beatriz may not have had a favorite fairytale princess, but Frida Kahlo, with her stoic stare, ruby-lipped half smile and iconic brow, screamed at Beatriz's budding adolescent queerness. Kahlo became a refuge in a desert. Beatriz's mom would frequently take her to a local library and let her loose for hours.
"I wanted to know everything about her. I would read up on Frida and all the relationships she had with men and women. I would see these pictures of her cuddled up with these beautiful women, and I would think 'look at her beautiful life,'" says Beatriz. "Yes, full of pain and lots of darkness, but look at what she gave to the world."
It's why Beatriz hopes to inspire all the "baby queers" out there through the stories she tells. She hopes queer youth see themselves in her character and feel more hopeful about their own futures, more seen. She's even received direct messages on Twitter and Instagram from fans who later came out to their families or their friends after watching Rosa's coming out episode.
"It's so much harder to become something if you don't see that it's a possibility. Without that, it feels insurmountable—like the world is telling you, you belong here, this is what your people are allowed to do. All the other doors are closed, don't even bother knocking," Beatriz says as we leave the café. "But the great thing about television and film is that nothing is impossible. That's sort of what we're in the business of doing: making the impossible possible."