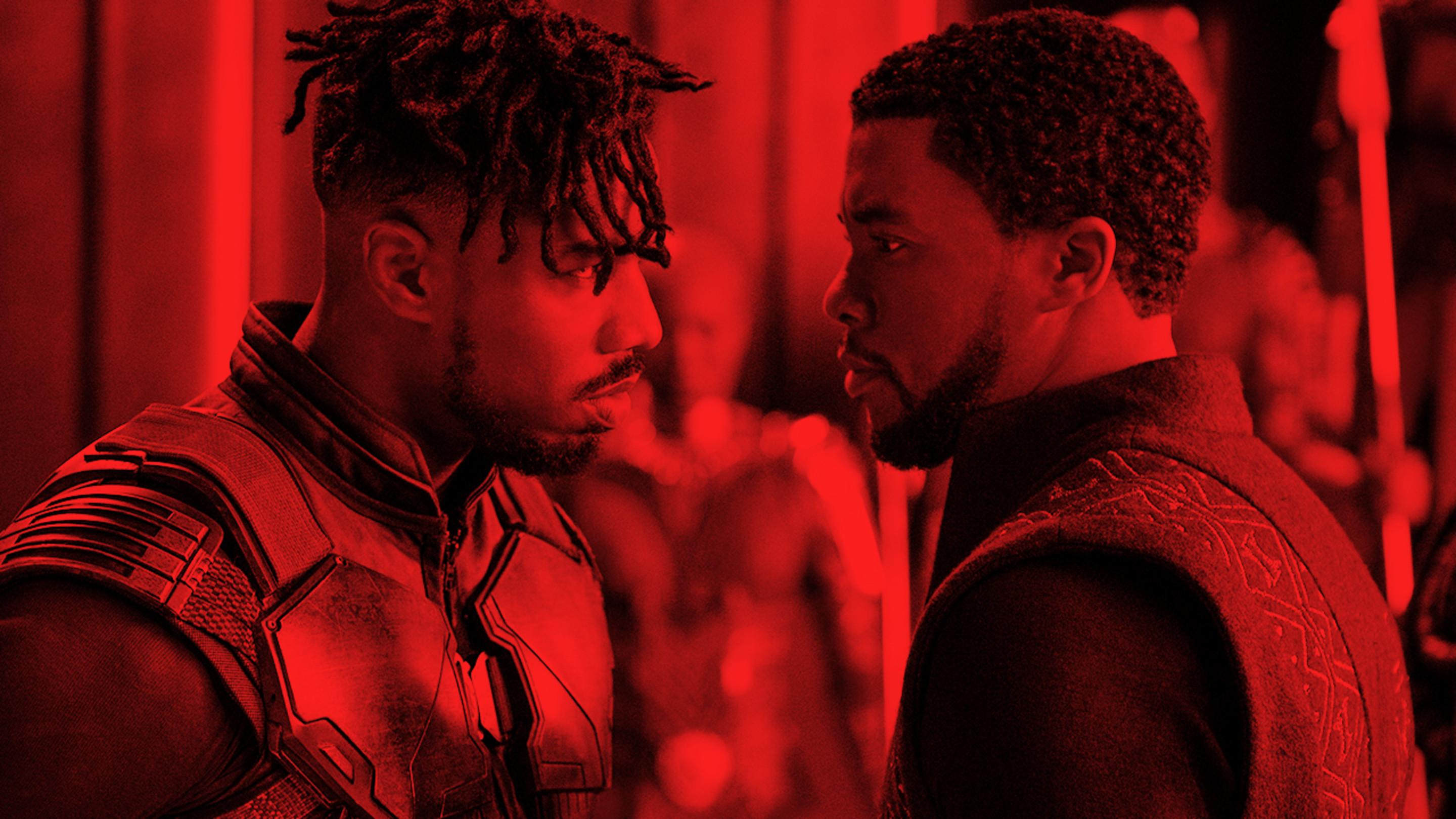 Review: Revolutionary 'Black Panther' Lives Up to the Hype
Written by Stephen Rebello

Published on

February 06, 2018
Those of us allergic to pre-release hype know that the publicity machine is strong with Marvel's Black Panther. For a solid year now, the buzz has now verged on deafening, and the movie's record-smashing pre-ticket sales keep cranking up the anticipation. We all know that we've been here before and let down, though. So can the 2 hour and 15 minute movie, taking flight from the comic book series and characters created in 1966 by Stan Lee and Jack Kirby, possibly measure up? Oh, yes, it can, actually. Here's why.
Let's start with Ryan Coogler, the writer-director. His passion, strong connection with material, humanity, humor, smarts, wised-up worldview and insistence on characters and relationships over plot mechanics jumped right out at us in his award-worthy
Fruitvale Station
and
Rocky
movie reinvention
Creed
. So did his sense of outrage over ignorance, injustice and selfishness, let alone his skill with fight scenes. With
Black Panther
, he's done something almost revolutionary, though. He's elevated what could have been just another Marvel franchise superhero movie into something that not only really grabs, entertains and dazzles, but also feels new, resonant and powerful because it's about things that, unless we tackle them head-on right now, could destroy us.

Picking up from where the action of Captain America: Civil War left the titular hero, the expert screenplay—credited to Coogler and Joe Robert Cole—follows diplomat and world leader Prince T'Challa (Chadwick Boseman) after the death of his beloved father, King T'Chaka (John Kani), and his attempt to rise to the throne of the isolationist African nation Wakanda, a land whose populace guards a source of untold wealth and power: the metal vibranium. T'Challa has supportive allies in his brilliant, sarcastic tech-wiz inventor sister, Shuri (Letitia Wright); his regal widowed mother, Ramonda (Angela Bassett); his all-female army of warriors (led by standout Danai Gurira); his powerful, socially minded and adventurous would-be girlfriend and fellow warrior (Lupita Nyong'o); and Martin Freeman as worldly, zero-cool CIA guy Everett K. Ross.
What sets Black Panther apart—despite how laugh-out-loud funny it is—are its pointed but never preachy identity politics.
He also has powerful, brutal nemeses in a badass Wakandan exile-with-a-compelling-backstory, the righteous Erik Killmonger (Michael B. Jordan, burning it up); the gorilla-worshiping mountain tribal leader M'Baku (Winston Duke); skin-crawly charm monster and South African arms dealer Ulysses Klaue or "Klaw" (Andy Serkis). Challenges to T'Challa's supremacy arise among Wakanda's population, and spectacular and tragic violence erupts. The strength of most superhero movies hardly lies in original, groundbreaking plotlines, though. What matters most here is the conviction, dignity and complexity the director and writers give both its heroes and villains, let alone the obvious emotional investment the sterling cast of actors give their roles. It's like they've lived these characters forever. The relationships feel real and thorny; the decisions made get based on past kindnesses and cruelties.

What also sets Black Panther apart—despite how laugh-out-loud funny it is—are its pointed but never preachy identity politics. Its comments on immigrants, the shrinking world of geopolitics and the worldwide dangers of an angry, out-of-control, self-righteous leader could hardly be more pointed. At center stage, the highly versatile Boseman is by turns regal, grief-stricken over the loss of his father, painfully insecure about his readiness to lead, and goofy and gormless when around the beautiful, morally and socially conscious character played by Nyong'o, who is also excellent.
Likewise, the street-smart, justifiably angry and disenfranchised Killmonger character provides a field day for Jordan, who grabs the screen as the anguished, charismatic rebel with a cause. There's terrific work, too, from The Walking Dead's can't-take-your-eyes-off-her Gurira, as well as from the instantly likable Wright, who makes one super smart, snappy, resourceful role model for young women of any color.
For sure, the movie has a lot of residual Batman DNA in it, right down to its bullet-repelling, energy-grabbing suit design. But its biggest showstopper scenes–a battle royal in a posh, dangerous Korean casino; a series of beautifully choreographed combat sequences—feel closer to a great James Bond or family crime movie than any previous superhero flick.
Black Panther is massive in sweep and scale, and—especially in its African vistas—set in a fully realized, gorgeous-to-look-at Wakanda. But the whole movie is visually compelling, shot stunningly by cinematographer Rachel Morrison, with sumptuous, award-worthy costumes by Ruth E. Carter and explosively primary-color production design that happily veers off from the clichéd steel blue-gray palette of too many superhero franchises.
The immersive, percussive symphonic musical score by frequent Coogler collaborator Ludwig Goransson undergirds the movie's themes of identity, racial pride and the necessity of all of us coming together for the planet's survival. Plus, the frequent punctuations of Kendrick Lamar's explosive, driving original songs keep the pace energetic and hopping.
Even with an extra 10 minutes or so of flab, this movie's got juice. Looking, sounding and feeling the way it does–wearing its anti-corporate, anti-fascist, anti-racist heart on its sleeve—it's a movie that, for sure, knows what's up. If this is what future Black Panther movies can be, there can't be a sequel soon enough.