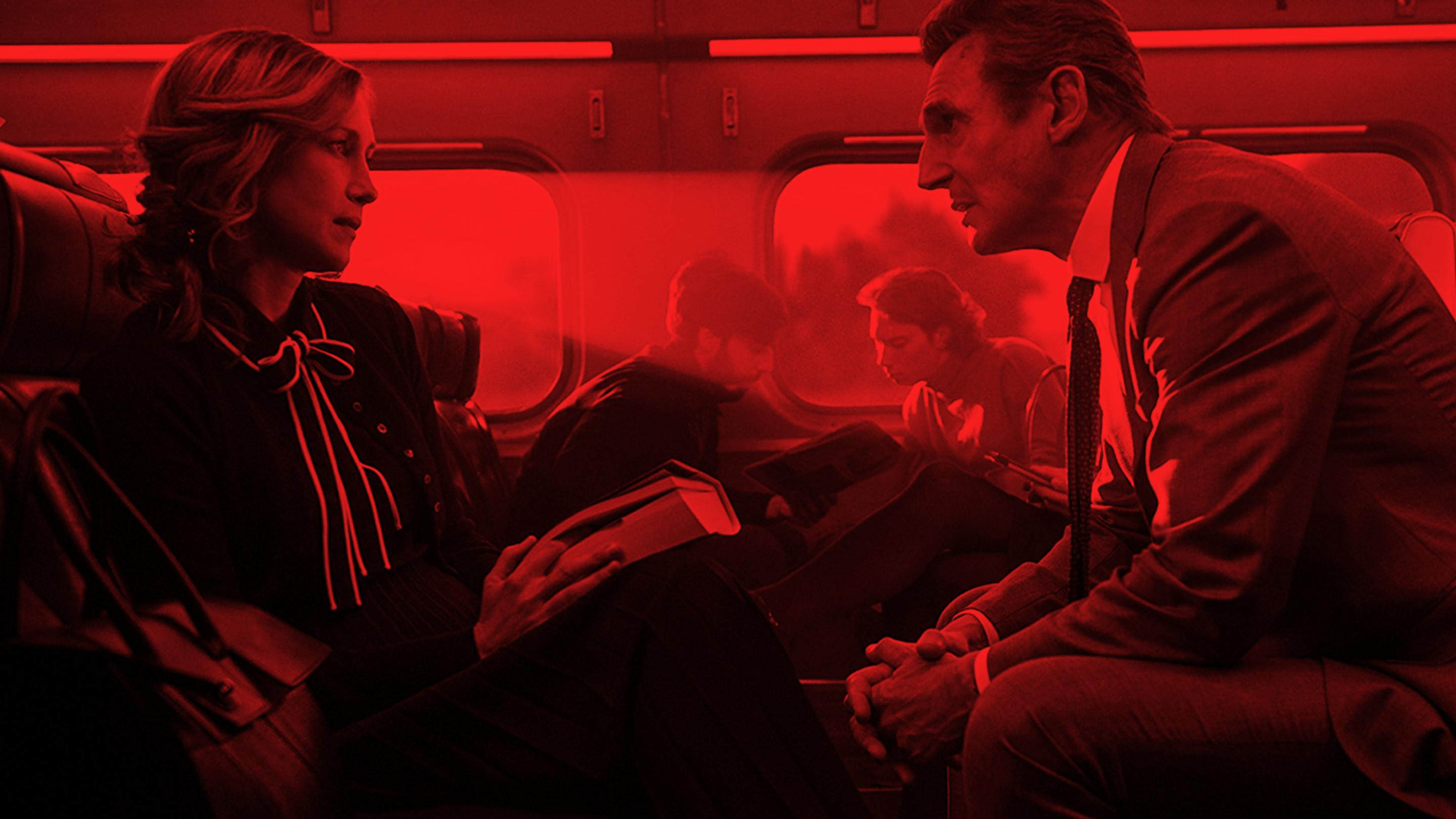 Review: 'The Commuter' Strands Liam Neeson on a Mindless Ride
Written by Stephen Rebello

Published on

January 12, 2018
The three B-grade action flicks churned out in the past few years by star Liam Neeson and crafty, highly efficient Spanish director Jaume Collet-Serra hum along with a weirdly likable, slick, machine-tooled efficiency. The duo's newest is pretty much more of the same, only it's sillier, less impactful and altogether worse for its lack of aspiration.
The utterly unconvincing action thriller
The Commuter
could just as well have been called
Unknown
,
Non-Stop
or
Run All Night
. For that matter, it could have called
Taken
. This time around, Neeson, suitably gruff, buff and weathered, plays Michael MacCauley, an ex-cop who has been monotonously gray flannel-suited, suburbanized and employed for the past decade as an insurance salesman. A few years shy of retirement, he gets unceremoniously and brutally fired from his company. This poses some relevant contemporary dilemmas for our aging, 21st-century action hero. How's he supposed to keep his head above water for the benefit of himself and his loving, upstate New York wife, played by Elizabeth McGovern? How will he meet two monthly mortgages payments, let alone pay the steep tuition for his college-bound son (Dean-Charles Chapman)?

Fate intervenes. During one of his otherwise routine, five-day-a-week commuter train trips aboard the New York Metro from Westchester to Grand Central Station, an enigmatic woman who calls herself a human behavior expert (Vera Farmiga doing her thing, which is fine with us) intercepts him and offers him $100K. All he has to do is to spot a certain fellow traveler in possession of a Very Important McGuffin—someone "who doesn't belong" on that train—and plant a tracking device on him or her.
[Neeson's] talents put him miles ahead of this nonsense, of course, but he never condescends or sleepwalks.
Although the wicked, tight-lipped femme fatale can't or won't give MacCauley any specific information about the target's identity, it's pretty clear that if MacCauley says yes, then he's going to be responsible for someone—possibly lots of someones—getting very badly hurt along the way. But he needs the money desperately, so he tosses aside ethics and grabs the assignment. When he suffers doubts and tries backing out, scary threats and deeds begin to happen–not only to other passengers but also to his family. Although that's not a bad setup for a thriller, and the mostly single-location action—a speeding train—is promising, the suspense-challenged screenplay by Byron Willinger, Philip de Blasi and Ryan Engle slams on the brakes with roaring clichés and groaners ("You have no idea who you're up against!"), and twists and turns ransacked from a grab bag of leftovers from great Hitchcock-directed thrillers including
The Lady Vanishes
and
Strangers on a Train
, let alone from other flicks like
The Fugitive
,
Speed
and
The Taking of Pelham One Two Three
.

Too damn much of the non-action requires the furrowed-browed Neeson to drag his 6'4" frame and his famed gravitas from train car to car, chasing down painfully obvious red herrings and ineptly questioning "colorful" New Yorker archetype passengers—a sweet old gent (Jonathan Banks), a fiery Columbia student (Florence Pugh, a long way down from Lady MacBeth) and an eminently punchable Wall Street shark (Shazad Latif).
Neeson, in fantastic shape, is utterly professional and hits every note he can—frustration, desperation, panic, grim determinism, an everyman sense of decency. His talents put him miles ahead of this nonsense, of course, but he never condescends or sleepwalks.
As for Collet-Serra, who is rumored to be on tap to direct Jungle Cruise for Disney, let's just says that he's previously done much snazzier, pacier, more inventive work than The Commuter. He wisely keeps the running time down to a lean 104 minutes, but—hobbled by a trainload of inadequacies, including so-so CGI—both he and cinematographer Paul Cameron (Westworld) go way too big on flash, whip pans and whizbang effects, all in a vain effort to keep the audience from talking out loud about how little sense the whole movie makes.
Even for mid-January–traditionally the dog days of cinema releases—The Commuter rattles along like an unreliable train to nowhere.
The Commuter
Pros

Neeson's talents put him miles ahead

Cons

The movie makes little sense