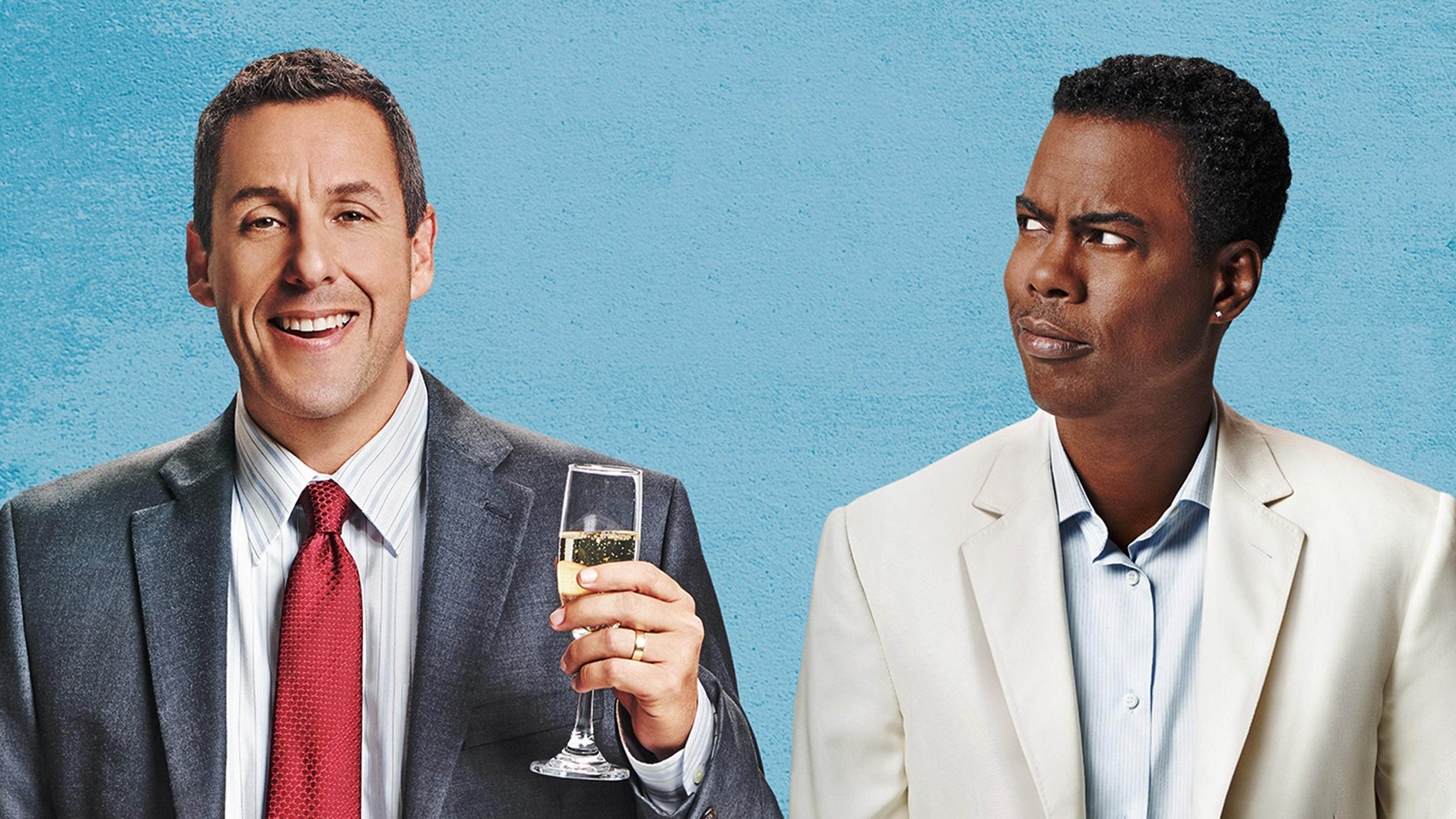 Why 'The Week Of' Is a Different Breed of Adam Sandler Comedy
Written by Jennifer Swann

Published on

April 27, 2018
Over the last three decades, Robert Smigel has seemingly held every kind of job—and often the most coveted titles—in comedy. A former writer and producer for Saturday Night Live, Late Night With Conan O'Brien and The Dana Carvey Show, Smigel—an actor who frequently appears as minor but memorable characters in Adam Sandler's movies—created the animated series TV Funhouse and the trash-talking puppet Triumph the Insult Comic Dog. But his latest project, the Netflix comedy The Week Of, which he co-wrote with longtime friend and producing partner Sandler, adds an entirely new credit to his already exhaustive resume: director of a feature film.

It's not as if the 58-year-old actor-writer-producer hasn't been offered the gig before. In the past, Smigel says, he'd been reluctant to take Sandler up on the challenge. "I always felt like I have enough influence on the movies I write with him. I get to come by and hover, and whisper in his ear if I see a shot I think can be improved," says Smigel. "Why do I need to be the first guy who comes to the set every day? It's going to be so much harder."

An unlikely pitch from Sandler eventually made Smigel reconsider. "He said, 'I'd like the movie to feel more verité—you know, more naturalistic,'" says Smigel, who acknowledges that Sandler's cartoonishly slapstick, occasionally offensive comedies like Jack and Jill and You Don't Mess With the Zohan (Smigel shares writing credits on both) might be considered the exact opposite of cinéma verité. "Any time I use these highfalutin words next to Adam, I just imagine people thinking of Adam saying it in his goofy voice," says Smigel, doing his best impression of Sandler in Little Nicky. "But he's actually, you know, a student of film and loves all kinds of movies."

Any time I use these highfalutin words next to Adam [Sandler], I just imagine people thinking of Adam saying it in his goofy voice.

The Week Of, a comedy currently streaming on Netflix about two sets of very different families coming together the week of their son and daughter's wedding, makes a case for Sandler to pursue realism more often. The movie, which Smigel and Sandler co-wrote together, evokes 1980s-era John Hughes classics like Sixteen Candles (Smigel says the movie was of particular inspiration to Sandler) and the National Lampoon's Vacation franchise, with Sandler playing the role of a more neurotic but just as dogged Clark Griswold type who insists on paying for his daughter's wedding, even if he can't exactly afford it. This, of course, annoys the father of the groom, a wealthy rock-star surgeon played by Chris Rock, to no end. Inevitably, just about everything that could go wrong during the planning and execution of a wedding does, from a last-minute venue change, to a sudden death, to water and electrical problems, which make the drugged-up wedding scene in Sixteen Candles look like a cakewalk by comparison.

In an attempt to replicate the sense of chaos on-screen, Smigel opted to shoot the movie in a cramped house on the North Shore of Long Island, rather than on a set. It also forced the cast, which includes SNL veteran Rachel Dratch as the mother of the bride and Sandler favorite Steve Buscemi as a pervy relative, to get a lot closer—literally. "We basically spent days and days at this house in the middle of an Italian neighborhood in Glen Cove, and you know, it was very intimate and made everybody feel that much more like a family," says Smigel. "At the same time, we would have neighbors come over with cannolis, and people would basically make cookies and cannolis for us every day … So if Adam gains a little weight over the course of the movie, that's the reason why."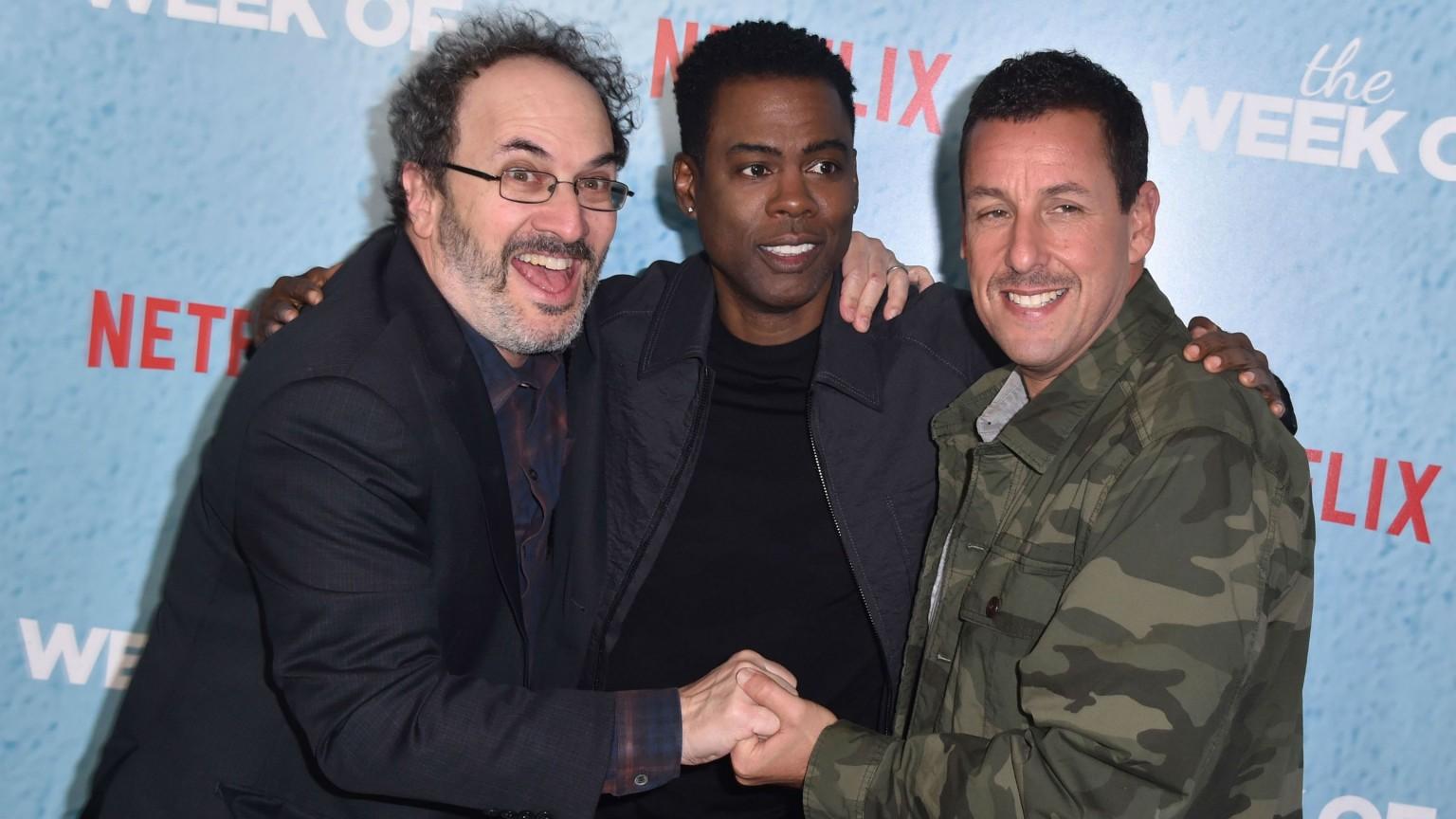 The Week Of
is the latest in Sandler's initial four-movie deal with Netflix—he's since signed on to make four additional movies. It also seems downright wholesome compared to the first Sandler-Netflix collaboration,
The Ridiculous 6
, which made
headlines
in 2015 after several Native American actors walked off the set in protest of the script's portrayal of Native Americans. But Smigel says his directorial debut wasn't intentionally aimed at avoiding controversy or using more sensitivity at a time when audiences are more politically divided than ever. In fact, he says he and Sandler had wanted to make a family comedy together for years, partly inspired by their own parents and their similar upbringings. "We're both Jewish kids who grew up with very—and this is not necessary the most common thing for comedians or comedy writers—but we had very close-knit, loving parents and families, so we shared a lot that way," says Smigel. "We both worshiped our dads, and there's a lot of that in this movie as well."
Smigel agreed to direct the project just after he finished producing his Funny or Die miniseries
Triumph's Election Watch 2016
, which had him traveling—in the guise of his filthy-mouthed, cigar-chomping canine alter ego—to political conventions and rallies during the presidential primaries to grill then-candidates like Ted Cruz and Mike Huckabee. The timing couldn't have worked out better. "There was a part of me that kind of felt like, 'Well, now there's one man standing [Trump], and everybody's, you know, everybody's kind of making fun of the same thing right now,'" says Smigel. "That's a little less interesting to me, and it felt like a time where I didn't necessarily feel like I would be adding that much."
After taking a year away from the political spotlight to hang out in a house in Long Island with Sandler and his old pals from
SNL
, Smigel says he's ready to plot his next moves for Triumph—which may or may not take aim at the person occupying the White House. "I do have a couple of crazy things that I'd like to do with Triumph that I'm sort of working on right now," he says. "They may be too complicated to pull off, but I'm talking to people about it. That's all I can say right now."
---
The Week Of
is currently streaming on Netflix.