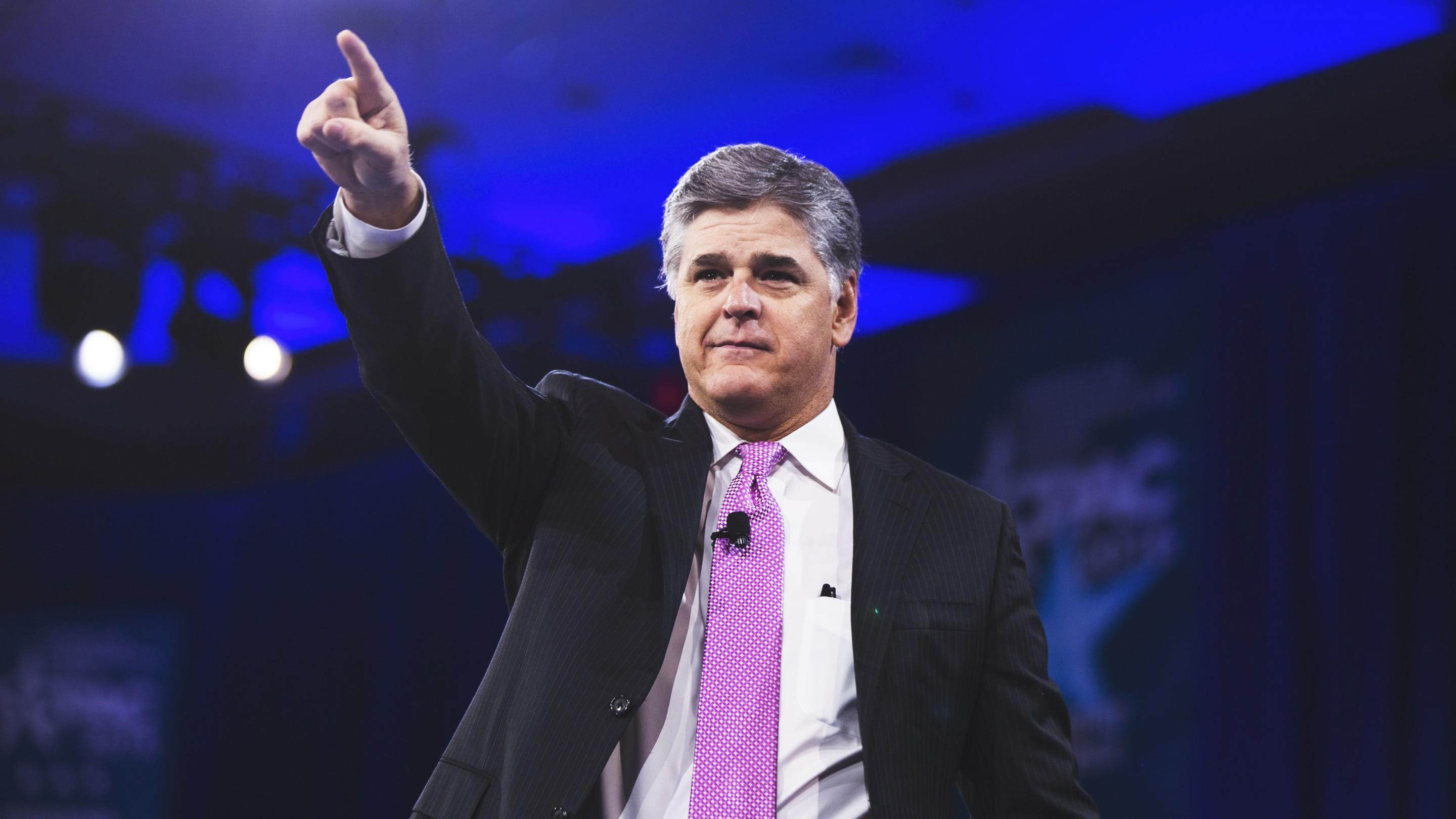 Sean Hannity Has Something to Hide
Written by Tom Carson

Published on

April 19, 2018
Try this out for legal logic: "I've never met my wife. I've never even spoken to my wife. In fact, we're not married. I just mailed her a $10 check addressed to 'Mrs. Sean Hannity' a few times. But she knows as well as I do that a spouse can't be compelled to testify against her husband."


If you ask us, that's not a totally unreasonable burlesque of Hannity's account of his dealings with Donald J. Trump's lawyer, Michael Cohen. As you've presumably heard, everybody's favorite Fox News shouting head got outed in court last Monday as Cohen's mysterious "third client," besides POTUS himself and Republican Party fundraiser Elliott Broidy. Importuned by Hannity to keep him anonymous, Cohen (who's got enough problems) did his best, but Judge Kimba Wood made him cough up the name anyway. Welcome to another morning when the whole world starts looking like a gigantic pee-pee tape.

On his end, Hannity had neglected to disclose the connection during the week he'd spent ranting on the air about the FBI's April 9th raid on Cohen's office and home: "This is now officially an all hands-on-deck effort to totally malign and, if possible, impeach the president of the United States," and so on. Because he probably bellows the same thing whenever his dog craps the carpet or Chateau Hannity runs out of toothpaste, nobody guessed he might have skin in the game.

Now we know differently, but Sean Hannity's idea of damage control is not most people's idea of damage control. "Michael Cohen has never represented me in any matter. I never retained him, received an invoice or paid legal fees," he declared on Monday. But is he claiming attorney-client privilege just the same? Sure he is. Because they did occasionally have "brief discussions" on legal matters, "I might have handed him 10 bucks [and said,] 'I definitely want your attorney-client privilege on this." Cue the Better Call Saul jokes.

This raises so many fun questions that we can hardly sort them out. First off, Hannity is both a multimillionaire and a prominent man, which means that he presumably already has an attorney (or several of them) to handle his workaday legal affairs. What sort of venture would make him fork over $10 to keep his pal Cohen's advice confidential when he's got top-flight New York talent at his beck and call? Hannity says they mostly talked about "real estate," and maybe they did. Figuring out which cemetery to meet in can be a real bitch.

Hannity can claim he wasn't really a Cohen client until the cows come home, but Cohen clearly thought of him as one. That's not the sort of thing a lawyer gets confused about when he's only got three of them.

Hannity also insisted that their discussions "never involved any matter, any—sorry to disappoint so many—matter between me, a third party, a third group, at all." That was a clear pre-emptive reference to Cohen's role in facilitating Stormy Daniels's now famous $130,000 payment to keep quiet about her and Trump before the 2016 election, not to mention the whopping $1.6 million payoff he arranged for a model after Broidy supposedly got her pregnant. (Broidy quit his GOP post once that story came out last week.)

According to Atlantic magazine, however, Hannity can't make the same claim about two other Trump-connected lawyers he's also hired in the recent past: Jay Sekulow, who's currently heading up the tatters of Trump's Russia-probe legal team, and Victoria Toensing, who was supposed to join it along with her husband, Joseph diGenova, until unspecified "conflicts of interest" forced the pair to bow out. Identifying themselves as "Counsel for Sean Hannity," Sekulow and Toensing sent a cease-and-desist letter to a Tulsa radio station last year after right-wing activist Debbie Schussel went public on its airwaves with charges of Hannity's "creepy" behavior to her, including an invite to his hotel room.

Since all Hannity has to do to seem creepy is breathe, it's a wonder nobody thought of filing a class-action suit. But again, we have to ask: who the hell hires Jay Sekulow as his point man in a cheesy situation like this one? Before Trumplandia's quicksand got him, Sekulow's major gig was bossing the American Center for Law And Justice, Christian broadcaster Pat Robertson's Kryptonite version of the ACLU. He doesn't have any more of a conventional law practice than Cohen does, but maybe the C & D letter's recipients were supposed to be cowed by Hannity's instant summons of such marquee-name right-wing artillery.

At least we know the nature of Sekulow's legal work for him, which isn't true of Cohen's murkier services. Hannity can claim he wasn't really a Cohen client until the cows come home, but Cohen clearly thought of him as one. That's not the sort of thing a lawyer gets confused about when he's only got three of them. Going by his labors on Trump's and Broily's behalf, Cohen is also hardly the guy you consult when you've got respectable business in hand. He's a fixer, an enabler, a reliably none too scrupulous go-between whenever seaminess is on the menu. If Hannity truly thinks of Cohen as a "great attorney," as he's said more than once on his show, we'd hate to meet his idea of a great dental surgeon.

Barring something sensational in Cohen's seized files, the odds are that Hannity's cameo in the investigation will be just that: a sideshow. But Trump's most obnoxious TV defender seeking legal advice from Trump's most disreputable lawyer, neither of which is an easy trophy to win in two such competitive fields—and then trying to conceal it once the Feds get busy—is one more reminder that "I know a guy who knows a guy" cronyism is this Sopranos-style administration's default mode, media shills included. The fish unmistakably rots from the head, even if all Hannity did was slip Michael Cohen the occasional fin or two.