On a recent Sunday night in New York City, I sat cross-legged enjoying charred corn and lobster cooked with miso-cannabutter. Seated next to me was a lover I met four years ago at a Satanic Black Mass who first introduced me to medical marijuana (Satanism is a loaded-word that would freak the hell out of the Puritans, but modern-day Satanism is largely non-theistic and simply asks one to be themselves and enjoy their animal nature). The room resembled a combination of a rainforest-themed spa and an opium den. If I wanted to wander within the space, I would have found kink-themed rooms meant to encourage and allow safe and consensual fun such as doctor/patient role-play.

I was at NSFW, aka the New Society for Wellness, a members-only sex and cannabis club, for its "Danksgiving" event, a Thanksgiving spin on monthly "Danquets," a cannabis supper club series curated by resident CBD connoisseur Chef Oscar Toro. "There's something beautiful about going home to family, but many of the people who are in our community don't necessarily have that," says Daniel Saynt, founder and "Chief Conspirator" at NSFW. "Or they're not from America, and are here in New York City, but their family is in another country. Creating a meal and bringing people together around a dinner table, and especially doing it with cannabis, that makes people more personable and more connected, is very important."

New York City has always been a haven for those who grew up feeling out of place elsewhere. Gentrification and privilege play an undeniable role in who succeeds in this town, but the determined artist always finds a way. It is the determined artist who will happily live in a small crooked apartment with multiple roommates in exchange for a city that accepts them. The uber-rich, loaded with family money, may bitch about the dirty streets, garbage smells, and rats in the subways, but the determined artist finds a muse within the filth.

NSFW has members who are not artists nor queer, with supportive families to go home to over the holidays, but it takes a certain person to not only live in New York City but make an effort to join a private club based around sex and cannabis. Speaking of member selection (there's a waiting list for NSFW), Saynt says, "We look for people who are looking for that sense of community. One of the things we ask in our application is, 'How will you contribute to NSFW?' That answer that we get is usually really telling as what people are looking for. And you tend to see people who are looking for connection."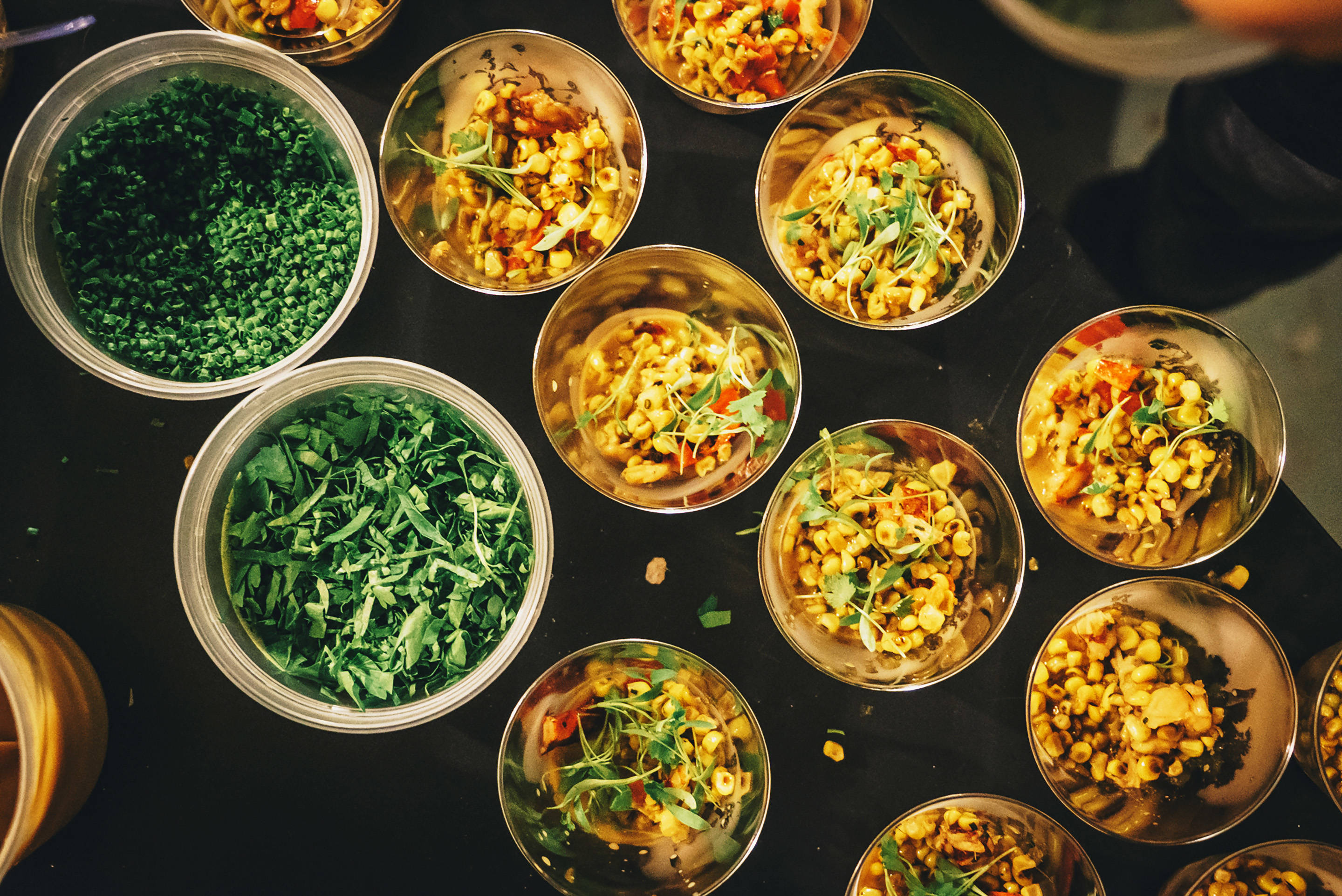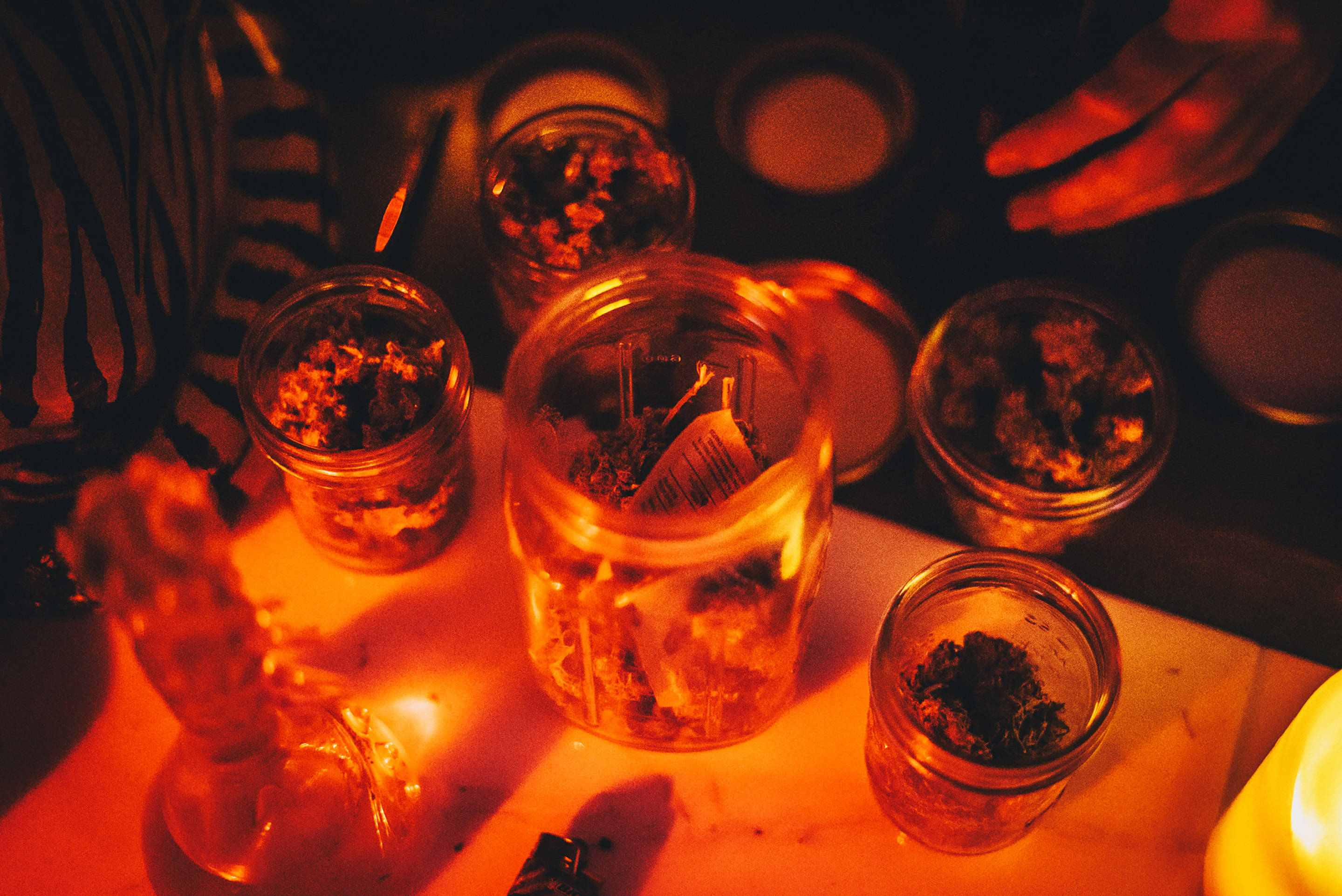 Danksgiving is formed from a desire to have the things I didn't really have growing up. The ritual of passing around a joint is part of forming community and connection

Are you lacking that connection from your blood relatives? Were you abused? Do they refuse to use your correct pronouns? Are they Trump-supporters? Do they just not accept your lifestyle? According to LGBTQ-friendly sex therapist Dr. Kelly Wise, it's not only okay to not go home for the holidays, but celebrating in your own style is far better for your mental health. "Chosen family can actually feel supportive and nurturing. We don't have to leave parts of ourselves at the door," Dr. Wise says.

Studies suggest that the THC from cannabis attaches to our cannabinoid receptors and can interact with our emotional processing—which can lead to users experiencing more empathy, crucial for bonding with others. "For me personally, Danksgiving is formed from a desire to have the things I didn't really have growing up. The ritual of passing around a joint is part of forming community and connection," Saynt says. "And that's what people are looking for. People are looking for like-minded people. Within NSFW there's a general like-mindedness of being open to new experiences and being excited about sex and cannabis."

With the passage of FOSTA-SESTA—vague legislation disguised as an anti-sex-trafficking bill that in reality further criminalizes fringe sexualities and sex workers—coupled with the encouraging yet still fragile spread in cannabis legalization laws, it's a bold time to run a sex and cannabis society. Yet under the Trump administration, times so dark we may not realize the shadow we're living under until it's (hopefully) passed, communities for the queer, the stoned artist, the kinky, the pro-dommes, are more needed than ever. From Studio 54 to the punks of St. Marks Street, rebellion runs through the veins of New York City, and what keeps many of us here despite the failing MTA and impossible rent. Only havens of proud hedonists and those strong enough to form their own families could come together to create an event such as Danksgiving.

Only havens of proud hedonists and those strong enough to form their own families could come together to create an event such as Danksgiving.

Beyond providing delicious CBD-infused food in a play (read: sex) friendly environment, Danksgiving offers those who don't feel safe going home for the holidays an opportunity to celebrate in a manner they see fit without judgment from blood family. "One of the core things humans need is feeling a sense of belonging. When we don't have that in our family of origin for whatever reason we're going to try to find people who get us, especially around the holidays," Dr. Wise says. "When a person doesn't have a sense of belonging, mental health goes down the tube."

Thanksgiving is hard, and that's not even getting into the problematic elements of the holiday such as colonization, the genocide of Native Americans, and despite constitutional separation of church and state, the overlord of a Christian nation. Melissa Vitale, the communication director for NSFW, says the club is her first-stop after going home. "Even though I do have a Thanksgiving and a loving family, they're not accepting of my true self, which is kink-friendly and cannabis positive. NSFW is one of the few places where I can go and celebrate something and be with the people who accept me."

Community is conducive to more community. Within spaces like NSFW, the cannabis science nerds have connected, those into rope bondage have connected, and those that will be in New York for actual Thanksgiving are even getting together to hold a private family dinner, in which I plan on dressing up in a Wednesday Addams-style dress that perverts the Puritan tradition, and laughing and eating around those who love me for who I am.

"So many of my people work through that, and sometimes it takes years to not go back there," Dr. Wise says. "They're going back to the house and seeing people who treated them badly or maybe even abused them, that was never talked about or just brushed under the rug. It's just re-traumatizing ourselves. Why do we need to do that on the path to healing? When you decide to be with people who really get you and feel safe and comfortable with, it's pretty amazing."

Bringing someone new home for the holidays can cause all sorts of headaches.