Lady Gaga and Bradley Cooper Find New Voices With 'A Star Is Born'—F-Bombs Included
Written by Stephen Rebello

Published on

October 03, 2018
It's obvious that Hollywood doesn't know how to quit A Star Is Born. Through three previous big-screen incarnations, kicking off with What Price Hollywood in 1932, the basic through line, most indelibly scripted by William A. Wellman and Robert Carson, remains untouched. A major star and addict on the slide romances and grooms for stardom a raw, ferociously talented newcomer. The higher the newbie soars, and the more frantically she tries to break her lover-mentor's fall, the faster he crashes and burns.

It's a show-business soap opera of the highest order—so juicy and irresistible that Clint Eastwood was attached for years as director before moving on. In the past two decades, Whitney Houston,
Beyoncé
, Will Smith,
Robert Downey Jr.
and others were mentioned as possible stars of a reboot, and there is current talk of a Bill Condon-directed Broadway musical. Judy Garland and James Mason starred in the most-heralded screen version in 1954. But, in more recent memory, back in 1976, Barbra Streisand and Kris Kristofferson sang their way through the very first version of
A Star Is Born
to be set in the music industry, rather than the movie business.
David Lowery tells Playboy about reuniting with the screen legend for 'The Old Man & the Gun'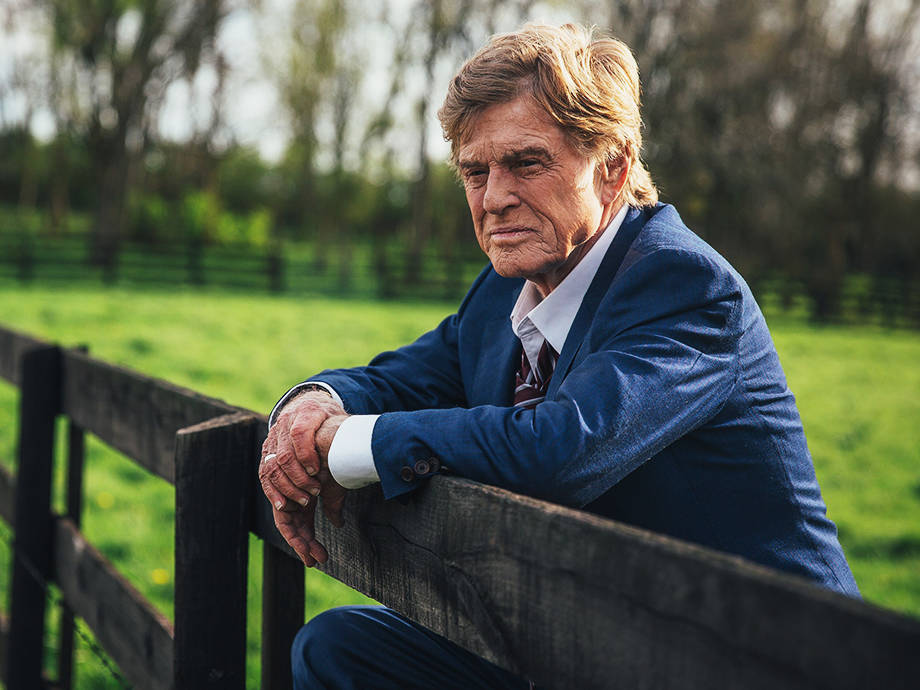 Now, along comes the brand spanking new 2018 model, and Lady Gaga and star/director/screenwriter/songwriter/and-who-knows-what-else? Bradley Cooper closely shadow Streisand and Kristofferson's footsteps. Or is it boot prints? When Warner Bros. began previewing Cooper's movie to insiders in late summer, big questions loomed. Did Gaga have the acting chops to carry a movie pretty much built around her? Could Cooper make a convincing directing debut, let along portray a rowdy, disheveled, deeply depressed downbound singer? Could there possibly be any juice left in a story been done to death? You'd better believe it.
A Star Is Born
is the kind of Hollywood movie we seldom see anymore. It looks like a zillion dollars, thanks to cinematographer Matthew Libatique (
Mother!
), and exceptionally well-directed—big yet intimate, it feels both personal and universal, charms and seduces us before reducing an audience to tears. It's got "awards" and "crowd-pleaser" written all over it.
Cooper, in a career-best performance, plays Jackson Maine, a gravelly voiced, charismatic rock legend with a troubled past, serious hearing problems and a taste for booze and self-destruction. Stumbling into karaoke night
at a drag-queen bar
, he is wowed by Lady Gaga's insecure, self-effacing Ally as she belts out one hell of an Edith Piaf-style version of "La Vie en Rose." (Her French pronunciation may be iffy, but she ignites the movie every single time she warbles).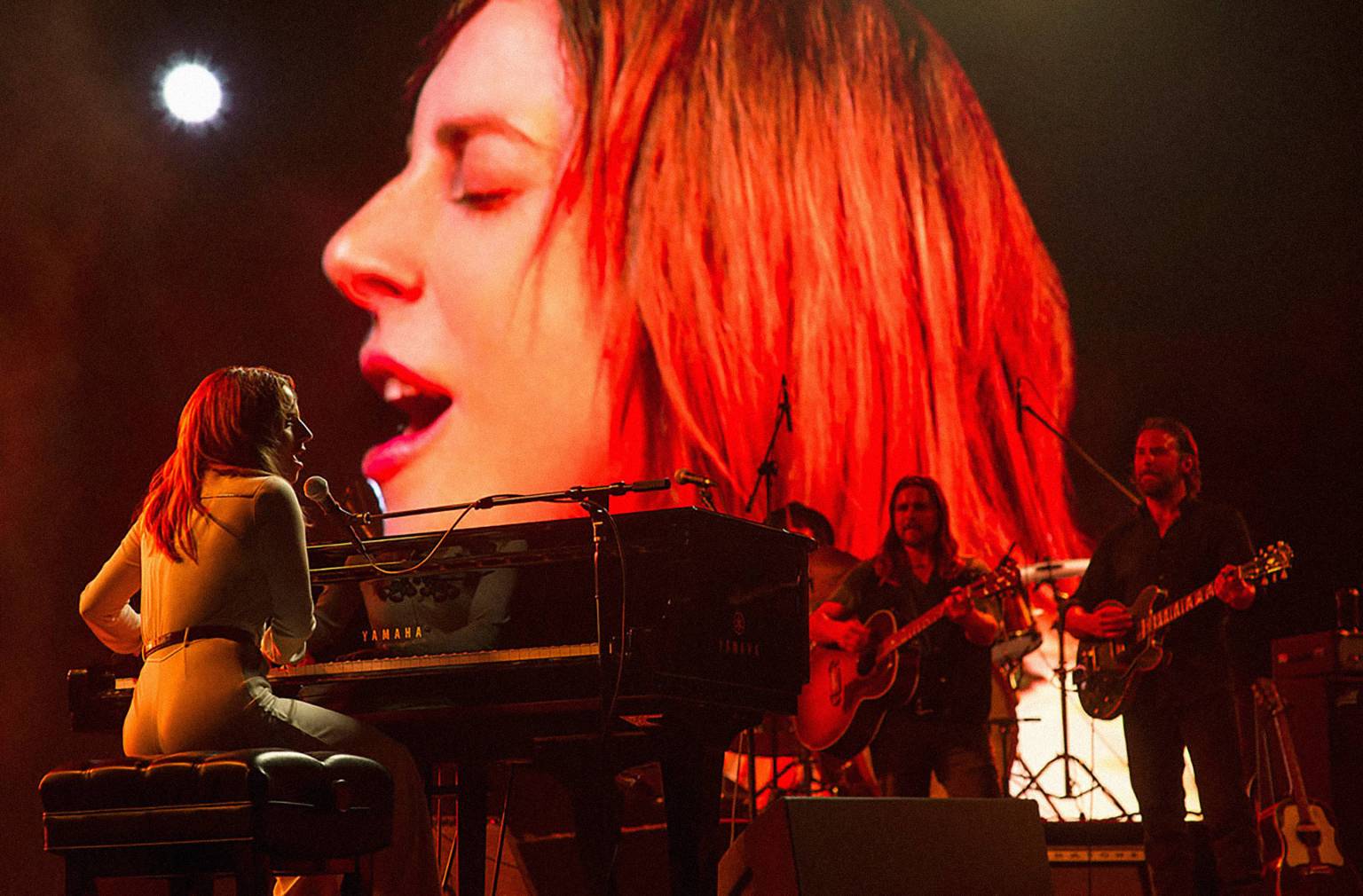 Jackson draws out of Ally that she writes her own original songs, sparks fly, he shores up her shaky self-confidence about her talent and looks—she, like Streisand, fears her big nose will blight her career—and soon, Jackson is flying Ally to his gigs and seducing her to join him on stage. She becomes an internet viral sensation, and that attracts a slick manager (Rafi Gavron), who makes her over for a big, fat solo career. Problems between her and Jackson ensue. Heartbreak, too.
What sets apart this
A Star Is Born
from its predecessors is its grittiness and funkiness. Sometimes, that works. Cooper and Gaga's scenes together ripple with an improvisational, leave-in-the-goofs authenticity. Likewise, Cooper's moments with his older brother, a failed but talented singer-songwriter who now manages Jackson, played (brilliantly) by Sam Elliott, are searing. Gaga's home life with her chauffeur father (nice work by Andrew Dice Clay)—a would-be crooner like Frank Sinatra—rings true, as does Cooper's side trip to the home of a childhood friend and happily retired former performer (nice work by
Dave Chappelle
). But mostly, the characters say "fuck" as often as if they were in a Scorsese movie.
What sets apart this A Star Is Born from its predecessors is its grittiness and funkiness.

We get it. In their effort to blow the cobwebs off A Star Is Born, Cooper and Co. just overdo it. And truth to be told, the first half of the movie—which is full of loving references to Judy Garland, Barbra Streisand and more—plays much better than the sometimes-draggy second half. But all is forgiven any time Cooper and Gaga sing, together or separately.

The songs, written by Gaga, Cooper, Jason Aldean, Lukas Nelson and Mark Ronson, land beautifully on first hearing, and the soundtrack should hit big. And when Gaga and Cooper face a massive stadium audience to duet on a song called "Shallow," the movie becomes electrifying and spins into the stratospheres. It's a moment for the ages. Mark A Star Is Born as the film that crowns Lady Gaga as a powerful and winning screen presence, and Bradley Cooper as a first-rate director and born-again movie star.
A Star Is Born
Pros

Bradley Cooper and Lady Gaga give career-defining performances in this moving stunner with toe-tappers aplenty

Cons

It gets tough to keep up that momentum in the later going