I shivered in my plush, white bathrobe in the frigid 40-degree winter air as I tiptoed along the hopscotch-style path. Before I could open the heavy wood door, a short spa attendant with long, chestnut-colored hair beat me to it. She graciously guided me inside the room she was guarding: a hot stone bath house, a Bhutanese version of a Jacuzzi tub surrounded by flickering candles.

I traveled nearly 30 hours on four flights before taking the two-hour drive along half-paved roads to the Kingdom of Bhutan's Phobjikha Valley, where the farmhouse-style Gangtey Lodge is hidden amongst the hills, 9,500 feet above sea level. It's early December, and it's cold. I had heard rumors of Bhutan's tshachus (or hot springs) that are similar to Budapest's thermal baths, where locals migrated in the winter in hopes of relieving aches and arthritis.

The lodge was far from the famed hot springs, but it did boast another Bhutanese tradition: "dotsho," baths heated with wood-fired river stones. Centuries ago, families would make a day out of visiting the community bath house; now, luxury lodges like Gangtey have modernized (and vamped up) the ceremony. Twenty minutes submerged in the boiling-hot mineral water swirling with Ayuvedic herbs like Artemisia leaves (or wormwood) and you have an ancient version of a detox, invented long before Goop and Moon Juice. But you don't need to sweat in sauna-like steam to reignite your relationship. If you prefer wintering somewhere where summer seems to linger year-round (read: far, far away from blizzards back home), these spots near and far(flung) are sure to warm up your sex life:

As soon as January hits, there's one locale everyone in New York seems to hone in on: the Caribbean. There's the all-inclusive Caribbean (screaming children, undrinkable booze) and the seclusive Caribbean, meaning villas, yachts, and even a James Bond story or two—particularly at the former home of author Ian Fleming in Jamaica. When British travel writer Patrick Leigh Fermor first visited in the 1950s, he wrote, "Fleming has built a house called GoldenEye that might serve as a model for new houses in the tropics."

Breakfast in bed is luxurious enough, but how about breakfast delivered on a floating tray in your own private plunge pool?

Tucked along Oracabessa Bay, a 20-minute drive from the resorts of Ocho Rios on Jamaica's north coast, GoldenEye is where Fleming wrote all 13 of his
Bond novels
(commencing with the infamous
Casino Royale
) and where Sting composed chart-topper "Every Breath You Take." Now, the sprawling estate features plenty of lust-worthy spots, from bohemian treehouses to swanky villas hovering over the lagoon (plus sexy, outdoor showers encased by tropical trees). If this isn't enough to heat you up, take a seat at the seaside Bizot Bar and order a Double Agent, a cocktail composed of Cuban cigar-infused Havana 7 rum stirred with sweet vermouth and topped with a splash of homemade spice syrup.
St. Barts may be considered the jet set destination du jour where you're likely to spot socialites and Victoria's Secret supermodels during high season, but it was once frequented by a free-spirited set of travelers who favored its Ibiza-like vibes. "St. Barts is special; it has this cool atmosphere with jetsetters around Christmas, but it's different the rest of the year," explains Villa Marie's Jocelyn Sibuet, nicknamed the "French Martha Stewart."
Sure, you can spend the afternoon popping magnums of rosé at Nikki Beach, but if you would rather a pool all to yourself, Villa Marie's new, two-bedroom Villa Colombier, draped over Flamands Bay, may be more your style. Décor blends touches of colonial and Caribbean accents for a look that's equal parts bohemian and chic (there's even a framed Slim Aarons photograph in the living room, if that's any indication). For a plage just as private, set off to nearby Colombier Beach, trekking down wild, cactus-covered paths that open up to a crescent-shaped strip of sand that's practically yours for the taking.
Desert locales may seem more steamy than sexy—unless we're talking about Marrakech, that is. The Moroccan city has captivated the likes of Sir Richard Branson (his 28-room hideaway, Kasbah Tamadot, sits an hour out in the Atlas Mountains) and Yves Saint Laurent, who fell so head-over-heels, he bought a home here. Start your evening sipping Champagne in the basement of 1920s Paris-inspired restaurant Le Palace, where A-Listers like DiCaprio come to party.

Atlanta's Hotel Clermont is now open on the famed Ponce de Leon Avenue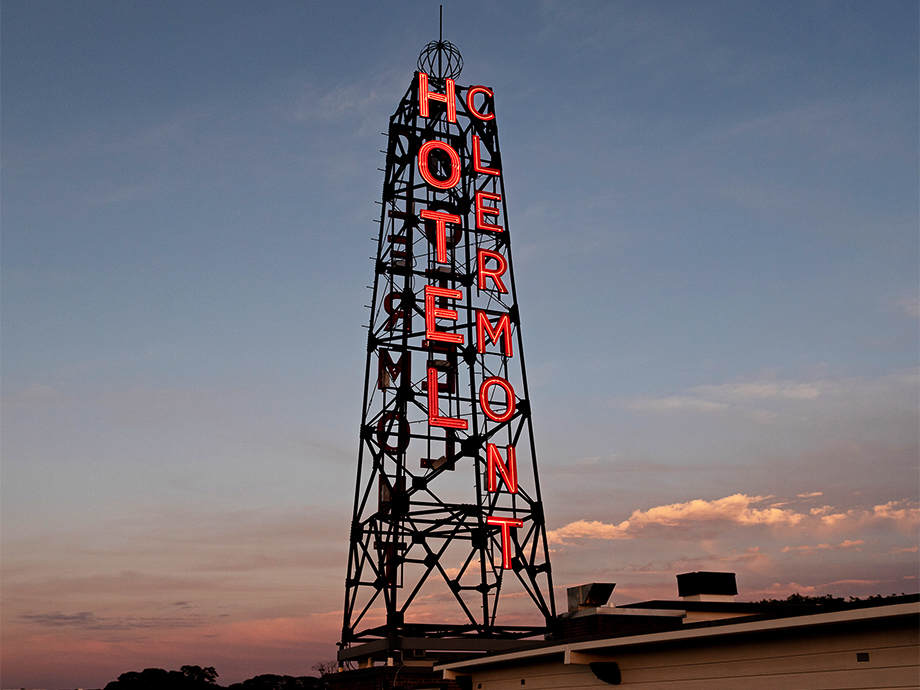 Escape the crowds of the bustling souk at La Sultana Marrakech, hidden down in alley in the ancient walled medina, where super sexy sultan-inspired suites sport tubs as gilded and over-the-top as the Versace Mansion. Take a seat on the hotel rooftop in the evening and watch the sun set over the mountains while sipping a cocktail that pays tribute to one of the city's celebrated residents—Yves Saint Laurent—before warming up with dinner poolside sampling another one of Morocco's claims to fame: fragrant lamb tagine, washed down with a glass of local red vino.
Breakfast
in bed
is luxurious enough, but how about breakfast delivered on a floating tray in your own private plunge pool? Winter is high season on the island of Koh Samui in Thailand, meaning that while friends are freezing back on the East Coast, you could be eating your chef-prepped omelet while taking a dip in your infinity pool overlooking the Gulf of Thailand. Not only can your villa butler at Banyan Tree Samui arrange the romantic breakfast for deux, they can also set up a spa day at the hydrotherapy sanctuary dubbed "The Rainforest."
One hour strolling through a series of tropical-inspired saunas and Swiss showers—followed by a dip in the private beach down below—will definitely have you shaking off any winter sadness, leaving you rejuvenated, tan and ready to tackle the rest of the season.