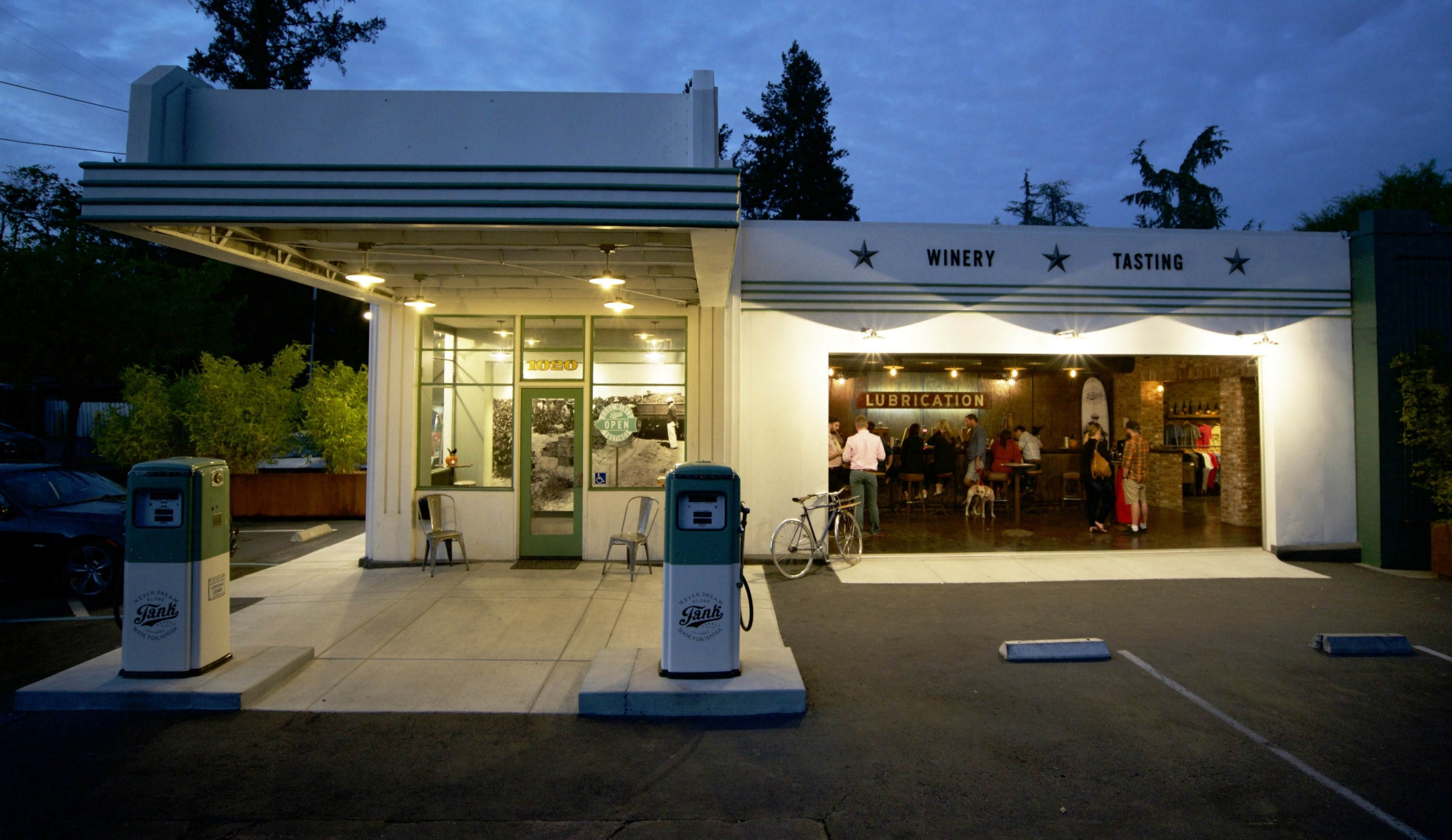 This 1930s Gas Station is Now a Retro Napa Winery
Written by Andrew Daniels

Published on

November 29, 2017
James Harder and his business partner Jim Regusci have what their wives call "an ongoing thirst for creativity and chaos." Take one glance at their passion project, Tank Garage Winery, and it all makes sense. Whereas most wineries in Napa Valley, California are scenic, sprawling estates, Tank Garage sticks out like a sore thumb. If it looks more like an old gas station on a street corner, that's because it is.
Harder and Regusci are longtime vets of the wine business. Harder owns and operates James Cole Winery in Napa with his wife, Colleen, while Regusci, a third-generation Napa graper grower, runs the show at Regusci Winery with his wife, Laura. The partners had been looking to shake up the Valley by "doing something nostalgic" when they discovered a 1930s-era service station in the town of Calistoga.

Where others might have been deterred by the run-down relic, the self-proclaimed risk-takers instead saw an opportunity: "It had the original art-deco streamline moderne shape we really liked, so we spent almost two years restoring it back to life," Harder says.
In 2014, they officially opened Tank Garage, complete with a speakeasy in the back, retro pinball machines in the front, and a prominently displayed bike from the station's original owner, Eddie Bratton, a well-known Indian Motorcycle racer and mechanic. It was an unquestionably creative and chaotic addition to the relatively traditional and sometimes-stubborn Napa Valley landscape.
"At first, people just stopped in out of curiosity," Harder says. (You'd do the same if you saw an old art-deco garage with pumps outside and a roll-up door with vintage neon signs on your country drive.) But once patrons tried the product, he says, "they immediately saw we were serious about crafting unique wines."
These days, Tank Garage boasts a devoted base of customers who eagerly drink up the winery's unconventional—and extremely limited—offerings. Once Harder and Regusci blend non-traditional grape varieties and package them in a badass design, the bottle instantly becomes a one-off. "We never repeat that same blend, nor do we put it in the same label," Harder says.
The duo's latest limited creation is Chrome Dreams, a 2015 Cabernet Sauvignon-based blend with notes of blackberry and leather that Harder calls a love letter to American vintage cars and motorcycles. "We love how chrome just completes the look and design of these beautiful nostalgic machines," he says, which is why he bottled up the red in chrome glass—the first such wine bottle ever.
Chrome Dreams is the result of a decade of curiosity and futility, says Harder. "I once called up a plating company and asked if they could chrome plate one wine bottle for me as a test," he says. "They basically just laughed and hung up the phone."
Harder's fortunes changed in 2016 when he finally hooked up with Quest Industries, a glass packaging company that trades in wine, spirits, and cosmetic glasses. Harder heard they were testing a metalized coating that lends a mirror-like chrome effect to bottles, so "we simply begged them to let us be the first winery to test it out," he says.
After a few production snags, Tank Garage ended up with around 470 finished cases of Chrome Dreams (buy a bottle here for $75). Harder readily admits that "this project made little financial sense to us," but he can't wait for wine enthusiasts to try it.
"We truly believe it's a unique and timeless wine that represents our American Dream," he says.