The Bar Where James Bond and James Dean Would Share a Drink
Written by Dara Pollak

Published on

March 22, 2018
Sitting on the 10th floor of 1 Hotel in downtown Brooklyn is the Brooklyn Heights Social Club—just the right amount of modern nightlife mixed with the old-world sophistication of a New York social club.

It's happy hour on a Friday night and the beats are mellow, but the view's nothing short of awe-inducing, providing a panoramic shot from the Brooklyn Bridge all the way to Lady Liberty. The framing is accented dramatically via low ceilings intended, by design, to force visitors to see "almost 70 percent water". The earthy tones of the 1 Hotel continue into the haunt as well, minimalistic and polished at the same time as it is dark and gritty.I'm sitting in a large fishbowl directly across from the city everyone is looking to get into. But I'm outside of Manhattan and I'm perfectly content with that fact because we don't need NYC to find a great rooftop bar anymore. When I look over my shoulder, I see a couple sipping bespoke cocktails and running fingers along the edge of a gold-rimmed glass. Behind me is a petite cocktail waitress with hazel eyes, gliding by with a bottle of Belvedere to a table in the back.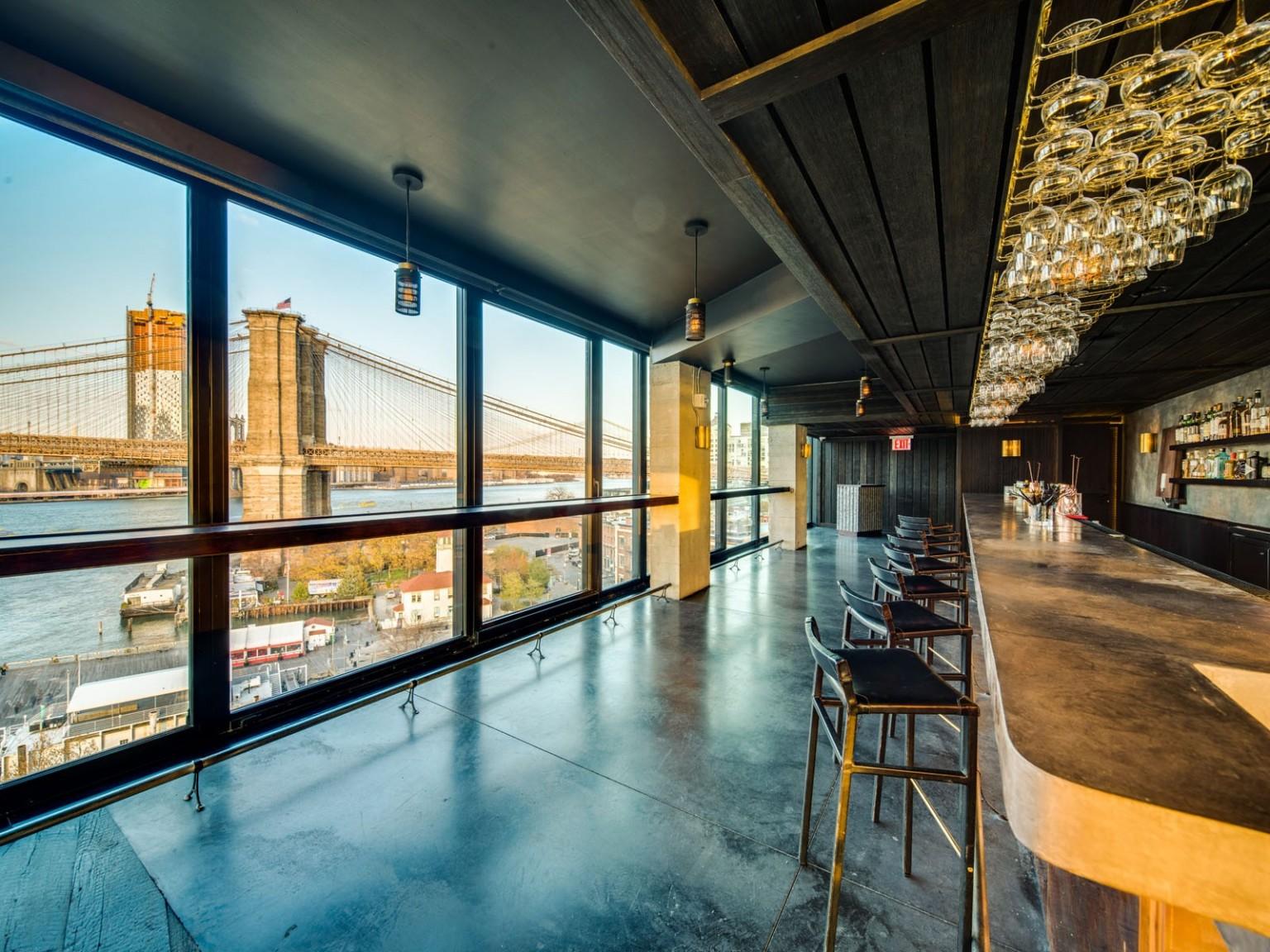 The drama is in the details, according to owners Eddie Bilowich (1Oak) and Matt Abramcyk (The Beatrice Inn, Tribeca's Smith & Mills). "The view is the décor, all else is just a conduit for that transportive piece", says Abramcyk, "and similar to Beatrice Inn, we wanted to create a rarified experience that is intentionally made smaller and more intimate rather than grand or over the top".Even the cocktails are given special attention, separated by spirit and curated by Albert Trummer (Apotheke, Sanatorium). Fresh Oregon blackberries are soaked in Grand Marnier with a Bison Grass infused vodka for the "Black Sky" ($18), and a fragrant elderflower elixir is infused with house champagne for the "Unforgettable" champagne cocktail, topped with Japanese cucumber foam.Should you choose to start your night with some light snacks, the parmesan and black pepper rice crisps are the perfect salty bite to accompany your cocktail. And what would an intimate lounge be without a selection of spreads and charcuterie to share? If you want to go big, try the selection of cured meats provided by End's Meats ($30) and the cheeses from American Farmstead.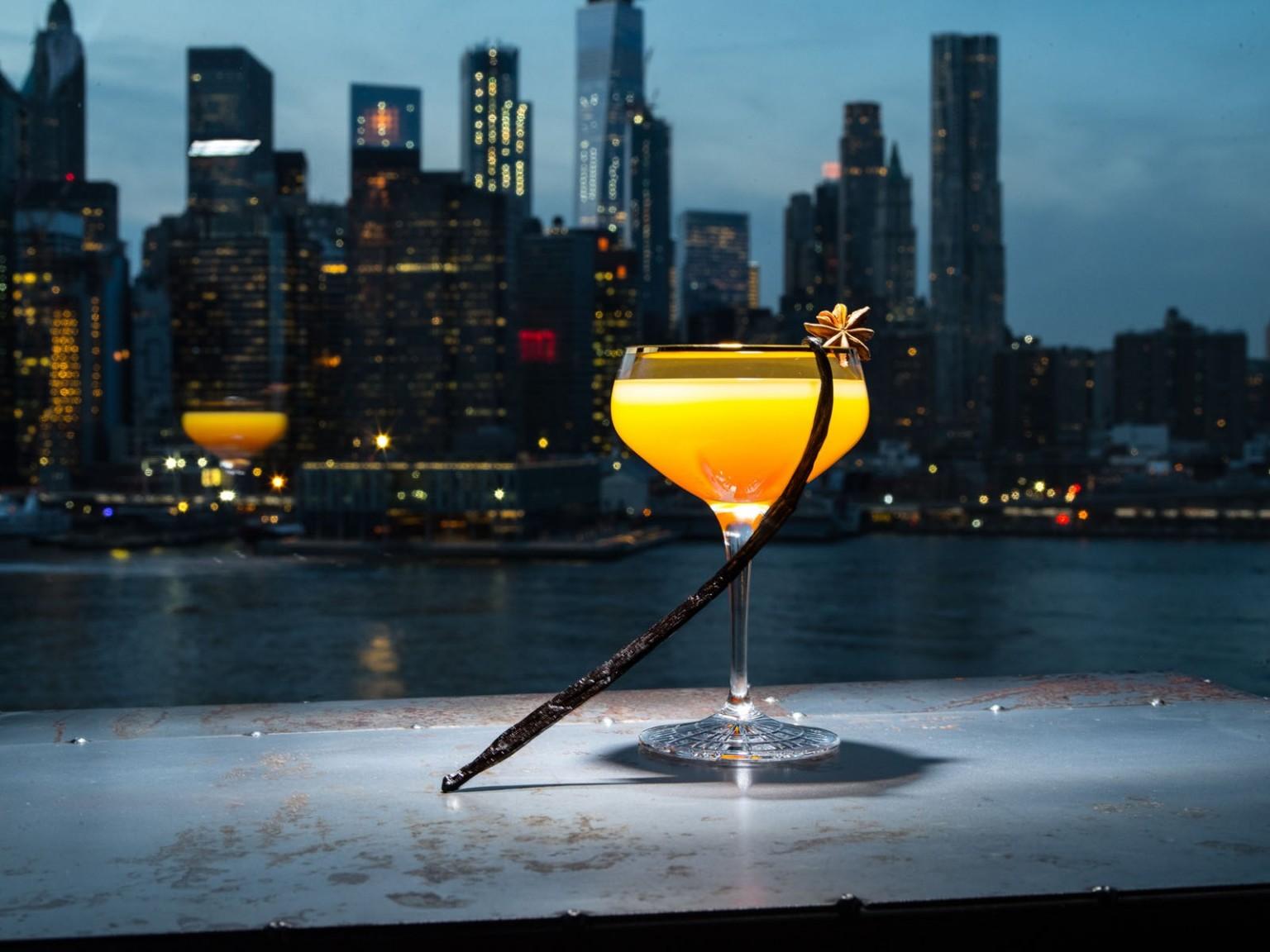 Brooklyn is the hub of all things cool, and Brooklyn Heights Social Club captures those vibes while turning the sophistication up a notch. "So many great and accomplished folks live in the neighborhood and don't have anything like this," says Abramcyk, "we are filling a void for those that wish to feel enlightenment by space and company." The impressive stature of the space is slightly juxtaposed with the surrounding area in Dumbo, but that's why they chose it. "It isn't necessarily about Brooklyn," adds Bilowich, "we wanted to create something with a global sensibility that just so happens to be in Dumbo. It's up and coming and we want to be the centerpiece".With Spring and Summer approaching, it's going to be all about that view. Whether you're sharing an after work herb-infused cocktail with a friend, or throwing an intimate party with a bottle of Veuve and dancing late into the night, make sure you're there in time to soak in that panoramic sunset. Pick your poison and choose your occasion. The night is what you want to make of it, this just happens to be the beautiful backdrop now available.