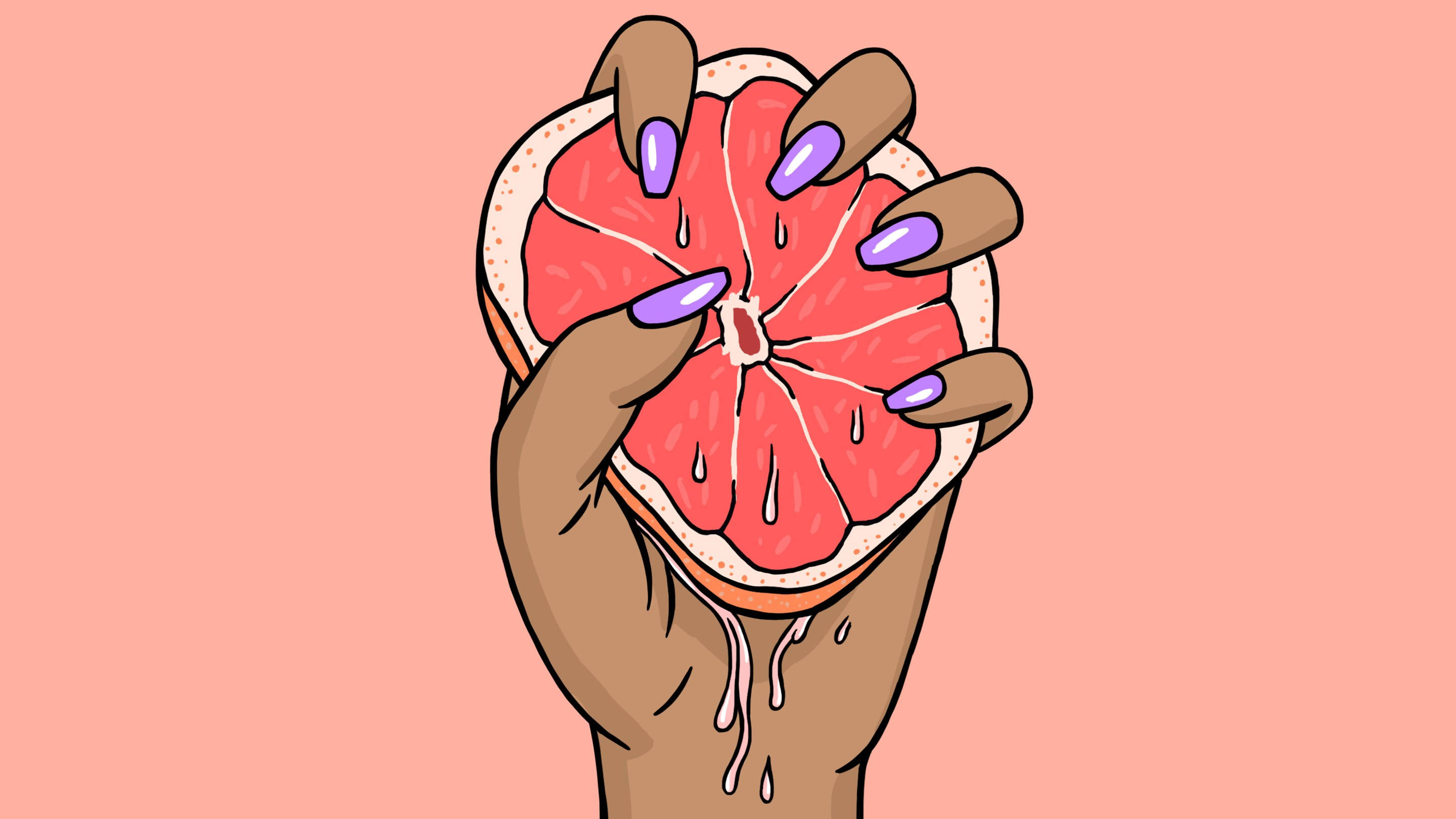 The Battle Over Grapefruiting: Can Anyone Actually Own a Sex Act?
Written by Isabelle Kohn
Illustration by Robin Eisenberg

Published on

July 21, 2017
"When you grapefruit your man, it's going to feel as if you're giving him head and fucking him at the same time," says the woman on the screen. Wearing a pink tube top and wielding a knife, she smiles as she cuts a penis-sized hole into the grapefruit's dripping center. "No better feeling he will ever get."

This is Auntie Angel, a woman whose reign as the official "Grapefruit Lady" has been undisputed since 2002. That was the year she gave a raucous presentation of the grapefruit blowjob to a bridal party, for which she got such an overwhelmingly positive response that she started teaching classes on the fine art of fruity fellatio in Chicago the next year. A proprietary technique she'd been practicing on her then-husband since the same year Titanic came out, "grapefruiting" became the thing Angel was known for in local circles; this thing drew people to her for sex and relationship advice as part of her growing business, Angel's Erotic Solutions.
Cut to 2012. Angel released a popular instructional DVD called "Angel's Fellatio Secrets," featuring ten bespoke blowjob tips acted out with graphic aplomb. A particularly memorable moment showcasing an appearance by her signature brunchy blowjob was made, and the clip from the DVD went viral. Suddenly, Angel became an international sensation. Over five million people have watched her original YouTube video since (not counting the hundreds of thousands of others who've happened upon copycat versions), and today, you can't say "Auntie Angel" without saying "grapefruit blowjob" — the two are synonymous and inseparable. If you need proof, search "grapefruit lady," "grapefruiting," or "grapefruit blowjob" on any social media or porn site, and guess who's face comes up? Hint: it's not Russell Brand's.
Today though, a challenger. Angel's legacy as the originator of the grapefruit blowjob is being called into question by actress, comedian and star of the new film Girls Trip's Tiffany Haddish, who claims in an Essence video interview that not only did she herself invent grapefruit blowjobs, but that Angel stole the move from her.
"I told her about my shit," says Haddish. "If she wants to teach the world, then teach the world. I talk about it on stage, I've done jokes about it for years, but she demonstrated it." No evidence we're aware of proves Haddish's claims are true (she or her team have not responded to our request for comment), but the battle over the grapefruit blowjob brings up an interesting question: Can anyone really own a sex act? After all, there's no doubt someone's freaky great-great-great grandparents realized you can do more with a grapefruit than let it rot in your fridge for six weeks because you aren't actually as healthy as you'd like to believe.
Generally speaking, the answer is nope. Not legally, at least.

You can own certain parts of a sex act. You can trademark the name of the act and yourself. You can copyright the work the sex act appears in.
John Begakis of the Los Angeles-based AltView Law Group says no provision of United States intellectual property law makes it possible to own a sex act, or any type of movement for that matter. Unless that movement is specifically related to a larger, copyrighted work like a play, no dice. You can, however, own certain parts of a sex act. Begakis says you can trademark the name of the act and yourself. You can copyright the work the sex act appears in. You can patent the invention of a thing or a process, but it'll only apply in certain contexts. You can pioneer and popularize something like Auntie Angel did with the grapefruit blowjob, and you can set up various legal defenses so that unauthorized usage of the sex act is protected against, but Begakis says because the same sex acts take place in different contexts between different people, you can't ever really say, "This is mine.""The legal reality of content creators such as Auntie Angel and the grapefruit blowjob is somewhat mixed," says Timothy Driver, President of Legal and Business Affairs at the intellectual property investment bank Contrarian Vision. "Intellectual property law does not protect an idea per se; only the expression of that idea. It's like someone walking down the street—somebody had to have been the first person to walk down a street, but one cannot protect the idea of walking down the street."
However, in this situation, the problem is less with the issue of who owns the grapefruit blowjob, or whether that's even possible, but rather, with Haddish saying she owns something Angel likely does and what effect that could have. For this to be an illegal act of say, defamation, Driver says the presence of malice must be proven in a court of law. That would require Haddish knowing what she said was untrue, yet intentionally asserting it as fact with the intent to harm Angel anyway. Until Haddish makes a statement, that part remains to be seen.
In all likelihood, Haddish was joking when she invented the grapefruit blowjob. She's a comedian, after all. And no one—not even Angel—would blame her for wanting to capitalize off Girls Trip's most iconic scene by stoking the association between herself and the citrus-y technique. Any publicity is good publicity, even when it means endangering someone else's livelihood. Except of course, when you're the person whose livelihood is in danger. Joke or not, that's a real threat for Angel right now, and it's why she can't help but take Haddish seriously. Lighthearted as it may have been, Haddish's statement makes Angel look like a liar, and in a business where her clients come to see her based on her credibility as a educator, sex expert and the authentic pioneer of the grapefruit blowjob, she can't afford to have her name dragged in this kind of context.
"This is how I feed my children," she says. "It's way too easy for someone to hear that interview with her [Tiffany] and say 'Oh, Angel is a liar.' The repercussions of people thinking she came up with it could be serious for me, both financially and for my career. I want people to know that I am a mother, I am a small business owner and I am a sexpert and the last thing I would want for my legacy would to be known as a thief because my brand is everything to me. This is truly all about me being who I am, which is Auntie Angel the Grapefruit Lady, who just wants people to learn how to please their partner. That's all I want."
Nevertheless, the media seems to be on Angel's side. Bustle wrote Wednesday that, "We may never know who really invented grapefruiting, but one thing's for sure: Auntie Angel definitely brought it to the mainstream."
While she might not be able to claim exclusive ownership over the world's tangiest blowjob, that recognition is all Angel's asking for. And until Haddish shows up with some sort of instructional DVD from 2002 showing her deep-throating a grapefruit-ed dildo, we're betting Angel will get it.