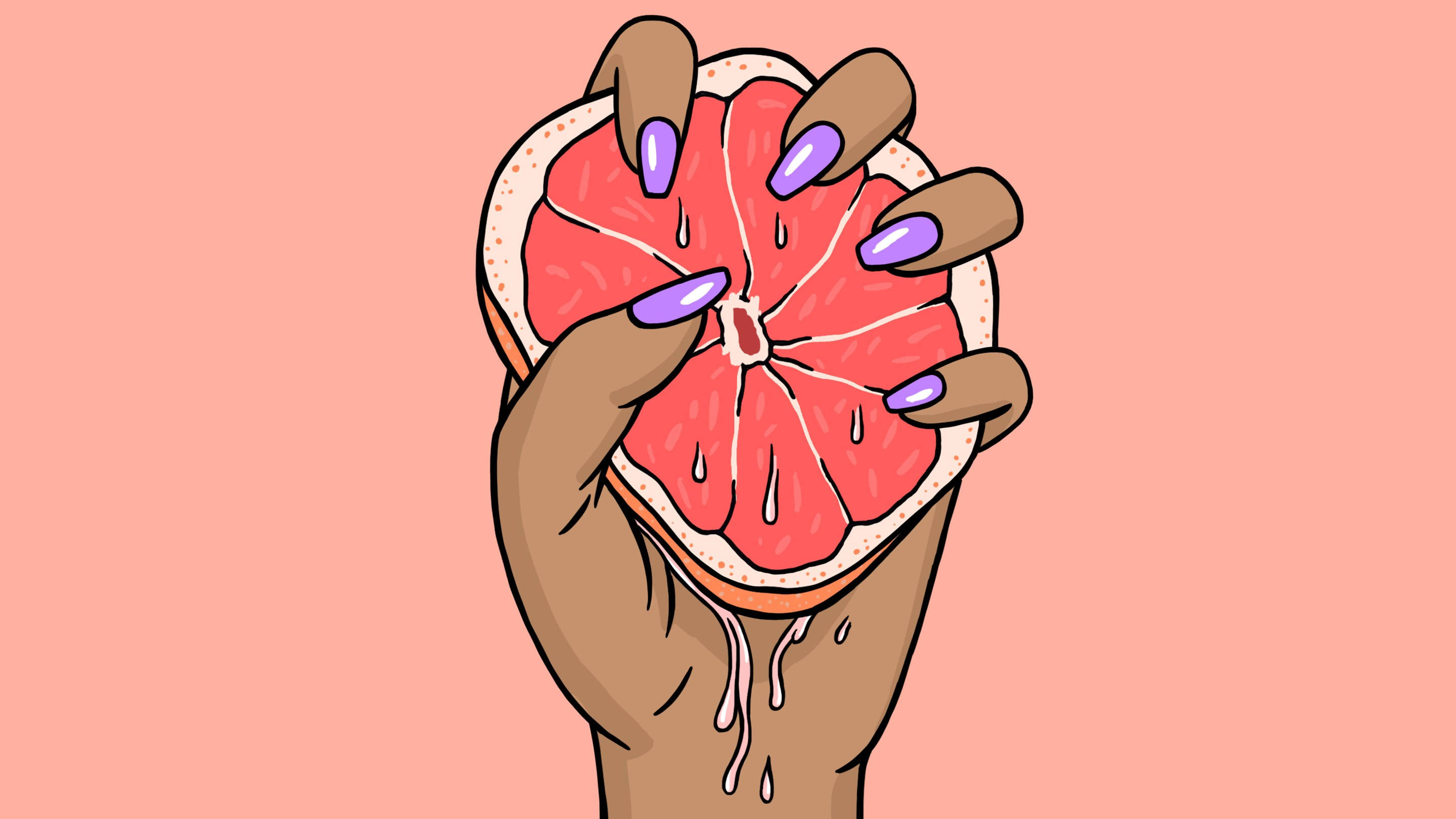 The Battle Over Grapefruiting: Can Anyone Actually Own a Sex Act?
Written by Isabelle Kohn
Illustration by Robin Eisenberg

Published on

July 21, 2017
"When you grapefruit your man, it's going to feel as if you're giving him head and fucking him at the same time," says the woman on the screen. Wearing a pink tube top and wielding a knife, she smiles as she cuts a penis-sized hole into the grapefruit's dripping center. "No better feeling he will ever get."

This is Auntie Angel, a woman whose reign as the official "Grapefruit Lady" has been undisputed since 2002. That was the year she gave a raucous presentation of the grapefruit blowjob to a bridal party, for which she got such an overwhelmingly positive response that she started teaching classes on the fine art of fruity fellatio in Chicago the next year. A proprietary technique she'd been practicing on her then-husband since the same year Titanic came out, "grapefruiting" became the thing Angel was known for in local circles; this thing drew people to her for sex and relationship advice as part of her growing business, Angel's Erotic Solutions.
Cut to 2012. Angel released a popular instructional DVD called "Angel's Fellatio Secrets," featuring ten bespoke blowjob tips acted out with graphic aplomb. A particularly memorable moment showcasing an appearance by her signature brunchy blowjob was made, and the clip from the DVD went viral. Suddenly, Angel became an international sensation. Over five million people have watched her original YouTube video since (not counting the hundreds of thousands of others who've happened upon copycat versions), and today, you can't say "Auntie Angel" without saying "grapefruit blowjob" — the two are synonymous and inseparable. If you need proof, search "grapefruit lady," "grapefruiting," or "grapefruit blowjob" on any social media or porn site, and guess who's face comes up? Hint: it's not Russell Brand's.
Today though, a challenger. Angel's legacy as the originator of the grapefruit blowjob is being called into question by actress, comedian and star of the new film Girls Trip's Tiffany Haddish, who claims in an Essence video interview that not only did she herself invent grapefruit blowjobs, but that Angel stole the move from her.
"I told her about my shit," says Haddish. "If she wants to teach the world, then teach the world. I talk about it on stage, I've done jokes about it for years, but she demonstrated it."
No evidence we're aware of proves Haddish's claims are true (she or her team have not responded to our request for comment), but the battle over the grapefruit blowjob brings up an interesting question: Can anyone really own a sex act? After all, there's no doubt someone's freaky great-great-great grandparents realized you can do more with a grapefruit than let it rot in your fridge for six weeks because you aren't actually as healthy as you'd like to believe.
Generally speaking, the answer is nope. Not legally, at least.