I can count the number of vaginal orgasms I've had in my entire life on one hand. They're hard for me to recall and even harder to achieve. They're elusive and mysterious and always just out of reach.


For years I thought such orgasms were mystical creatures from urban legends. To me as a young woman, they were the most widely accepted thing in pop culture that didn't really exist. More famous than Santa Claus or the Easter Bunny, the idea that if a woman is correctly penetrated, she will climax boggled my mind. That's not how it works! I thought.
In college, I read an essay about feminine sexuality and tried to have sex without thinking. I cleared my mind of thoughts and anxieties of the day (how exactly I forget, but I imagine it involved smoking weed) and focused on my body and something just happened. I let go and came. Vaginally.

I wasn't able to repeat that easily, even if I can to this day recall that all it takes is letting go and focusing on me and my vagina. In fact, for me, penetrative sex often makes me feel the opposite of pleasure. It doesn't bring me to ecstasy and orgasm, but it often hurts and I want it to be over. I'm convinced this is why women fake orgasms. Sex hurts and they want their partners to finish so it can stop hurting, crazy and backwards as that sounds. It's why I've faked orgasms, anyway.

It comes in a fancy box and cost ten times more than the KY jelly I order on Amazon, but it comes with big promises: vaginal fireworks, hour long orgasms, painless sex, getting my vagina even higher than I already am!

Enter: cannabis lube. It comes in a fancy box and cost ten times more than the KY jelly I order on Amazon, but it comes with big promises: vaginal fireworks, hour long orgasms, painless sex, getting my vagina even higher than I already am! I spend half a day's wage on it because fuck it, I'm on a quest for a vaginal orgasm.

The box says to spray the lube "directly onto the clitoris, inner and outer labia, and inside the vagina" 15 to 30 minutes prior to intercourse. It comes out of the pump in a firm stream that's cold against my clit and makes me squirm, but I do it anyway. I spray it a few more times, look over at my partner and giggle, slightly embarrassed. The lube is oily and lots of it drips down into my ass and onto the sheets. My partner and I try to take it slow to give the THC time to kick in, but we're frisky and it's hard to tell if fifteen minutes have passed.
The sex is good and the lube makes my vagina feel warm and fuzzy, but I don't have a vaginal orgasm. My partner does get me off though, and it's pretty spectacular. It's hard to tell if it's the THC or whatever's causing that warming sensation, but when I cum it's more intense and possibly a couple seconds longer than usual.

The main difference about the actual sex? There's much less discomfort. For me, sex often hurts at the very beginning and again after only a few minutes, not leaving much time in between that's pain-free and welcoming to orgasm. But with the THC lube, there's only the initial shock to my system, and then sex becomes easy and pleasurable quickly and for longer. In fact, the discomfort never comes. There's no need to fake pleasure because there's no pain, there's only pleasure. Yet, still not enough for the near-mythical orgasm.

The Green Angels provide a new kind of cannabis business.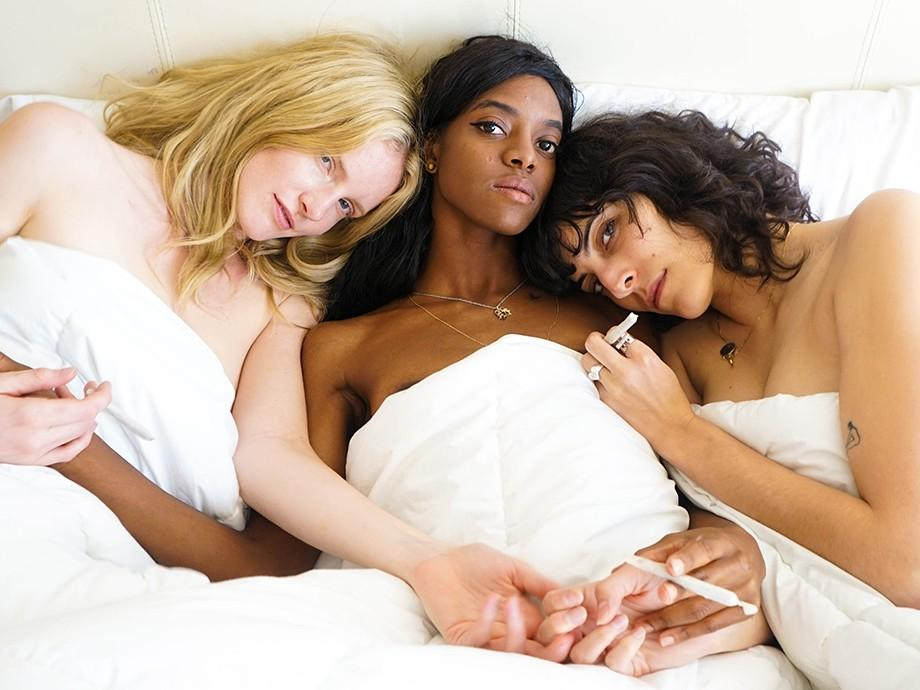 Many complain about the smell and texture of cannabis lubes; they're too skunky or greasy or both. But my biggest complaint is that they're not latex safe, at least the Foria Pleasure one that I tried. For my partner and I, that's a problem because we use latex condoms for birth control. While I'm aware there are
other types of condoms
out there, they're too expensive and hard for us to find in our area.
So we save the cannabis lube for my time of the month. While it may make things even messier, it also makes things even hotter. I'm usually more fired up and my lady parts are extra rearing to go. So whether it's the cannabis lube making my orgasms more intense or the unprotected period sex, it's hard to tell. But it's a treat nonetheless. Although, still not enough for a vaginal orgasm.
My partner and I try some
CBD lube
as well, but it's even less effective. I still get discomfort during penetration and my orgasm is normal. Still hot, but not longer or fiercer. It feels and functions more like regular lube than the one we bought with THC; it lubricates but it doesn't intensify things or get my body high. And it's definitely not enough for a vaginal orgasm.
There's no doubt in my mind that we'll keep exploring cannabis lubes, hopefully someday with even more cannabinoid varieties. Perhaps it's a ratio of CBN to THCV that will perfectly prime my vagina for orgasm. Until then, weed lubes are fun albeit expensive and can help women like myself who find penetrative sex somewhat uncomfortable, but they're still no magic key to unlocking the elusive vaginal orgasm.