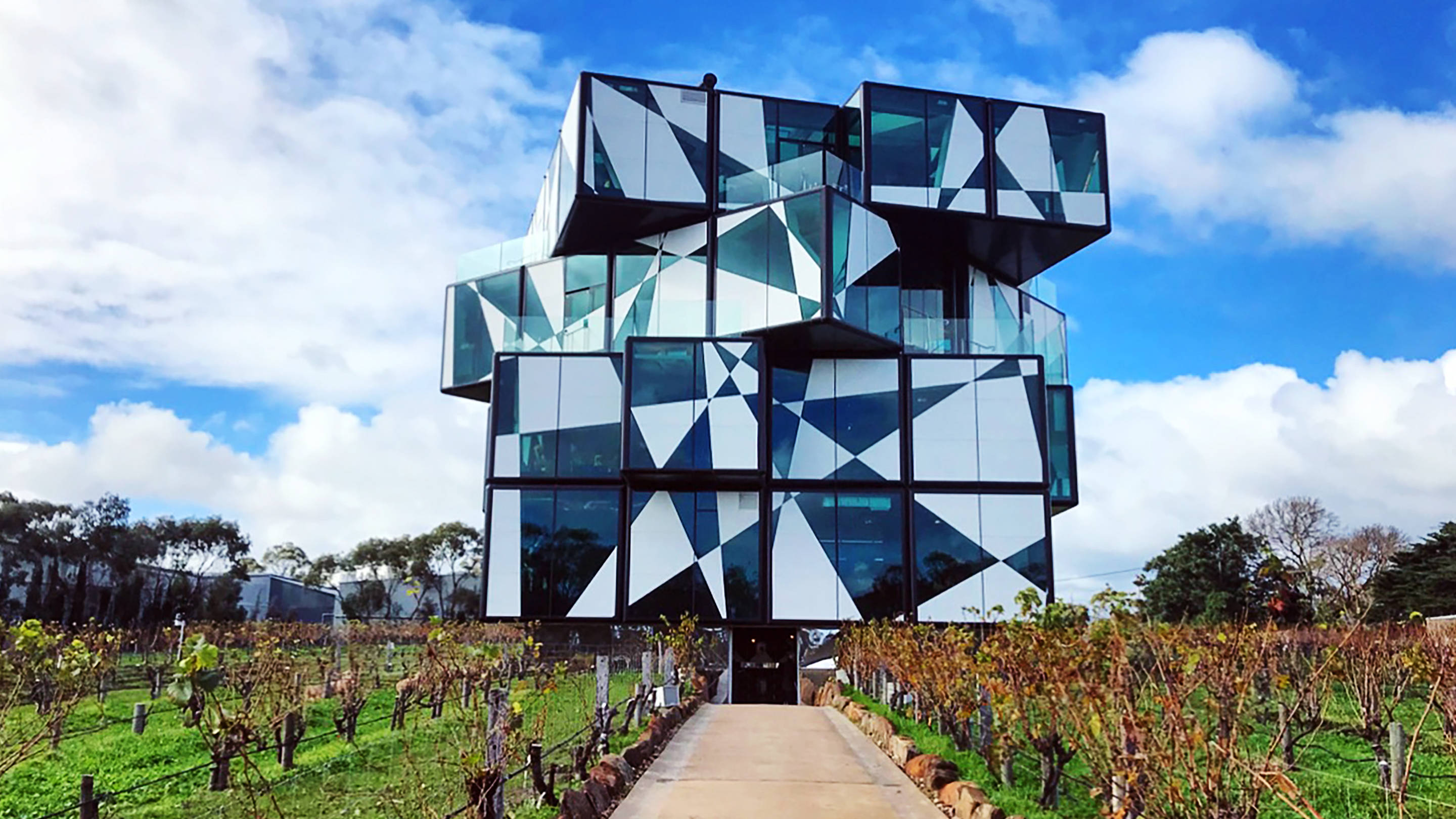 The d'Arenberg Cube Awakens All the Senses
Written by Tiffany Leigh

Published on

October 16, 2018
"They thought I was crazy," a bemused Chester Osborn says with a grin. With childlike exuberance and in a show-and-tell manner, he gushes about his newest pride and joy: the d'Arenberg Cube. It's a towering shrine to his wine, whose imposing complex resembles a Rubik's Cube; it hovers over 200 acres of verdant vineyards and grazing sheep in McLaren Vale, a burgeoning wine region in South Australia. It's the latest passion project to join his family winery. And truly, Chester is about pleasure and play.

We're standing outside under azure skies and the wind is howling fiercely today. As you venture towards the Cube, you're inundated with psychedelic-symphonic music. "What we're actually listening to is 8 parameters of weather that's been channelled into these speakers." It's a surround-sound blend of otherworldly buddhist-like chanting. "It's euphoric," Chester offers. Then I get a good glance at my gracious host. Osborn's been dubbed as the Willy Wonka of wines and his ensemble only bolsters his gregarious reputation and demeanor. He's Willy Wonka, the Mad Hatter, and a touch of "The Dude" à la
The Big Lebowski
all rolled into one eclectic and marvelous package.
For our chat and stroll through the building, he's donning a Terminator-esque shirt that's dripping with scantily-clad women. He pairs the tee with bespoke, pearl-colored cowboy boots, and a King Midas-worthy belt he won from the Houston Rodeo Livestock Show. I remark at the splashy shirt and he enthuses, "it's from this great Aussie shop called Antons; I thought it was appropriate for Playboy." And this is merely the beginning: we're at the precipice of a brazen, bold Aussie adventure and about to venture down his surrealist fun-cube-rabbit-hole. As Australia's First Family of Wines, the Osborn legacy stretches back to 1912 with an industry reverence of over 100 years. Due to McLaren Vale's diverse and lush terroir, d'Arenberg is the largest biodynamic vineyard in the country that offers over 70 organic wine varietals.
My aim is to prime your senses. You start at the bottom and by the time you reach the top, everything is going to taste much louder and grander.

Interestingly, had it not been for the intervention of timing and fate, d'Arenberg Cube would not exist today. "I sketched my idea in 20 minutes then created a little model and presented it to my family 15 years ago; they thought it was really ugly." His father, d'Arry, suggested that they should build something more "heritage-looking" - but since their mantra is centred around the "Art of Being Different" it wouldn't be authentic to who they were. And the Cube idea made sense to Osborn: "We needed something different, something that captures the spirit of our eclectic nature, our sophisticated wines, their respective label names, and our quirky sense of humor. And labels are such a puzzle to work out. And
wine is such a puzzle
to work out.
And I thought, 'What's the most iconic puzzle to work out? A Rubik's Cube!' Let's put puzzles on the outside as well to make it 'really' complex… so that's what I did." In fact, the pattern spills from one "face" of each square onto the next. Each line that makes up the pattern goes all the way around the 4 "faces" and finishes at its starting point. The result is a puzzle pattern all of its own unique accord.
Osborn posits luck as a big element to making his concept a architectural reality. They desired all glass but it's actually illegal to build it this way in Australia; so in the end, it had to be half covered (hence the puzzles). "It's double-tempered glass and we cover it over with aluminum sandwich board." Around 2009/2010, Osborn finally got the building approval permit but construction couldn't begin until 2014-2015. "Double-tempered glass actually wasn't available in 2010. If we had proceeded without it, it wouldn't have been sealed up well."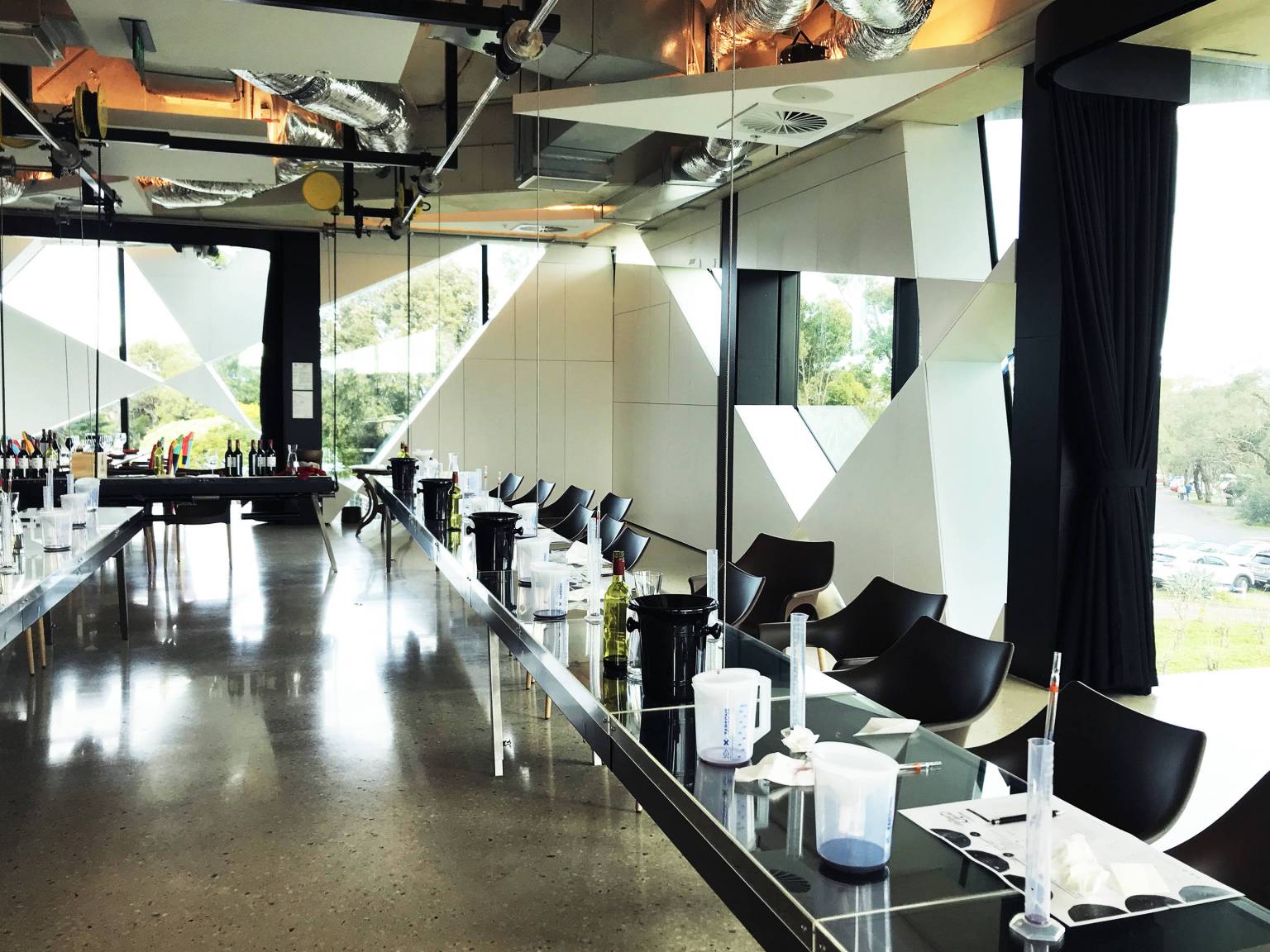 Sarah Constructions, Nic Salvati of ADS Architects and CPR's Engineer David Reynolds were pivotal in realizing Osborn's vision. Today, it sets a new benchmark for imaginative and sustainable design: the award-winning structure strikes awe and wonder into all who gaze upon its beauty. In mimicking the look and feel of a real Rubik's Cube, the sense of play and manipulation is depicted with the top two floors: they are permanently twisted and pulled out slightly. The building stands 16.4 x 16.4 meters high (4.1x 4.1 meters for each square), with a total square footage of 1500m2. It's also energy efficient with 40% of the power coming from solar.

Inside the Cube, it's full-fledged sensory overload; there are 4 dizzying floors which starts with the Alternate Realities museum on the main level: "I named it that because when you and I have the same glass of wine, we have a different reality (in terms of how we perceive and enjoy it with our senses)—so to me, we all have and share alternate realities." The space is brimming with collages, paintings, sculptures, trinkets and artifacts that are meant to activate all your senses. His curio collection is either all crafted or conceptualized by Osborn; otherwise, it's commissioned by local artists to transform his ideas into a reality. The art is an extension of the man; it's as though you've dived head first into his mind and become enveloped by the endless stream of visions and dreams that swim around inside. There's heartfelt conviction to this work; and for him, it all carries personal and/or symbolic connection to honoring the art, heritage, and craft of viticulture.

And the pieces in the museum are ever-expanding, which is why there's a handy interpretative app you can download that acts as your field guide. I have two personal favorites; the first is the 15 minute video of d'Arenberg's wines. It's a trippy-inducing-high envisioned by digital artist Luku Kukuku who interprets of each of the labels (e.g. The Athazagoraphobic Cat, The Money Spider, The Noble Mud Pie) with wacky and wild montages that's set against a backdrop of 60s/70s disco music. The second is the thousands of VHS tape ribbons that have been strung from the ceiling; its shape is meant to resemble a fermenting room with the strands representing the grapes. "As if in the dark, you wander in with trepidation: it's meant to make you feel as if you've fallen over—you'll see a skeletal arm moving around inside and this represents death. Which is what would really happen to you if you fell into one of these fermenting tanks in real life. It also represents another one of our popular wine labels: The Dead Arm." With a twinkle in his eye, he chats and gesticulates a-mile-a-minute about his work in literal and interpretive forms; and at this point, I'm not sure what's more interesting to me - the art or the artist.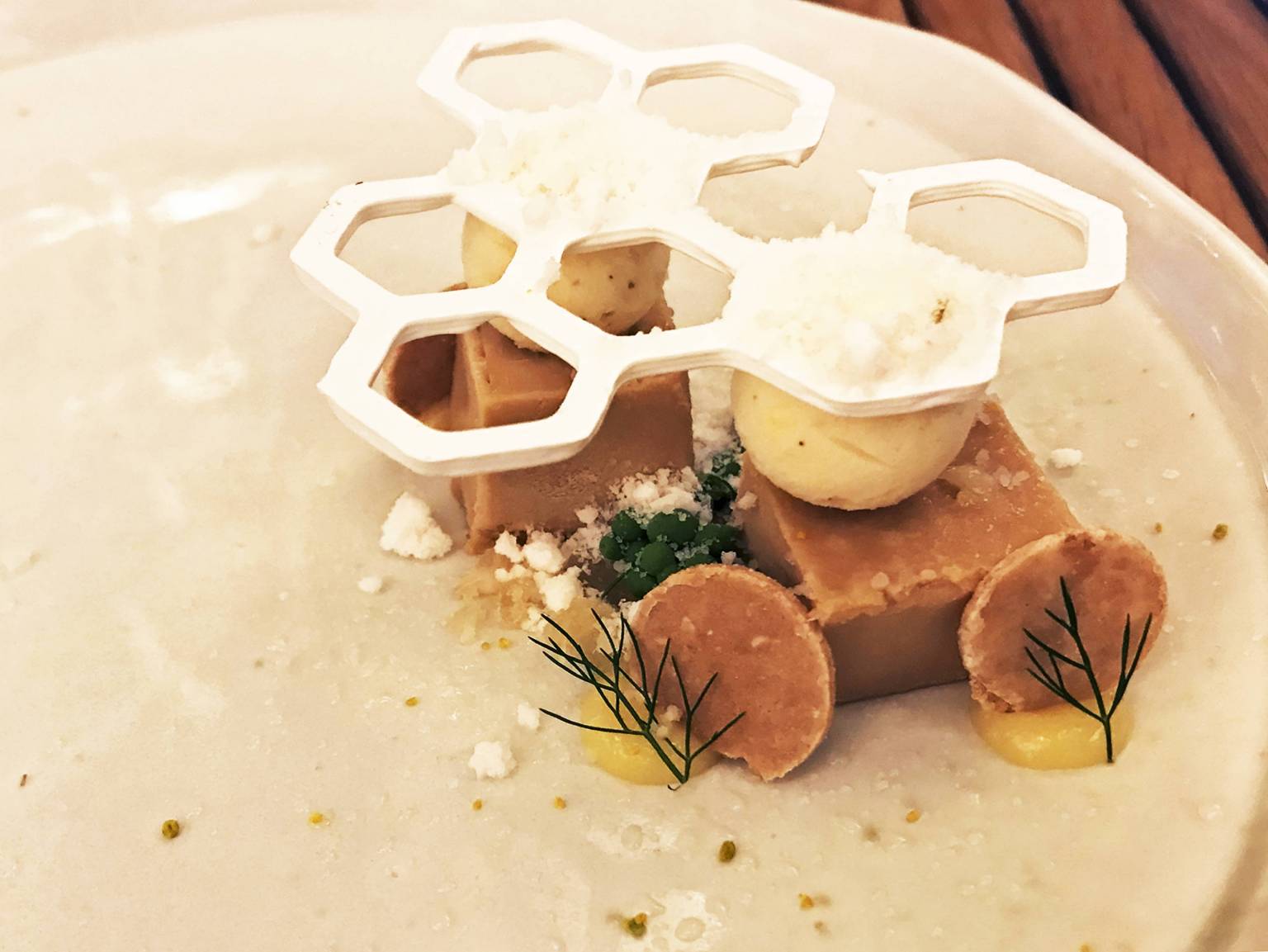 The second floor is divided into two primary sections: the kitchen prep and the toilet facilities. And I've never found myself more captivated by urinals than now. The men's bathroom is a showstopper. The porcelain vessels appear as animated caricatures with their mouths agape. Osborn explains that each one represents one of their many wine labels. He asked local artist Matt Jonsson to fashion the actual moulds and bring everything to life; the experience is completed with phallic shaped toilet roll holders. I then get a glimpse of the women's washroom and feel mildly disappointed—its modesty seem positively dull in comparison.
D'Arenberg Cube's restaurant occupies the entire third floor. Chef Brendan Wessels, who hails
from South Africa
, and his culinary brigade offer uninhibited and ambitious plates. Along with being the only commercial kitchen in the southern hemisphere that does 3-D food printing, the genesis and menu concepts stem from "having fun and not taking anything too seriously." His culinary philosophy aligns with Osborn's where "he has faith in your abilities, affords you creative freedom and allows you to be a child."
Initially, the lunch tasting menu with wine pairing spanned six hours, but they quickly recognized it to be overkill. "It can start to have adverse effects on the body and mind with diminishing returns on pleasure and enjoyment." So they scaled it down to a manageable 3-4 hour timeframe with about 15-17 courses. The meal is transformative and stretches the boundaries of what food can be. A featured dish called the Scallop Silk is exemplary of this: they blend the mollusks, then add olive oil and xanthan gum. The mixture is poured through a sieve drum and portioned out into Cryovac-sealed bags before being rolled into thin sheets and steamed at 133°C (271°F) for 5 minutes, and then blast-chilled. The unctuous ribbons are topped with a crispy nest then finished with sea grapes, sudachi, and kosho. "It's unadulterated scallop flavor; it's tasting pure scallop essence," Wessel offers.
Playboy visits Travis Petersen, founder of the Infused Dining Series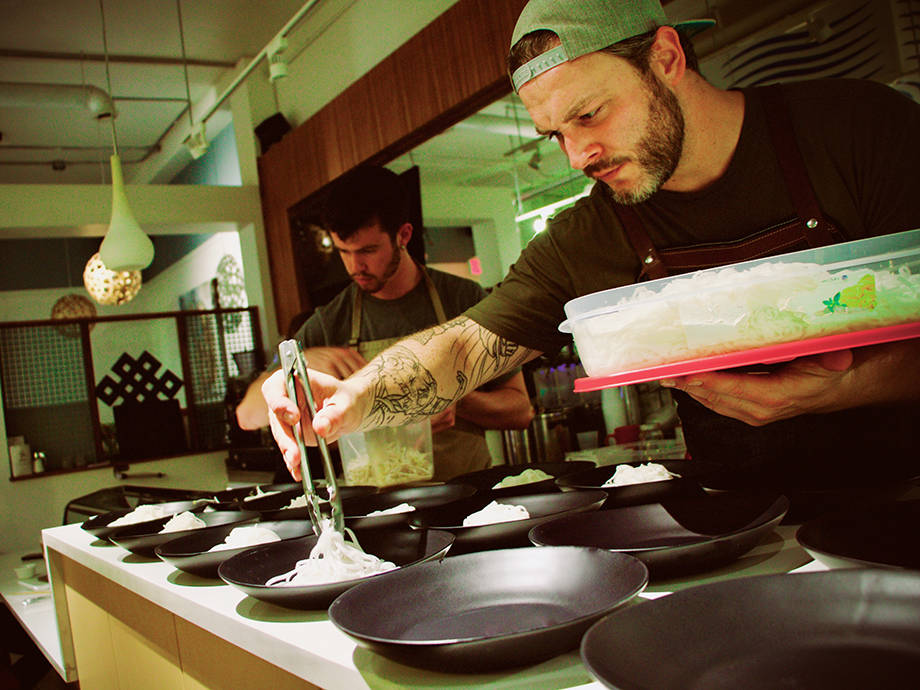 Another favorite is the "controversial" Nose Candy course. It's presented with a rolled $100 "Osborn" bill, a vial of powder and wood block with small square mirror. Made of powdered açaí berry, popping candy and icing sugar—some diners have attempted to snort it (with success). I opt for tame consumption and dab some onto my tongue; I'm immediately hit with a mouth-puckering, sweet-tangy sensation on the insides of my cheeks.
By the time we ascend the last flight of stairs to the top floor's Tasting Room, we end up where we began our journey—with a stunning woman. The "wine woman" greets you as you enter; she "swims" from panel to panel via her virtual "fermenting aquarium", thanks to Osborn outfitting the space with 115 television screens. By this point, my senses are on edge and pulsating; they've been heightened to the point where I could implode, but in a good way. I inform Osborn of this. He nods approvingly. "My aim is to prime your senses. You start at the bottom and by the time you reach the top, everything is going to taste much louder and grander." As Osborn first remarked, the feeling is euphoric; and with a glass of woodland-berried Solipsistic Snollygoster in hand, I toast to that.
So what does dad think of it now? "He thinks it's very attractive."