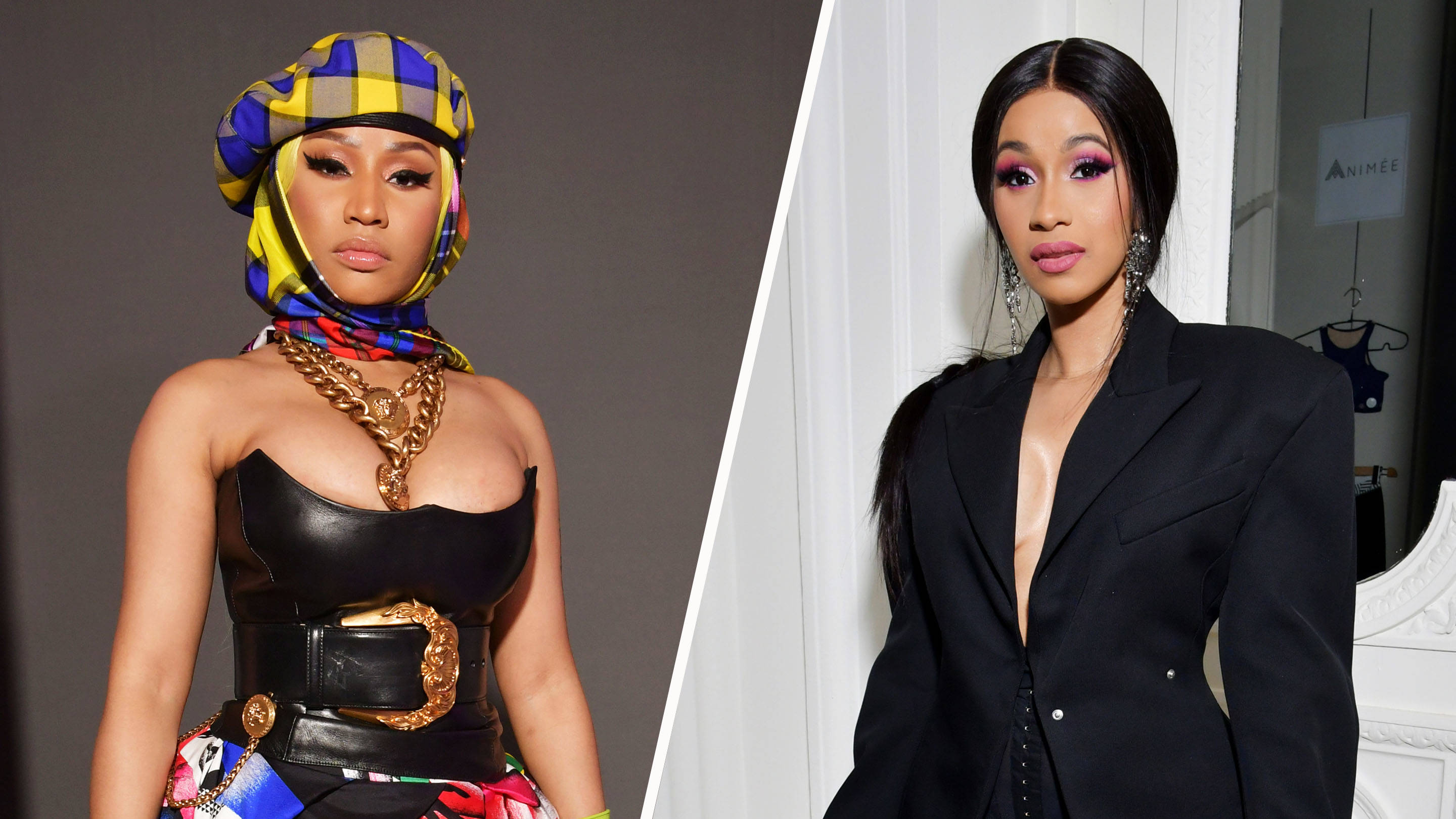 The Misogynistic Search for the "One Great Woman Rapper"
Written by Arkee Escalera

Published on

March 26, 2019
Not too long before Twitter and Instagram captured our hearts, Myspace was our first love. For many people including myself, it was our first social media experience—but for then underground rappers like Nicki Minaj, Myspace was a platform that afforded artists the opportunity to showcase their talent and beautiful imaginations.

Though, without verification tickers, finding Nicki's authentic Myspace page was difficult. It wasn't unusual for one to spell the rapper's name wrong and end up clearing our browsing history because we ended up on a site that advertised pornography. Nevertheless, that didn't stop Nicki's debut mixtape Playtime Is Over from dominating Myspace music. When one's raps are as raw, risqué, and fun as Nicki's during her mixtape era, it didn't matter how much white people porn we encountered while searching for her music. We were all rushing to DatPiff or LimeWire to download Nicki's mixtape.

Heralded as the new "Lil' Kim" before she even released her record-breaking debut album Pink Friday, Nicki had some big shoes to fill. There was no way a newbie rapper could be compared to the legendary Lil' Kim without breaking down doors for other women in rap, just as Kim did early in her career. Nicki did exactly that: she kicked down doors and blazed a trail for new and veteran female rappers to receive the recognition they deserve. For this reason and many others, Nicki solidified her spot as a vital piece of rap history and black history.

When Cardi B won a Grammy award last month, I could barely contain my excitement. What Cardi won was bigger than an award or bragging rights. And while some people view a Grammy as the pinnacle of one's success, I view Cardi's rise as living proof of Nicki Minaj's impact on rap. I view Cardi's victory as living proof that women can dominate a genre largely occupied by the patriarchal, misogynistic male. But with the way misogyny is set up, Cardi's new accolade was unfairly turned into a noxious dig at Nicki Minaj.

In a tweet that was quickly deleted, one of BET's social media editors or unpaid interns contributed to the same misogynistic attacks Nicki has faced since the inception of her career. The tweet read, "Meanwhile, Nicki is being dragged by her lacefront." That's right, the same network that created an award show to celebrate black artists who are regularly snubbed during white award shows (like the Grammys) threw shade at Nicki Minaj because another female rapper won a Grammy award.

I view Cardi's rise as living proof of Nicki Minaj's impact on rap.

I wonder what's more cringe-worthy about that statement. The fact that BET shaded Nicki Minaj before she was slated to perform at this year's BET Experience, or the fact that they used an accolade typically reserved for white people to set the bar for black creatives. The former displays a clear sign of stupidity, and the latter shows how much of a joke BET has become over the years. Above all that, the statement was tacky, unprofessional, and blatantly disrespectful to the hard work Nicki Minaj has done to create a space for other female rappers, including the award-winning Cardi B.

But while we're holding BET accountable, we have to look inward. We have to ask ourselves if we're contributing to the same misogynistic ideas that nearly shut the door for female rappers before Nicki Minaj stepped up. We have to ask ourselves if we're rooting for other female rappers' success or if we're rooting for them because we're tired of seeing Nicki at the apex of female rap. Even now if you google Cardi B and Nicki Minaj's names together, you get a deluge of opinion pieces on who's the better rapper or who murked who with what verse.

Lady Leshurr, a female rapper who generated buzz with her hard-hitting lyrics and strong British accent, reported that Atlantic Records allegedly offered her $250,000 to diss Nicki Minaj. While people denied the likelihood of someone having enough respect for a trailblazer like Nicki to deny that type of money and exposure, Chicago rapper CupCakke came forward, too—saying that Atlantic allegedly offered her the same deal, one that she also refused.

Nowadays, it's impossible for women in rap to gain a career without passing Nicki's path. Most of the time, newbie female rappers celebrate Nicki as the queen of rap. Other times, I wonder if certain female rappers took the alleged $250,000 deal with Atlantic Records. Those rappers always end up like Keri Hilson after she shaded Beyoncé. Need I say more?

Uplifting other talented women while tearing down a trail blazer like Nicki Minaj is the same as spitting in the faces of many women who have been denied top spots because of their gender identity. Whether or not we care to admit it, Nicki is the reason we can enjoy new music by female rappers. Pitting Nicki against Cardi is pointless. Despite their beef, Cardi's success is success for all female rappers.

The releases of "Barbie Tingz" and "Chun-Li" reasserts the rapper's prowess.