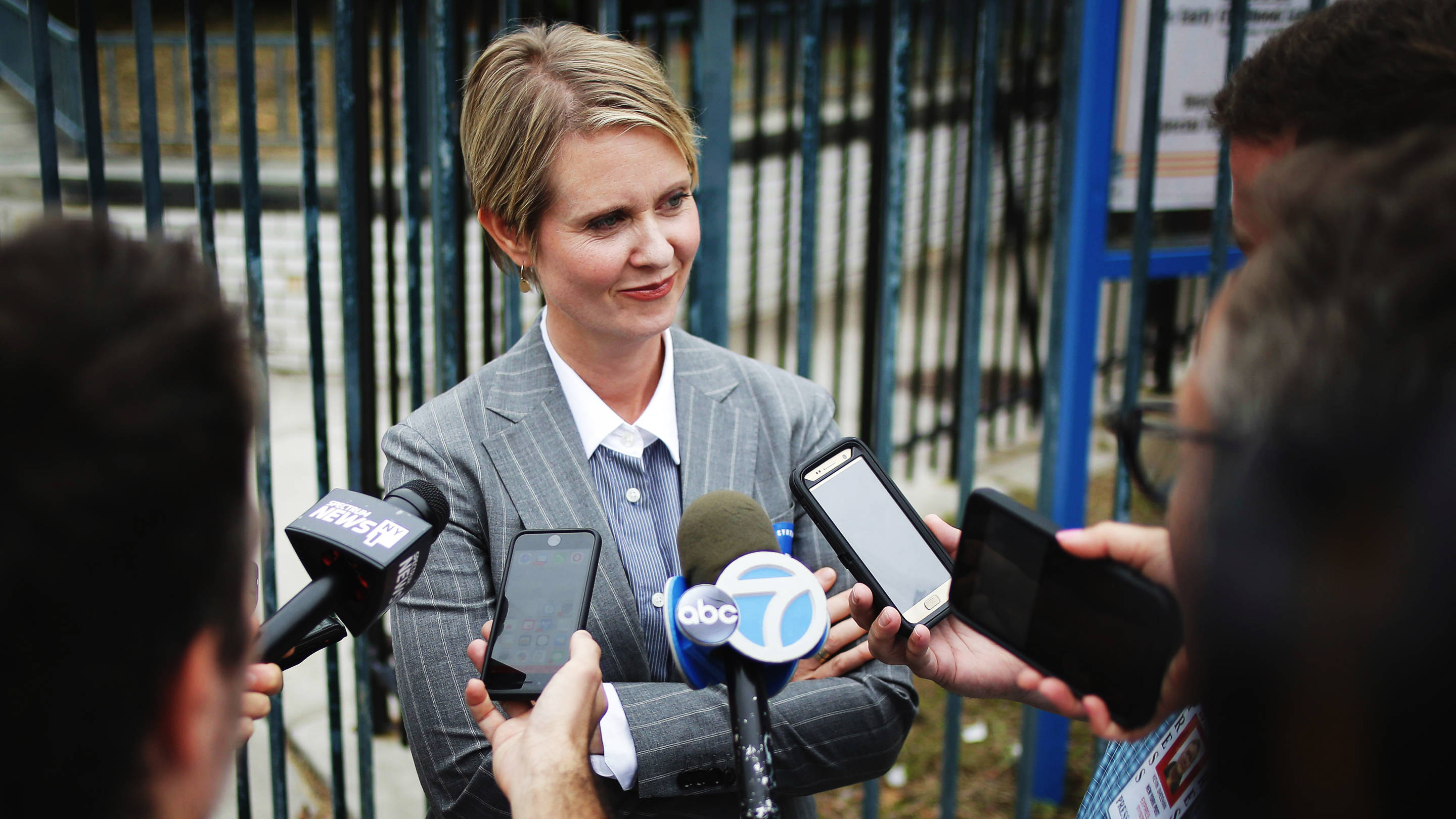 The Small Victories Hidden in Cynthia Nixon's Loss
Written by Tom Carson

Published on

September 14, 2018
Just as the polls had unforgivingly predicted all along, despite the media crackle surrounding her insurgent bid to capture the Democratic gubernatorial nomination from two term-incumbent Andrew Cuomo, Cynthia Nixon got creamed in New York's primary yesterday. Or should we say she got cream-cheesed?

Given the odds against the former Sex And The City star's political quest, the most instantly notorious breakfast order in Zabar's history can't really be called a turning point unless people's stomachs are the revolving door involved. Even if you don't think cinnamon-raisin bagels are a hipster abomination in the first place, asking for one with lox, capers, red onions and tomato along with the cream cheese is the sort of culinary car wreck that can give multiculturalism a bad name. If Nixon was bewildered that her idea of a nosh attracted so much mocking and/or horrified attention in her campaign's final days, maybe she doesn't understand New York as well as she thinks she does.

We mean the city, not the state. (It's doubtful that The Bagel From Hell risked provoking even teensy-weensy riots in, say, Schenectady or Buffalo.) But the city was the only place where Nixon ever stood a chance of making a serious dent in Cuomo's steamroller, and he won all five boroughs comfortably on Thursday. All Nixon won was a permanent place in New York political folklore, because it's a safe bet that "raisin-cinnamon bagel with lox and capers" will be derisive shorthand for amateurism for years. And sure, that's monstrously unfair to her; she ran a serious campaign with a reformist energy that forced Cuomo to shift leftward on issues ranging from voting rights for parolees to legalizing marijuana. But when you lose, the shorthand is what lingers.

You can't help suspecting Cuomo was furious that he had to put up with Nixon's candidacy at all.

Since Cuomo enjoys shifting leftward about as much as Donald Trump enjoys apologizing, it isn't likely that he'll be especially zealous in pursuing the policies that Nixon's challenge nudged him to advocate during his re-election campaign. All the same, the defeat hidden inside his lopsided victory is that he won't be able to go back to doing business as usual once he's sworn in for his third term, not quite. Not only did he have to ramp up his virtually nonexistent progressive cred by negotiating the long overdue dissolution of the Independent Democratic Conference—the group of rogue Democratic state senators that has worked hand-in-glove with New York's GOP to thwart liberal legislation since 2011, an arrangement Cuomo was totally comfortable with—but six of its eight members lost their primary races anyway. Cuomo will be returning to a somewhat different Albany than the one he's gotten used to simultaneously bossing and enabling.

Even though Nixon's candidacy made him take steps to protect his vestigial left flank, his own victory was all but guaranteed from the start. (Her only shot at swaying voters who doubted she had the right skill set for the practical parts of the job was their August 29 debate, in which she handled herself reasonably well—but not well enough to move the needle a smidgen.) His $25 million war chest was 10 times what Nixon was able to raise, and he had all the machinery of traditional Democratic politics working on his behalf, from union backing to high-profile Establishment endorsements. So it's revealing that in the campaign's final weeks, when upbeat geniality wouldn't have exactly come amiss, Cuomo reverted instead to his natural mode, which is truculence.

Despite calling it a "mistake," he refused to apologize for a scurrilous mailer sent to Jewish households smearing Nixon as an anti-Semite, which turned out to have been crafted by his top aides. His tactic of pretending that his opponent was President Trump and not the "unqualified lesbian" who was actually on the ballot veered into a ditch when he startled the audience at a bill-signing ceremony by declaring that America "was never that great." He didn't deign to make a victory speech on election night, and the reason probably wasn't a sudden outbreak of un-Cuomo-esque humility. It was another insult to Nixon, because praising the opponent you've just bested is pretty much mandatory in a victory speech, and Cuomo clearly wasn't about to do that. You can't help suspecting he was furious that he had to put up with her candidacy at all.

The silver lining here is that Cuomo's pretense—unless the right word is "fantasy"—that he was running against Donald Trump is almost certainly the closest he'll come to trying for the White House for real. That's only partly because he got badgered into promising that he'll serve out his full term if elected, meaning no 2020 presidential bid. Thanks to Cynthia Nixon, voters outside New York got their first serious look at Cuomo in action, and the mind reels at how unpleasant and grating he'd be on a national stage.

As for Nixon herself, let's face it: she'd have made a lousy governor. But she might turn out to be a pretty good Congresswoman one of these days, because managerial skills don't count for a lot in that gig. Star quality, on the other hand, is never unwelcome on Capitol Hill.

Should fashion be politicized—even in this political climate?