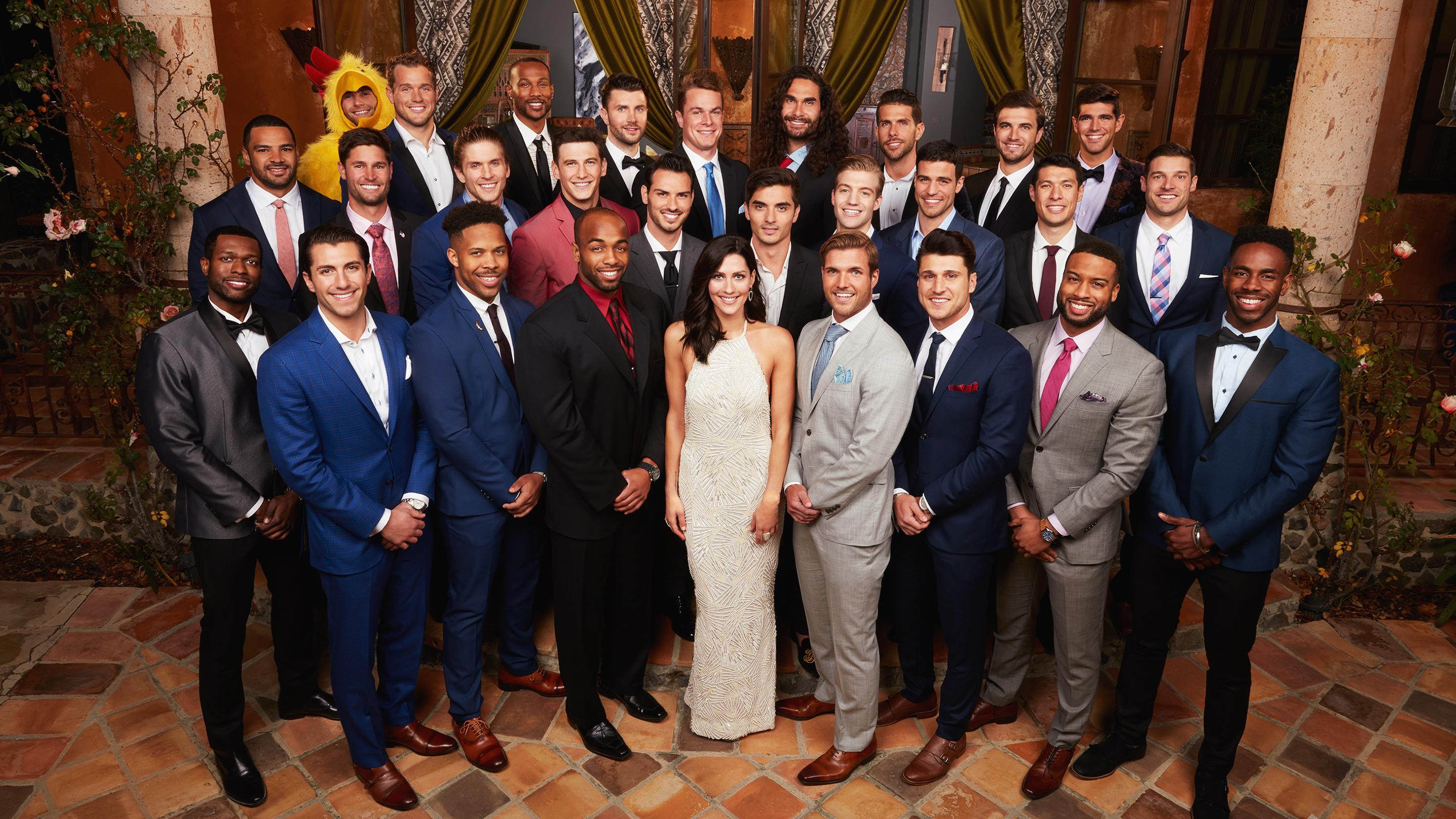 There's Nothing Left to Learn from 'The Bachelor' Franchise
Written by Helen Donahue

Published on

May 30, 2018
ABC caught Bachelor Nation by surprise this Monday. Before we were allowed to watch Becca Kufrin begin her journey as the new Bachelorette, the network made viewers sit through a 40-minute recap of the breakdown we all already watched her endure earlier this year on The Bachelor, starring the heavily-contoured (or maybe perpetually sunburnt) Arie Luyendyk Jr.
People supposedly found Kufrin's breakup severely grating to watch for a second time, like the trauma of Arie telling Becca "I chose the wrong person" was something we all endured collectively, that we're still not over. After the flashback, we had to face some of the worst contestants in my recent memory of the series. No one remotely cool was introduced, just tens more dudes who work in sales and a particularly obnoxious fellow in a chicken costume—and we underwent much less drama than anticipated. Some dude with irregular sideburns called out a guy named Chase for a text he refused to repeat, and an ex-Harlem Globetrotter dunked on Becca. Episode over and out. Boring.
Is this because the franchise has become boring? Pointless? Irrelevant? For me, yes. Those dudes stepped out of that limo and straight into my own private hellscape. I had to watch the first episode twice—a personal first for me because it was just that dull. Why are we still clinging to a show that refuses to offer anything new, refuses to divert from the stereotypical Prom King and Queen fairytale union, refuses to catch up to 2018 with the rest of us and insists on remaining opaque about the very nature and production of the show?
Thanks to a scripted show like
Unreal
, several high-grade news sources and common sense, we know
The Bachelor
is
produced and manipulated
to give the audience what they turned the TV on for—drama, drama, drama. The franchise is like modern Shakespeare. It's theater! And production-wise, nothing is off the table and it's all a fucking free-for-all. Amy Kaufman's recent exposé,
Bachelor Nation: Inside the World of America's Favorite Guilty Pleasure
, explains how producers use real police interrogation tactics on already vulnerable contestants (producers confiscate their phones—isolating them from friends and family—for the duration of their stay). The entire thing seems like, well, an abusive relationship.

Producers encourage contestants to be anything but "boring," daring them to drink more, to find their liquid courage, leading participants to say—for instance—incredibly stupid things like "I'm falling in love with you" after week one. Or breaking down in sobs, seemingly out of nowhere, lending credibility to a narrative of instability. But this behavior makes sense when it's thought through. Contestants are isolated from everyone they trust and know, and presented with just one potentially reliable person in front of them who (at least, they're told) could conceivably fall in love with them. Pair that scenario with a forced months-long dormitory-style living situation with their competition and its a foolproof recipe for severe household dysfunction.
The star of the show, however, is just as isolated as the contestants. Had they merely allowed Becca to log onto social media at an internet café for an hour a week, she surely would have done heavy deep dives into the weirdos vying for her heart. She probably would have discovered the racist, alt-right, transphobic Instagram posts liked by none other the show's current frontrunner, and first-impression-rose-winner (that's an important one), Garrett Yrigoyen. But we should have seen that coming—the same thing happened on Rachel's season—and producers likely knew about this from his acceptance onto the show. And are we even surprised?

While Garrett is a problematic fuck beyond the mansion's cameras, Jordan Kimball is our latest season's new villain—on the show, at least—and reality TV fodder. Producers of The Bachelor franchise are known, nay, depended on, to cast a "villain" in every season. On this season of The Bachelorette, we were introduced to our villain within about 15 minutes (not counting the 40 minutes we spent watching Becca cry over Arie, who by the way, swears ABC production manipulated and set up for their disastrous unedited breakup).

Jordan comes off like an absolute pig, constantly bringing up his super-good-looking-male-model-face while putting other contestant's looks and personalities down. While I can't blame him for putting down the dude in the chicken suit (that shit was inarguably cringe-worthy), I can envision producers feeding Jordan made-up lines like "Hey dude, Chase said your fit is fucking bunk" or "Bro, Darius said you have no lips, and it looks like you eat cold beans from the can." This kind of manipulation would, inevitably, awaken ego and rage in a person, which gives us gems like Jordan loudly lamenting toward the end of the premiere episode that he should at least be kept around as "eye-candy" for Becca, since she's clearly handing out roses to every guy who sent in an application.

The truth is, we see this shit coming from a mile away, and, for some reason, we embrace it. We continue watching. We knew recent Bachelor contestants Krystal Nielson and Corinne Olympios were essentially groomed to be the show's villains the second they set foot through the door, and we have the smarts to surmise that wasn't the case when they likely received adorable calligraphy-laced acceptance letters from the show producers. We know THEY never saw it coming. But we did, and we accepted it, and we'll continue to accept it. We must think these people are idiots. We've dehumanized them completely.

We saw a black Bachelorette contestant coming, too, (probably because ABC knew it was in over its head introducing 12 boring white girls in a row) and we still didn't give her what she deserved. Instead, we tried to heal Rachel's heartache over human diaper Nick Viall with a bunch of other ordinary guys, and after her season ended, we banished her to the decaying alumni circle, The Bachelor and Bachelorette Contestants of Christmas Past.

When The Bachelor and The Bachelorette seasons end, as two have every year since 2003, we can't even keep up with the freshly engaged "winners"—or if they actually make it past the third month of public coupledom or not. I couldn't tell you what any of them are doing, or who they're doing. Once Bachelor in Paradise is over, I send myself out to pasture and retire until the next season revives my ovaries. I assume all prior contestants are slinging fit teas on Instagram and seducing other alumni. Good for them, I guess. When they have to resign from their job—putting their careers on hold, and on the line, at a time when well-paid work is hard to come by—and fund an entirely new wardrobe to even stand a chance for the first few hours of the season, they have definitely earned the right to profit off of coffee scrubs online. Also, ABC exec Rob Mills recently quipped to Variety that "You can never leave The Bachelor family." Well, that sounds like a threat. This sounds like a cult.
But here's the thing: The Bachelor franchise is never going to introduce anything new or cool to us. In fact, it'll probably make us angrier as time goes on, as reform takes place, as the world changes to accept things it once shunned. I, myself, an advanced degree-bearing, career-oriented, cultured woman with a nose job, could never make it on the show—I'm covered in tattoos, I'm wildly opinionated and not meek about my own intelligence, and I sadly don't fit the sexist mold Middle America craves when it seeks out a good partnership between two people. Becca fits the image: she thought a sparkle dun was a cute gift (I googled sparkly fly fishing thing to find out what that thing was), gifted to her in the first episode by a dude she thought would be a good fit because she grew up fishing and hunting with her God-fearing father.

But Becca, because of her breakup, has been touted as a hero, an empowered woman, a model for good, for handling her breakup with grace and then being granted the privilege of Bachelorette-dom, like we didn't all know that would happen. The loser is almost always made the Bachelorette. It's like the producers don't know we've been watching this garbage franchise since 2002. We pick up on patterns. And nothing about this show, or about Becca, is especially "empowering" or remarkable. I do not see any brazen examples of feminism here, though she did hold her own when an acquaintance who showed up (tea: a producer-made move) chose to gaslight her over her decision to send him home.

If we're honest, we've been re-introduced to the same girl, over and over, for 13 seasons. And we just had to sit through a season about an essentially wholly unknown, Euro-trash fitted ex-race car driver (seriously, whose decision was Arie? Come on.). I'm tired. And the men on the show are even worse—we've yet to be introduced to a non-white Bachelor except for 2014's Juan Pablo, the blonde-haired, blue-eyed ex-soccer player from Venezuela, who was such an asshole to his last-woman-standing that they later went on Couples Therapy With Dr. Jenn and he fucked that up, too.

Allegedly, there aren't even 20 Bachelor Nation couples that are currently still going strong—and remember, that's out of 35 combined seasons. Also, to Ashley I. and Jared: For the love of god, I know a PR stunt when I see one. It's clear this show is not the exemplar of finding true love. So, are we elitists hate-watching this now or something? Because nearly eight million people watched the season finale of The Bachelor in March, and of those millions, I'm pretty confident most weren't viewing it ironically. Maybe it's time to give up and move on to a more progressive program or put it on pause for a few years until ABC goes for the bare minimum of progressiveness. Maybe it's time we actually stop doing the damn thing.