For almost the past three years, Tom Payne has appeared as comic book favorite Paul "Jesus" Monroe on AMC's The Walking Dead. The character's untimely demise, featured in season nine's mid-season finale last month, hasn't really sat well with many of the show's fans—or with Payne himself. But, as the British actor tells Playboy, it was a cool way to end a frustrating stint on the "biggest show in the world."

How does one handle getting a big break such as this one, only for their iconic character to get sidelined again and again? It's a question I am a bit well-versed in. In another life, I got my moment in the sun on VR Troopers, a 1990s TV series that Variety once called "the number one syndicated children's show in America." And mere months after my show was canceled following a two-season run, I was behind the counter working one of the various retail jobs people in this industry can find themselves holding down.

It's a reality that the 35-year-old Payne is very aware of. As he joins me for some overpriced hipster coffee at one of the many overpriced hipster coffee places in Los Angeles, he gives me a crash course in his struggle to make it, his quick rise to stardom and the ups and downs inherent with working a "16-episode season of TV."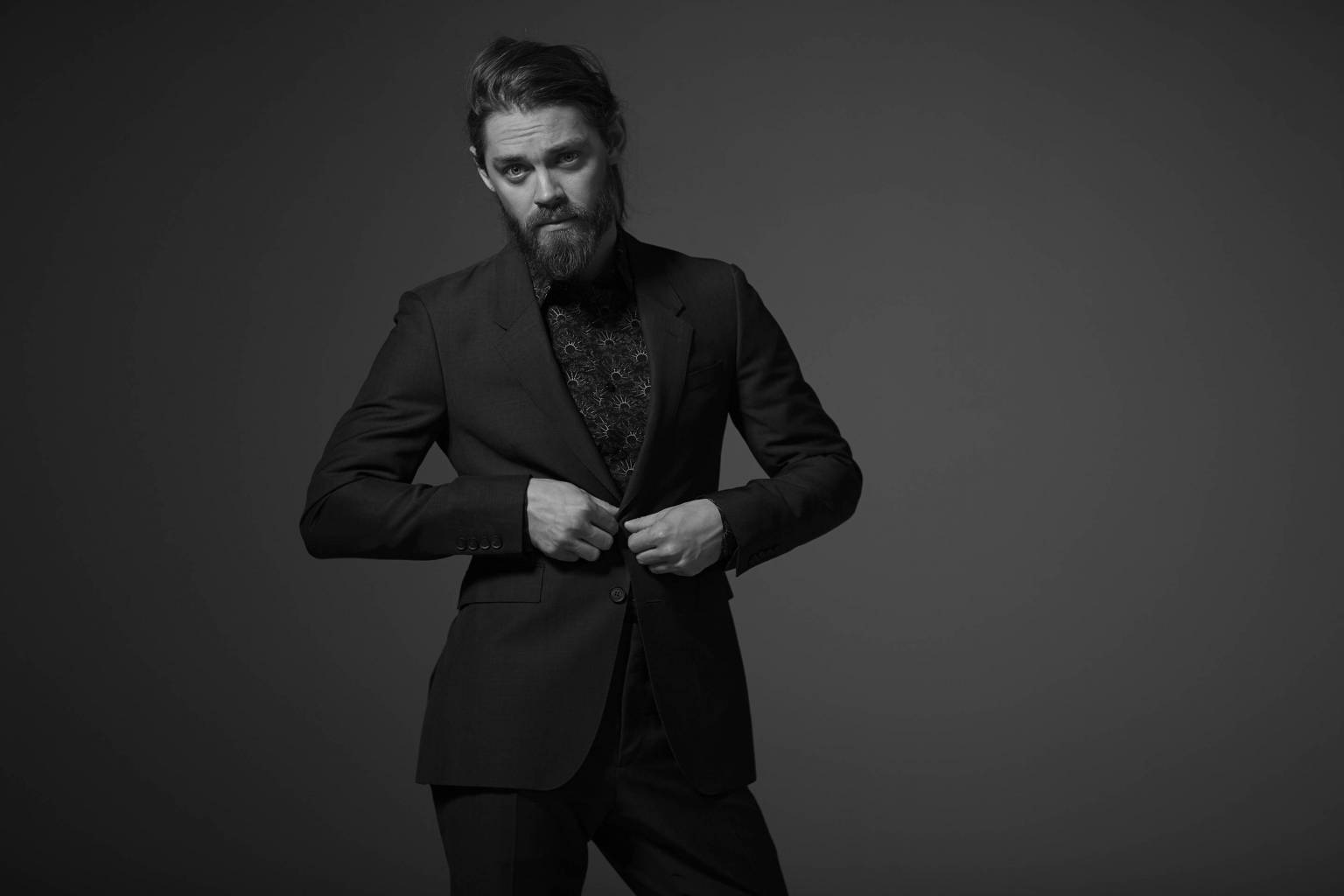 According to Payne, The Walking Dead fell into his lap at a crucial time: He was on the verge of packing up and heading back to England, where he would've surely moved back in with his parents. And when he says the show fell into his lap, he isn't kidding. "I had no beard and short hair, and I sent what I think was one of the worst-looking tapes," Payne tells me. "I spent so much money on tapes over the years, with the lighting and going to a good place and getting a good reader. And I did this tape on my laptop with my now-fiancée talking to me through Skype. Like, I was on my own, and we did this tape."

He continues: "I sent it on Wednesday and got the job on Friday. That weekend, I flew through Sweden to see [my fiancée], and then I was in Atlanta that Monday, and on set that week."

The practice of casting off self-submitted audition tapes has become a regular practice in the industry, but the quickness in which the show moved forward with Payne is still a bit crazy, leading to his first episode airing in February 2016. As he tells it, there were no callbacks, no meetings with producers, nothing. And to be thrown into the deep end on a hit show such as this was probably a lot to tackle.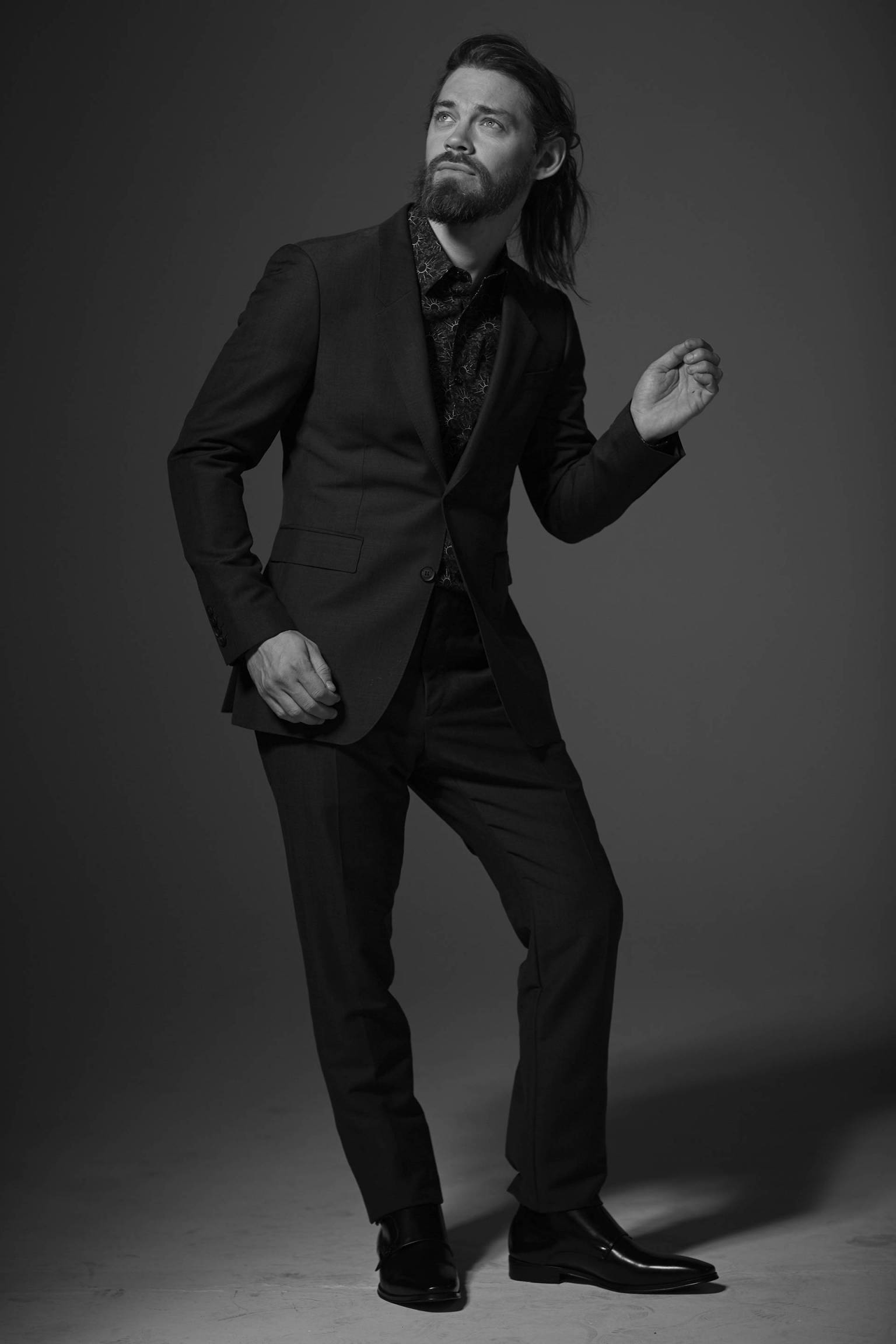 But Payne was more excited than anything else. This, after all, was just one more goal he could cross off his mental checklist of the items he was aiming to achieve in his career. It was only after reading the comic books that the actor gained a better understanding of the character of Jesus, and he quickly built up a set of expectations that, unfortunately, never quite came to fruition.

"They give you like a hazy, 'This might happen, and this might happen,' so the only bible I had to go by, really, was the comic books," Payne explains. "A lot of my dissatisfaction stemmed from the fact that that was what I really had to go from, and I had my fingers crossed the whole time that I would get this cool moment—you know, where he fights Negan, where he throws the grenade back, whatever. And then I'm just crossing my fingers every episode, and that just grinds you down after two years of doing it."

What made matters worse, apparently, was all the intensive fitness and fight training Payne underwent to bring the character to life. "What you want is to get a job and then get this training for free! It was super fun, but then I didn't get to use it as much as I would've liked," Payne says as an aside, acknowledging that, thanks to all the classes he took, he's more "capable of handling myself in any kind of volatile situation." But when it came down to actually using these new self-defense skills where it counted, the AMC show had other plans.

"What ended up happening was, I was saying to myself, 'Oh, you know, I don't have a huge amount to do, but at least I am making money,'" he explains. "And then that made me disgusted with the whole thing. That's not why I do it … If I wanted to do that, then I would be on a soap." All soap-opera shade aside, the actor, who's still rocking the Jesus hair, quickly states his goal was never to be rich or famous. While those are two perks that can come with the job, his aim, as he tells it, has always been to find the truth in acting and to connect—with the character he's playing, and the audience that's watching.

If I don't understand this and don't make it true for myself, then I can't do it, and it won't look real. Maybe it will for this show because they don't care about that, but I care about that.

"Once I had reached that part of it, and it wasn't exciting anymore, it wasn't like, 'I wonder what's going to happen.' It was more like, 'I hope they give me something, or 'At least I'm making the money.' It was then that I realized this was not good. And I was getting a little bit depressed with the whole thing. I don't want to be
that
guy."
That guy? What the hell does
that
mean? "L.A. is full of the beauty king and queen of their town who rocked up to L.A. thinking it was all going to land on their lap, not understanding there was a lot more to it than being pretty," Payne simply states.
---
While he struggled to connect with his on-screen character, Payne has nothing but praise for his
Walking Dead
costars and the familial unit they've created while shooting in Atlanta. This includes Andrew Lincoln, whose own character
Rick Grimes was also written off the show
this season. "Andy was a fantastic leader of the group, and the show has lasted as long as it has because of him," says Payne. "No doubt in my mind, he held it together."
But as Payne tells me about the behind-the-scenes teamwork for the series—which apparently shoots each hour-long episode in eight-day chunks—he quickly identifies one of the biggest cultural differences between American actors and those who've trained across the pond. "All the Americans in the cast were like, '[Andrew's] the best leader,' and all this kind of stuff. And I'm like, 'Yeah, he is, but isn't that normal?' And everyone's telling me, 'No!' It's like, 'Don't look me in the eye!' and stuff."
Bringing it back to common themes of finding truth in your character and connection in a scene, Payne pretty much explains his whole essence as an actor in the following statement: "If I'm like poking you, and you're not reacting, and you're giving your own thing, then I'm like, 'Oh, shit—I have to fake stuff.' And I don't fake stuff. I am there, in the scene, doing it for real. If I don't feel it, I feel like, Fuck, this is bad!"
The man behind the Marvel superhero talks faith, fans and falling in love with co-stars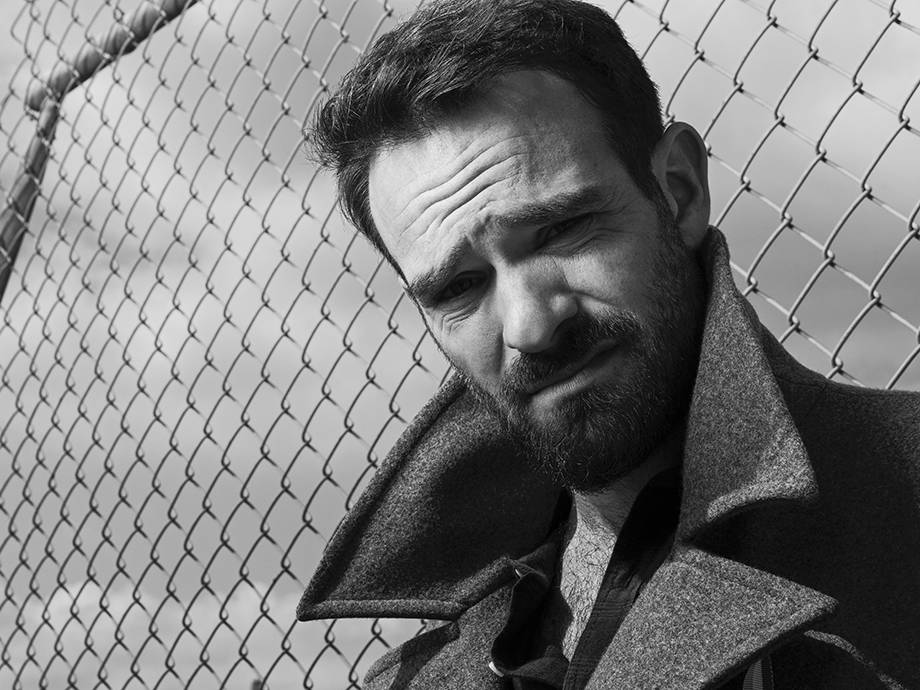 Acting, as they say, is about reacting. And if you have nothing to react to, then you've really got nothing to do. It's a notion that explains Payne's work ethic and speaks to the issue he had with last season's story line that put the anti-war Jesus in a secret alliance with Maggie (Lauren Cohan) to pledge a fight against Rick. As Payne tells it, he refused to say a line as it was written in the script. That portion of the scene ended up being cut.

"I'm not going to lie on camera," Payne tells me. "If I don't understand this and don't make it true for myself, then I can't do it, and it won't look real. Maybe it will for this show because they don't care about that, but I care about that. Whatever I do on-screen has to be real to me, and if it's not real to me, and it doesn't make sense to my character, then I can't do it, and I can't make it truthful, and I refuse to put that on camera."

This easily sheds light on his frustrations regarding his time on The Walking Dead. But there's another detail about Jesus that the series never truly addressed head-on: his sexuality. "My character, which they could've done more with, was gay," Payne says. "But they didn't even explicitly say it. The people that should've seen it and recognized it, recognized it. But I still have people coming up to me like, 'Jesus is gay?!'"

It was already established that the characters Aaron (Ross Marquand) and Tara (Alanna Masterson) are gay. But the representation on the series hasn't really addressed the issues that can come with rebuilding civilization with different sexualities in the mix. Moving forward, it's looking like the LGBTQ visibility on the series will be getting a bump with the addition of characters like Yumiko (Eleanor Matsuura) and Magna (Nadia Hilker). While that sounds like progress, Payne still has a hard time getting over America's issues of standards and practices, and what can and cannot be done on basic cable.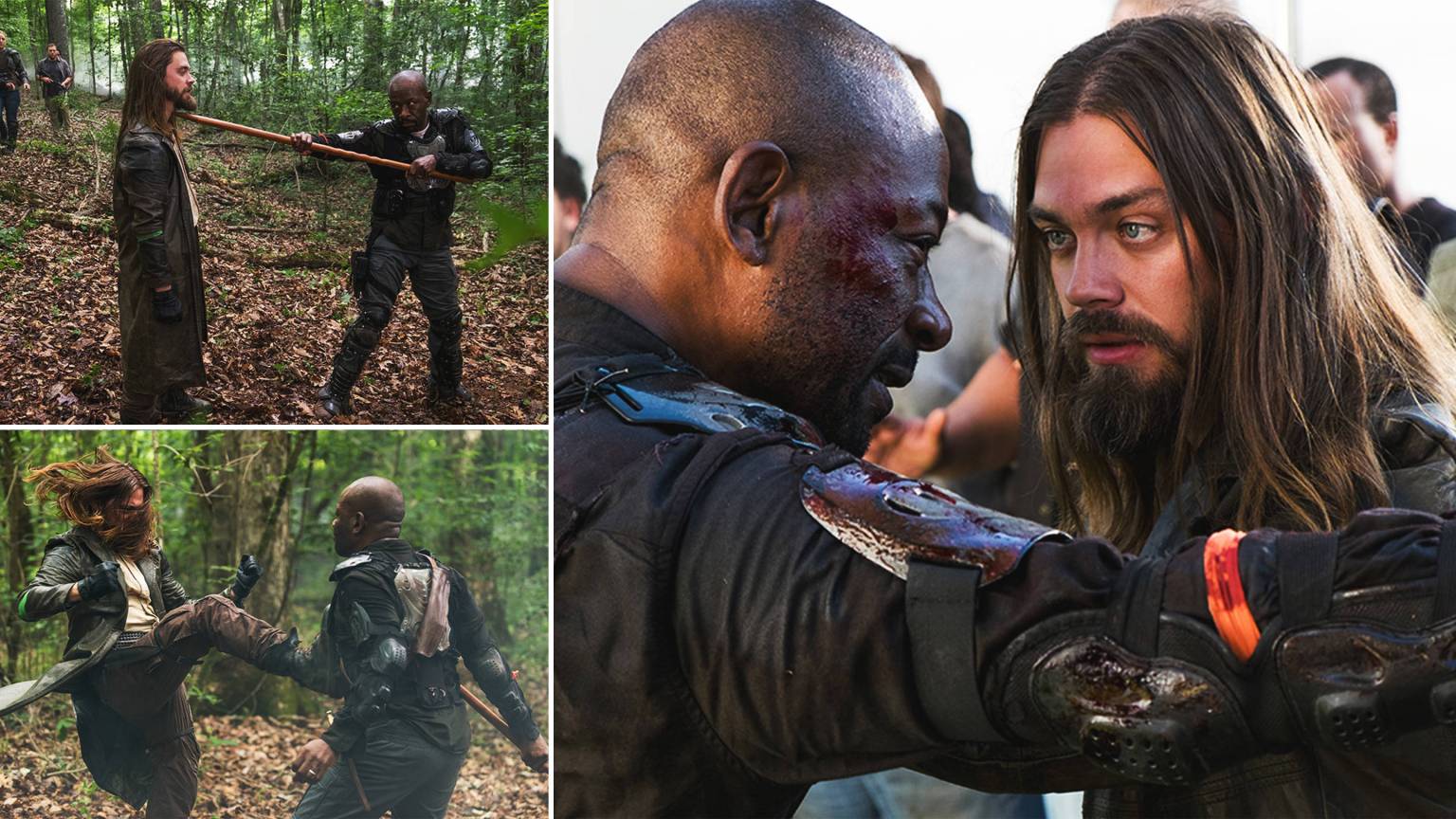 "This is a show where you can't show an ass crack or a side boob," he points out, highlighting the puritanical hypocrisy of balancing sex and violence in popular entertainment. "The first season I was in, I was watching it, and Alexandra Breckenridge's character [Jessie] takes a pair of scissors and stabs someone in the face until they're dead. And I was like, 'Wow …' That's another thing about American television, to me: You can't say 'fuck'—OK, maybe one 'fuck'—you can't swear, you can't show an ass crack or side boob."
---
At one point in time,
The Walking Dead
was the most-watched show on television. Its ratings have taking a drastic dip since Negan's bloody reveal. But the program's popularity has endured, which is why this exploration of truth and representation is important. However, Payne is quick to acknowledge that, at the end of the day, this is still a series based on comic books about the zombie apocalypse. And sometimes, we all need to remind ourselves of that.

"I mean, listen, if you're believing that zombies are walking the earth, then, I guess, get over the other things that are in there!" he says with an ironic laugh. "We made this leap. There are other little things like, how come they can drive cars for so long? Stupid things like, how come they hadn't run out of bullets ages ago? How come the tracker who was firing a bow and arrow suddenly knows how to fire a bazooka without it blowing off his feet?"

The actor has known since the summer that his character was going to die on the series, which means he's had a lot of time to reflect on his work with the show and reacclimate himself to his life in Los Angeles. Now, his focus is all about "sustaining a career and being a part of something special." And with his recent engagement to fiancée Jennifer Akerman, it looks like an exciting new period in his life is about to commence.

"I am much more happy with where I sit in the world," Payne admits. "Throughout the period of meeting her till now, my professional life has settled a lot more, and I'm a lot more happy with it. Whatever frustration I had with being on The Walking Dead, it's definitely progressed me as a person and my career."

As for how he popped the question, the actor says it all went down in a spur-of-the-moment manner: "We were in New York a few weeks ago. I did a convention, and then we went to this Elton John dinner, and we had this nice hotel room on the 16th floor. She just kind of looked at me and was like, 'I think this is a moment.' I didn't have a ring or anything! It was going to happen at some point, so I was like, 'Yeah, OK!' and I got down and did the thing, and then we found a ring within 24 hours."

I've been in tears many, many times at my table with people telling me about, 'I'm dying of cancer,' or 'This is my baby,' or 'The Walking Dead means this to us.' And it's amazing to understand that.

While he awaits the next opportunity to find him, Payne admits he's actually found excitement in domestic life and is making plans to grow his
own vegetable garden
. "Now, I'm just discovering that I really like gardening," he says. "We just got this house, and I'm really excited about what we're going to do with it! I mean, it's this classic male thing. I've started assembling my tool shed and all these things. It's fucking great, I love it."
From his theatre training in England to present day, Payne admits that he never had any other plan in place for a career. But when I press him on what he sees himself doing if this whole acting thing hadn't panned out, he tells me he'd probably be singing. "Interestingly enough, my fiancée has a music project called Final Child, and I'm singing on a few of those tracks. It's really great, and she's fucking awesome."
As much as Tom Payne
looks
like a rock star, he apparently needs some practice
being
a rock star.
"We played our first gig in Atlanta a few weeks ago, and I found out I'm not very good on stage," he admits. "And that's why I haven't done it more because singing, to me, is much more naked than acting. Acting, it comes from here [
points to his heart
] as well, but you're under the guise of something else. Singing is like, 'This is
me
.'"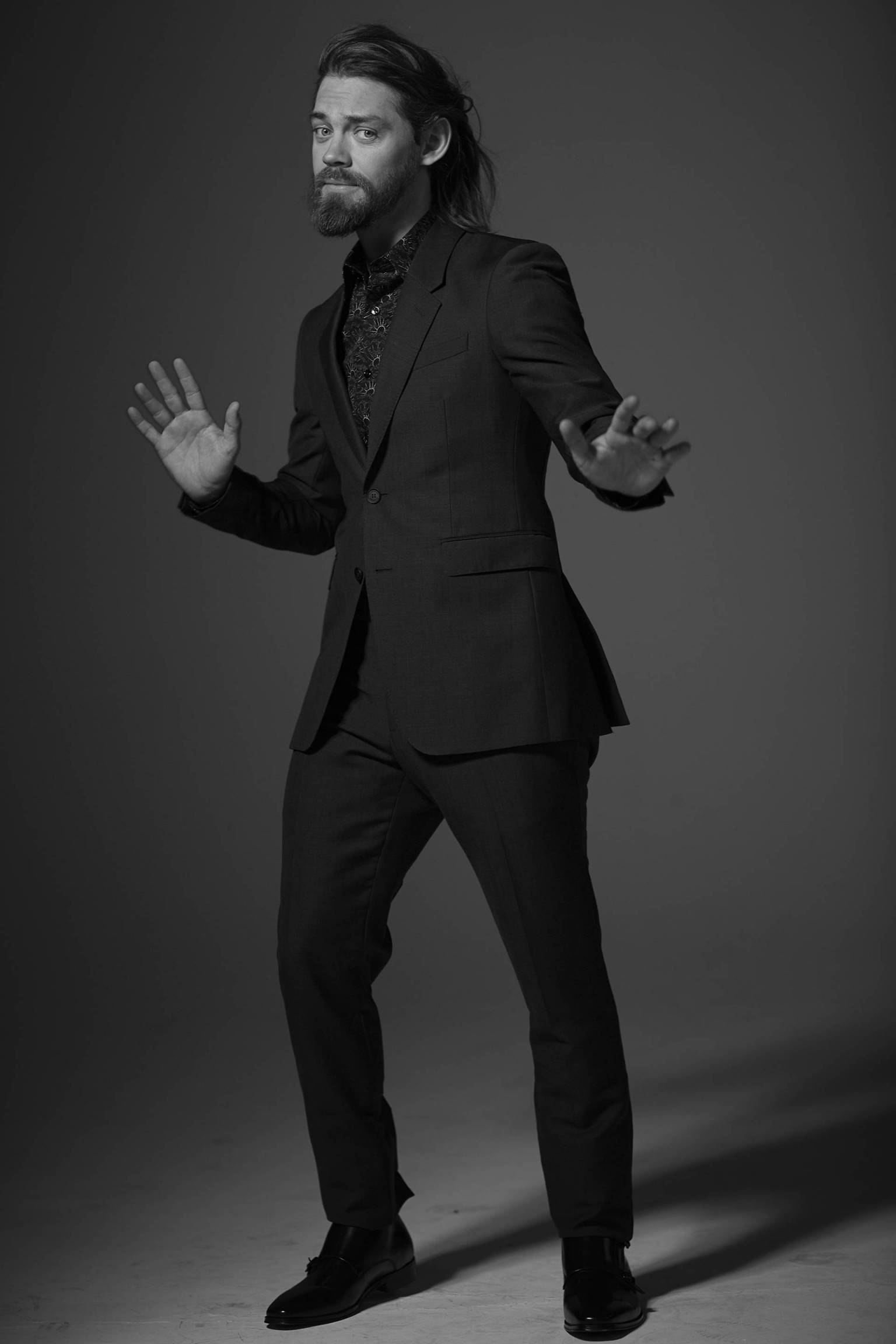 Acting or singing, Tom Payne is a performer at heart. And one of the treasures he takes away from his time on The Walking Dead are the opportunities to meet with the fans on the convention circuit. It's more than just a means of supplementing his income, he tells me, pointing to a pivotal moment in his own childhood fandom as an example of the empathy and love he feels toward his fans.

"When I was 14, I went up on a trip to London with my best friend, [to] the Natural History Museum, I think," the actor tells me, reminiscing on simpler times. "In the gift shop, they had a photo booth where you could look like you were standing next to one of the Gladiators from the TV show. When I was a kid, it was super popular, and we'd watch every Saturday night. There was this female Gladiator called Jet that everyone had a crush on. So me and my friend had a photo in this photo booth where it looked—she wasn't even there, but it looked like it. I spent 20 pounds on that! Coolest thing I ever bought. Took it back to school, and I was like, 'Hey, this is me with Jet from Gladiators!'"

Each appearance at fan conventions for Payne is something he compares to an actor doing theatre. "It's an opportunity that, as an actor, you never get unless you're doing theatre or something, to meet the audience and be with the audience and understand the audience. These people get to meet us. Talk to us. Have a joke with us," he explains.

"For me, it's amazing to look someone in the eye and see what it means to them," Payne continues, getting a bit choked up in the process. "I've been in tears many, many times at my table with people telling me about, 'I'm dying of cancer,' or 'This is my baby,' or 'The Walking Dead means this to us.' And it's amazing to understand that. I do think a lot of actors, actually, are very disconnected from that side of what we do. That is why we do what we do! It's just amazing, and I feel very fortunate to have that side of it."

Florian Munteanu tells Playboy about going from the ring to Hollywood for 'Creed II'