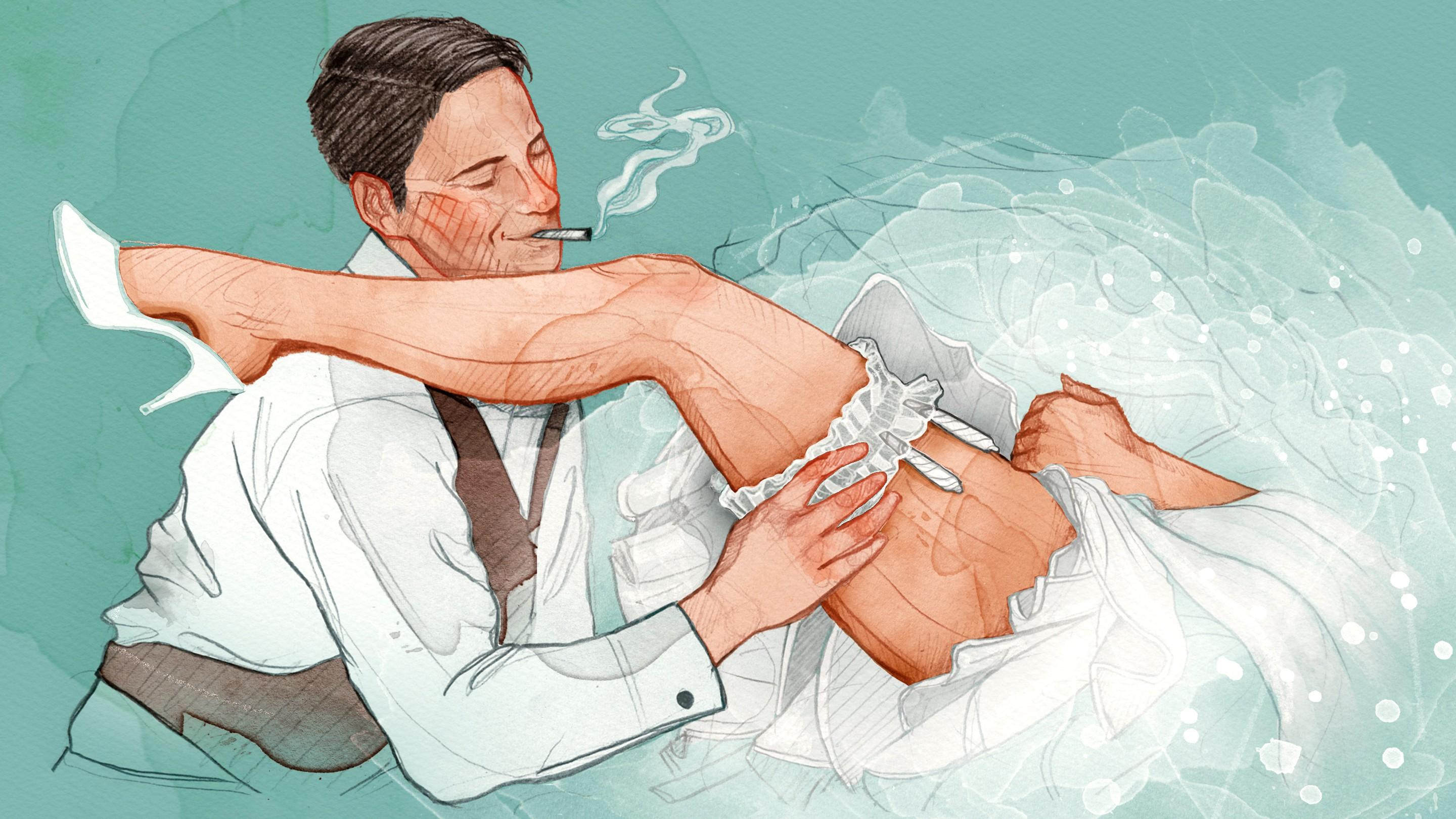 Trading in Champagne Toasts for Bong Hits: The Rise of Getting Stoned at Weddings
Written by Kevin E.G. Perry
Illustration by Ina Stanimirova

Published on

May 07, 2018
Everyone has their own idea of their perfect wedding day. Some people dream of throwing a lavish and extravagant party, others would prefer their big day to be intimate and personal, and some just don't care as long as they can get really, really high. If you're in the latter camp, fear not. You no longer have to slip off for a sneaky joint with the best man. Help is at hand.

The first-ever Cannabis Wedding Expo recently debuted in Los Angeles and no less than 41 vendors were there, leaving no turn unstoned in their efforts to find a way to work weed into your wedding. My steps steps into the suburban hotel location were met by a red velvet cake sample from Santa Barbara-based catering company
Got Sweetz
. Chef Rachelle Harris explains that not only can she infuse your wedding cake with whatever dosage of THC you prefer, she can even only add the magic ingredient to certain levels of the cake so that it can be enjoyed by those with a taste for edibles as well as those who'd rather not partake. It's a cake for all the family, so your new mother-in-law will only get as wavy as she wants to.
My next stop was at the stall of
Elevated Engagements
, where Founder Joshua Plummer explains that his company can provide mobile budtenders who'll not only serve the weed at your party or wedding reception, but also be on hand to guide your guests through the myriad of green options. Obviously at a classy soirée it wouldn't do to leave just any bongs decorating the venue. Artist Doreen Sullivan of
My Bud Vase
has the solution for that, producing beautiful, ornate centerpiece vases that double up as smoking utensils.
Even once the day itself is over, the fun doesn't have to stop.
Coral Cove
, an all-inclusive cannabis resort in Jamaica, offers specialized honeymoon packages. The vast array of options for the discerning couple is a little bewildering, so I was pleased to run into Philip Wolf, one of the Expo's founders, stood near a well laid-out dinner table. Wolf is also the CEO of
Cultivating Spirits
, a catering company that specializes in cannabis pairing menus. They can provide a full three course meal with each dish matched to a complementary cannabis strain based on its terpenes, the fragrant oils which give marijuana its diversity of aromas. These will be served up by your very own weed sommelier who can explain just why certain foods and strains go together as well as everyone's hoping the bride and groom do.
On the day I met Wolf, he was dressed for a wedding with his long hair tied back and a bloom of flowers emerging from his buttonhole. No prizes for guessing which particular type of flower takes pride of place. "I'm wearing a boutonnière—sorry, a budtonnière—right now," he explains. "It's a traditional boutonnière with cannabis flower in it. It was made for me today by a company called
Flowers on Flowers
, so you can wear something exactly like this on your special day. Whenever I'm done I'll actually take a piece of it off, pack it up and take a hit. It looks beautiful and it's very subtle." Subtlety, as Wolf explains, is a key part of the Cannabis Wedding Expo philosophy.
Not everyone wants to have a guy in a weed leaf-print suit officiate their vows (although that option does exist). "You don't have to have a whole cannabis-themed wedding," explains Wolf. "There are a lot of different, small ways you can include it. Cannabis is something that a lot of people hold very dear to their hearts, so being able to incorporate it in a celebratory fashion into their special day is very important."
Events like the Cannabis Wedding Expo, with their emphasis on making marijuana consumption unobtrusive and elegant, could be seen as an example of the industry attempting to shake off any negative association weed still carries as a drug for 'dropouts'. However, Wolf argues that they don't need to take it mainstream - because it already is. "The only reason that cannabis was looked down on as this 'counter culture' substance was because members of the counter culture were the only people comfortable enough to share their experiences," he says. "Truthfully, this is a plant that people from all walks of life have been using for a long time. We're talking about doctors, lawyers and business people. They just couldn't be open and upfront about it before. That's all changing now."
One thing that's certain is there's money to be made. Since California began allowing the sale of cannabis for recreational use at the start of the year it has been predicted that legal sales across the United States could grow to $21 billion by 2020. Meanwhile, each year $72 billion is already being spent nationwide on weddings. Combining the two presents a huge opportunity for entrepreneurs and artisans, and it could also change the culture of weddings as we know them. Switching bartenders for budtenders and dosing the cake could mean more blissful nuptials and less drunken inter-family arguments.
We all have our own vision for the perfect wedding day, but surely everyone agrees it should end on a high.