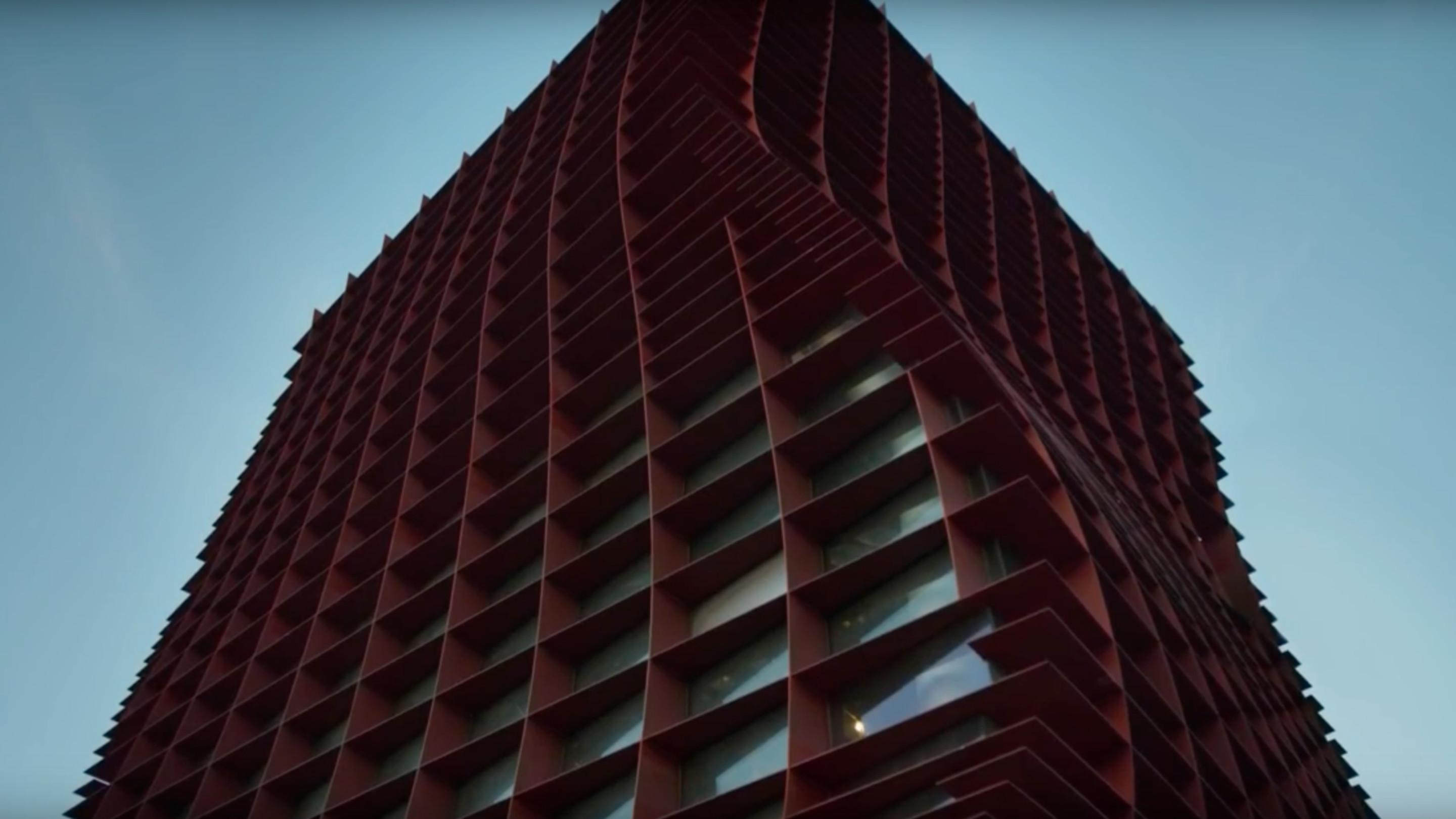 Vespertine is an Out of This World Dining Experience
Written by Joy Hui Lin

Published on

January 04, 2018
A potential patron's first encounter with Los Angeles' Vespertine is a dark and melancholic website, home to a film that appears to have nothing to do with dining--depicting a hooded woman in vaguely Scandinavian surroundings on a cold journey in search of something. An address and a phone number sit at the website's end, either of which is far more forthcoming than that cryptic video. Though the address is what leads me to the Culver City establishment, the film is a true foreshadowing of what to expect upon arrival--an otherworldly presentation of how design and dining can meld into one.
Only 22 seats per evening are available to enjoy the $250 prix fixe menu, including locally sourced ingredients prepared and presented in like an avant garde work of art. The food matches what is it encased in--a three-story glass building striated with red steel plate work, creating the impression of a sinuous wave undulating against the skyline. The interior of Vespertine is eerily stark; there are no trimmings or flourishes, but just monolithic black banquettes, tables and an outdoor garden decorated with surreal sculptures only lit up at night. The steel staircase leads to a black glossy industrial kitchen laid out like elegant Lego™ blocks on the top floor that boasts 360° light-dappled views over the city at night. All that makes up Vespertine originates from the collaborative minds of chef Jordan Kahn (formerly Red Medicine) and star architect
Eric Owen Moss
. Of course, Vespertine's realization was as complex and lengthy as one could imagine on first gaze: "If you go to Fäviken part of the appeal is the journey it takes to get there," says Kahn leaning forward, while referencing a
famed Michelin-starred Swedish restaurant
tucked away in an old barn 200 miles south of the Arctic Circle. He spreads his hands to mimic the expanse of LA, "I started to think about how I could create that feeling of being transported here."
Both Kahn and Moss speak about a blending of artistic visions, playing off their differences as one part formidable architect, one part experiential chef. When I ask Moss about his architectural designs and his relationship to LA, he explodes and ping pongs with ideas, ranging from references to the Ise shrine, located in Nagoya, Japan and Akira Kurosawa's dreamy eight vignettes before returning his focus to the task at hand. Moss muses, "For most people, things must be figured out and understood. They know what a building is and they know what a restaurant is, they know this is a house, and so on. My partner understands that the architect's job is to unlearn, to have a suspicion for the known standards or for the pro forma of the time." Kahn agrees with Moss and their synchronicity: "We both choose only the path of most resistance.."
Beyond the pair's obvious synergy and mutual admiration, Kahn uses Vespertine as an opportunity to collaborate with his favorite craftspeople and musicians. He smoothes his finger over a crackling black bowl by Japanese ceramic artist Ryota Aoki and points to the staff's draped uniforms before identifying the designer as Jona Sees.
Sure, it's all a bit (or a lot) over the top. To the typical diner it may appear outright pretentious. Silverware doesn't need to be handcrafted by a Japanese jeweler and neither does food need to reshaped or adorned with florals, but Vespertine isn't meant to be a pragmatic occurence. It is a dream, initially thought up by Kahn many years ago, and if you can snap up a reservation than we can assure you that a visit to Vespertine will be unlike any evening escapade youve had before.
---