Urban axe throwing is like bowling, but with an edge—a sharp edge. Instead of rolling a ball, you're flinging a hatchet. If axe throwing sounds more dangerous to you, Evan Walters, commissioner of the World Axe Throwing League (WATL), says that's a common misconception. "If I were to throw a five pound ball at anyone, it would hurt them," he says, adding that both games basically have the same rules. "You have to make sure the thing you're throwing goes down the lane, but it's okay to have a beer as long as everyone is respectful and things like that."

People have been throwing axes in backyards and at Boy Scout camps for years, and the International Knife Throwing Hall of Fame added its tomahawk division back in 2002, but the rise of urban axe throwing as
a competitive sport
happened fast. Until a few years ago, Walters says, "It wasn't a popular pastime. It was just kind of a hobby that mountaineer folk liked to do and compete in." The sport exploded in Canada around 2013, and from there, axe-throwing venues started popping up in the United States. The WATL officially launched in early 2017.
Matt Wilson, founder of the National Axe Throwing Federation (NATF), threw his first axe in 2006. He was working in hospitality in Toronto when he and a few buddies took a trip to a lake house outside of the city. The weather was terrible, and as it rained, they sat around the campfire in ponchos, drinking beer and talking about life. He recalls, "One of the guys pulled out a hatchet and started throwing it at some logs that were there, and we were like, 'Hey, that's cool. Let me try.'"
Wilson had so much fun that when he got back to Toronto, he started throwing axes in his backyard and inviting friends to join him. At first, there were just eight players, but the group started to grow. Soon, Wilson took over his landlord's half of the backyard, and added floodlights so they could play into the night. In 2011, he rented an indoor space on the west side of Toronto, and opened the Backyard Axe Throwing League (BATL) to the public. Two years later, he opened a second, much-bigger location—and the sport continued to grow. Along the way, Wilson learned a lot about what worked and what didn't, and that made him the perfect person to start the NATF, an organization that creates standards and rules for axe-throwing facilities and competitions. He serves as the organization's commissioner, and says, "We put into practice things that I've learned over the years and things we've learned as a business."
As long as you have a working arm, you can play.

He also still runs BATL—and yes, they serve alcohol. When Wilson tells people what he does for a living, he says, he often gets the reaction, "Oh man, axe-throwing and alcohol? How is that allowed?" He's used to having to explain it, but says in all his years of axe-throwing, he has never witnessed a serious injury. The worst thing he's seen? A few league members have cut themselves on their hands with axes they brought from home, because there are no regulations on how sharp they can be. He adds, "One guest injured himself trying to take a photo after he was done throwing, where he deliberately tried to bury the axe into the palm of his other hand as if it was a billy club. It was very minor, and he was very embarrassed."

To limit the chance of even minor injuries, NATF has specific safety regulations for its members. Wilson explains, "If somebody walks in front of a dartboard while somebody else is throwing darts, there's a risk of danger—but people don't do that, because they know not to do that. I don't expect them to know 100 percent not to do that at axe throwing, so we just don't give them the opportunity," Walters explains. "We build the venue in a way that it's not possible, and we regulate where people are when they're participating or spectating, so there's no chance for someone to make that kind of mistake even if they're not paying attention." For example, whenever someone is throwing an axe, a coach (or as some venues call it, "an axe-pert") is nearby supervising the situation.

While axe throwing isn't as dangerous as people expect, it is a whole lot of fun—and anyone can do it. "As long as you have a working arm, you can play," Walters says. Cara Fritz, the Axe Master General at Bury the Hatchet in Philadelphia, insists, "I'm 5'1" and 100 pounds, so it's not that hard for anybody to do. I have groups of like 70-year-old grandmas coming in with their book clubs. It's pretty accessible to everybody." It's two years after Fritz saw an ad for a BYOB axe-throwing venue on Facebook and had nothing better to do on that fateful Tuesday night. "I was absolutely terrible at it, but I did have a couple of drinks, so I thought I was really good. On my first night, I loved it so much that I signed up for a competitive league, and I've been playing ever since." She played in the NATF championships in Toronto last year, and in August she played in the WATL's U.S. Open. She says, "I was the highest-ranking female in the entire competition. I came in eighth place overall."

But not the drink that may initially come to mind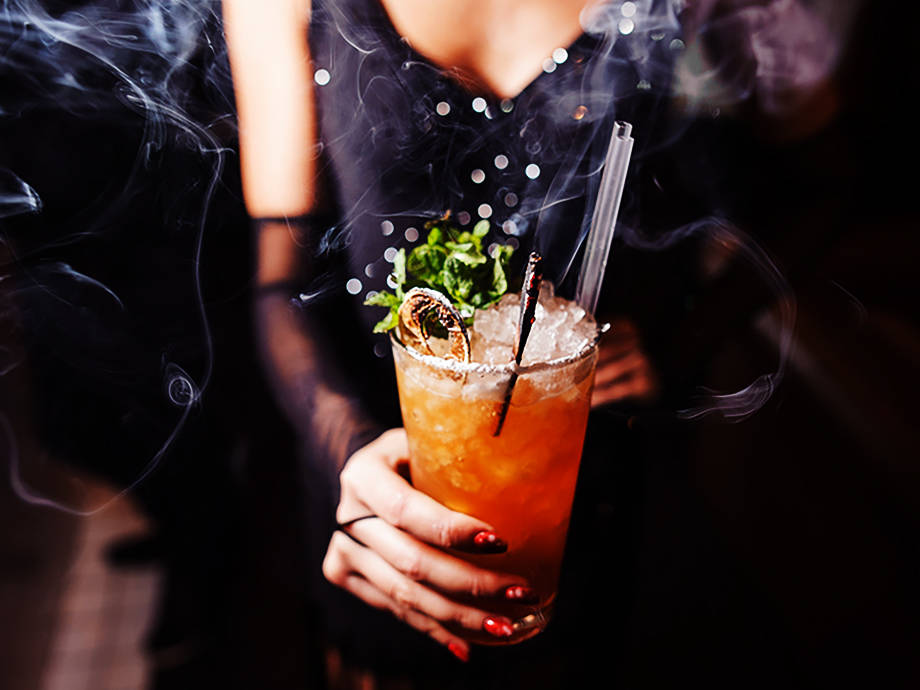 Matt Wilson, the guy behind NATF, has been competing alongside women since back when it was just eight people in his backyard. He says, "I always thought everybody could compete equally, and it'll always be that way. It's a great thing, and we're never going to change that. Our membership is about a 55/45 split. It's almost half and half, which is amazing." Wilson has been nursing an injury—from a motorcycle accident years ago, nothing to do with axe throwing—so he hasn't been competing as much lately. He won a few competitions in BATL's early years, but says he now has a hard time even making the playoffs. As more people join axe-throwing leagues, the competition gets tougher and tougher.

Wilson acknowledges that he'll never make money as a professional axe thrower, but he hopes others will. The NATF hopes to have future competitions televised (things are looking good for early 2019), and he says, "I'd like the sport to get to a place where the competitors can make a living off of purse money and sponsorship money and be professional axe throwers." He believes the NATF can be to axe throwing what the NHL is to hockey—a regulatory body for rules and standards, as well as a promotional entity.

Meanwhile, WATL's next event, the World Axe Throwing Championship, will be held December 14 and 15 in Chicago. The first axe-throwing event to air on ESPN networks, it will feature 64 regional champions from all over the world. If you want to look fierce on TV in the future, there's never been a better time to pick up an axe.