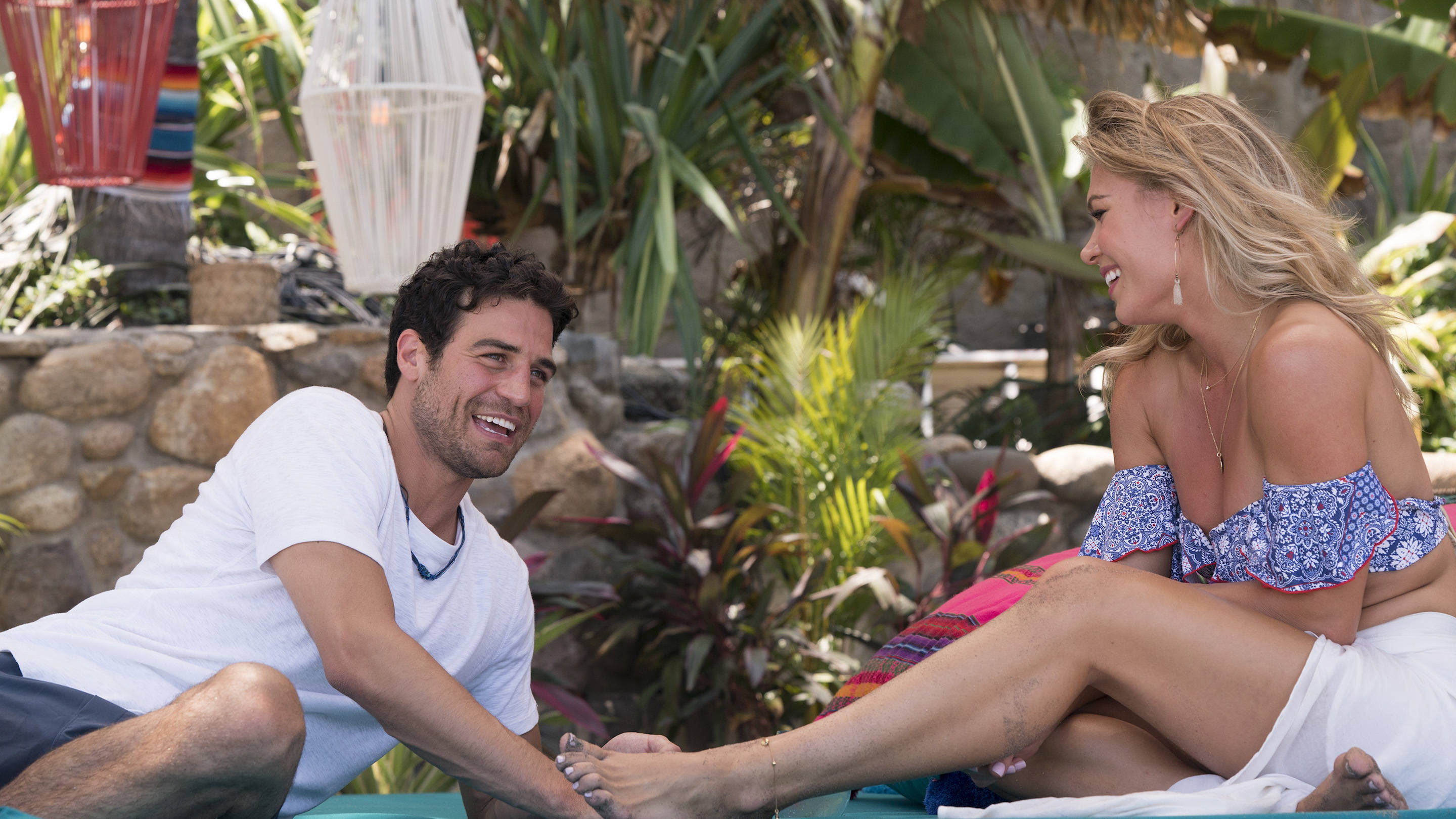 We Love 'Bachelor in Paradise' Because We Hate Ourselves
Ah, Bachelor in Paradise. The only reason we've endured watching The Bachelor since 2014 is back for a fifth season on ABC. And did I watch it? Yes. Did I feel inspired during it? No. Did I eat tacos during it and sigh a lot? Certainly. The latest season promises more theatrics than ever before—as though The Bachelor franchise producers misremembered that the prior season was so rife with real date-rape drama that they had to take a break and execute a full-blown investigation only to return the next month like nothing happened.

Do we desire more of this tension? It's 2018—I don't know if, after the last season, I want to see a cast of people stranded on an island together drinking, fucking, crying and beginning rash and desperate relationships that will inevitably crash and burn by the end of the season. It all just seems so… disheartening. So why do we all keep watching it?
The Bachelor
franchise
's guarantees are growing more coercive in nature, casually manipulating the audience to stay tuned into its own bullshit through psychological warfare (i.e. Chris Harrison's hollow promises). You could easily assume Harrison was lying through his teeth on
The Bachelor
finale earlier this week when he proclaimed the conclusion would shock everyone as one of the most climactic and emotional finales in
Bachelor
history. Don't they declare this toward the end of every season? The franchise must be capitalizing off of how short our attention spans are getting. After all,
recent research does indicate
our capacity to focus on one particular thing is down from 12 seconds in 2000 to eight seconds now—that's less than the attention span of the pet goldfish you held a candlelit vigil for as you flushed that useless "pet" down the toilet when you were a 9-year-old
Of course, some
scientists are disputing
this as utter mythology, stating it's all subject to what you're actually working on. But I can confirm my attention span is trash. An example? I create false justifications for why I can't cook 30-minute meals every night, but spend those 30 minutes scrolling robotically through my Twitter feed. I've been suborned into
The Bachelor
franchise's bullshit—they really got me there. I imagined when Becca Kufrin did NOT choose Blake over no one's problematic favorite—
Garrett the Transphobic
, as they'll call him in historical literature centuries from now—that Blake would have a nervous breakdown akin to those I have when my Postmates order is ~10 minutes late (and I have to eat moderately warm Popeyes rather than hot Popeyes). But nothing really occurred. Blake just kind of whimpered and cried a bit, said I loved you, and left, rather graciously. Could never have been me! I would have been squared up, foaming at the mouth on my hands and knees bellowing for Garrett to come at me and howling at the heavens. How dare Becca give that handsome man (Blake) a Ted Talk about how wondrous he is—while wearing an all-too-expensive ball gown—only to rip his heart out and not shed a tear? Again… could never be me. Blake, call me if you see this.
Bachelor in Paradise is addictive because while we insist we want to be nothing like these people we love to call basic, horrendously-dressed dipshits while they're on The Bachelor shows, we commiserate with their dismissal-from-the-franchise accounts.

That's the thing, though—the franchise is unquestionably grappling to keep up, or even stay relevant, with forward-thinking culture. And its LA-based producers are totally cognizant that this franchise may not be able to exist without significant backlash in 2019, or 2020, or beyond. They already underwent repercussion (two seasons in a row, actually!) over a contestant's (stinky Garrett) pro-Trump rhetoric on Instagram this season, and were justifiably called out for not vetting their contestants well enough. The franchise is obsolete, and antiquated, markedly so since the last Bachelorette—and first black Bachelorette—Rachel Lindsey spilled the tea today for
Us Weekly
when she blamed the franchise for not shielding her during her season as well as her finale, alleging Becca—a white woman—was "protected and I was placed on display for three hours and labeled an angry black female." Rachel went on to declare "Becca did not sit on stage for three hours and watch the finale for the first time in front of a live audience. Becca did not have to deal with someone telling her she would live a mediocre life. Becca did not have to deal with being baited with real time questions about her emotions watching certain scenes." Points have been made, all of them real, valid and poignant.
The Bachelor
is failing people because it refuses to keep up with the times (they are a'changin'...) and relies on deceiving its audience through commitments of DRAMA DRAMA DRAMA in every season of every franchise now to keep them fixed to their television sets.
Bachelor in Paradise
kind of acts as an antidote to this performativity, with the drama we all know we want packaged in.
Bachelor in Paradise
is like a detox center (I'm allowed to say it as I'm about to enter detox for my 18-year pseudoephedrine addiction) for
The Bachelor
franchise rejects stranded together on the Island of Misfit Toys (Tropical Edition), and that's why we love it. Because let's be realistic—we're all
Bachelor
rejects deep-down. None of us fit into the boxes
The Bachelor
subdues women and men into, and none of us have the "it factor" the most sought-after contestants have attained. Whether it's a "smokin' hot bod," as
Bachelor
-reject Krystal put it last night, or a gentle, delicate, feminine personality, or remarkably masculine energy—we don't fucking have it. I sure as fuck don't have it.
The Bachelor
franchise thrives off of Debt-Free Virgins Without Tattoos. And that's none of us.
Bachelor in Paradise
at least gives us a shred of hope that maybe, if we couldn't make
The Bachelor
(and you've thought about how far you'd get, admit it), we'd at the very least be secured the nicety of an offer by the franchise to fly to a tropical getaway where we're forced to interact with the other losers.
Me? Are you talking to ME? Yeah, I've thought about how far I'd make it on
The Bachelor
! So what? I'm hot and like, really smart. I'm pretty and popular and I get my math homework, as my 12-year-old-self recorded in my pink, hibiscus print diary. I'm just not cookie-cutter enough. My body isn't quite there, though since I've started exercising regularly I have discerned precisely two (2) abs poking through my gut. I'd be immediately discarded for my tattoos, though, no question. Especially after a producer takes a closer look at my right forearm and realizes there's a full-blown
Doctor Who
tattoo and in turn spews vomit all over their Macbook Pro Retina Display 13.3-inch. It's bound to happen, people! I just wouldn't make the cut. So, I have to sympathize with the other rejects, because I know I'm a reject and I haven't even applied.
Bachelor in Paradise
summons empathy in us for a troupe of rejects that remind us of ourselves. Like, for instance, the notably messy Jordan and Krystal. Have you ever felt both misunderstood and hot? They are your king and queen, my dudes. Jordan and Krystal were both cast out of their respective seasons for being too much, fake even, and c'mon—overly confident in their winning looks. Have you felt like your accent doesn't allow for people to take you seriously as you'd like? Tia and Grocery Joe have you covered, with their Southern and Staten Island-y drawls (Joe's from Chicago, so I don't get why he sounds like Pete Davidson doing stand-up). Are you a fucking nut for dead bodies? Kendall is eloquent and charming, and her weird hobby should hold no bearing on how lovable she is! C'mon! Are you a douchebag and it's unavoidable at this point? The über-tatted dude from the Canadian
Bachelor
is, too. Are you a virgin with no emotional sincerity? Colton, what's up, man? Are you a woman of color, likely kicked off by a white dude who is for sure both internally misogynistic and a 'lil racist? Bibiana and Tia are here for you. Are you a black man? Has a black man EVER even been granted a chance—as a finalist—to propose to a woman on the Bachelorette? Kevin, Joe and Wills are in the house. Are you just a fucking nerd? Jordan and the dude who dressed like a chicken on Becca's season have your back on that shit.
There's an archetype on the show for everyone to relate to, principally given that their character "flaws"—which aren't flaws at all, and don't adequately define them as people—are plausibly the sole reason they departed so soon from their seasons. We also relish in the idea that there could be a potential match for each of these people, or at least, like, one of them. Because that embodies hope for us! And, because we're sadists, we also want to see it NOT work out for these people, because they represent us, and we hate ourselves and don't believe we deserve love, either.
Science states most of us lose pretty much all of our friends in our mid-20s (and start appending the word "friend" to relationships that seem more acquaintance-y than anything), so we're also attracted to the notion that these people are pretty much—for better or worse—required to get along on a remote tropical island, notwithstanding any tension.
I always supposed friendships were much more natural to develop and maintain in middle and high school, when you're essentially confined in multiple rooms a day with people from all different frameworks and with entirely diverse interests than you. In this day and age, you could die together. You may as well enjoy one another, so you do. In college, friendship-building becomes laborious when you recognize that everyone in your Graduate-level Stalinist Historiography class is age 95. It gets even more difficult as you strive to balance work and life post-education; as we advance and mature as people we observe those we were closest to—at individual points—take unquestionably separate life-routes than us. We understand, after a while, that we have nothing in common any longer. So, in a sense,
Bachelor in Paradise
merely stands as nostalgia for a time when it was simpler to choose who we befriended solely because we had no other choices. Our friend pools were small, and our dating pools were more modest, and—if you're my age, at least—we didn't really have much technology, so every 8-hour school day was basically like a 3-month stint on
The Bachelor
without a phone or social media use.
Dating-show mainstays tell Playboy about the format's allure—and its impact on their personal lives
So, yeah. Sign me up.
Bachelor in Paradise
is addictive because while we insist we want to be nothing like these people we love to call basic, horrendously-dressed dipshits while they're on
The Bachelor
shows, we commiserate with their dismissal-from-the-franchise accounts. We relate even stronger to the escapism ex-contestants are exploring through allowing to be on a TV show where they're permitted to unplug and lay in day-beds on the beach (well, daybeds with huge spotlights on them for whenever
a makeout session is occurring
). These contestants could conceivably receive a shot at love— or, at least, a way to plug what they propose to do following their inevitable boot from this
Bachelor
franchise as well. In a way, through watching the show, we're escaping too, and after a full season of watching the white-washed 90 percent of a Bachelor or Bachelorette season, we're desperate for it.
I wonder if participants actually come onto
The Bachelor
with the aim of feasibly making it to
Paradise
, where there are no parents and no rules (and you can make-believe you're in high school again), just a ton of alcohol poorly-bartended by a hot dude named Wells. You've got sex, you've got drama, you've got lying, and cheating, and cute, expensive dates in mysterious, exotic tropical caves. And you all know you are the rejects, and you're in this together. In a way, it kind of feels like social media.