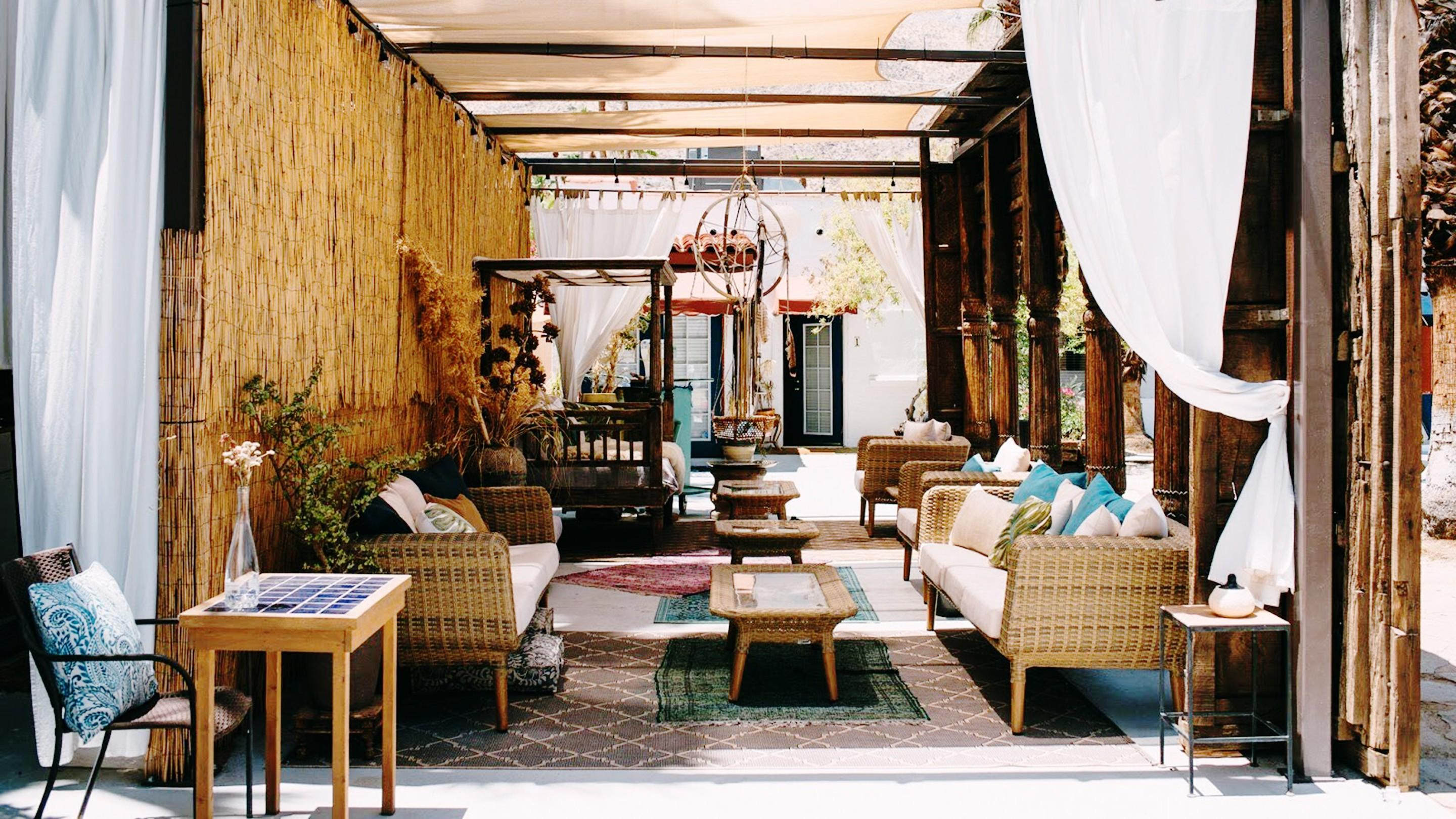 Welcome to Palm Springs' Hidden Paradise
Written by Lisa Beebe

Published on

April 11, 2018
On the south end of Palm Springs in a barren, unmarked parking lot, stands an intricately-carved, oversized green door. In a region where neon signs and pool side attire are standard, the scene at ININN looks more akin to a Middle Eastern temple than what one would expect in the southern California resort enclave. And it's only the first of many intricacies to discover at the hidden oasis.

Owner Gabbi Rose greets guests and reveals the true entrance to desert paradise—a second door marked "Members Only" is a portal into a fever dream from what could be the mind of John Lennon. It's a place, submerged in Palm Spring's warm desert hug, equipped with a fish-shaped swimming pool, surrounded by blooming flowers and palm trees, shaded structures built with architectural pieces from India and China. Cozy, seating is scattered throughout, each corner, decorated with plush pillow and geometric prints.
The 14-room hotel's name, ININN, is a play on the Dutch word for "together" (*ineen*). Rose explains, "[I] liked this idea of having an in within an inn. In order for you to come and book with me, you have to have an in." And Rose stays true to that concept: ININN doesn't have a website, and there's no way to book a room online. When she first decided the hotel was ready for guests, she opened to the public for two days—and hated it. She says, "People didn't have any real consideration for the space that I had built as an artist or all of the effort that I was going to put into their meals or their experience."
Instead of continuing to allow strangers to book rooms, she opened ININN to her friends and family, and trusted them to invite other people that they'd be happy to have in their own homes. "In the beginning, everybody told me it wasn't going to work. They were like, 'You're crazy. You have to be on TripAdvisor. You have to be on Yelp.' It's like, 'No. Actually, I really believe in the good of humans, and I really want to connect with that when they're on vacation and give them the best possible experience, but I can't do that if we're just running a typical hotel.'"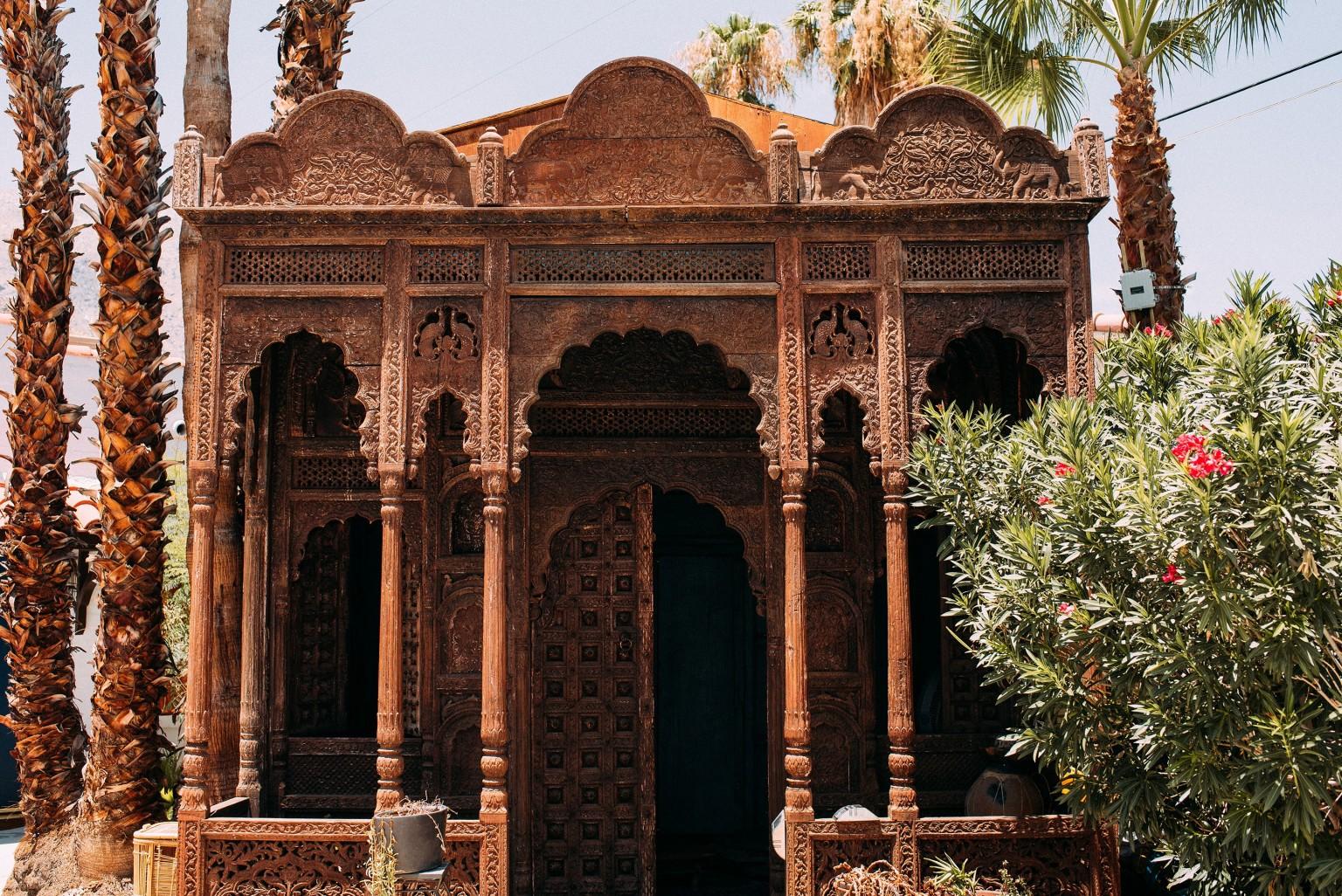 Rose asserts that she is the only female hotel owner in the town, but the feat didn't come without its obstacles. When she first bought the hotel, she remembers every conversation with a male hotelier started the same way. They'd ask, "Who's your husband?" A proud feminist, Rose was more than happy to explain that she bought the hotel—formerly a lesbian retreat—with her own money. She tells Playboy that she also put herself through art school in Chicago, a program she could only afford because of her side-hustle as a cannabis dealer. "I paid for school in cash, which was a really funny transaction with the offices, but they allowed it."

It's her art school education that Rose attributes for her courage—her ability to see ININN's potential as her very own creation: "I'm very self-expressive, so the entire hotel is really an extension of who I am." She designed every square-inch of ININN to be a space where she feels comfortable, and laughs, "It's inherently kind of selfish, but people really like it, so it works out." Before moving to the desert town, Rose lived in Venice, California for many years, where she founded the hula hoop fitness company Hoopnotica. As the company's CEO, she had to travel a lot, and that's when she discovered her distaste for corporate travel. "There was one night that I paid for my family to stay in a hotel in Tokyo. It was $4800 for the night, and I was so angry, because I didn't feel relaxed. I felt like I couldn't touch anything," she recalls.

The entrepreneur wants people to have the opposite experience at ININN. "When you come here, I'm just going to drench you in love, even if that love means that I know you need to be alone, so I'm going to keep people away from you," she says, "I'm going to ask you what time you want dinner, and I'm just going to make sure that you have it." While other hoteliers might consider that type of service an unmanageable, over-the-top commitment, Rose says, "For me, because we're so small, I can do whatever the hell I want." At ININN, she wants people to feel free to relax in more ways than one.
"We're also the only 420-friendly resort in Palm Springs," she declares. "We're not, like, a marijuana resort, but if we see our guests smoking pot, we'll bring them a stoner mix, which is basically a combination of salty, crunchy, sweet, and gummy things—just a couple of each in a jar." ININN offers visitors *omakase* service, inspired by the Japanese term meaning "I'll leave it up to you." Rose says, "When you get here, I'm going to do everything I can to fill in around you to make sure you have the best vacation possible. I'm not going to give you just the stuff that the bureau of tourism wants you to know about. I'm going to tell you about things off the beaten path, because every community has secrets."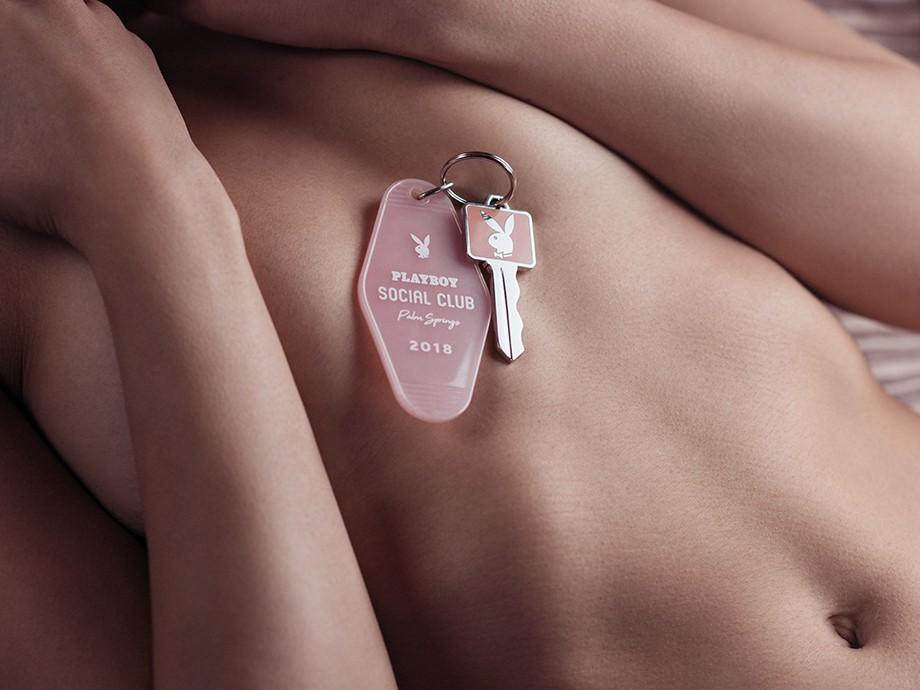 We're giving a few lucky Key Holders an invite to enjoy the music fest experience of a lifetime
Rose hints that the hotel has plenty more surprises, but she'd rather not tell all. She'd prefer visitors feel as though they earn the right to find these secrets for themselves. If you want the opportunity to book a room at ININN, you'll have to work for that too. In a world where everything seems to be going digital, Rose places a strong emphasis on personal connection and communication. She says, "It's not impossible to find us, but when people take that added step, they feel like they've won something. By the time they get here, they already feel loved, they already feel special, and they respect what we do a little bit more. We don't let just anybody stay."

How are you supposed to connect with a business that doesn't have a website? Here's a hint: They do have an Instagram account. Rose says, "We have phones, we have email, lots of people know us. It's not impossible to get a hold of us, but when you go that extra step, it eliminates a vast number of people."