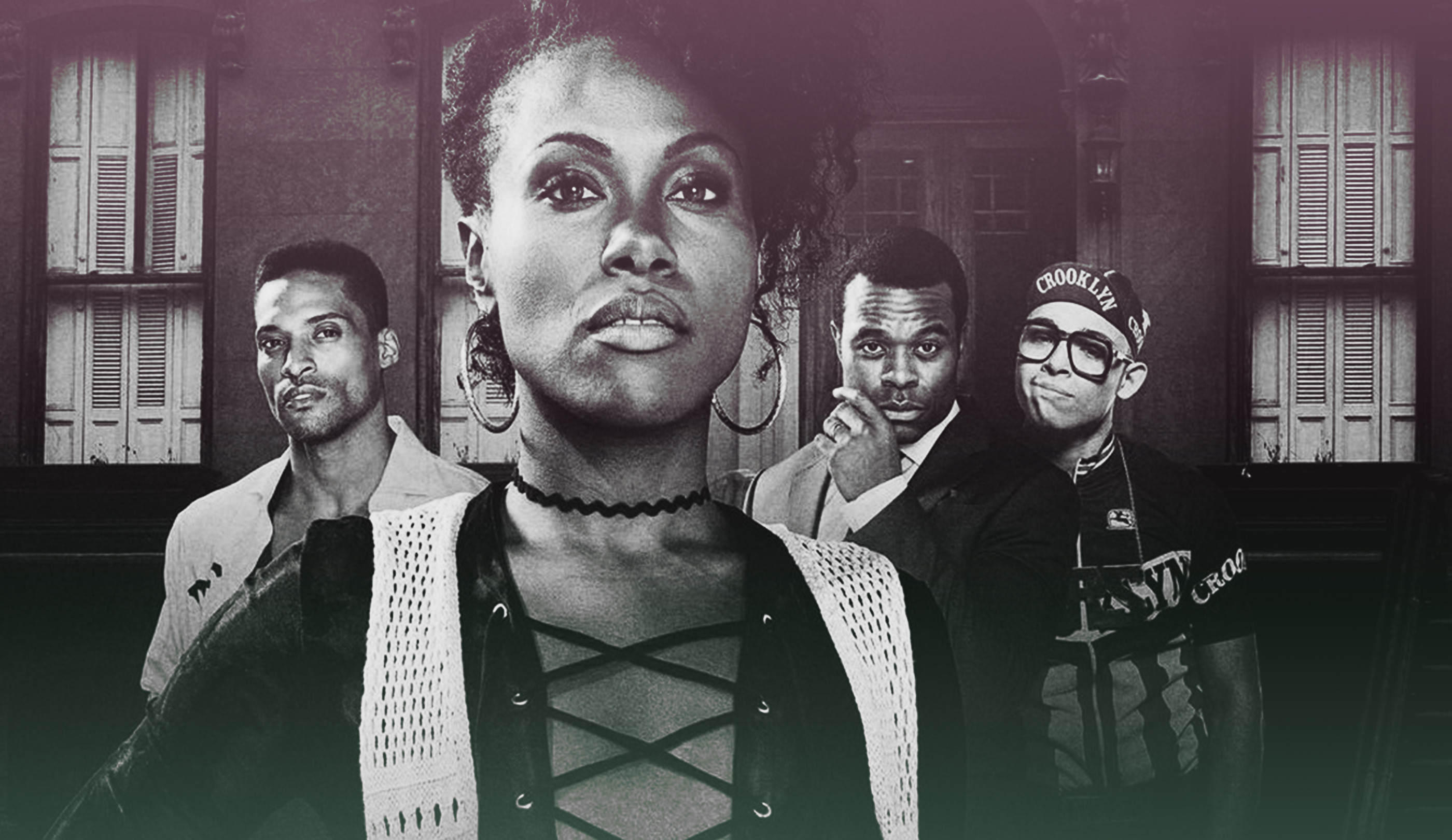 What Polyamory Looks Like for Black Women
Written by Meagan Jordan

Published on

December 13, 2017
Back in the early aughts, when Kenya K. Stevens was opening her marriage, she wrote to Spike Lee. She wanted to know how Nola Darling's story would end and more about what the future held for the plucky heroine of the 1986 classic She's Gotta Have It.

"I just so happened to be a living Nola. I wrote him and said please…you did Nola Darling, and you [must] continue it now. We want to know what happens next."
Lee never wrote back. But since then, the Amber Rose SlutWalk speaker and celebrity love coach has found a way to tell her own story through her and her husband's reality television show Let's Stray Together and through the online "love academy" they run for 2,500 students called Jujumama.
If you've seen She's Gotta Have It and check out Jujumama Love Academy, you'd realize that Nola Darling and Kenya K. Stevens have a lot in common. They are both fearlessly black and unapologetic participants in African spirituality who identify themselves as "sex-positive and polyamorous" women. This identity was unheard of in 1986 when Spike Lee first introduced the movie-turned-Netflix series and still struggles to be understood.
Thirty-one years later, the revamp of She's Gotta Have It follows Darling who is balancing a career as an artist, a love life with three men and a woman, and a battle against racism, sexism and the cultural misunderstandings that come with living in gentrified Fort Greene, Brooklyn.
Darling has four lovers—each fulfilling a need or want of hers—who mirror the complexities within her own personality. The wealthy, older but married Jamie Overstreet. The hip-hop savvy, funny yet childish Mars Blackmon. The sexy photographer whose personality flirts between high self-esteem and narcissism, Greer Childs. And finally, Opal, the beautiful lesbian woman who is stable, self-assured and balancing owning a plant nursery while taking care of her daughter.
In the first episode, Darling—played by actress DeWanda Wise—sits upright in her bed to tell her audience that despite what we may assume of her identity, she is not a freak. "I consider myself to be abnormal," she says but "some people call me a freak, and I hate that word. I don't believe in it. Yet, I don't believe in one-word labels, but what are you going to do?" This was a similar question Stevens had asked herself and her marriage counselor four years into her marriage, when she found herself in love with another man.
"I asked my marriage counselor what should I do, and they said be quiet about it and that really annoyed me because I'm like well, I could be quiet about it, but I still dreamt of him every single night."
Like Darling, Stevens also has multiple lovers, a lifestyle that was revolutionary in the 1980s and still not entirely acceptable today. Nonetheless, it is a lifestyle she has created for herself and her family. Stevens' and her husband/business partner, Carl E. Stevens, Jr., have been married for 22 years, and open for 12. Years after Stevens' confessed her love for another man, of whom her husband did not approve, her husband fell in love with a co-worker.
"He came home from work and was sharing that he was feeling feelings of love for a co-worker, and I was like I want to meet her! Who is she?" recalls Stevens. "I met her, and she was great. She was from Ghana, and I saw the differences between herself and me. I was like great, he needs somebody like that, but then I was like you're not going to be with her if I can't be with other people too."
Even after this conversation, Stevens said it took two years for her husband to agree with the terms of her being with other men even as he saw other women.
Now Stevens has four men she sees on the regular, all of whom she considers her husbands—including her legal husband.
"It's way deeper than sex. That's what polyamory has really taught me, that a relationship is not even about the sex," says Stevens. "Sex is just like dessert, but the relationship is about the empire, the projects, the work, the mission, the drive. What are you guys building together? For me, that's what my relationships are about."
In a time where patriarchal thought still prevails, women who choose to have multiple lovers are labeled sluts and whores. These harmful classifications threaten the safety and overall security of women—especially black women who historically have been hypersexualized and sexually exploited.
"A lot of black women are fighting against that archetype of black women being overly sexed," says therapist and clinical social worker, Ruby Johnson, who also identifies as a black, polyamorous woman. "But those are the archetypes that were created by some white folks when they wanted to have us enslaved."
These slavery archetypes that Johnson speaks of are the mammy; a fat, asexual, nurturing but undesirable woman, and the jezebel; deemed sexually aggressive, immoral and promiscuous.
When the original movie She's Gotta Have It came out, the rape scene when a character forces himself on Nola, asking "whose pussy is it?" drew ire. Spike Lee's decision to put the scene in the movie, which he has since openly stated his regrets for, gave the message that being a respected and sexually free black woman was unachievable. In an essay called "Whose Pussy Is It?", feminist and social critic, bell hooks, made the argument that Nola Darling isn't liberated.
She wrote that, "Ironically and unfortunately, Nola Darling's sexual desire is not depicted as an autonomous gesture, as an independent longing for sexual expression, satisfaction and fulfillment. Instead, her assertive sexuality is most often a reward or gift she bestows on the deserving male."
Hooks also notes that the men in the movie are given personalities and the film is written from their perspective of Nola, as opposed to Nola's personality being shown through her own dialogue.
"I love me some bell hooks, but there is a strong womanist, queer perspective that is present," says Johnson. "People [say] we're focusing too much on the sexual and not enough on the other aspects of polyamory, but I think a lot of that is out of fear of not being socially accepted if we wave that sexual flag too much."
This one story of She's Gotta Have It is just that. It's not a definitive representation of polyamory or what a free woman must look like.
"I don't believe that we're all polyamorous, and I don't believe that polyamory is this hierarchical thing [you do when] you're more evolved," says co-founder of the online community, Afrosexology, Dalychia Saah. But Saah, who has practiced poly and open relationships with her partner, questions how poly relationships are portrayed in the media, being that the relationship dynamic is still considered unconventional. "I don't think the show is a healthy representation of polyamory. Until she identified as pansexual and polyamorous, I was not thinking she was polyamorous. I was thinking 'oh you're just out here being open,' which is cool."
But Stevens teaches her students that we all can be Nola in our own way just by creating the life we want.
"I think humans' definitions of things are complete and utter bullshit. I always define words in my own way. To me, poly only means many loves. Open means the same thing. I don't see the difference," concludes Stevens. "That's the issue with humans. Our culture doesn't teach us how to be inventors. We always want to know how something works, but we're supposed to create how it works. There's nobody who's going to tell you, that's for you to determine."