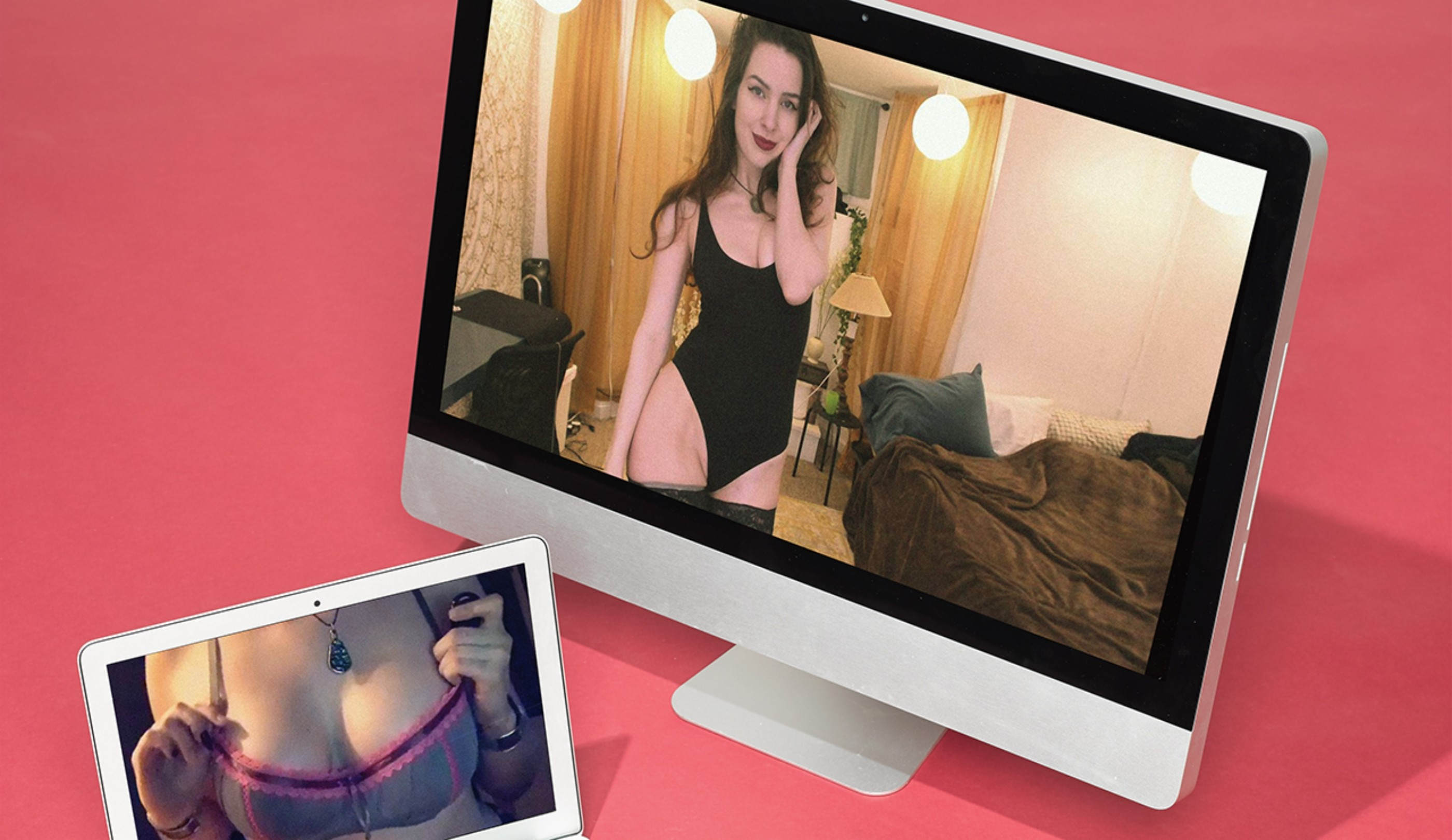 When Camming Is the Family Business
Written by Jessica P. Ogilvie
Photography by Scottie Cameron

Published on

December 06, 2017
Behind a half-closed door inside a basement apartment in Cambridge, Massachusetts, 25-year-old Aella pads across a fading white carpet. She's dressed in a black thong leotard and matching thigh-high stockings, with unblemished ivory skin and wavy brown hair hanging down to her ribs. As she sets up a chair in the middle of the room, a black cat slinks across the windowsill.
She moves to stand in front of her laptop, which has a Logitech Brio camera clipped to the top. Two lopsided circles of string lights hang on the wall behind the screen, bathing her in a soft white glow. It's 8:47 p.m. Eastern Standard Time, and Aella tugs up her stockings, then hops from one foot to another, shakes out her hands, rolls her neck and tosses her hair.
"Outcome independence," she says to herself. "It doesn't matter what the outcome is."
She places a black Clockwork Orange–type hat on her head, flicks on the camera and positions her index finger above the laptop's return key.
"Okay," she says, "here we go!"
Three days later, in a sparsely decorated bedroom in Nampa, Idaho, 18-year-old Gerard sits cross-legged on her bed. Unlike Aella, her oldest sister, she isn't dressed for maximum sex appeal. Despite being five-foot-seven and having the physique of a runway model, she wears a full-size banana costume that conceals her entire torso and her long platinum hair, so that only her face is visible. Her eyelids are coated in red and blue shadow; false lashes swish with every blink, and cerulean polka dots adorn her temples.
At 6:15 p.m. Mountain Time, she closes the blinds and adjusts her laptop screen. "I'm excited for tonight!" she says, opening a browser. "It's gonna be good."
On another night, several time zones away, 22-year-old Rose is on a beach in Kobe, Japan. The sky is a stunning black-blue as the sun fades behind the water, and Rose—who has recently shaved one side of her head so her waist-length black hair falls mostly to the left—is dressed in a string bikini. Her mother, a conservative Christian homemaker, is visiting to help her middle daughter with the unexpectedly difficult move to a new country. The two of them can't help but notice the lovely setting.
"The lighting is so pretty," Rose's mom says. "Let's take some pictures of you."
These are the Jones sisters, ranging up to seven years apart in age and, at various times, more than 5,000 miles away from one another. (The family's last name has been changed for this story.) As children, though, they were together constantly, homeschooled by their mother as their father preached the word of God. They were forbidden from talking to nonbelievers, were made to dress modestly and were rarely exposed to pop culture.
For most of their childhood they stayed in line. But as they got older, they began to push boundaries. Even as their parents tried to rein them in, the sisters traveled away from home, dressed how they wanted and explored ideas outside of Christianity. And then they did perhaps the last thing their parents expected, and perhaps the primary thing they were trying to prevent: One by one, they registered for accounts on MyFreeCams.com, an adults-only webcam site through which thousands of people across the world broadcast amateur content from their homes. (In a late-breaking twist, Aella quit camming just before press time, after five years and hundreds of thousands of dollars earned. She's now focused on two start-ups: a vendor of remote-controlled bondage devices, and a pay-to-play dating site.)
Each sister struggled with the contradictions between camming and Christianity, but the more they pursued the former, the more they learned about themselves and the world outside the church. The path they've carved is twisting and bumpy and sometimes hazardous. Had Aella, the oldest, not borne the brunt of her parents' religiosity, the sisters might never have traveled that path at all. But bear it she did, until it became intolerable, and that's when the Joneses' values were exposed to the lawless wilds of the internet. Not one family member would come out of it unchanged.
---
Nampa is 20 miles west of Boise, a straight shot down Interstate 84. It's the kind of place where you will almost definitely run into someone you know at one of the dive bars or mom-and-pop restaurants in the quaint downtown, an area surrounded for miles by middle-class housing developments, sprawling farms, plenty of wildlife—and churches. So many churches. Then again, Nampa is the kind of place that makes you want to believe. The sky and its preposterous peaches and pinks and starlight blues; the unfathomable expanses of flatland; the streaks of sunlight that shoot straight through the clouds all the way down to the ground in a way that you, a nonbeliever, almost wish they wouldn't because they look so damn much like messages from heaven.
It was here in Nampa that the Jones girls were raised, in a two-story house on a cul-de-sac in the northeast area of town. Their father is a well-known and highly respected Christian apologist, radio host and public debater. The family religion isn't a particular denomination; rather, they're part of a fundamentalist Christian community that believes the Bible is the literal word of God.
"What I do," Jones tells me over the phone, "is establish and defend the Christian faith against everything else. I've been doing this for 37 years. I could sit with you and prove to you that God exists, and you would agree."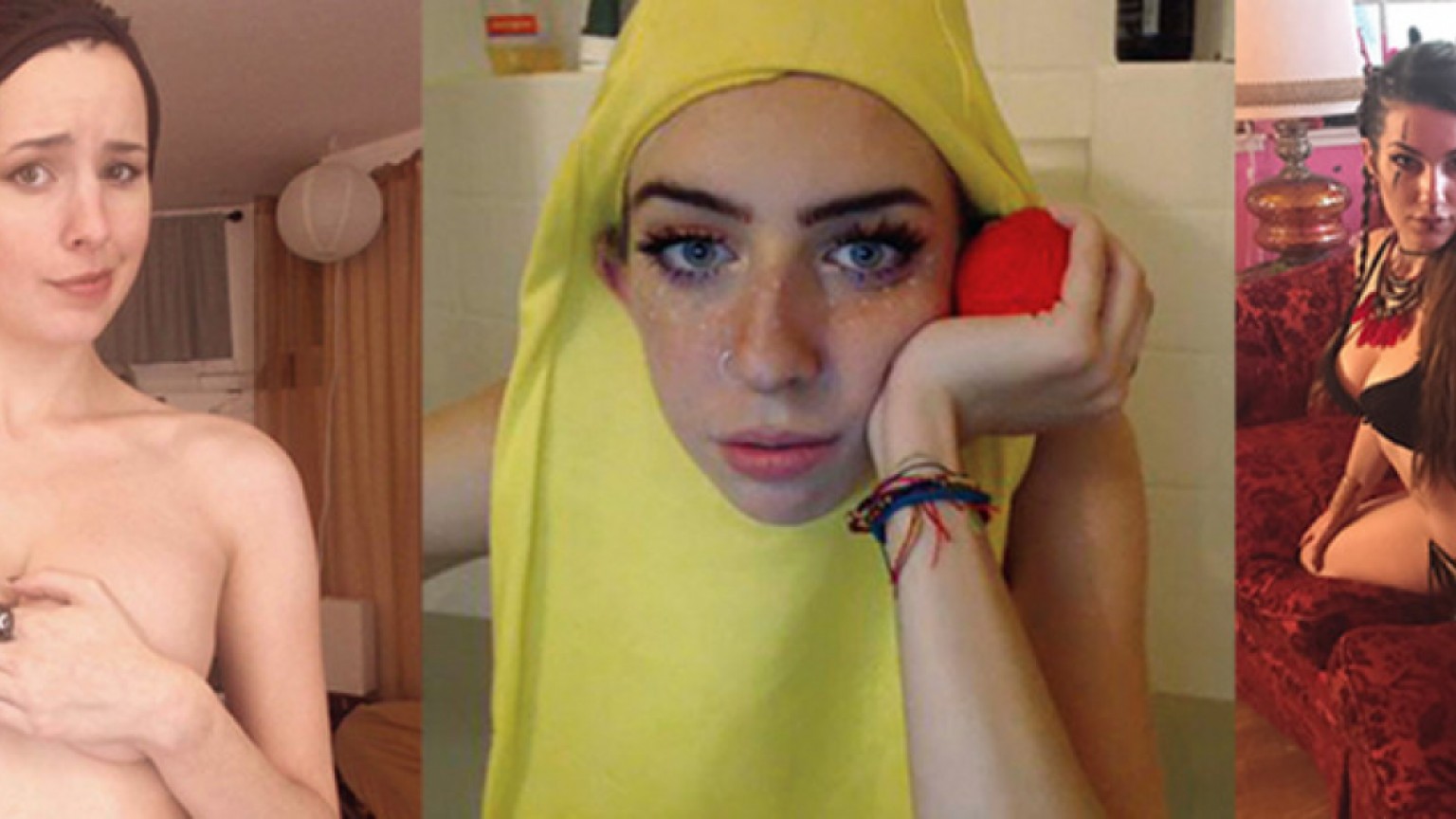 All three of his daughters were devout—especially Aella. "I have a tendency to take things to an extreme," she says, "so I was really Christian. I wanted to love God. I was down."
Try as she might to do right, though, she sometimes made mistakes. Perhaps unsurprisingly, this is where accounts of what happened inside the family home begin to differ. Jones and his wife believed in corporal punishment. Their two younger daughters speak of it in hushed tones, but Aella says she remembers it clearly. If orders were shirked, rules broken or lies detected, she says, the three sisters were hit with a rod nicknamed the "wisdom whacker."
"What was done to us was really brutal," she says. "They would hit pretty hard. They had a rule that if you screamed loud enough for the neighbors to hear, you got another one."
Jones disputes that account. While acknowledging that he used corporal punishment, he says it was "controlled, and I would not say excessive. Generically speaking, [it occurred] only after actions that were counter to what we said, where they knew what the issues were."
When Aella reached puberty, things got more complicated. Like most kids in the 1990s and 2000s, the girls grew up playing online games. (Neopets, released in 1999, was a favorite.) Those games often involved chatting with other players, and Aella's in-game bantering soon segued into instant messaging. In time, her online contacts became some of her closest friends. But when her parents found out, Aella says, they restricted her computer privileges, afraid she would learn bad behaviors. When she defied them and logged back on, they forbade her from talking online.
Her father says the punishment wasn't that harsh. "We didn't want her to talk to anybody willy-nilly," he says. "Any parent would be cautious about that. She was allowed, but with restrictions."
Either way, says Rose, "if you fuck with your own kid's only source of friends, that is gonna kind of mess with their life."
Still trying to be the best Christian she could, Aella nevertheless found herself unable to tolerate the isolation—so she logged back on to connect with her web friends. "I was completely racked with guilt all the time," she says. "I hated myself for talking to them, but the desire was so strong to have connections with other people."
In the winter of 2009, things came to a head. One afternoon the family was driving through town, and Aella and her father began to argue. He declines to get into specifics when I ask him about the fight, but Aella, Rose and Gerard agree that things got ugly fast. Jones got out of the car and began shouting, and Aella, then 17, stood up to him. They got back in the car, but at that moment something in her snapped. After a lifetime of trying to be what her parents wanted, she couldn't force it any longer. As her father raged and her mother and sisters looked on, she flung open the car door, sprinted down the street to a friend's house and never went home again.
"All of a sudden," says Gerard, "my older sister was gone."
The next few years in the Jones household were strange. For weeks after the car incident, no one talked about what had happened. But slowly the girls began to notice a shift in their father. When I tell him that over the phone, he goes quiet.
"As any father would, I reassessed a lot of things," he finally says. "I reached out to Aella and tried to make changes—you know, asking myself what I did wrong. In my own life I worked hard on my issues and tried to improve."
That change wasn't instantaneous, says Rose. But as the weeks and months went by, he became more lenient, less aggressive. The following year, Rose stopped homeschooling and attended a charter school for her sophomore year. When she was a senior, she transferred to a public school. That same year, Gerard entered public high school as a freshman; she stayed for all four years.
For a while neither Rose nor Gerard knew much about what Aella was doing. And just as things were changing on the home front, so too were they changing elsewhere.
"I loved the response I got. I fell in love with camming right away."
The house that Aella ran to after the fight belonged to a friend, and for seven months she slept on the couch. Her newfound freedom was overwhelming; she would go to Walmart at three a.m. just because she could. Sometimes she would stand in a room in the home, looking around, pondering the fact that she could do anything, say anything, go anywhere.
"It was like I'd been contained in a box, and suddenly the box was gone and I wasn't afraid to move anymore," she says, tearing up as she talks about it eight years later. "It just made me so happy."
The year after she left home, Aella moved to a small city in northern Idaho for college but ran out of money after one semester. She then moved to Boise and worked a succession of menial jobs. It was in 2012, after quitting a job at a factory where she worked 50-hour weeks and often started her day at three or four a.m., that she vowed never to work for someone else again.
Aella's transition from assembly-line worker to webcam model is, on its surface, straightforward: She had no financial safety net and was running out of money. A boyfriend tipped her off to cam sites, providing few details beyond "People watch you, live." After letting the idea marinate for a few months, she decided she had nothing to lose.
For the uninitiated, cam shows work like this: A woman (it's usually a woman) in a room somewhere logs on to her cam account. It could be on MyFreeCams, LiveJasmin, Flirt4Free or any one of the dozens of other cam sites out there. Visitors to the site can click on the woman's avatar to go to her "room." The model then appears in a video chat box; viewers see and hear her. She, on the other hand, sees only viewers' screen names and a running log of their text chat. The chat is public, and viewers can communicate with one another, as well as with the model. She sets prices for various "topics"—tasks ranging from doing a shot of liquor to performing a full-on dildo show—and customers pay using "tokens," which are dollar amounts charged to their credit cards. Each cam room has its own feel, its own personality. The performers are all ages, sizes and colors and in all styles of dress.
For Aella, a love of talking to people online was already well in place. And so, on a September evening in 2012, she decided to go for it. After slathering her face with makeup, she donned panties and a push-up bra. She lay on her roommate's bed, logged on to her freshly opened account and saw a message pop up: "You're ready to broadcast."
"I was like, shit," she says. "I felt horrified. So I just got super drunk."
From there, things get foggy. Aella remembers asking the men in her cam room what she was supposed to do, and they proceeded to coach her through her first night. (The prices they set for themselves were "very low, in hindsight," she says.) It ended with a masturbation show, and when she woke up the next morning, $60 had been deposited to her bank account. For a 20-year-old living in Idaho, it was an exhilarating amount of money—especially after just two hours of work.
"It seems modest, but I was like, That is incredible! I could totally live on $60 a day," she says.
Just as she had once immersed herself in Christianity, Aella flung herself into camming. Working five to seven days a week for the first year, she hosted shows that became manic whirlwinds of nakedness, toys, liquor and props. She tried miming, playing the accordion and belly dancing. She invented something called the "dinosaur moonwalk." Throughout that year she built a following she describes as "very nerdy." She also began networking with other cam girls, and in September 2013 she posted a self-staged photo set to Reddit's Gonewild community in which she stripped naked and pretended to be under attack by plastic garden gnomes. It became the most widely viewed set of the year; to date it has been seen nearly 4 million times.
As Aella's popularity grew, a cam girl named Kate (she goes by AwesomeKate on MyFreeCams) stumbled into her room. "The first time I clicked on her room, she was playing the keyboard with her boobs," says Kate. "I was like, This is a cool person."
Kate and Aella became fast friends, and in 2014 they moved into a house in a lush, woodsy part of Seattle with two other cam girls. Things were turning around. Aella had found a way out of Nampa, out of isolation. And she wanted to share the good news.
---
As Aella was finding herself, her sisters were growing up. Gerard was flourishing in school, and Rose, then 18, was becoming a Japanophile, dreaming of visiting the country and possibly moving there one day. But working for peanuts as a waitress and still living with her parents, Rose was also staring into an opportunity void. Aella suggested she start camming, but at first Rose couldn't see it happening. Eventually she started looking around on MyFreeCams and noticed that some of the girls didn't take off all their clothes. Maybe that was something she could do—if she could make a living at it.
The more Rose thought about it, the more appealing it seemed. Already planning a trip to visit Aella in June 2014, she decided she would give camming a try then.
Rose arrived on a Friday, planning to cam with Kate that weekend. Kate sent out a tweet letting her followers know that she would be performing with Aella's sister for her first time, and the next day 3,000 people logged on to Kate's cam room. (To put that in context, MyFreeCam's most popular rooms average 450 to 500 viewers on most days.) The two twerked, spanked each other and dressed up in costumes. Rose even shaved Kate's legs in the shower. It was a four-hour show, all leading up to the big moment: Kate and Rose kissing. In that moment, Rose was agitated—"That was the most promiscuous thing I had ever done!" she says—but by the time it was over, everything had changed.
"I loved the response I got," she says. "I fell in love with camming right away."
Rose returned to Idaho after four days, determined to start camming on her own. There was just one obstacle: She still lived with her parents. And though her father had, by all accounts, eased up considerably since Aella left home, asking him to sign off on his daughter working for a porn site seemed a stretch. And so, as she often did, Rose broached the subject with her mother first. Her parents knew about Aella's career, but Rose's plans were different. She would be a non-nude performer, and she would block any visitors who didn't respect her boundaries.
Jones recalls the conversation he and Rose eventually had. "She was very respectful," he says. "She said, 'Look, I won't be doing anything immoral,' and she was very mature about it. I thought she presented it well, and I'd rather her be here so we could keep an eye on her, so we said okay."
"I just pray every night for my daughters."
When Rose finally set up her account in 2015, under the name RosieThorn—which she still uses—she adhered to the guidelines she'd outlined to her father. Her first solo shows saw her strip down to a sports bra and shorts, no more, no less. She also recruited a friend to join her—Cora, who now cams as Cora_Reefer. Rose describes their shows as involving a lot of "dumb stuff," and upon hearing the details, one can't help but be reminded of campy 1980s slumber-party fantasies.
"We'd wrestle each other and hit each other with stuffed animals," says Rose. "Our chemistry was great."
Their shows helped each of them become more comfortable in their own skin, and soon they were camming separately more often than not. Now, two years later, Rose's shows are master classes in sensuality. They often involve a burlesque-style striptease that reveals her pinup curves (still covered by lingerie or a bikini), and when she belly dances, she moves like a cobra. Rose's personality, which makes viewers feel drawn in, special, welcomed, reveals why non-nude models can make so much money. The best promise not sexual satisfaction but intimacy, inviting viewers into their homes, their bedrooms, their private spaces. They cultivate in-groups and secret jokes as they talk to the same customers day after day and month after month, turning their cam rooms into secluded encounters. The illusion is of a veil being pulled back.
Over the past two years, says Rose, her worldview has changed. She felt guilty at first—"kind of dirty about people looking at me sexually." But that eased, and as it did, her religious beliefs morphed as well. "There's a lot of beautiful value in Christian teachings," she says, "but there's also a lot of value in Buddhist teachings, Taoism, all of it."
Rose has also kept one key promise to her parents: "I do demand a lot of respect in my room," she says, "and if anyone's being a dick, they get banned right away."
---
Now Gerard stands to inherit the empire that her sisters have built. Her 18th birthday was in March, and both Aella and Rose encouraged their Twitter followers to tune in for her first night camming. The buildup was huge, and one night in early spring, Gerard logged on to MyFreeCams for the first time. Just as she would later do when I observed her, she donned her banana costume, and just as Kate had joined Rose for her first time, Rose joined Gerard. The show was even tamer than Rose's first. Gerard stayed fully clothed and did little more than a few spankings.
But, she says, "it was fabulous." And she had built-in fans in the form of Rose's and Aella's existing customers.
Of the three sisters, Gerard remains the most conflicted. She still considers herself Christian, and porn goes against those beliefs. At the same time, she enjoys the playful aspects of camming. She puts on costumes just as Aella did her first year, but like Rose, she doesn't perform nude. Those two facts place her in a strange gray area—on a porn site but doing nothing remotely pornographic. It makes sense, considering she was spared the harshest manifestations of her parents' discipline and so has less to run from. But having also been taught to shoulder biblical doses of shame, she has plenty to explore.
Camming, she says, "is a very confusing back-and-forth with myself." What she does know, though, is that she's proud to look to Aella and Rose for guidance.
"My parents put this feeling in us of being ashamed of sexuality, and luckily I had sisters old enough to recognize that," she says. "That's one of the ways I'm most proud to say I've come out of it, and I know better."
These days Aella spends her time focusing on her start-ups. She moved back to Seattle in September-—this time, no roommates—after living in Cambridge for a period. She's on speaking terms with her father now, and they use similar language to describe their infrequent interactions.
"It's very polite," says Aella.
"It's strained," says Jones.
When I ask him about his daughters' line of work, he turns to the man upstairs. "I just pray every night for my daughters," he says. "I pray that God would grant them the same repentance that he granted to me in his sovereign grace, and they would come to their senses and serve him rather than their own flesh."
Back in Cambridge, Aella is finishing her show. It's been two hours, and she'd planned to masturbate only once. But tips kept rushing in, with viewers asking her to do it again and again. She comes three times—earth-shattering orgasms, as if she's shaking off anything that no longer serves her and exploding it back out into the world. When she's done, her makeup is half sweated off, her hair is clumped to her face and her cheeks have gone rosy. She reaches for a ukulele she keeps by the bed and starts playing. Her voice is high and sweet and birdlike: "Never gonna make you cry, never gonna say good-bye / Never gonna tell a lie and hurt you."
"You know what that means. That is the log-off song," she says. "Bye! I love you guys so much!"
And with that, she blows a kiss, stands up and switches off the camera.