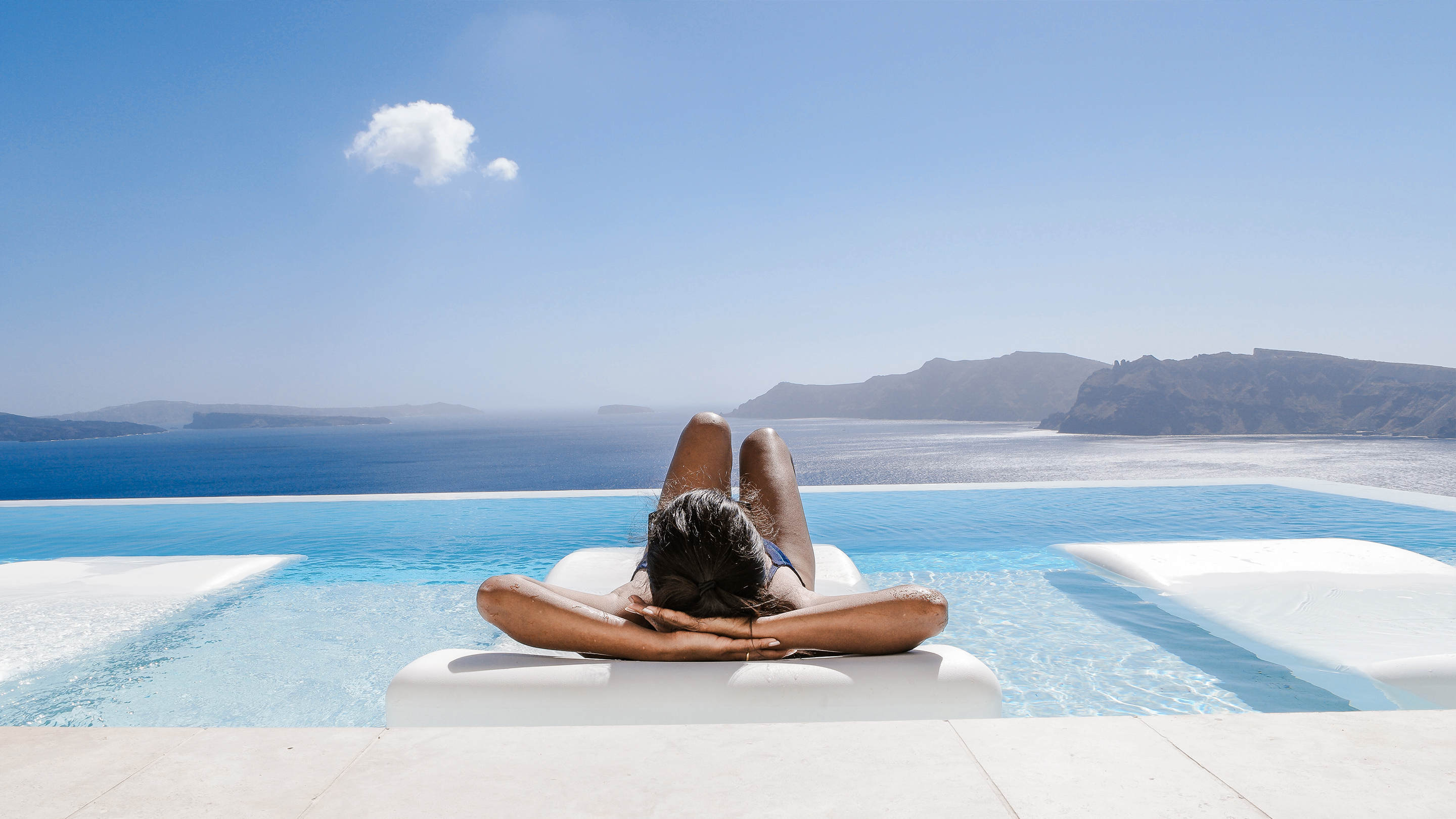 Where to Nurse a Hangover in Mykonos
Written by Lily Heise

Published on

June 27, 2018
Dancing all night on world famous Paradise beach seems like a great idea... until the next morning when the DJ beats crescendo into an inferno in your pounding head.

In an ideal dream world, you'll be staying at a private villa (like the sleek ones available through Athena Collection) where you can wolf down a remedial hangover brunch prepared by your personal chef then lazy around beside the pool all day. If this isn't the case, then you'll need brave the blazing Greek sunshine to quell your queasy stomach and find a suitable place to recover.
In Mykonos Town you can collapse on the vine-laden patio of Cosmo Breakfast Café, tucked away on a peaceful square around the corner from the Fabrica bus station. Here two brothers have been satisfying morning hunger pangs since 1986 with the likes of bacon and eggs, Greek omelets and double espressos (make that a triple).

If you have a car (and only if you do, there's no way you're going to survive climbing up that hill hungover), make your way to the chic Liberty Breakfast Room. Sitting high above Mykonos Town, you can take in soaring views of the sunny bay from beneath their shady terrace. They serve a sophisticated menu of egg-white omelet soufflés, oeufs en cocotte, morning egg burgers and savory or sweet pancakes.

Before or after breakfast, spending the day comatose on the beach might be just what the doctor ordered. There are a few perfect places to do this found in the north of the island, far removed from the mayhem of the south. To veg out in peace, toss your beach towel down on offbeat Agios Sostis Beach. This isolated long stretch of sand is free of beach clubs, leaving you with the simple and soothing soundtrack of the wind and crashing waves.

When your belly is feeling up to it, you can acquire a snack from the occasional vendors selling donuts, beer and water or, if you've regained enough of an appetite, you can amble up to Kiki's Tavern. Perched above a small cove next to the beach, this legendary taverna has only recently added electricity, however, they've kept their tradition of serving only wood-fire grilled fish, meat and vegetables along with fresh salads. No longer a complete secret, the wait for a table can be long, but this is made less painful thanks to their free glasses of "hair of the dog" wine.

You can find a posher place to chill out a short distance south of Agios Sostis at one of the island's most exclusive beach clubs: Principoté. The only venue on stunning Panormos Beach and opened in 2017, the "Principality" of Mykonos offers a glamorous kingdom of beige and white, where you can snooze on a deluxe sunbed, sip on a crisp cocktail in their plush seating areas or nibble on gastronomic delicacies in their seafront restaurant. It's a truly princely experience—naturally, at a royal price tag.

Alternatively, you can surround yourself in both a relaxed and refined ambiance at Alemagou. Found nearby on windswept Ftelia Beach, this attractive and eclectic beach club has the most heavenly thatched roof sunbed areas, an excellent place to nurse your hangover—fresh pressed juice or Bloody Mary in hand. When hunger strikes, you won't feel guilty indulging on the restaurant's health conscious versions of Greek classics, made with locally sourced ingredients. Hopefully your head will be mostly recovered by the end of the afternoon for you to enjoy the sunset and the groovy beats coming from the DJ booth.

If you'd prefer to spend your day down in the south of the island, there's no better place than Scorpios. Located just west of Paradise on the edge of Paraga Beach, it's a beach club like no other. Bask in spectacular rays on their sea-facing loungers, or if that's too much for your hammering head, nap under one of their wooden cabanas. You can also attempt to kickstart your mind during one of their daily "Inner Gardens" sessions on meditation and spirituality. By late afternoon you'll want to get yourself a drink and settle in on the club's westside where they hold mystical sunset "rituals" that extend late into the night, providing a chilled substitute—or warm up—to Paradise (conveniently located a short drive away).

Your hangover might call for a full-fledged silent rehab, which you can achieve over on neighboring Rhenia island. This uninhabited island is home to the most sublime secret beaches where you can be a beach bum all by yourself (or practically). You can get there on a private or semi-private charter through Mykonos Cruises (the latter also includes the archaeological site on Delos Island). Either way, you'll need to be able to stomach the waves, which can get choppy, but those incredible, deserted beaches are worth it.

Just crawling out of bed late afternoon and are staying in town? Drag yourself down to Little Venice where you can feel like you're accomplishing some sightseeing by gazing up at the island's famous windmills safely seated on comfy terrace of Scarpa while downing a stiff Greek coffee. You'll be well placed for the sunset and then, as you your mojo starts coming back, you actually don't budge as the area is Mykonos Town's nightlife hotspot. Carry on admiring those windmills on the second floor terrace of nearby Galleraki or check in at stylish Caprice, where you can enjoy some of the island's best cocktails and the ultimate chilled Mykonian party vibe. As the tempo picks up and the place fills with beautiful Mykonian partiers, you might not even need to head back to Paradise…