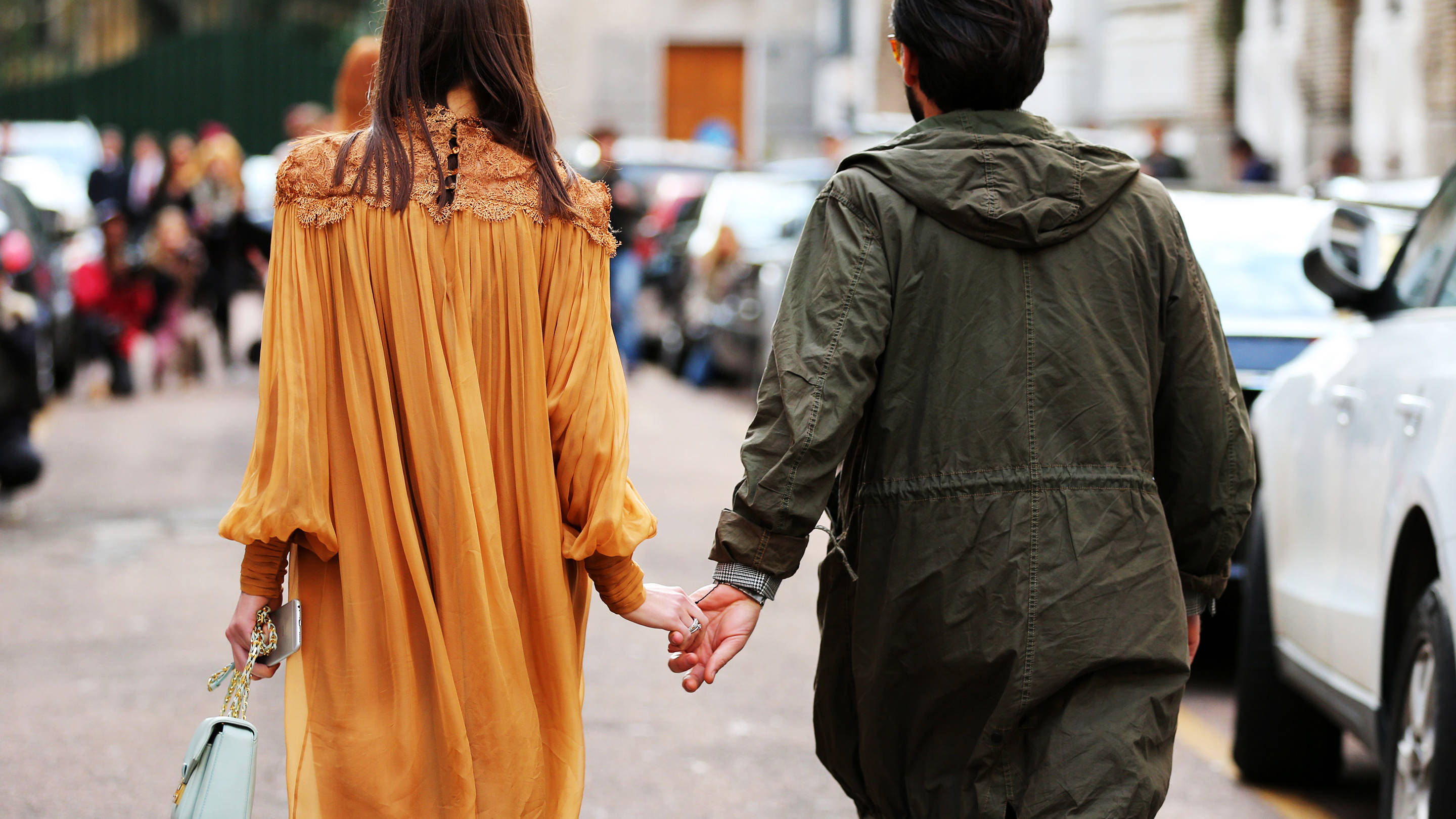 The Secret to a Healthy, Long Lasting Relationship May Be in Your Fashion Closet
Written by Sean Arenas

Published on

October 18, 2018
Millions of people look to the internet to find their special someone. When scrolling through a list of dating apps, it extends endlessly from Match to Bumble to Hater (an app for those who hate the same things, obviously). Tinder alone touts over 3.7 million subscribers and projects over $800 million in revenue for 2018, according to parent company Match Group.

With the meteoric
rise of online dating
, men feel increased pressure to improve their fashion sense so as to stand out amid a dizzying array of shirtless gym selfies. As such, personalized clothing services have become all the rage: Trunk Club, Bombfell, Stitch Fix, and Menlo Club, to name a few. Yet, when a man enters a committed relationship, one of the first things to change is his style, but why? And should men let their personal sense of fashion go?
According to Lisa Shield, a dating and relationship coach, such a shift is bittersweet. "Men may try to impress a woman while courting. It's only natural," Shield explains. "When he enters a relationship, he may become more relaxed and revert to more casual attire like sweats, sports jerseys and baseball caps." Comfort, however, is not the issue so much as lack of effort.
"A girl meets a boy. The boy has good style. The boy gets tired of the upkeep and once in a relationship, starts to slack off," says Los Angeles-based personal stylist Thea Gonzalez of Style Within.
Slacking off with his wardrobe is usually a sign that he is slacking off in other parts of the relationship.

"Slacking off with his wardrobe is usually a sign that he is slacking off in other parts of the relationship," Shield agrees. Complacency is one of the first indicators that a breakup might be on the horizon. It's dangerously easy to neglect yourself, but it's equally as easy to neglect your partner after years of commitment. Men, therefore, put less effort into their appearance when they no longer feel threatened by others or feel the need to impress their loved one.
"When a man starts slacking off, it's time to take a closer look," says Shield.
"If you give up on looking put together," says personal stylist Catherine Joubert, "it can directly affect your relationship, the same way extreme weight gain can. It suggests that you just don't care and make no effort to look good for yourself and for your significant other. Whether you are in a relationship or single, your motivation should ideally be to present yourself in the best way possible because it not only influences how others perceive you but also directly affects how you feel about yourself and your confidence level."
But complacency isn't always the culprit when it comes to noticeable aesthetic alterations. A man's style also changes because of conformity, an attempt to fulfill the aesthetic expectations of their partner. In fact, some men cede total control of their appearance, allowing their partner to shape their look. "Women often want to mold their man's image to their own preferences," says Joubert. Adding that men are most agreeable at the beginning of a relationship, especially if they aren't otherwise passionate about a defined sense of style. "In fact, I have a client who admitted that he only reaches out to me when he's single because when he's in a relationship he relies on his girlfriend to determine the clothing he should buy and wear."
When dating a man without a fashion sense, patience is a virtue. You can either holdout for the man's style to naturally improve—or help it along with some "gentle" nudging. "A girl meets a boy. If the boy has a bad style, the girl settles and later changes his style once she is comfortable with him," says Gonzalez. "Boys listen to the ladies. If she has a problem with how you dress, get help from them, or take control of the situation and get a stylist. At the end of the day, you will win."
It's not always a matter of winning, however. Discovering style is about connecting with oneself and their partner, which can be a daunting task. "The most successful couples are open to each other's influence and want to please each other," says Shield. But while many welcome their partner's input, not all men are fashionably amenable. Some men might even feel emasculated with the idea of being dressed by their partner. "A lot of men are extremely particular about what they wear, and they will accept limited feedback and even become resentful if their partner tries to change them too much."
Gonzalez has witnessed this pushback firsthand. "A lot of my clients try to help their men, but some men don't like to take advice from their ladies," says Gonzalez. "It might be because they don't like their style, or they are trying to put them in things they don't feel comfortable in, or they are embarrassed." Telling a partner that their style is not cutting it is awkward, but if the adage is to be trusted, "honesty and communication are the most important parts in a relationship." The stylist goes on, "For her to just be honest and say how she truly feels would be the best way to go about [improving his style]." Once an open line of communication has been established, a fashion intervention can begin in earnest—hopefully one that doesn't degrade or belittle. For the couple looking to up a man's wardrobe, Shield recommends positive reinforcement. "Have his woman go through his closet with him and tell him all the things she likes and that make him look handsome and desirable," says Shield. "Better this than telling him why he looks bad in the other clothes.They could also make an afternoon of shopping together, while she oohs and aahs about the things that make him look good."

Here's why a sweat session should always include a put-together look
Joubert has another suggested approach which provides advice for the more proactive man struggling with finding his style: get professional help. "If your budget is small and you can't afford to invest in working with a stylist, search online for styles that you like and can show as references. With that, go to a department store that offers a personal styling service at no cost or try a subscription service and let them help you find some contemporary pieces that will make you feel and look sharp."
But given the amount of
physical scrutiny women experience daily
, this begs the question: if a woman is expected to always be on-point, then why can't men be held to the same standard? Shouldn't men try harder regardless of whether or not they are in a relationship?"Absolutely," says Shield. "My female clients tell me they spend hours getting ready for a date only to have the man show up looking like he pulled his outfit straight out of the dirty clothes bin.
"Many women say they feel this behavior is hurtful and insulting to them. Being attractive goes both ways. Why should the woman be the only one who spends a lot of time and energy looking sexy? Men, you need to up your game!"