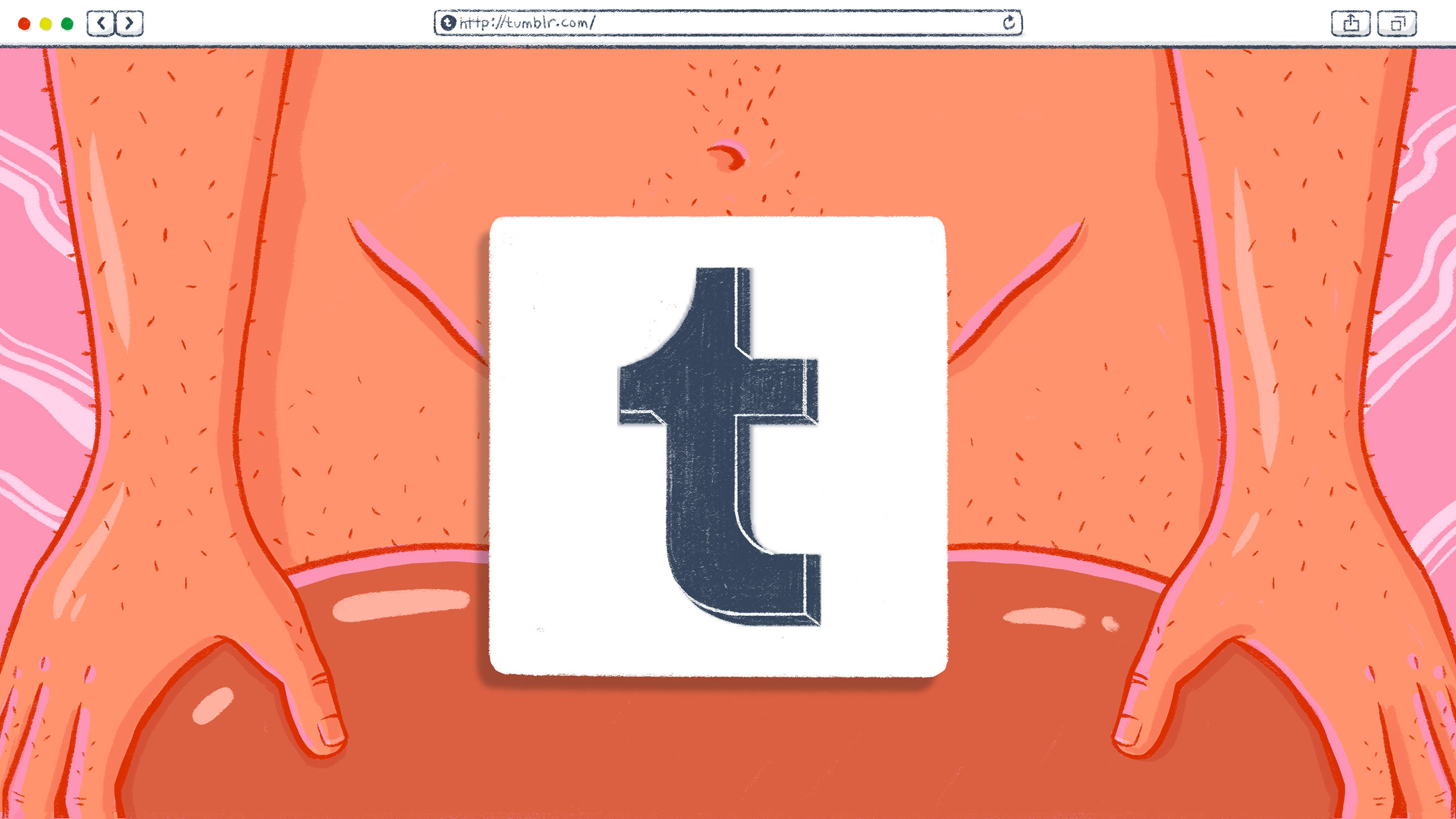 A Eulogy to Tumblr, One of the Last Havens for NSFW Freedom
Written by Esra Padgett
Illustration by Tara Jacoby

Published on

December 18, 2018
This month, Tumblr announced that it would be removing all adult content from the site—a decision that has since been met with much outrage from users of the microblogging platform. While some see this decision as a nail in the coffin for the site's already dwindling user base, or even the beginning of the end of the internet as we know it, others have reacted with sadness for the loss of the many vibrant sex-positive communities that had flourished on the site.

Earlier in November, Tumblr was removed from Apple's App Store due to reports of child pornography, but rather than improving its filtering of content, something that is undoubtedly difficult for most content-sharing sites to do, Tumblr announced a ban on all pornographic content. What has been particularly troubling in the aftermath of the announcement is the broad sweep that the action takes, due to the ambiguity of what is defined as "adult content." In Tumblr's updated Community Guidelines, they define adult content as: "photos, videos, or GIFs that show real-life human genitals or female-presenting nipples, and any content—including photos, videos, GIFs and illustrations—that depicts sex acts". Though the guidelines state that exceptions will be made for nudity related to activism or art, Tumblr has admitted that making these distinctions will be difficult due to the automatic classification system they are using—and many Tumblr users have already had content unfairly flagged.

As Lotus Lain, a performer and industry relations advocate for the Free Speech Coalition tells Playboy, "One by one each major platform is changing up its Terms of Service to be more restrictive against sexuality and sexual discussions." This has repercussions for sex workers whose financial livelihood depends on these platforms, but it also extends to users, particularly younger users, who used Tumblr as a way to explore sexualities that were seen as outside of heteronormative standards.

The intermingling of erotic images alongside other forms of artistic expression is what had once made Tumblr unique and a home to so many artists.

The intermingling of erotic images alongside other forms of artistic expression is what had once made Tumblr unique and a home to so many artists, a fact former Tumblr CEO David Karp had defended only five years ago. In an interview with Stephen Colbert, Karp stated, "we've taken a pretty hard line on freedom of speech, supporting our users, creation, whatever that looks like, and it's just not something that we want to police." This statement came in the wake of Tumblr's acquisition by Yahoo, which many feared would bring the policy changes that are instead happening today. So, what caused the recent shift in attitude and policy? While many see the 2018 NSFW ban as the result of a second merger—Yahoo's acquisition by Verizon—the impetus for the action goes beyond blaming big business.
Despite Tumblr's rather opaque public statements regarding the timing and incentives behind the ban, it is clear that the decision is part of a broader trend of anti-sex, pro-censorship actions
spawned at least in part
by a bill called FOSTA-SESTA (Stop Enabling Sex Traffickers Act/ Fight Online Sex Trafficking Act), which was passed into law this past April. Though the purpose of the bill was to increase liability for online sex trafficking by holding websites legally responsible for third-party content, its immediate effects have been almost the opposite: eliminating safe spaces for sex workers, making sex traffickers more difficult to track, and furthering the criminalization of sex workers (not traffickers) through a blurring of the boundary between consensual and nonconsensual sex work. The impetus for Tumblr's ban becomes clearer in the context of other decisions made in the wake of FOSTA-SESTA's passing: Craigslist's removal of personal ads, the erasure of subreddits and online forums related to sex work, as well as a general tightening of censorship practices on social media sites like Instagram. To underscore the connection even further, the official date Tumblr chose for all content to be removed was yesterday, December 17th, the International Day to End Violence Against Sex Workers.
Self-shot nudes on Tumblr were the first time I saw diverse, gender non-conforming bodies presented as sexual on their own terms.

Vex Ashley, an adult content creator and model on Tumblr said, in her eulogy to Tumblr, "self-shot nudes on Tumblr were the first time I saw diverse, gender non-conforming bodies presented as sexual on their own terms, bodies that are often censored, ignored or fetishized by mainstream depictions of sex." Clearly, it is not simply the loss of pornography that has people upset, it is the loss of communities that hosted and shared sex-positive and body-positive content, images that are much harder to find on more popular porn sites. Over the past decade, Tumblr had become home to myriad sex-related communities with a wide range of focuses and content such as LGBTQIA+, kink/BDSM communities, sexual assault survivors, DIY, indie and alt porn, sex education, as well as sex workers who used the site to gain followers and advertise for-pay content elsewhere. Despite Tumblr's public statement in the Updated Community Guidelines that "We're removing content, not people," many users have abandoned ship since the ban was announced. The problem is that on Tumblr, content is people: removing the content that online communities share is equivalent to removing the communities themselves.
This is why the decision is also feared to be indicative of much more
widespread censorship
across internet spaces in the months to come. When censorship is so broadly applied, there is no discrimination between content with harmful effects such as child pornography and content that is beneficial, such as body-positivity and sex education forums.
Describing the ban's negative impact on future generations, Lain says to
Playboy
, "The future is one of less access to knowledge about gender expression, and sexuality itself."
In the aftermath of FOSTA and SESTA, sex workers are losing their networks and their agency