"Mama! Mama!" Preston Thornton yelled. "Mama! Someone's in my car!" Thornton could've sworn he saw someone. He knew they were there. They had been following him and his family for years.

Just after four in the morning on August 2, 2017, Thornton's mother, Natalie Wilson, laid asleep on the couch in her father's low-slung, three-bedroom home on Banks Street in Coushatta, Louisiana, part of Red River Parish. She was visiting for a few days from Shreveport, an hour north. Thornton ran across the yard from the trailer where he was temporarily living, a salmon-colored single-wide in the backyard of his grandfather's house, and jolted her awake. "Mama! Come on! They're in my car!" he said in his soupy drawl, shaking her by the shoulders. "Let's go!"

A six-year veteran of the Iraq and Afghanistan Wars, Thornton joined the U.S. Army in 2006 as a fresh-face high school graduate. Back then, he was the confident, broad-shouldered, 225-pound star running back on the Red River Senior High School varsity football team. But now, 29 years old and five years out of the service, Thornton stood in the living room of his grandfather's home a crumbling version of his former self: barely 200 pounds, gaunt-faced and prone to reclusive behavior and fits of paranoia. The infectious laugh he had been known for in his youth had disappeared. Like many of the roughly 250,000 United States military veterans who have served after 9/11, he was battling post-traumatic stress disorder.

Thornton took his mother out to his car, a blue 2002 Cadillac Deville, and checked the backseat and trunk for intruders. No one was there. "He was acting crazy," Wilson says today. Panicked by her son's condition, she took him back inside and called her daughter, Sydneye. Two years younger than her brother, Sydneye shares Thornton's wide, gap-toothed smile and big brown eyes. She had seen him deteriorate mentally since he came home from the Middle East in 2012, with incidents of paranoia increasing in frequency and severity.

Talking to her brother on the phone that drizzly summer night, she convinced him to call the Department of Veterans Affairs' Veterans Crisis Line. Since launching in 2007, the hotline has fielded nearly three million calls from veterans like Thornton, more than 84,000 of which have resulted in emergency services being dispatched to callers. This is what Sydneye hoped for; she wanted her brother to finally get help. He agreed, but only if she stayed on the phone with him.

With his sister on the line, Thornton talked to a crisis line operator for more than an hour before agreeing to be transported to the nearest Veterans Affairs Medical Center for psychiatric treatment. "I'm gonna do it for you, Bam, I'm gonna do it for you," Thornton said, calling his sister by the nickname he had given to her. "I know I need help."

When a veteran requests to be transported to a mental health facility, the Veterans Crisis Line is only required to dispatch local law enforcement. They are not required to send V.A.-sanctioned mental health professionals nor confirm that the dispatched officers have undergone crisis-intervention training. The V.A. routed Thornton's transportation request to the nearest law enforcement outfit: the Red River Parish Sheriff's Office.

Thornton stayed on the phone with his sister and the operator until help arrived. Deputy Anthony Matteson, a 20-year law enforcement veteran, had just started his shift and was gassing up his vehicle when the call came over his radio. Heavyset and balding, with wireframe glasses over green eyes, Matteson was approaching his three-year anniversary at the Red River Sheriff's Office. The dispatcher told Deputy Matteson that Thornton, a military veteran, needed an intervention. "I don't know what that is," Deputy Matteson later told Louisiana State Police investigators.

The crisis line operator told the deputy that Thornton was paranoid and should be transported directly to the nearest V.A. Medical Center. She instructed the officer not to question Thornton about the situation.

Wilson, wearing a green nightgown, opened the side door for Deputy Matteson, which fed from the driveway into the living room. Thornton sat in a chair, still clutching the receiver to his ear as his mother stood to the side, in front of the television.

"What's going on?" asked Deputy Matteson after entering the home. Wilson nodded at her son and pointed with both hands to her head. "He needs to go to the V.A.?" he asked. Wilson nodded. The crisis line operator asked Thornton if she could speak with Deputy Matteson. She told the deputy that Thornton was paranoid and should be transported directly to the nearest V.A. Medical Center. She instructed the officer not to question Thornton about the situation.

"We'll take care of it," Deputy Matteson said. Thornton sat in the chair, hands in his lap, while the deputy was on the phone. "I handed the phone back to this guy, I don't even know his name," Deputy Matteson later told Louisiana State Police investigators, referencing Thornton.

"How are y'all going to take him? In an EMS?" Wilson asked Deputy Matteson. He said they were going to take Thornton down to "the office" to figure out how they were going to transport him to the nearest V.A. Medical Center. Deputy Matteson then turned to watch the morning news, which was playing on the television, and then briefly scrolled through his cell phone. After a minute, Thornton told Deputy Matteson that the crisis line representative wanted to talk to him again. Deputy Matteson shook his head. "I don't want to talk to her," he said. "I'm good."

Thornton placed the receiver on the table, put the call on speaker phone and stood up from his chair. "Where you going?" Deputy Matteson said. Thornton raised his hands, palms up, surprised by the question. "Have a seat," he told Thornton, who sat back down. He then asked Thornton what was wrong and relayed that he wasn't there to hurt him.

"I didn't know I had to go with no police," Thornton told the cop. (Sydneye afterward told Louisiana State Police investigators that the V.A. operator had told her brother that Emergency Medical Services—not police—would transport him to the V.A.) "But do you want to go to the V.A.?" he asked. Thornton stared at the ground. "No," he responded.

Over speakerphone, the operator told Thornton that the deputy would be transporting him to the V.A. As she explained this, Red River Sheriff Deputy Chris Sibley, who is African American, entered the home without knocking or announcing his presence. Deputy Matteson likewise did not tell Thornton that another deputy would be coming. "We're going to get off the phone right now, okay?" Deputy Matteson said, reaching to hang up the call. The cop later told Louisiana State Police investigators he did this because Thornton was "getting agitated." Body-camera footage obtained by Playboy shows Thornton sitting in a chair, not speaking, hands folded in his lap, intermittently glancing to his left at his mother.

"No, no, no. Hold on," Thornton said, standing up and reaching for the receiver. Thornton looked back over at Deputy Sibley, who, now in the home, was a few feet away and had already un-hooded his firearm's holster, hand on his pistol. Thornton raised his hands into the air and began walking backward. He then reached to the top of the entertainment center. Sydneye, who was still on the phone, recalls what happened next: "All I heard were gunshots."

---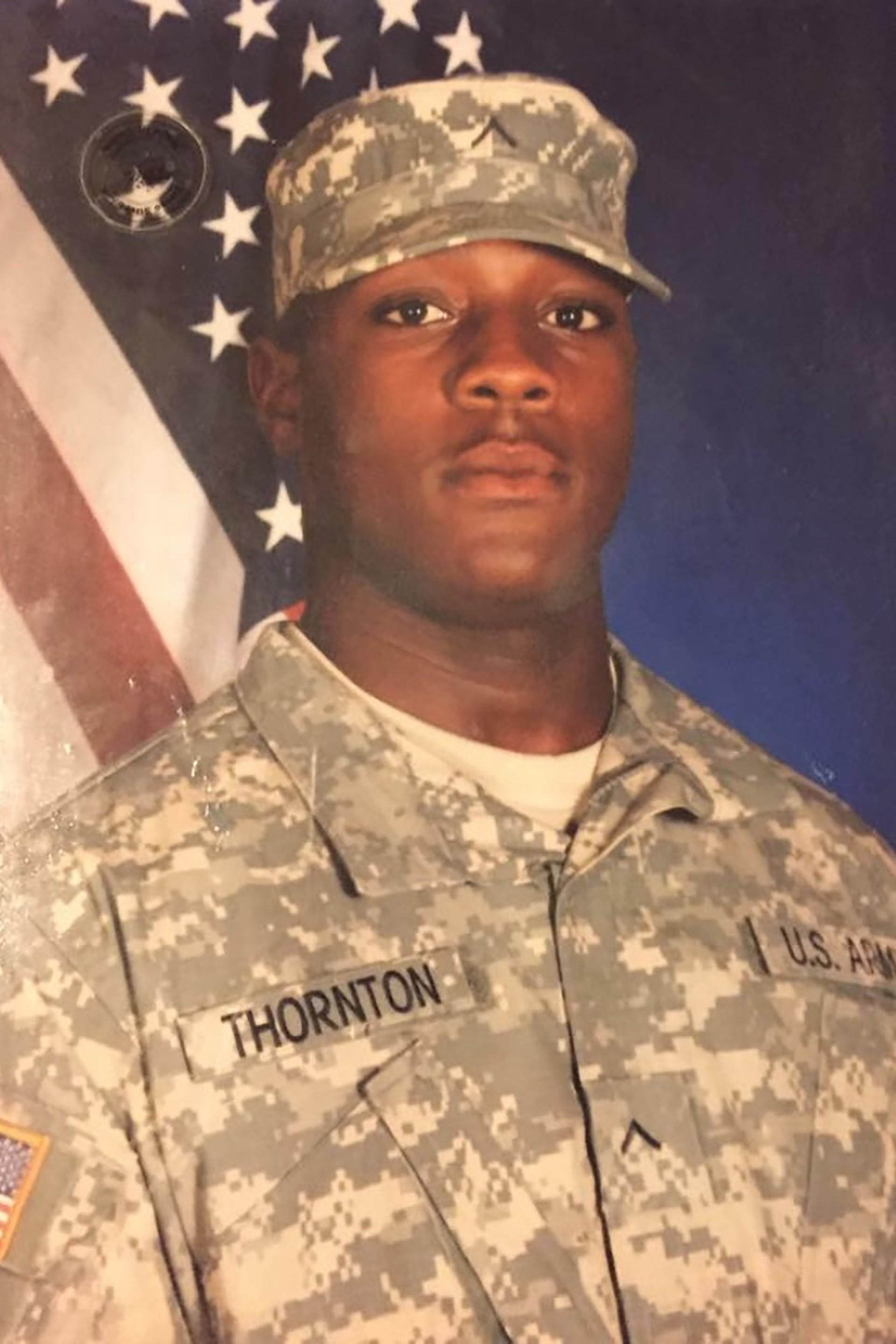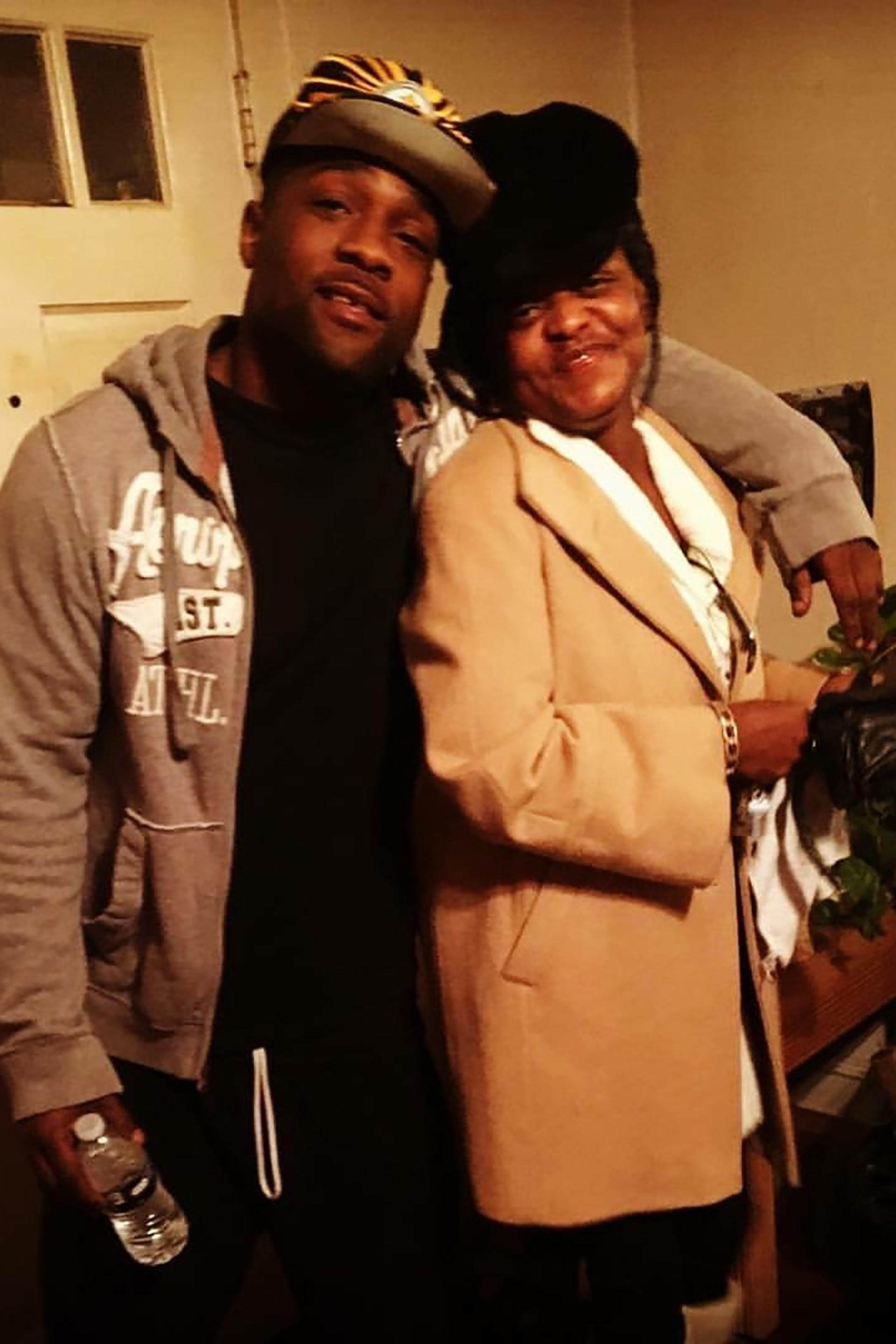 Coushatta sits on the Red River's eastern bank in northwestern Louisiana. A small town of 1,800, it is flanked to the west by cypress swamps teeming with catfish and alligators and to the east, thick forests of longleaf pine, hickory and walnut. Red River Parish, of which Coushatta is the seat, formed in 1871 during the Reconstruction Era and remains peppered with historic plantations and farm plots that once ran its antebellum cotton economy, when roughly 60 percent of residents were slaves. Solomon Northup, author of Twelve Years a Slave, was enslaved for a period of time in this region.

In 1874, fueled by the growing unrest of Union rule, the White League, a white supremacist paramilitary group, murdered numerous freed slaves in town, even burning one man alive. (In the previous decade, it is reported that the group had killed more than 1,300 blacks statewide.) The White League also took white politicians hostage in an effort to take control of Red River Parish's government. Newspapers at the time, however, described the event, now known as The Coushatta Massacre, as a black uprising. In an article titled "The Blacks of Coushatta," The Ouachita Telegraph wrote on September 4, 1874 that "800 armed negroes" were "threatening the extermination of the whites."

Today, Coushatta is one of the poorest towns in Louisiana, with nearly half of its people living below the poverty line. A staggering 94 percent of those living in poverty are black. The majority of its housing is a mixture of prefabricated homes and trailers propped on cinder blocks. Two-thirds of its residents are black. Many people here, like Preston Thornton's family, are descendants of slaves and sharecroppers.

Born March 24, 1988, Thornton was a precocious, energetic and independent child who loved the outdoors. He spent the majority of his time exploring the parish's riverbanks and forests with his cousins and classmates. He liked to fish and ride dirt bikes. Publicly, he was protective of his younger sister but privately, he loved to poke fun at her. "I used to call him 'Jughead' because he had a big ol' head," Sydneye tells me today, laughing. "We used to joke on each other's heads a lot." They were raised by their entire family, a group effort, and spent a lot of time on Banks Street at the house of their grandfather, Freeman Tucker Junior.

Tucker Jr. was born in Coushatta in 1938. His parents were sharecroppers and the family lived in a barn on a local plantation. He began working at a young age and never learned to read or write. In 1951, when Tucker Jr. was 12, he says his father was shot and killed by David Thomas, the town marshal, after a rumor circulated that his father was talking bad about Thomas behind his back. No official judicial response came from the incident; friends and family members had to tend to his body themselves by lifting the bloody corpse into the back of a pickup truck. "Nothing happened. He was just a dead nigger," Tucker Jr. tells me. "That's all he was. Nobody couldn't say nothing." When Thomas was on his deathbed some years later, Thomas called for Tucker, he says, to apologize for murdering his father.

Over the last five years, Louisiana has ranked among the top 10 states in terms of the number of people killed by law enforcement per capita.

In 1957, Tucker Jr. married Varion Bell, who took his last name, and they started a family. The couple had five children—three boys and two girls, including Thornton's mother, Natalie. In the late 1960s, they bought a stretch of land on Banks Street, just south of downtown Coushatta, and built a small home. They made additions over the years, erecting a second living room, an extra bedroom and an attached hair salon. Varion became the area's go-to stylist for black women; the family trade has since extended three generations. Natalie's younger sister, Cecelia, still takes appointments at the in-home salon.

Following the Civil Rights movement, life in Coushatta carried on sleepily for much of the 1970s and early 1980s. But in 1984, Lester Shields "Buddy" Huckabay III, a white former state trooper with a thick neck and heavy-lidded gaze, was elected sheriff of Red River Parish. He would go on to reign over the town for two decades.

Locals allege that Huckabay had a register of black people he didn't like. To this day, they refer to it as his "hit list." (Playboy was not able to confirm independently that such a document existed.) In 1999, David Clark, a black man, was shot and killed by a white sheriff deputy after a high-speed chase that began in downtown Coushatta. Clark, locals say, was allegedly targeted by the Sheriff Huckabay's main enforcer at the time, Deputy Sheriff Larry Rhodes, who was involved in the incident. "Some people say that he got out of the truck, threw his hands up and they shot him," Clark's brother, Bull, who was at the scene shortly after the shooting, tells me. Three weeks after his death, 150 black Red River Parish residents marched in front of the town courthouse to memorialize Clark.

Huckabay's control extended beyond local law enforcement. During a run-off election in 1999, Huckabay, with the supposed help of Louisiana State Police, constructed road blocks in Coushatta and turned away residents who he knew wouldn't vote for him. He won reelection by three votes, and due to 308 absentee ballots, some of which were suspiciously delivered by the assistant manager of a local housing project. Additionally, Huckabay's wife was the parish clerk and chief of the election board that oversaw voting procedures. Huckabay's opponent, David Adkins, filed a lawsuit claiming election fraud. In December 1999, Louisiana's Court of Appeal, Second Circuit overturned a lower court's decision to void the election results, handing Huckabay the win.

According to court records, residents filed six civil lawsuits against the Red River Sheriff's Office during his tenure. A 1986 suit alleged that a Louisiana State Department of Transportation employee drugged and raped a local woman in front of her children. The man also sent her death threats and subsequently shot her husband. Huckabay, the suit alleged, refused to investigate the incident and his office allegedly destroyed evidence. After filing a lawsuit against Huckabay, the woman and her husband (who survived being shot) alleged they were then targeted by the Sheriff's Office and the district attorney with false criminal charges. The deputy at the time, Glen T. Edwards, who is now Red River Parish's sheriff, signed court documents on behalf of Huckabay.

In the early 1990s, two other suits were filed against Red River Parish, both alleging mistreatment and physical abuse in the county jail. One suit involved an epileptic man who fell off his top bunk during a seizure and, after not receiving medical treatment for several days, went blind in one eye.

In 2006, two years after Huckabay retired, a sheriff deputy entered the home of Sherman Newton Jr., a black man, and broke his arm with a baton. A lawsuit was filed for that incident as well, and the deputy was fired. (Johnny Ray Norman, the sheriff at the time, also white, was a pallbearer at Huckabay's 2007 funeral.) But all lawsuits for the aforementioned incidents and allegations were dismissed in county court. As of 2018, no criminal charges nor civil judgments have ever been made against the Red River Sheriff's Office.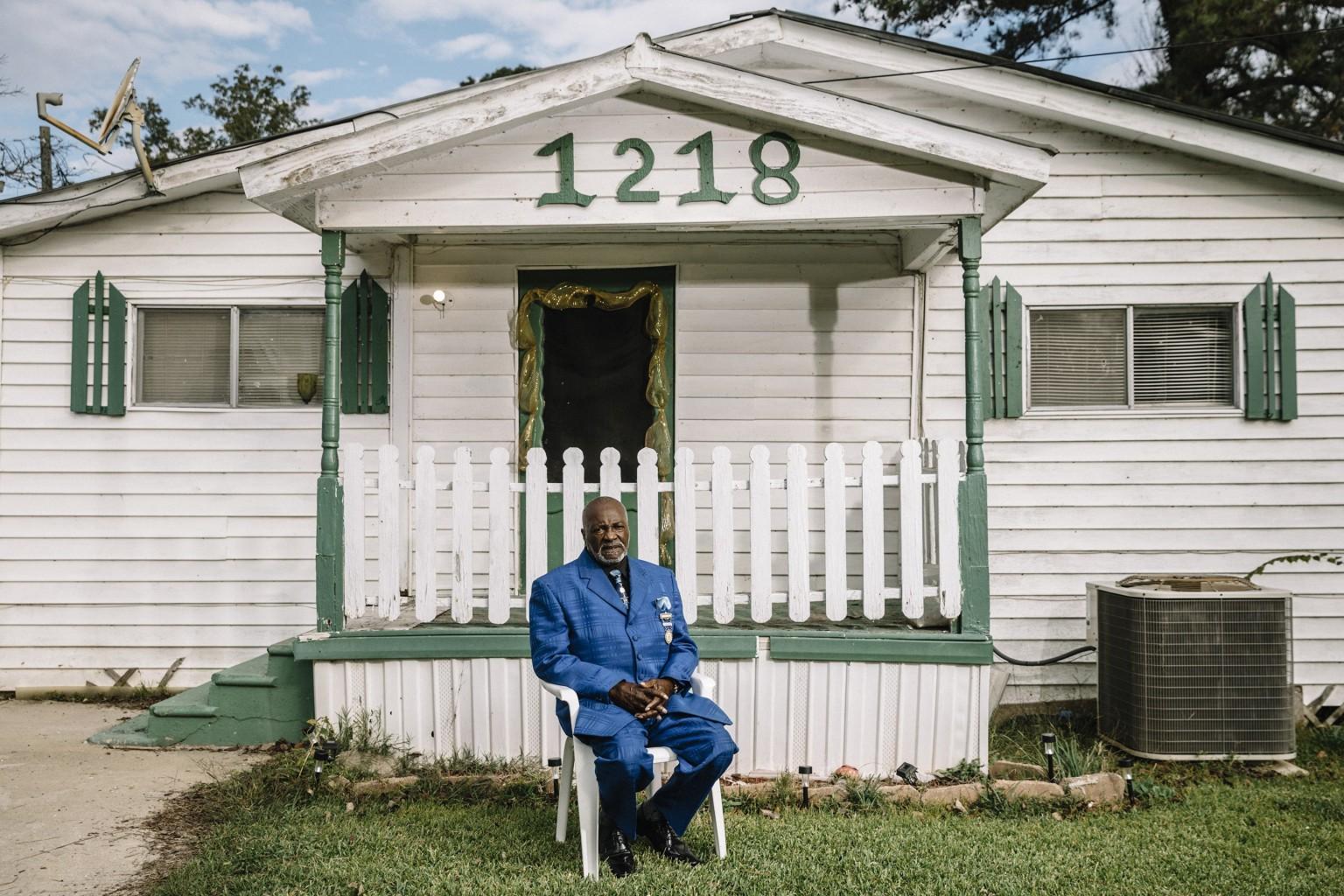 According to family, Preston Thornton's uncle, Freeman Tucker III, was supposedly on what locals refer to as Huckabay's "hit list." In 1988, Tucker III was dating a white woman. Knowing that Huckabay didn't approve of the interracial relationship, Tucker III and the woman moved to Shreveport, but were reportedly surveilled by members of Huckabay's troop, including Deputy Sheriff Rhodes, the man involved in Clark's 1999 shooting. Two weeks after he spotted Rhodes at a Shreveport department store, Shreveport authorities pulled Tucker III over and arrested and charged him with a string of armed robberies. According to court documents, the robbery victims identified Tucker III by a photograph obtained from the Red River Sheriff's Office. "All that was going through my mind was picturing Larry Rhodes in that store," Tucker III says today.

Tucker III refused to plead guilty. At trial, he was convicted on all counts. According to court records, after losing his appeal, Tucker III was denied the right to view documents from his trial three times, the court citing he didn't establish a "colorable need" to view the records and calling his request a "fishing expedition." He served 29 years at Louisiana State Penitentiary and was released in April 2017. First arrested when Thornton was just two months old, he says, "I didn't have a chance to know my nephew. Didn't know his favorite color, his favorite foods he liked to eat. Ain't that something?"

A quick learner, Thornton excelled in school and took well to sports. His father, Sidney Thornton, played for the Pittsburgh Steelers from 1977 to 1982, won two Super Bowls during his tenure and, after retiring, coached the Red River Senior High School team until 1993. Thornton inherited his father's bulky frame and athletic prowess and became a star player for the Red River Bulldogs. When he played, fans would chant, "He's my pride! He's my joy! He's my little Preston boy! Yay, Preston!"

Thornton also grew up being acutely aware of the danger of being a black man in Louisiana. A 1992 Justice Department report concluded that, between 1984 and 1990, New Orleans residents filed more federal complaints about police abuse than any other city in the country. In September 2005, after assisting in the aftermath of Hurricane Katrina, New Mexico State Police Major Daniel Lopez wrote a letter to the Baton Rouge Police Department on behalf of 10 state troopers from New Mexico. He alleged that while the out-of-state troopers were in Louisiana, Baton Rouge police engaged in racially motivated enforcement—calling black residents "animals," physically abusing prisoners and the public, and searching people without any legal justification. One state trooper from Michigan alleged a Baton Rouge police officer offered to let him "beat down" a prisoner as a "thank you" for his service during the natural disaster.

Over the last five years, Louisiana has ranked among the top 10 states in terms of the number of people killed by law enforcement per capita. In 2017, according to an analysis by The Washington Post, the state recorded 19 people killed by law enforcement, 11 of whom were black, down from 2016, when 27 people were killed by police, 14 of whom were black. Despite the statistics, Louisiana state law does not mandate officers be trained in de-escalation tactics.

Aside from the lore of Buddy Huckabay and his Uncle Freeman's incarceration thickening the air, local cops regularly pulled over Thornton, despite never charging him with a crime. That made Thornton recognize, according to one of his uncles, Clifford "Wayne" Jones, "how the cops operated down here." During his high school years, Thornton's grandmother, Varion, instilled in him the need to do something with his life. He probably could've gotten an athletic scholarship at a local college; however, he didn't enjoy the classroom much (despite his intelligence) and also didn't want to ride his father's coattails. He wanted to see the world and get out of Louisiana. He wished to be his own man. So in 2006, as his senior year at Red River Senior High School wound down, he made a choice that would set the course of the rest of his life. He joined the United States Army.
---
Thornton was barely awake the first time he met Blaine Campbell. Lounging around the in-processing lobby at Fort Lee Army Base in Virginia, Thornton was nodding off when Campbell first sidled up to him. The two later had lunch together, where they clicked over a shared love for football and video games. By the end of the day, they had decided to be bunk-mates.

Campbell grew up in Fort Lauderdale, Florida. Shorter than Thornton but equally stocky with a similar Southern drawl, they were both designated to be water treatment specialists and trained together in Germany. There, the pair played Madden NFL and took up gambling at parties, betting cash on various card and dice games. Thornton, a fast learner, sometimes clashed with his superiors on base, who tended to micromanage him. "He'd play 'country-dumb,'" Campbell says, describing Thornton's often sarcastic way of dealing with sergeants. But overall, he enjoyed the Army. He was finally seeing a world outside Coushatta, and he had a new best friend.

One night, in early 2008, the pair ventured out to a nightclub near their base in Germany. There, they spotted a girl across the bar with bright eyes and bouncy curls. "That one is mine," Thornton told Campbell. The woman, Kristine Carrington, a recent enlistee, was charmed by Thornton. They quickly fell in love and Carrington became pregnant. "It was a lusting, loving relationship—young," Carrington says today.

But Thornton wouldn't witness his daughter's birth. In July 2008, the Army deployed him and Campbell to Q West, a military base outside Mosul, Iraq. Before arriving, they made a promise to look out for each other. "We became battle buddies," Campbell says. When Thornton and Campbell got to Iraq, they ripped Psalm 23 out of their Bibles and stuffed the pages into their helmets. Part of the Psalm reads, "Yea, though I walk through the valley of the shadow of death, I will fear no evil: for Thou art with me; Thy rod and Thy staff they comfort me."

A few months into deployment, Thornton and Campbell's truck ran over an improvised explosive device. Campbell remembers a flash of light and the skull-crushing boom of the explosion. And then everything went black. He woke up a few hours later in a medical tent. Thornton stood over him. It was the first time Campbell had seen Thornton truly scared. Thornton was unhurt, but Campbell's right foot was mangled. They didn't talk about the incident with each other, but word spread among other soldiers that Thornton had pulled Campbell's unconscious body to safety, saving his life.

When Thornton called home, he avoided talking about the dangers of war. He never discussed the roadside bomb or how he pulled Campbell from the wreckage. It would be more than a year before he was on American soil again. Back in the States, Thornton and Carrington married, tying the knot in May 2010 at the Red River Parish courthouse in downtown Coushatta. By this time, their daughter was nearly two years old.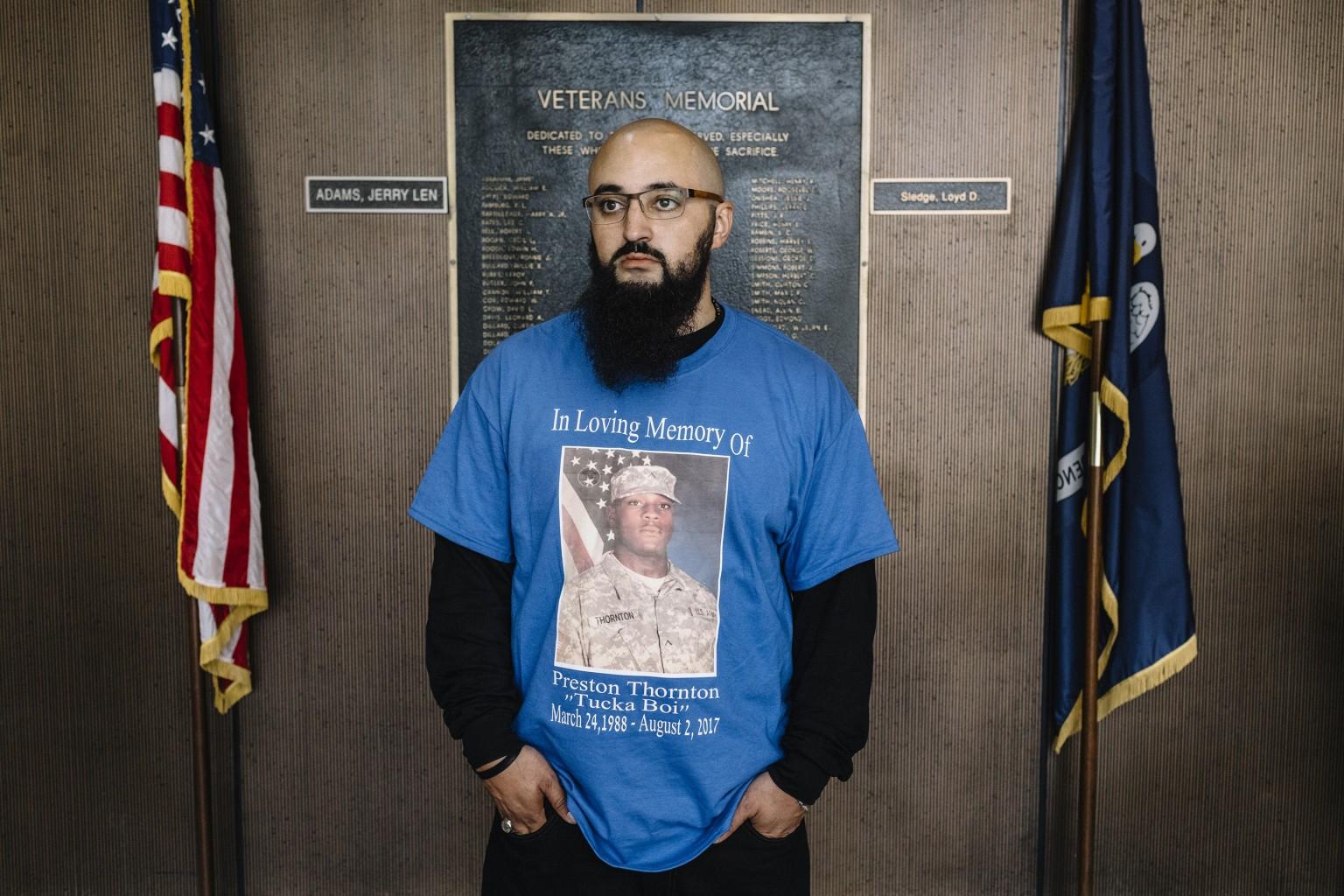 A few weeks later, still on leave back home in Coushatta, Thornton learned that Campbell had been admitted to the psychiatric ward at Walter Reed National Military Medical Center in Washington D.C. for PTSD. After his deployment, Campbell began to randomly burst out crying, swamped in emotional fits. He started drinking heavily and got into bar fights. He settled down at Fort Rucker, in Alabama, training to be an air traffic controller, but the inconsistent schedule worsened his sleeping problems. By then, he was drinking a bottle of tequila every night. He needed it to sleep and to numb the experiences of war. He bought a townhouse just off-base, but his wife at the time, fearing for her safety, left him. His nightmares got worse.

On June 8, 2010, Campbell was alone at home cooking dinner when he blacked out. Campbell tells me that doctors later diagnosed it as a psychotic break. When he came out of it, his puppy had a knife wound to the stomach. In a panic, he called the Veterans Crisis Line. "Just send somebody, send anybody," he told them. Campbell stepped out onto his front stoop, still holding his puppy, phone pinched between shoulder and ear. Four police cars showed up, sirens whirling, and officers approached Campbell with guns drawn. One of Campbell's military superiors ran down the street yelling, "Put y'all guns down! That's my soldier! That's my soldier!" The officers approached with caution, handcuffed Campbell, put him into the back of a squad car, and drove him to a local hospital, where he was eventually transferred to Walter Reed.

The Veterans Crisis Line, the logistics of which are overseen by the United States Department of Veterans Affairs, was established as a partnership between Veterans Affairs, the Substance Abuse and Mental Health Services Administration and the National Suicide Prevention Lifeline. It was created primarily to combat rising rates of suicide among veterans. According to a 2012 study by the V.A., an estimated 22 veterans commit suicide every day. For many veterans who end up suffering a range of mental health issues, calling the crisis line is a last-ditch effort.

But the service itself has major flaws. According to audits conducted by the V.A.'s Office of Inspector General, the crisis line has been plagued by untrained staff and long wait times, sometimes upward of 30 minutes. Calls to the crisis line are dispatched to two V.A.-operated call centers and, when those are at capacity, are rerouted to backup centers run by third-party contractors. In November 2016, 28 percent of crisis line calls were sent to backup centers and, between April and September of that year, one-third of rerouted callers hung up after being placed on hold. Some callers even got sent to voicemail, and many veterans were never called back. In 2015, the Veterans Crisis Line received more than 500,000 calls but employed only 310 operators. They now have 500 operators but despite the uptick in staff, a 2017 follow-up audit concluded that the crisis line's governing structure is still riddled with deficiencies, including management failing to appropriately train staff and the organization failing to implement an action plan to address recommendations from the Inspector General.

The U.S. Department of Veterans Affairs does not keep data regarding use of force or fatality rates when police are dispatched by the agency to assist a veteran. In addition, the V.A. does not track how many veterans are killed by police every year.

Like Preston Thornton had, veterans can request emergency services through the hotline, such as transportation to a mental health facility. Since 2010, the annual number of requests for emergency services has nearly tripled, rising from 5,792 to 16,750 over seven years. Despite the increase, the V.A.'s official policy maintains that only local law enforcement is required to respond to crisis calls.

According to the National Alliance on Mental Illness, only 15 percent of U.S. law enforcement has gone through crisis-intervention training. Moreover, a 2015 Police Executive Research Forum survey found that new recruits received a median amount of eight hours on crisis-intervention training compared to 58 hours on firearms training. Because of this, according to the Treatment Advocacy Center, people with mental illnesses are 16 times likelier to be killed by police. In 2016, police reportedly killed more than 35 veterans, according to an analysis by The Guardian. This includes Ronald Smith, a 45-year-old Army veteran from Ohio who called the Veterans Crisis Line and was subsequently shot and killed by Pickaway County Sheriff deputies.

Nearly two dozen of these killings involve veterans who were experiencing a mental health crisis, though these deaths do not exclusively overlap with veterans who had called the Veterans Crisis Line for help. In fact, no one knows how many veterans are killed by police after calling the crisis line. The U.S. Department of Veterans Affairs does not keep data regarding use of force or fatality rates when police are dispatched by the agency to assist a veteran. According to official procedure, however, a V.A. representative is supposed to follow up with a veteran who requested emergency services within one business day. Additionally, although the V.A. offers crisis-intervention training for local law enforcement by request, it does not maintain statistics on how many police departments or sheriff offices utilize this training.

Although the V.A.'s official policy is to dispatch local law enforcement when help is requested, the V.A. says the outcomes of these encounters are not its responsibility. "Oversight of police-involved emergency dispatch is outside the purview of Veterans Crisis Line and varies across the nation based on local policy and procedure," Veterans Affairs spokesperson Terrence Hayes said in a statement to Playboy. In addition, the V.A. does not track how many veterans are killed by police every year.

---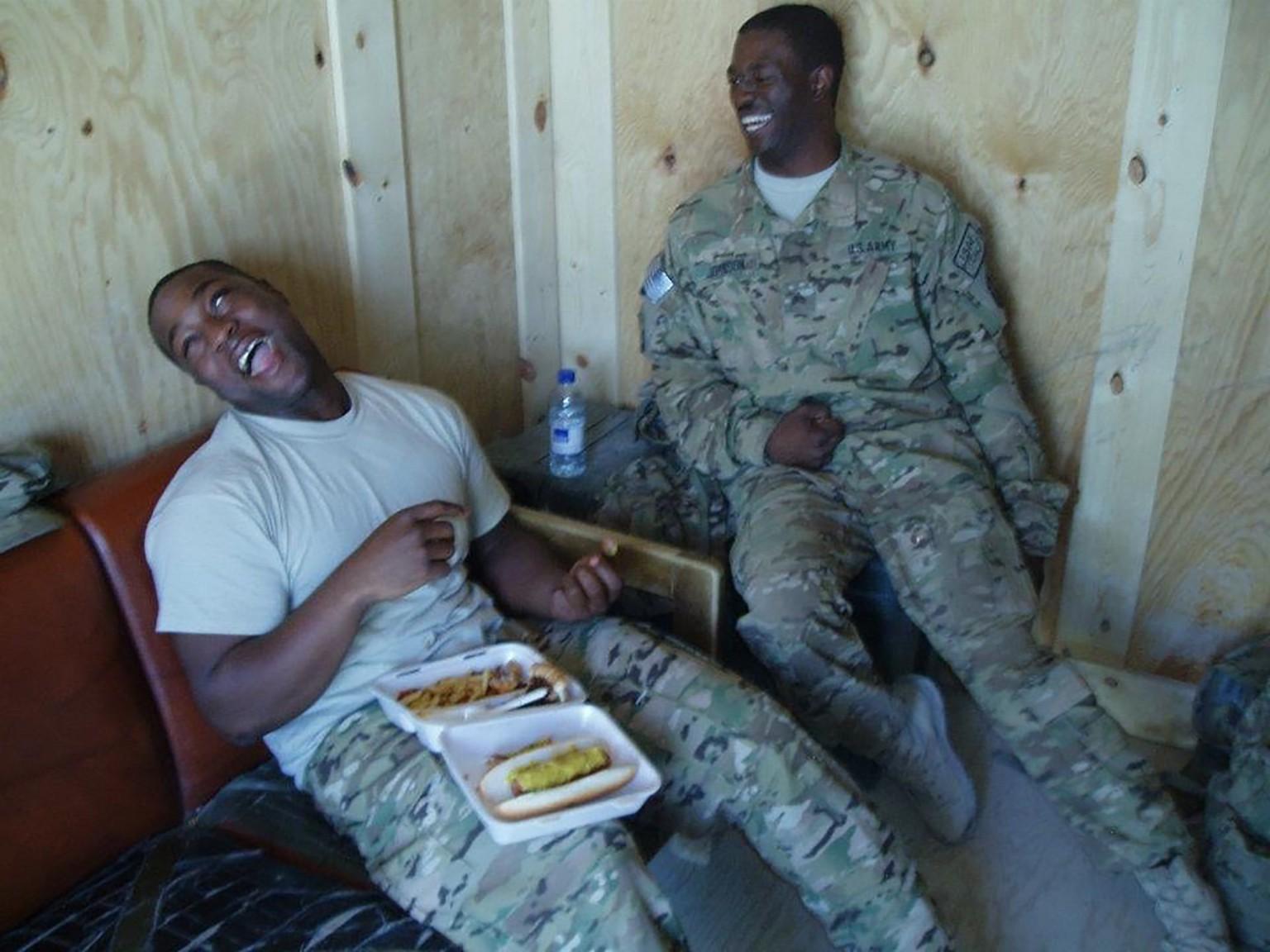 When Thornton visited Campbell at Walter Reed, they talked for hours, reflecting on "the good, the bad, the laughable moments," Campbell says. After the visit, Thornton checked in on Campbell at least once a week. He promised they'd play football when he was released and that they'd gamble in some card games. It would be years before Thornton himself felt the full effects of war—and perhaps only because he decided to reenlist.

Thornton was a different person the second time around. He didn't play football or video games with his comrades, opting instead to party at bars around Fort Campbell, the base in Kentucky where he was first stationed. He ran with a different crew and became increasingly defiant, growing disillusioned with the military's grand ideals. "When you lose that sense of purpose, it makes it hard to justify what you do on a daily basis and creates a space for defiance," Anthony Zane, Thornton's roommate at Fort Campbell, says. "It makes it hard to continue soldiering on."

In February 2011, the Army deployed Thornton to Kandahar, Afghanistan, where mortar fire and insurgent attacks are as unpredictable as they are unrelenting. Al-Qaeda bombed Thornton's dining facility within a week of his arrival, his friend Dewayne Jenkins tells me, who has since retired from the military and has also battled PTSD. Two dozen men died in that attack. "That blast may not be a problem right now, but it's going to come back and haunt you," Jenkins says. While on base after returning from Afghanistan in 2011, Thornton was caught with a synthetic cannabinoid and reprimanded by the Army.

When Thornton returned to Coushatta in 2012, it became clear to family and friends that something was wrong. "I would think, 'Who is this person? What have they done with my brother?'" Sydneye says. He got a job at International Paper, a processing plant that is considered one of the best employers in the area. A 2013 employee review obtained by Playboy described Thornton as an average employee with a good attitude. But he quit less than a year after being hired. He lived with Sydneye for a bit before bouncing around different family members' houses in the area. Over time, he became more erratic and withdrawn. He wouldn't leave the house for days on end. It seemed he was becoming a common statistic; according to a United States Centers for Disease Control study, black veterans are twice as likely to develop PTSD than whites.

Sydneye and other family members describe how Thornton became convinced that people were following him. Once, while Sydneye and Thornton were driving from Shreveport to Coushatta, they had to stop the car numerous times so Thornton could make sure nobody was following them. The hour-long commute ended up taking four hours. Another time, Thornton sat with his uncle, Wayne Jones, at his grandfather's house and pointed off in the distance. "You see them looking at us?" Thornton asked. When he took Jones to investigate, no one was there. "But you see where they were laying, right here, right?" he said. Jones tried to stay calm, but he was worried about his nephew. "He was dead serious," Jones says.

Thornton tried to reconnect with his wife and daughter, who were living in North Carolina, but his second deployment and subsequent move back to Coushatta strained their marriage. They bickered over the phone and met up less as the years went by. In 2015, they decided to spend Easter together in Atlanta so Thornton could have some time with his daughter. But when they met up, Thornton became violent and assaulted a male friend Carrington had brought with her. That was the last time the couple spoke. Soon after, Carrington filed for divorce. (As of August 2017, the dissolution-of-marriage paperwork was still pending.)

"If you see a threat," Thornton told his sister, referencing his training in the military, "you have to protect yourself. That's all I've been taught: Protect myself."

Thornton struggled to hold a steady job and refused to seek help for his PTSD. His fits of paranoia became more frequent and were offset by erratic entrepreneurial ambitions. When not in his mental funk, Thornton would beg his Uncle Wayne to start a business with him, which ranged from a tile company to a barber shop to a nightclub. He projected these aspirations onto Sydneye as well, helping her enroll into a beautician degree program and encouraging her to do hair full-time and continue the family legacy. He also became more devoted to his local church, reciting scripture during service, something he never did before.

He tried to explain the realities of war to his family but never spoke specifically of its horrors. "Man, you don't know. Over there in combat it's totally different. Y'all just don't understand," he would say. He also went into rants about the police, specifically the Red River Sheriff's Office, once venting to his aunt, Cecelia, "People running around here like zombies! The sheriff is running y'all! The sheriff telling y'all what to do, but he ain't gonna tell me what to do! Y'all have rights!"

His internal struggles poured on to Facebook, where he posted cryptic memes and barely decipherable rants. One post from 2017 reads, "Don't look for me....I been through some shit that changed me mentally." Another says, "We up all night again tonight… #CaptainInTheDarkness." He'd also call out to God for help: "I have learnt my lesson and surrender to God everything."

He began to reach out to Campbell more frequently, who by 2016 had overcome PTSD to graduate from community college. Campbell was now pursuing his bachelor's degree at Georgetown University. "He really, really worried me," Campbell says, adding that Thornton would call him in the early morning, as if he had been awake all night. Thornton agreed to be part of one of Campbell's classes wherein he was interviewed about his military service. When asked what he envisioned for his future, Thornton responded, "To be a family man, you know. To be involved in my kid's life, to be more engaged."

In April 2017, Thornton moved into the salmon-colored trailer behind his grandfather's house. His early morning calls to Campbell increased and, in July, a few weeks after Thornton agreed to an evaluation by the V.A. for mental health treatment, Campbell booked a flight to see him. But when Campbell landed in Dallas, ready to drive out to Coushatta, Thornton stopped responding to his calls and texts. Two days later, Campbell finally got him on the phone, but Thornton screamed at him. "I don't know who the fuck this is! You're not my blood! You're not my kin!" he shouted before hanging up.

Two days after that conversation, on July 31, 2017, Thornton called his sister Sydneye. It was late, around 10 p.m., and Sydneye was in the middle of a hair appointment at her apartment. Her brother was paranoid, thinking people were trying to kill him, and she told him to come over to see her. He also thought the family was turning on him. "We love you. We want help for you," Sydneye says she told him. Thornton paced around her apartment, peering through the windows. "I see them coming around the corner!" he said. "Bam, they out there! You don't hear that?!" Sydneye was scared for her brother, and also saw that he was in possession of a pistol, which he legally purchased in 2011.

"If you see a threat," Thornton told his sister, referencing his training in the military, "you have to protect yourself. That's all I've been taught: Protect myself. I've seen so many kids blown up. If anyone poses a threat to me, I am going to have to get them before they get me. My life is important."

The following night, in the early morning hours of August 2, Thornton called the Veterans Crisis Line from his grandfather's house on Banks Street.

---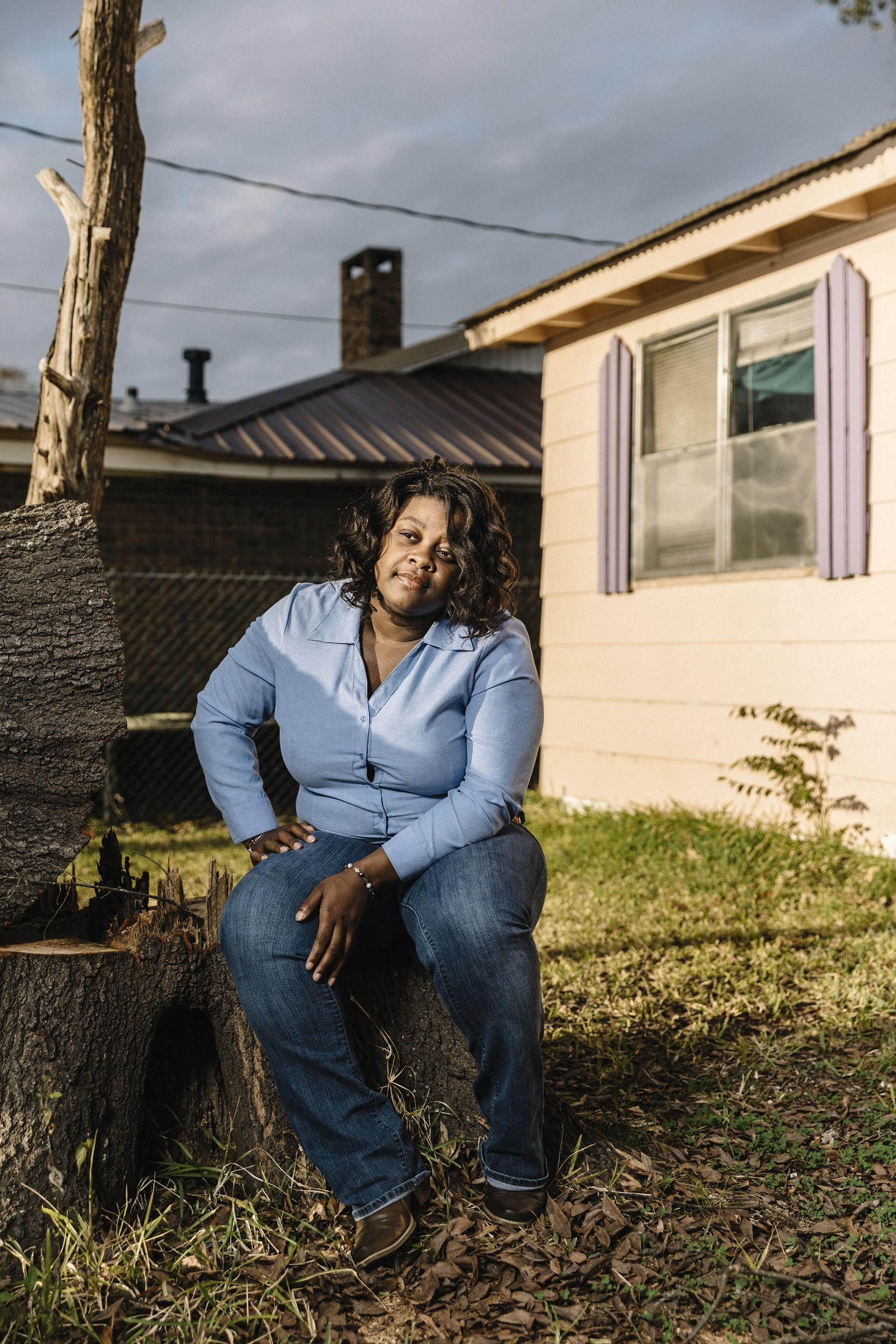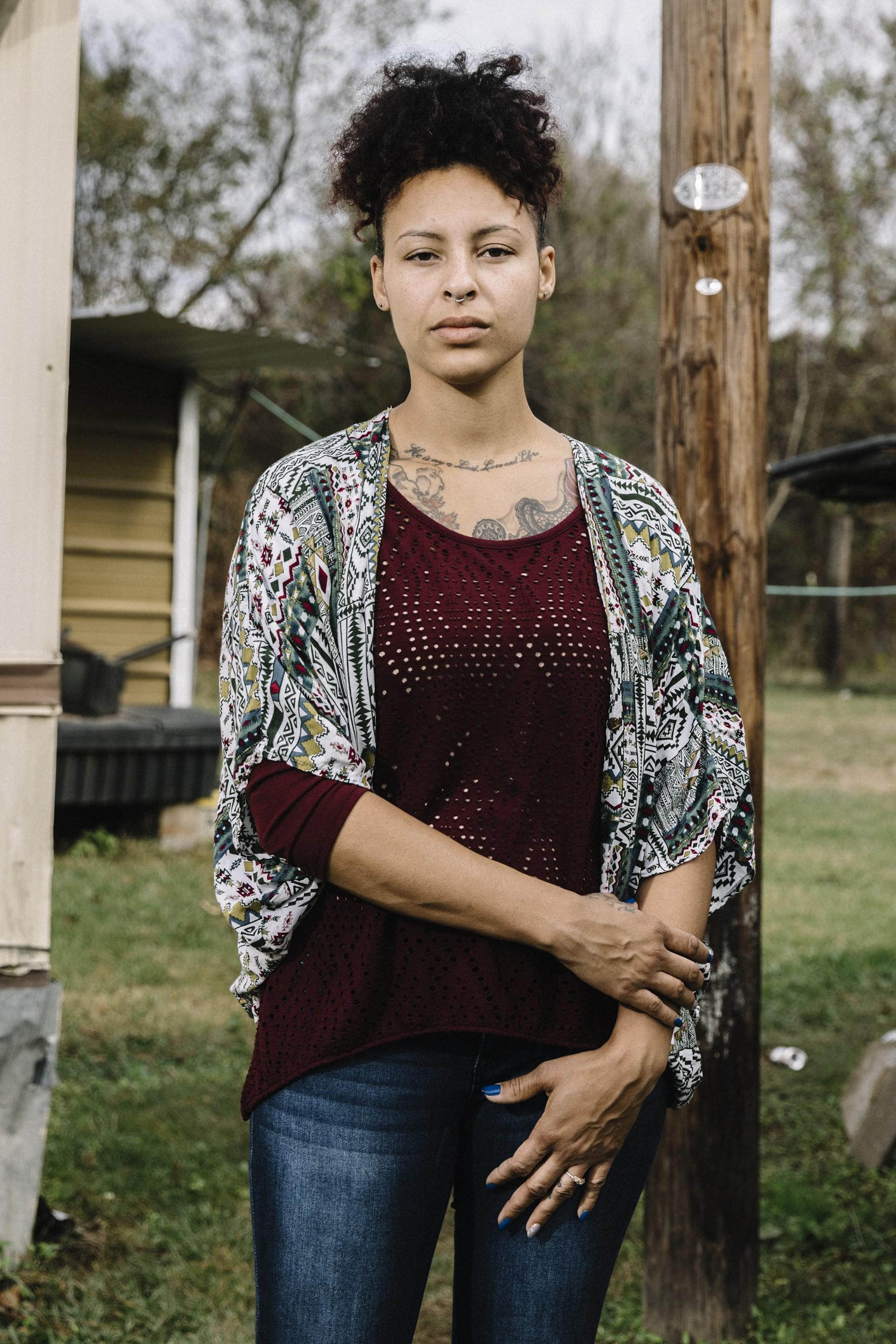 Thornton's request for emergency medical transport was routed to a V.A.-sanctioned social services assistant (SSA), who contacts local law enforcement while the main responder stays on the line with the veteran. According to her interview with Louisiana State Police investigators, Sydneye says her brother had told the crisis line responder he was in possession of a weapon. The crisis line responder instructed Thornton to place the weapon in another room. When the SSA contacted the Red River Sheriff's Office dispatcher, however, he relayed that there were "no weapons involved." He only gave Thornton's name, date of birth, telephone number and address, and said that he had not been taking his "psychotic medication and he has requested an intervention."

Red River Parish Sheriff Dispatcher Jude Barrilleaux gave this information to Deputy Anthony Matteson. "Call them back and find out if the guy has any weapons," Matteson said over the radio. "No, no weapons. I already asked," Barrilleaux told him, according to radio dispatch recordings obtained by Playboy.

In the home on Banks Street, according to body-camera footage and Louisiana State Police investigation interviews obtained by Playboy, Deputy Sibley went for his weapon at the same time Deputy Matteson tried hanging up on the Veterans Crisis Line. The following events happened in less than 10 seconds. Thornton raised his hands in the air—Deputy Matteson later told Louisiana State Police that he deemed this an "aggressive posture"—and watched Deputy Sibley place his left hand on his weapon as if ready to draw. "I could see in his eyes, looking all crazy and stuff. [I'm] like, 'What is wrong with him?'" Deputy Sibley later told Louisiana State Police investigators. Thornton then walked to the doorway that led into the kitchen, grabbed a pistol atop the entertainment center, turned toward the deputies and fired a single shot. ("I remember having my weapon out," Deputy Sibley told Louisiana State Police investigators; it's unclear from the body-camera footage if the weapon was drawn before or after Thornton went for his gun.)

The Louisiana State Police stated in its investigation that Thornton's bullet struck Deputy Sibley in the leg. "[The bullet] entered on the inside of my right leg and exited on the outside of my right leg," he told investigators. Body-camera footage shows, however, that the entry wound on the inside of Deputy Sibley's right leg is significantly higher than that of the exit wound—nearly a straight-down shot—suggesting that Deputy Sibley, who is left-handed, actually shot himself. Moreover, according to Louisiana State Police Crime Lab photographs obtained by Playboy, a bullet coming from Thornton's direction entered the back wall of the living room above Deputy Sibley's head. "It looked like he was pointing [the gun] dead at my head," Deputy Sibley told Louisiana State Police investigators. Thornton's high aim is corroborated by body-camera footage.

After Thornton fired his pistol, Deputy Matteson fell onto his back. "I just started shooting. I shot and shot and shot and shot," Matteson later told Louisiana State Police investigators. Altogether, Matteson fired 12 shots.

I just started shooting. I shot and shot and shot and shot.

According to the autopsy obtained by Playboy, Thornton was shot twice in the left shin from the front. After being shot, with his tibula and fibula fractured, Thornton fled through the kitchen, away from the deputy. The deputy, still on his back, fired 10 more shots as Thornton ran toward the front door. Four more bullets hit him, tearing through his left hip, left arm and twice in the left thigh. When the shooting started, Thornton's mother ducked in front of the television, hands pressed against her ears. "I just thought everybody was dead," she says today.

"I give up! I give up!" Thornton yelled. His left leg nearly useless, he limped through the kitchen, leaving a trail of blood. He hobbled out of the front of the house, into the rain, and dodged across the yard, trying to reach his grandfather, who was staying at his girlfriend's house two doors down. He made it about halfway before collapsing in the street. As Thornton fled, Deputy Matteson called for backup. Sydneye was still on the phone with the crisis line, the receiver in the living room on Banks Street on speakerphone. They heard everything. "She was crying. She was in tears," Sydneye told Louisiana State Police investigators about the crisis line operator.

"Paw! Paw! They shot me! Paw!" Thornton called out from the street. Tucker Jr., still in his pajamas, left the house to find his grandson. By the time he got outside, three officers—Deputy Matteson, Deputy Daryll McDuffy and Coushatta Police Department officer Ashanti Cole—were standing over Thornton's body. Tucker Jr. saw that his grandson was face-down, handcuffed and bleeding. "Y'all were trying to get me," Thornton said, struggling to breath. Deputy Matteson, weapon already drawn, briefly pointed it at Tucker Jr. and screamed, "Go back to your house! Go back to your house!"

EMS showed up seven minutes after the shooting began. The Louisiana State Police wrote in its investigation report that the "first responding EMS unit treated and then transported Thornton," but according to the body-camera footage, the details of which are not included in the state police investigation, the first EMS unit treated Deputy Sibley's leg wound before Thornton's life-threatening injuries. Thornton first received medical attention five minutes after Deputy Sibley, and EMS attended to him on Banks Street for 22 minutes, still handcuffed in the back of the ambulance, before leaving for the hospital. By the time the ambulance arrived at Christus Coushatta, the town's hospital, he was gone.

It's unclear what Thornton was thinking that morning as he laid bleeding on the backwoods road his family has called home for nearly 50 years. What we do know is that his final moments were spent handcuffed, face to pavement, bleeding out on the ground outside his grandfather's house—a 29-year-old veteran with six bullet holes in his body.

Thornton was officially pronounced dead at 7:26 a.m. on August 2, six minutes after arriving at the hospital and 46 minutes after he was first shot. After being told by deputies to leave the crime scene, Sydneye, Aunt Cecelia, Uncle Wayne and a few others showed up at the hospital. There, Dr. Martin Carter, who declined an interview with Playboy, told them that if the EMS or sheriff deputies had tied a tourniquet around Thornton's leg, he would've made it. (Red River Parish Coroner Dr. Wyche T. Coleman, who authorized Thornton's autopsy, did not respond to requests for comment; Red River Parish Deputy Coroner Janell Thomley declined to comment; Dr. James Traylor, who conducted Thornton's autopsy, declined to comment; Steven Johnson, representative for Red River Parish Emergency Medical Services, did not respond to requests for comment.)

After Thornton and Deputy Sibley were taken away in separate ambulances, Deputy Matteson climbed into his vehicle. He put a towel to his face. "Oh my God," he said to himself, still panting. He chugged a bottle of water. "God, thank you..." he continued, mumbling into the cloth. He grabbed his cell phone to make a call. "Hey, mom," he said, his voice shaking. "I'm okay. I'm okay. I was in an officer-involved shooting...I can't talk about it right now, but I'm okay. One of my co-workers was shot. Okay. Bye."

The following day, Thornton's family cleaned up the trail of blood that stretched from the living room to the front of the house. Local news showed up to the scene and broadcasted this statement by Louisiana State Police: "Upon arrival, deputies made contact with a male subject who armed himself with a firearm. Shots were fired from both the male subject and the deputies." There was no mention of Thornton being a veteran battling PTSD nor of the status of the Red River Sheriff Office's policy on crisis intervention. Louisiana State Police, which declined to comment for this story, also announced it opened an investigation into the shooting.

Thornton's funeral was held on August 12, 2017. Campbell stopped in North Carolina and picked up Thornton's wife, Carrington, on his way to Coushatta. "My blood is just boiling," Campbell tells me when we met two months later in November. "That was my brother. They just shot him like a dog and let him bleed out like he was nothing. And that nothing-ness, that animal-like treatment, is crazy when you consider that he served in Iraq and Afghanistan. He was a veteran. He was a defender of the Constitution and a defender of this nation."

It stormed the morning of the funeral. The grass was spongy as they carried Thornton to his grave, a small plot next to his grandmother, Varion, who passed away in 2012. Campbell and family members carried the casket, an American flag draped over its lid. Sydneye stood off to the side. "Are we really burying my brother right now?" she thought to herself. "Is this real? This cannot be happening. We are supposed to be old together. Am I dreaming?"
---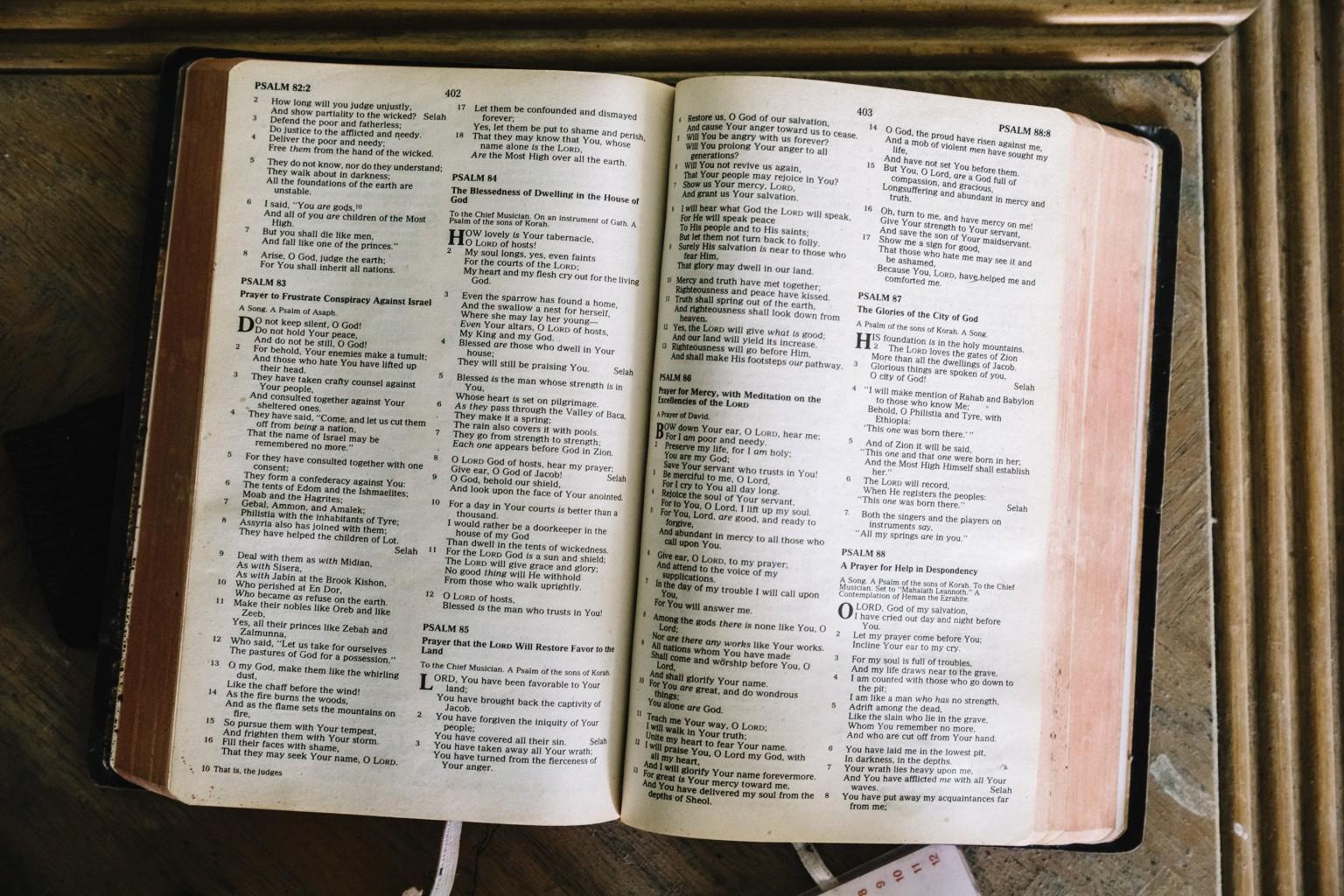 Three months after his death, Thornton's trailer sits in disarray. At some point before his call to the Veterans Crisis Line, he smoked marijuana and ingested methamphetamine, according to a toxicology report obtained by Playboy. (Louisiana State Police obtained a search warrant of Thornton's trailer and found a bag of what appeared to be powdered methamphetamine.) Twenty percent of veterans with PTSD abuse alcohol or drugs and, although Thornton's extended family said they never saw signs of drug abuse, Thornton admitted to his sister that he occasionally used drugs. "Did you take anything? What's causing you to be more paranoid than normal?" Sydneye relayed to Louisiana State Police during its investigation. "He'd beat around the bush. I'd say, 'No, you have to be straight-up with me because we need to help you.'"

In his trailer, clothes remain strewn across his bed and the floor. Two Pittsburgh Steelers hats—his favorite team, an ode to his father—lay crumpled among the dust at the bottom of his closet. Some V.A. medical brochures, debt collection letters and old pay stubs are scattered across the dresser. A portrait of Malcolm X and Martin Luther King Jr. hangs in the living room. And on his nightstand, his Bible, flipped to Psalm 88. "O Lord, God of my salvation. I have cried out day and night before You; Incline Your ear to my cry. For my soul is full of troubles."

When I meet Natalie Wilson in November in Coushatta, she seems to still be in shock—dejected, empty-eyed, mentally lost. She speaks of her son's death with an odd, almost shocking frankness, nodding along to her own story as if she's still trying to convince herself of it. Maybe if she says it enough times, life will be go back to normal. "They killed my boy," she tells me again and again. "They killed my baby boy." She professes to me that her son did not have a gun or shoot at the deputies. Four months later, in early March, after I obtain the body-camera footage and the Louisiana State Police's investigative report, I tell her that Thornton really did shoot at the deputies and remind her that, in the hours after the shooting, she told a state police detective that he did have a gun in the house. "I don't know," she says. "That man came in to kill my baby. He grabbed that phone from Preston, and then started shooting, and that's all I remember. My mind has just gone blank."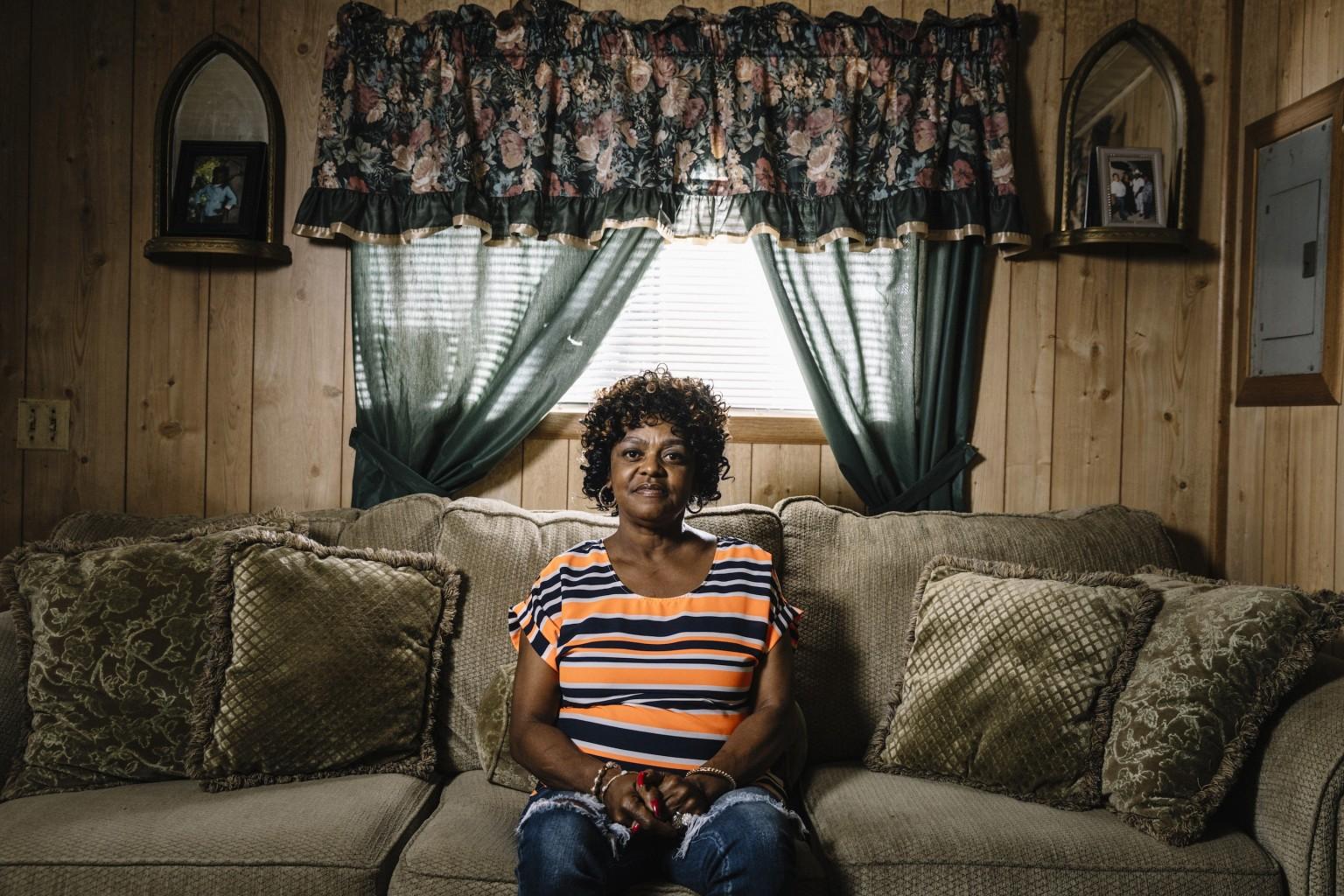 Shortly after Thornton's funeral, Campbell returned to Washington D.C. and started knocking on doors. He contacted Marc Howard, a professor of government and law at Georgetown and the director of the Prisons and Justice Initiative. "Campbell drew me in. He was unbelievably dedicated," Howard says. "I felt he was acting out of a pain and I think what was really killing him was that nobody was taking it seriously." Howard agreed to help Campbell raise awareness about Thornton's death. They decided to organize a memorial and march on November 11, 2017—Veterans Day.

Friends and family distributed some 2,000 flyers around northern Louisiana in the weeks leading up to the march. Campbell created a Facebook page for the event. Sydneye had T-shirts made. On Veterans Day, nearly 100 members of the black community stood in front of Zion Baptist Church in Coushatta, accompanied by local television news reporters. Thornton's father also came, now confined to a wheelchair after a recent stroke. The crowd held hands and prayed before beginning the march. They walked by abandoned buildings and decrepit trailers, turned onto Banks Street, and made their way to where Thornton bled to death. A cross made from blue flowers marked the site. There, they observed a moment of silence.

The demonstration continued in front of the Red River Parish courthouse. Before the march, Campbell reached out to Coushatta's mayor, Johnny Cox, and asked him to walk with them and sign a proclamation for changes in local law enforcement procedures regarding crisis intervention. Mayor Cox agreed initially to participate, but he never showed up. Carrington instead read the statement they prepared to recite alongside the mayor, which detailed aspects of Thornton's service, statistics about police shootings and mental illness and training programs available for officers. "Let this be a legacy for Preston," she said. (Mayor Cox did not respond to multiple requests for comment.)

Seventy-one people signed the document, copies of which were later submitted to local government officials. After the march, local news didn't return to Coushatta for a follow-up story, and it took another four months for the Red River Parish District Attorney Julie C. Jones to provide an update on her investigation: the shooting was justified. "I believe that the investigation shows that Officer Matteson acted well within the scope of his employment," Jones said in an interview with local ABC affiliate KTBS 3 News. Neither the Department of Veterans Affairs nor the Red River Parish Sheriff's Office ever offered condolences to Thornton's family, they say.

The months-long stretch of silence has weighed on the family. It's as if Thornton is just another dead black man from a poor town—a situation, ironically enough, not dissimilar to that of his great-grandfather 66 years prior. To them, it's the compounding of systematic and nearly intangible forces that caused Thornton's death—being black in Louisiana, the effects of war, the unreliability of the V.A., the lack of required crisis training in law enforcement. Sydneye tells me that shortly after her brother was killed, she spoke with Red River Parish Sheriff Glen T. Edwards. "He told me that none of his staff had adequate training for situations of this sort," she says, adding that he was worried about the public making Thornton's death out to be a race-related incident. (Playboy reached out to District Attorney Julie C. Jones about the investigation but she declined to comment; Red River Parish Sheriff Glen T. Edwards didn't respond to multiple request for comment.)

Today, Thornton's family is still seeking some semblance of a resolution. They recognize that blame is not a singularity that can be applied in this situation; there's no definitive villain when it comes to veterans returning from war, especially those who are black, live in the South and see law enforcement through a hardened lens of skepticism and distrust. To them, a larger system in America is broken. All they hope for is acknowledgement that veteran deaths at the hands of the police can be avoided—and that the government will soon take action to prevent it from happening again.

"[The deputies] clearly would have benefited from crisis-intervention training; this could've been prevented easily," Campbell tells me after being shown the body-camera footage in early March. "I understand their actions, but it's not just a veterans' issue. It's also about police safety. One side wants treatment, and the other wants to go home alive and not injured—both sides would have benefited." He tries to put himself in the shoes of his battle buddy. "I watched the body cam footage at least 30 times. I can clearly see that Preston's eyes recognize a threat"—Deputy Sibley gripping his firearm—"and then responds to the perceived threat. Identify a threat, then react and eliminate the threat: That's Army training 101."

Back in Louisiana, Sydneye is slated to receive her beautician certificate in December. "Hair has become my therapy," she tells me. "I have plans, too. I am going to get with different mayors and senators and try to come up with policies and changes. I'm going to be an advocate to try to get the word out so something like this won't happen again."

Her mother is currently living with her at her apartment in Natchitoches, about 40 minutes south of Coushatta. "The day I heard about the body-camera footage [in early March], I slept in the house in Coushatta that night, the first time since Preston died," Wilson tells me over the phone. "I cried all the next day. I just cried and cried. They have to get someone to know how to handle boys like Preston."

Campbell is still knocking on doors, and has recently met with Representative John Delaney of Maryland's 6th District about sponsoring a bill to improve procedures implemented by law enforcement when responding to a veteran in crisis. He also, at the request of professors, began speaking to classes at Georgetown about the war, PTSD and the death of his best friend.

The family still does their weekly Sunday afternoon cookout on Banks Street, with big plates of barbeque chicken, short ribs or fried catfish being passed around. They're holding one such gathering during my November visit, the day after the march. The men set up a long table in the driveway, in front of the door where the sheriff deputies came into the home that rainy August night. The women batter the fish and gently lower them into a pot of boiling oil. Led by Aunt Cecilia, her voice a fierce and booming contralto, everyone bursts into church hymns.

In the living room where Thornton had called the crisis line, a portrait of him in his Army uniform hangs; he looks straight-faced, cap pulled low on his brow. It's the same photo the family used for the memorial's flyer. I walk into the home and find Wilson in the kitchen, standing by herself on the stretch of floor where her son was shot. The bullet holes have not yet been patched; the window's glass is still broken.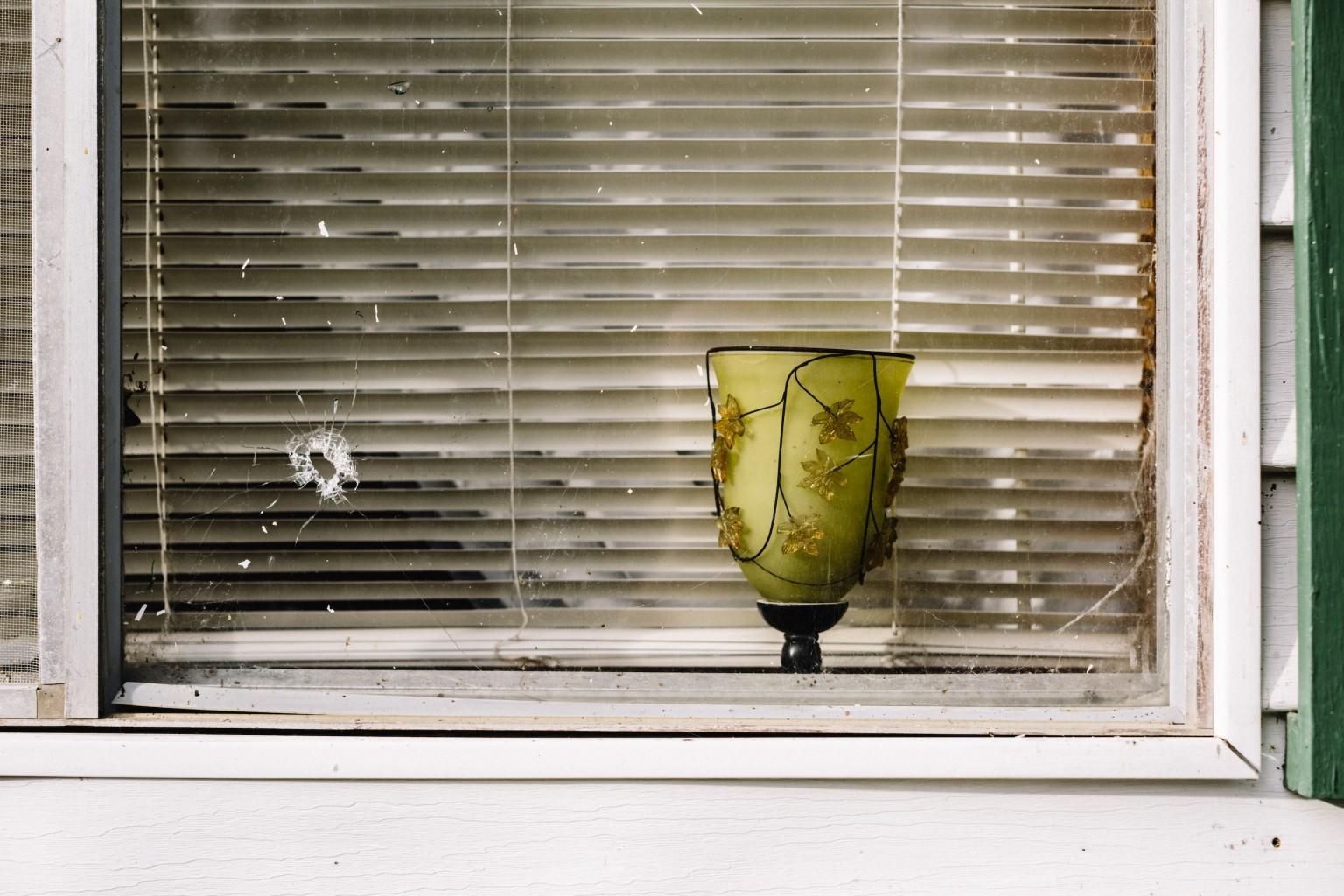 Correction: An earlier version of this story stated that Freeman Tucker III was dating a white woman who was reportedly a distant relative of Sheriff Lester Huckabay. In fact, there was no relation between the woman and Huckabay. This story has been updated to reflect the correction.