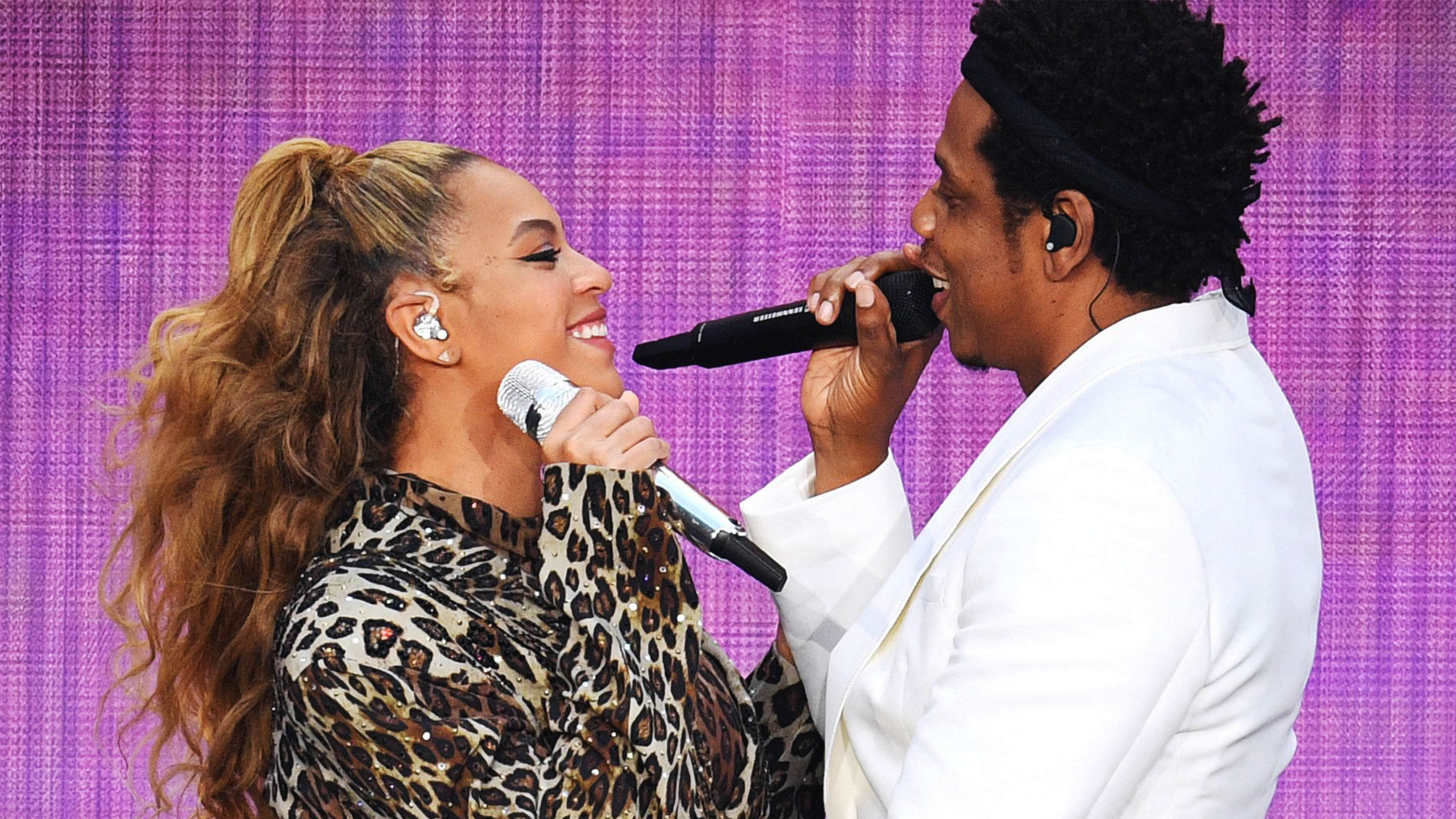 'Everything Is Love' and the Amplification of Black Bravado
Written by J'na Jefferson

Published on

June 18, 2018
Another year, another universe-pausing album drop by way of the Carter family. On Saturday, during the second night of their London stop of their On The Run II tour, Jay Z and his lady love, Beyoncé, released their long-rumored joint album, Everything Is Love. The effort succinctly completes the trilogy of albums that focus on the couple's growth amidst relationship drama.

As anticipated, the Carters' new project addresses their marital strife, feeding fans' curiosity. On the album's sultry opener, "Summer," and its hopeful closer, "LoveHappy," they mention the emotional storm discussed previously on
Lemonade
and
4:44
. What truly stands out from the the new Tidal-exclusive release, however, are the couple's remarks about and reclamation of their blackness, which envelopes me in personal satisfaction.
While the album didn't provide me with a cheeky lyrical reference to Bey getting her face bitten, I was nonetheless fulfilled by Jay and Bey's overt display of unapologetic melanated swagger. As we know, blackness can be intimidating to many people (cops and Oakland barbecue passersby in particular). However,
Everything Is Love
proves that blackness can also be empowering to those who share that hue.
Although black success is celebrated in certain spaces, history has shown time and again that we're not afforded a seat at the table, regardless of how well we perform. This explains the added importance of the loud and proud proclamations of blackness that are heard throughout Bey and Jay's nine-track album, and are also seen in the video for the album's
first single
.
Evident by the Cool & Dre-produced "Black Effect," stereotypes and slurs meant to demean the black community are flip-turned upside down to create a flex unlike any other. "A n— late but he best dressed / Got slowed down by the weight of my necklaces," spits Jigga near the LP's conclusion. Queen Bey also stunts on 'em in "Boss" by equating her hard-earned wealth to the future successes of her black babies' black babies' black babies. "My great-great-grandchildren already rich / That's a lot of brown children on your
Forbes
list," the Texas songbird rhymes in the trumpet-heavy track.
Of course, there's also the visual braggadocio displayed in "Apeshit." Shot at the Louvre in Paris, the six-minute video for the Carters' first single from Everything Is Love is dripping in symbolism and onyx opulence.

Throughout "Apeshit," the Carters and Co. bring their blackness to the pretty-fucking-white institution, acting as modern-day art, while the rest of the museum's property serves as mere wallpaper. In a location where blackness has never been celebrated or amplified, there's heartwarming significance in seeing a black man getting his fro picked and parted in front of da Vinci's famous Mona Lisa painting. Beyoncé and her dancers getting in formation in front of the Consecration of the Emperor Napoleon and the Coronation of Empress Joséphine painting also places a golden "you tried" sticker on the military leader's reinstatement of slavery back in 1802. You may not have wanted us here, but here we are. Much like Jay says in DJ Khaled's "I Got the Keys," they brag different.

This wouldn't be the first time Jay Z and Beyoncé have highlighted the importance of supporting and amplifying the black community through their art or personal lives. Jigga donated millions to support the Black Lives Matter movement and other social-justice organizations a few years ago. He also appears to be in support of the NFL protests; in "Apeshit," he alludes to the rumor of him turning down the Super Bowl halftime show, and in the video, a zoom-in shot midway through features a host of black men kneeling a la Colin Kaepernick. Early this year, Beyoncé's highly publicized Coachella performance served as a love letter to historically black colleges and universities, and she spoke to often-unappreciated black women through her sixth album, Lemonade.

Beyoncé and Jay Z closed out the Louvre just to bask in the boldness and beauty of their skin tone, because they could.

The Carters are continuing to enjoy the successes they've accumulated together through the years, and the album is a prime example of how that success is best enjoyed when your team has your back. It also proves that black success in particular is a win for those who have been told they "can't" or "couldn't."

The music power couple continues to challenge the rules of the institutions they occupy and the industry they're employed by, because they've worked hard enough to earn the right to. Think about it—Beyoncé took a notoriously white music festival and turned it into a black celebration, because she could. She and her husband closed out the Louvre just to bask in the boldness and beauty of their skin tone, because they could. If that ain't black bravado, what is?

To have Everything Is Love drop the weekend before Juneteenth (June 19)—commemorating the abolition of slavery—amplifies the message and underlying meaning the Carters are putting forward: They're black, and they're proud. Whether it's through lyrics, videos or philanthropic efforts, the support, appreciation and pride Jay Z and Beyoncé have about being black is apparent.

More often than not, society lets us know it does not wish to see black people winning. When a talented twosome continually flips the game on its head with candor and unabashed pride in themselves and their people, it proves that anything is possible for the rest of their community going forward, so long as we are given the chance to be succeed and exist in these spaces.