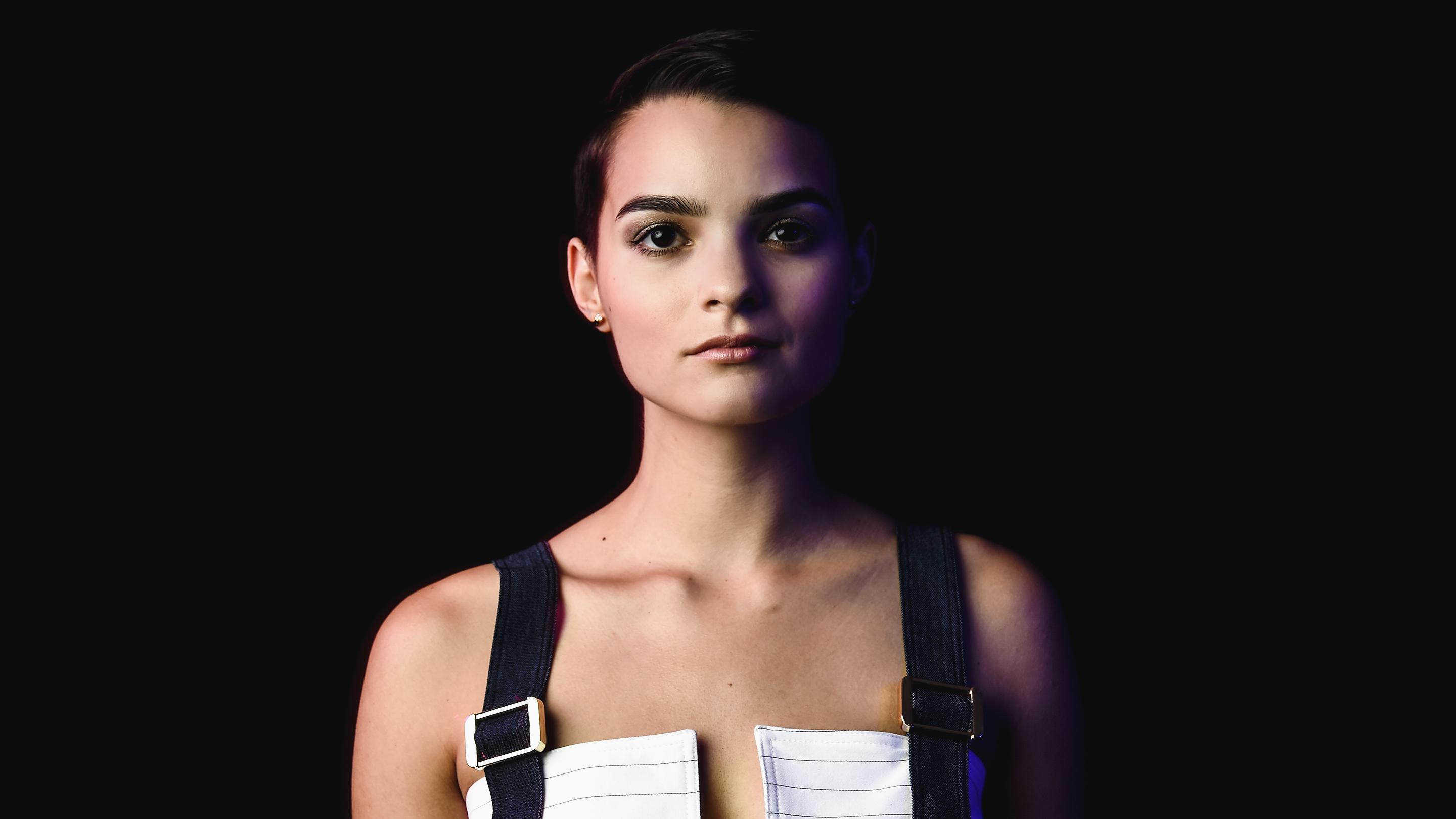 Brianna Hildebrand Is Not Your F—ing Average Superhero Sidekick
Written by Ryan Gajewski

Published on

May 21, 2018
Oh, fuck: Yes, it's another trying-too-hard-to-get-your-attention first sentence for a celebrity profile where the writer just wants to prove how clever he is, rather than focusing on the subject. Brianna Hildebrand, she's the subject. OK, next paragraph; we'll all be out of here in no time.

Hildebrand, to borrow from the vernacular of the foul-mouthed, fourth-wall-shattering franchise that provided the 21-year-old actress with her first Hollywood role, is probably not who you fucking think she is, just as the Deadpool films themselves defy categorization. And Deadpool 2, in theaters Friday, May 18 (here's your release-date callout, 20th Century Fox), provides her character, the never-met-a-situation-she-couldn't-scowl-through Negasonic Teenage Warhead, with the kind of plot twist that the film's zinger-crazed title antihero would live to deride: a character-developing romance.

As it turns out, star and producer Ryan Reynolds gave Hildebrand, a member of the LGBTQ community, a chance to sign off on Negasonic spending much of the film with her new girlfriend, fellow mutant Yukio, because Reynolds is a good guy (more on that to come, fear not). "I was surprised when I was pitched it, but Ryan just sent me an email and was like, 'How would you feel about this?'" the actress tells Playboy. "And so that's great—I'm glad he asked me how I would feel about it. Obviously, I was like, 'I feel amazing about it. Let's do it!' I am glad that he asked me, though. I probably would have been like, 'Wow.'"

Yep—wow. Sure enough, people basically lost their shit when word got out that Deadpool 2 includes the first-ever LGBT couple in a mainstream superhero film. This is a genre that historically has had enough trouble even lending the spotlight to female ass-kickers, so a queer romance for a central character is no everyday occurrence. And yes, Hildebrand thinks it's taken too long for a woman to lead a superhero film, pointing out that she did not grow up reading comic books (no trolling allowed for this revelation, please) and says, "I probably would have been more into superheroes if there would have been more female ones growing up."

It happened fairly quickly. I think that might be a standard lesbian thing—after two weeks of dating, you bring the U-haul.

If you didn't laugh at that trolling joke, that either means a.) you're an asshole—this writer is doing the best he can to entertain you; or b.) you know all too well the reality of the life of a public figure in 2018, particularly one inhabiting a world with a detail-obsessed, genre-loving fan base. Hildebrand's devotees adore her for every DM she sends to them on social media (she sends a lot of DMs, FYI), for every off-color joke, for every glimpse into her personal life with live-in girlfriend Jonneke Grisham. But as we pointed out earlier in this paragraph, assholes do exist.

"Most people are really nice—some people are mean," she says. The negativity "is a given—it's the internet. Normally, it's males sending me weird messages about who I'm into, or what I'm doing. But it's not that big of a deal." Still, the good outweighs the bad, and it would never occur to her to stop connecting with supporters, something that she didn't have access to as a small-town Texas pre-teen who grew up obsessing over Ellen Page in Juno. "It was the very beginning of Instagram. So the idea of a celebrity replying to something that I had written was really out there."

And while she loves sending messages to fans, there's perhaps a limit to how much she'll share. She doesn't believe that the public should look to celebrities for political advice or as role models, although she admits she has "conflicting opinions about that." And when asked whether Hollywood should dial back its love of guns—Deadpool 2 has just as much bullet-induced carnage as its predecessor—she explains that while the idea of regulating guns in film has value, it's more important for parents to talk to kids about what they're watching. "Someone's still gonna find a way to make a movie with a bunch of guns, and someone's still gonna find a way to watch it," she reasons.

---
Hildebrand and I are sharing a table at Swingers on Beverly Blvd., the iconic late-night diner that she loves and that's a mere 10 minutes from the West Hollywood home she shares with Grisham. Hildebrand is drinking black coffee while chatting with me, and is surprised when I order orange juice. No, you don't care what we're drinking, but a celebrity's menu item of choice is just one of those things that profiles need to mention, so don't question the formula.

Deadpool, the 2016 superhero-skewering quip-fest released in the cinematic dead zone of February before racking up an out-of-nowhere $783 million worldwide, is the film that launched Hildebrand's career, with the successful audition coming just a year after she left behind Texas for the promise of Tinseltown. But it might be her second film, First Girl I Loved—the type of small drama that she initially assumed would be her bread and butter—that changed her life even more. After all, it was on the set of the coming-of-age indie where she met her real-life now-girlfriend, who worked on the film as a set dresser. Hildebrand auditioned for First Girl in Vancouver during downtime from Deadpool's shoot, and starred in the 2016 Sundance entry as a not-yet-out high school softball standout who falls for her female classmate.

"She was pogo-sticking," Hildebrand says of the first time she met Grisham on set. Uh, sorry? Was this a prop from a prominent pogo-sticking scene that I somehow missed? "No, absolutely not! I don't know where she got that from, but that's just what happened. So it's like, 'Let's meet.'" The two tried to keep the quickly burgeoning romance a secret from their coworkers, but to no avail. "We did try to keep it under wraps because that's annoying on set. You're on set, and you realize these two people are going places together, and are never alone." First Girl director Kerem Kirun Sanga won't say how soon he caught on to the chemistry, but tells Playboy, "Brianna was a joy to work with. She understood that hiding a part of yourself from others meant hiding something from yourself, and somehow she was able to take that abstract idea and turn it into something you could see on-screen."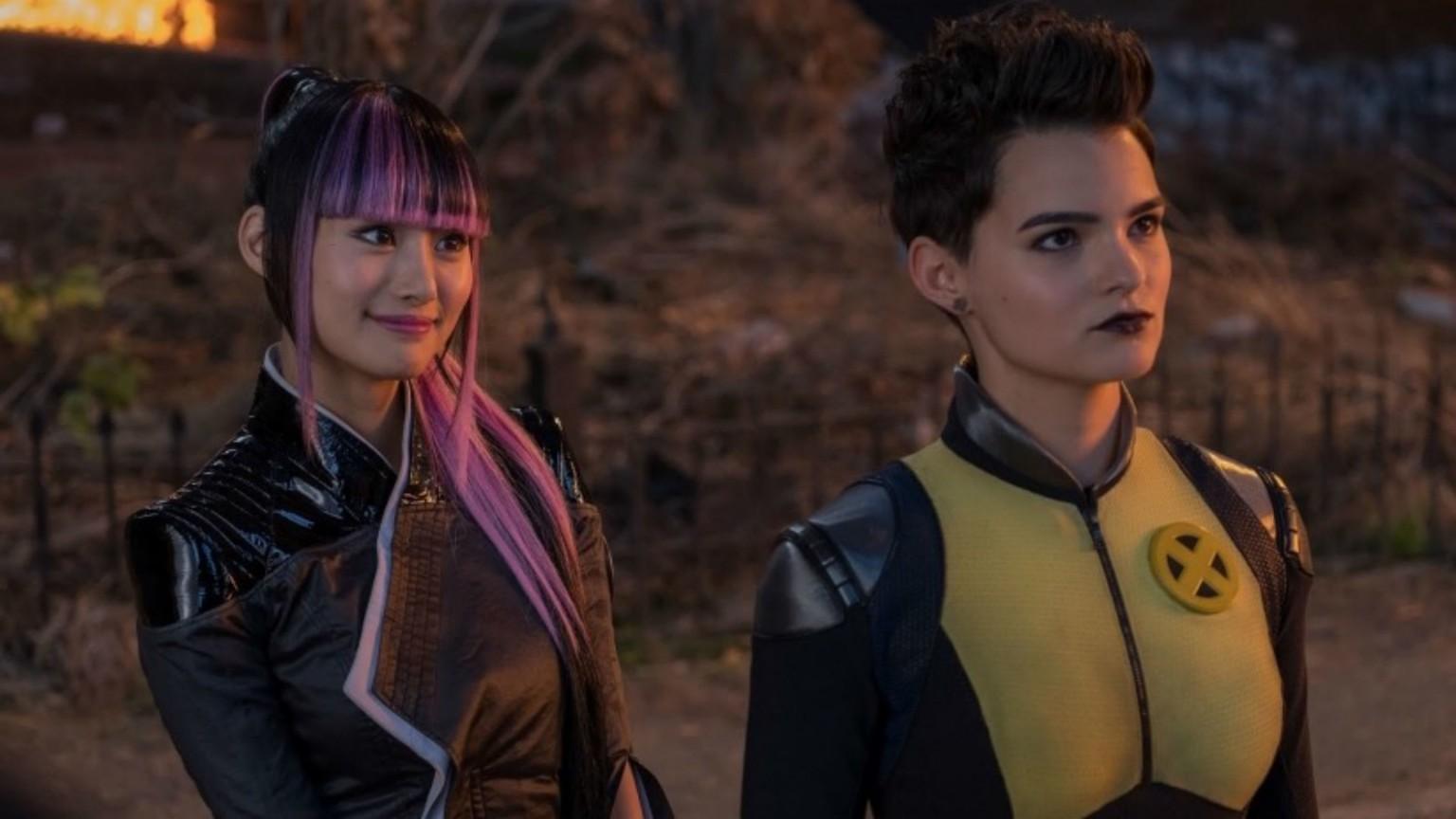 It didn't take long for Hildebrand and Grisham to start cohabiting. "It happened fairly quickly," the star admits of the two moving in together. "I think that might be a standard lesbian thing—after two weeks of dating, you bring the U-haul." So how is it working out, living with a significant other for the first time? She makes it clear that the pair have a ton of fun together, but the word "interesting" also comes up—more than once. Case in point: "It's been interesting. I've lived with roommates before, you know, but it's definitely been interesting, learning to live with a significant other. Just little things that piss you off that really shouldn't piss you off. Like, 'Why did you move the toaster? I put it right there because it looks good there.'" Alas, the foibles of wanting hot bread.

OK, now it's time to overanalyze her adolescence. If you're just here to get her take on Deadpool's star/director friction, or to hear about the chance of that oft-rumored Negasonic spinoff, go ahead and skip to the next bunny line break. (Please don't skip ahead to the next bunny line break. We're very sensitive.) But unlike every other celebrity profile you've ever read, this upbringing backstory is worth telling. (Just kidding. All of those others were worth telling, too. Please don't get us blacklisted from the next celebrity-profile-writer convention.)

Some of those aforementioned social media posts by Hildebrand about her girlfriend caused a bit of chatter online regarding the actress' big supposed coming-out moment. Not really what it was, Hildebrand says. "When I was in high school, I came out to everyone online, at school. I was very open about my sexuality when I was younger. So when I got into this [current] relationship, I just acted as I would—I just posted photos of us or whatever. It became kind of a thing, and a lot of people thought, 'Oh, Brianna's come out, she's coming out with this girlfriend now.' I've definitely always been out and open about that kind of thing. I never wanted to hide it."

That's not to say that everyone expects her to avoid hiding it. "I remember going to a few different publicists and that being on the forefront of their mind, like 'How would you like to go about this? We can keep this under wraps, if that's what you would like.' It just kind of surprised me a little bit because I was like, 'I didn't suggest that.' I'm totally fine with who I am. I know that that's how Hollywood used to work. But they didn't really know me—maybe they thought I was [private]. I'd rather just be like, 'This is what it is.'"

I just was like, 'Hollywood!' It's a difficult culture. It's easy to feel isolated and lonely. Those are things that I definitely didn't expect.

You might be surprised that Hildebrand, as one learns over diner drinks, is a generally cheerful person. You might be surprised by that because, well, a lot of people are surprised by that. "People at conventions will come up to me and be like, 'Wow, you're so nice,'" she admits with a laugh. "Genuinely surprised that I'm a nice person." It's impossible to imagine that she was ever not this nice—and no, we're not just sucking up to the talent. However, she might be happier than she has been in the past. "I just went through a lot of family trauma when I was younger. I was just mad at the world." And so, a move out West brought new promise. "I was like, 'I'm going to move to Hollywood and be special!' People were surprised by it—I was never into theatre in high school or anything."

Hildebrand, who dropped out of high school during her senior year and earned her diploma online before heading to L.A., doesn't see her hometown friends all that much, but refers to her dad as her biggest fan who was "stoked" when she landed the Deadpool gig. And while she's changed from her high school self, Hildebrand relishes the chance to tap into that anger as needed. "I definitely now get offered a lot of the angsty teen roles—angsty, angry-at-the-world teen roles—which I'm not necessarily upset about. I think it's fun—I used to be really angsty as a teenager, and now as an adult, I'm a little less angsty. It's kind of fun to re-explore that side of me."

---
On the day that I drink breakfast-time beverages with Brianna Hildebrand, it's exactly one week before Deadpool 2 unspools in theaters nationwide, and there's a lot for the actress to take care of before one of the summer's great hopes hits the big screen. High on the checklist, perhaps even higher than flying to New York City for the film's worldwide premiere? Losing a certain undesirable hairdo.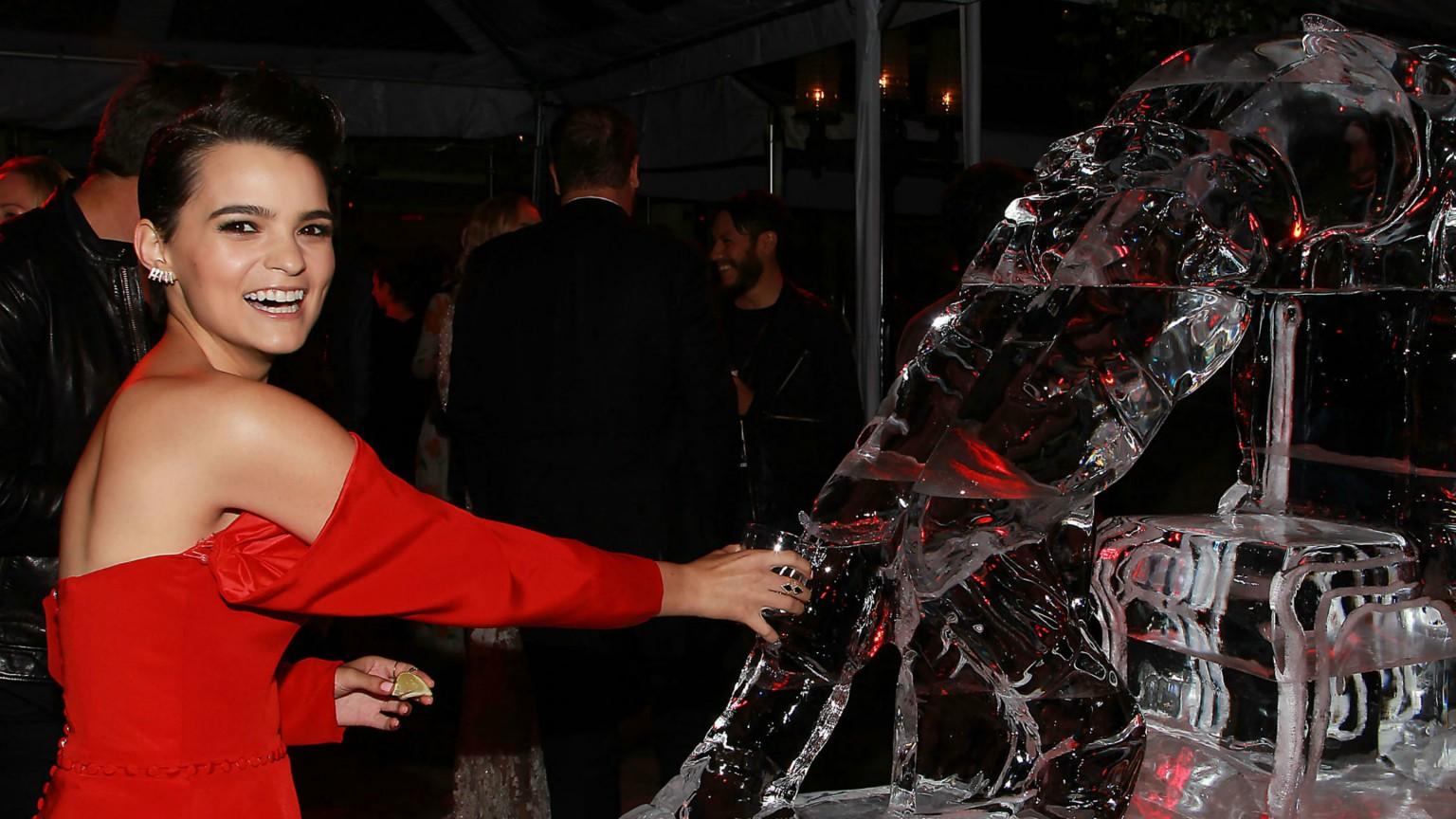 "I'll be spending my time getting my mullet cut," she says of her one-week interim before the May 18 release (yet another release-date shout-out—you are seriously in our debt, Fox). "I just personally am not a fan of the rattail that's happening on the back of my head right now." Full disclosure: Such a rattail does not exist, and her look is nothing resembling a business in the front, party in the back hairdo. But this concern is a reminder of just how highly scrutinized female stars (well, females in general) feel about their looks. "I'm in this weird relationship with my hair at the moment. I just don't know what to do anymore."

It's fair to say that her hair is a significant aspect of her narrative. She showed up with a shaved head to her Deadpool audition—which she thinks helped in landing the gig—and has kept a short 'do throughout her career, despite having hair "down to my hips" until she turned 16; at that point, she chopped it to her shoulders and donated the remnants to charity. But then she made a move that was a bit less charitable. "I remember going home for the holidays, calling my manager and being like, 'I have this idea to shave my head. How do you guys feel about it?' And my poor manager was like, 'I don't know—I'm not really sure.' But yeah, I did it anyway."

Hildebrand filmed Deadpool 2 while concurrently shooting her recently canceled Fox series The Exorcist, and both projects had different ideas about how long her hair should be, which led to agitated hairdressers on the two shoots. Famously, agitation also popped up—see, we told you the behind-the-scenes drama was on its way—between Reynolds and Tim Miller, who directed the first Deadpool and was on board for No. 2 until "creative differences" led to Atomic Blonde director David Leitch stepping up to helm the sequel.

"I was surprised that Tim didn't return," says Hildebrand, adding that she assumes the pressure of living up to the first film's success "might have been a factor" in the friction. She actually learned secondhand about Miller's exit: "I was at a convention, and [Colossus actor] Stefan [Kapicic] was like, 'Did you hear?'" She calls Miller a "cool guy" but points out that the connection between Reynolds and Leitch was palpable: "There was definitely a vibe there." (As for another Miller, costar T.J. Miller—who has been accused of sexual assault and charged with calling in a fake bomb threat—Hildebrand says she never got to know him well, and calls the situation "unfortunate.")

I went to a few publicists and [my sexuality] was on the forefront of their mind, like 'We can keep this under wraps.' It surprised me because I was like, 'I didn't suggest that.'

I know you're wondering what Reynolds is like on set. You're not alone, as I quickly discovered. "That's my most-asked question ever," she tells me. OK, so I'm basic, and I can accept that. But seriously, please tell us what he's like; America deserves to know. "He has this new-dad vibe that people don't really know about," she says. Indeed, among the favorite moments for cast and crew were the handful of times Reynolds' wife, "Queen Blake" (that's what Hildebrand calls her; SAG calls her Blake Lively), was accompanied by the couple's two Deadpools-in-training. "They'd be in their pink superhero suits, running around, having a grandiose time," she says of the couple's young daughters, James and Ines.

Between the pink-clad tykes and Deadpool 2's emphasis on the Merc With a Mouth starting a family, you might assume that Hildebrand has come down with a bad case of baby fever. You'd be wrong. "I personally do not want children," she tells me, chuckling at how that sounds out loud. "But I do love children, and I love kids. I just couldn't imagine having the responsibility of another person." Has this topic come up in her current relationship? "I don't know—not really. Not at this point." Interesting.

Hildebrand's career trajectory is the type that continues encouraging Texas teens (and those from the other states, too) to chase their caped-crusader dreams. But her quick flight to the top is not without its turbulence, and she admits that there "absolutely" have been more tough moments than she expected. "I find that the longer I spend here, I get a little self-conscious, and I kind of have to take some time to myself and re-ground myself. Because it's hard. It's not an easy community to be in," she tells me. "I don't know what I thought it'd be like—I just was like, 'Hollywood!' It's a difficult culture. It's easy to feel isolated and lonely. Those are things that I definitely didn't expect, but I also was really young. Maybe these are just life lessons that I'm learning in general."

Of course, it helps that she lives with someone who understands the travails of the industry. "It is really nice to have someone I can come home to and be like, 'These are my first-world problems!'" she says. As for which problems she'll have to complain about in the future, that remains to be seen. Hildebrand knows that Reynolds and the franchise's writers must be bouncing ideas around for a third film, but she isn't privy to the possible plans just yet. She also claims she hasn't been directly told anything about a potential spinoff, but that she's heard the rumors, "so I'm just going to pretend that I didn't. Every time I hear something, the opposite happens." She's quick to point out: "I'm totally for a spinoff, if that's a thing."

This is the part where the profile will give some anecdote to sum up the subject, where she's been and where she's heading, the dichotomy between her affinity for dramas and her association with a huge franchise, the push-and-pull between how much she shares with her fans. Every good profile includes this. Well, no profile is fucking perfect.