By now, the fellow smiling impishly on this month's cover needs no introduction; but in case you've been away for the past 10 years, his name is Burt Reynolds, and he's a movie star. In fact, he's the world's biggest movie star, even though he stands only 5'5", weighs 122 pounds and likes sheep and young boys. Only kidding there, Burt. Reynolds is actually about six feet tall, weighs around 175 and likes women.

Boy, does he like women. His reputation as a hyperactive Lothario has been fueled by rumored romances with everyone from Catherine Deneuve and Lauren Hutton to such non-Hollywood types as tennis ace Chris Evert and country singer Tammy Wynette. But that's only rumor. The documented loves of his life have been ex-wife (and former
Laugh-In
comedienne) Judy Carne, Dinah Shore and his current flame, Sally Field.
For most of this decade, Reynolds has labored in low-level action films that critics have hated but moviegoers have loved. Now firmly entrenched as the screen's lending box-office attraction, Reynolds reportedly gets $3,000,000 a picture, and that's just when he hires out as an actor. Reynolds is also a director, and has lately taken a fling at producing his own films.
The End
and
Hooper
, the two movies he coproduced, between them will gross about $100,000,000.
Reynolds has vaulted to superstardom on the strength of his charm and comedic skills. In most of his roles—including his detective duties in
Shamus
,
Fuzz
and
Hustle
—he portrays a kind of macho pixy who often doesn't take himself or even the film he's in very seriously. Thus, in
Smokey and the Bandit
—the
Gone With the Wind
of good-ol'-boy movies—the film's biggest laugh comes when Reynolds breaches cinema's third wall by winking at the audience. And it's an audience he has shrewdly built for himself through frequent appearances on
The Tonight Show
and other TV talk fests. For a man intent on becoming a pro-football player 25 years ago, life has sure taken a couple of funny bounces.
I am very, very certain that if not for the [Cosmo] centerfold, I would have been nominated for an Academy Award for my work in Deliverance. Which is why, if I had to do it again, I would not do it again.

Born on February 11, 1936, Reynolds grew up in Riviera Beach, Florida—not far from Palm Beach. He was the son of the local police chief. At Palm Beach High School, he lettered in baseball, basketball, track and football, his favorite sport. A speedy, all-state running back, Buddy Reynolds received scholarship offers from 26 colleges and eventually settled on Florida State when its then-head coach, Tom Nugent, pointed out the obvious advantages of attending a school whose student body was 75 percent female. The highlight of Reynolds' freshman season came against Auburn, when he ran 54 yards from scrimmage before being knocked cold on the one-yard line by a War Eagle tackler named Fob James, who has since succeeded George Wallace as the governor of Alabama. The following season, a knee injury put an end to Reynolds' football career, and left him in a state of despair. "I didn't want to end up sitting in a bar and talking about the good old days, like a lot of old jocks do," he recently told a visitor. "It's shattering when you've been someone for a brief period in your life, and then suddenly it's over and you're nothing."

Reynolds left Florida State and enrolled at Palm Beach Junior College, where, at the suggestion of an English teacher, he tried out for—and got—the role John Garfield made famous in Outward Bound. "At that point, I realized I needed to be better than everybody else at something, but I didn't know what," he recalled. "Athletes are performers, and when I got the part, I realized acting might be exactly what I was looking for."

After my marriage to Judy broke up, I dated a lot of girls, to the point where I woke up one morning and had absolutely no idea who that was in bed with me.

After a year of junior college, Reynolds worked in summer stock and then moved to New York City, where he studied acting under Wynn Handman of the Neighborhood Playhouse. He then became a stunt man on TV dramas, which led to a Universal contract and featured roles in
Riverboat
and
Gunsmok
e. Following a period during which he played bad guys on innumerable TV series, Reynolds landed a series of his own in 1966, when he starred in
Hawk
. Since then, he hasn't often been out of the public eye.
To interview Hollywood's reigning male sex symbol,
Playboy
sent freelancer Lawrence Linderman to meet with Reynolds at his home in the Holmby Hills
section of Los Angeles
. Linderman reports: "When he's not on his ranch in Florida, Burt Reynolds lives in a handsome Spanish-style home that, thanks to California's insane real-estate spiral, is now worth several million dollars. The two story house contains a number of expensive and exquisite Western Paintings, a recent enthusiasm of Reynolds', and outside there's an $80,000 tennis court and what appears to be an Olympic-size tiled swimming pool.
"When I met him, Reynolds was wearing tapered white-satin swim trunks and black Nike running shoes. Without too much in the way of preliminaries, I followed him out of the house, down a steep flight of stone steps and around back to the pool, passing a garaged Rolls Royce and a Trans Am on the way. Reynolds is built like a tall middleweight boxer, well muscled but thin. 'You can never be too rich or too thin,' he told me when we got to the pool. He then lay back in a chaise lounge, spread sun lotion on himself and proceeded to work on his tan. Bruiser, his huge Rhodesian Ridgeback, sat at his feet. I sat at his feet. I'm very good at sitting at the feet of celebrities. I felt like I was back interviewing Muhammad Ali, except that Muhammad's got the game down to a science: He whispers.
"Reynolds, as it turns out, is a highly candid man who's a lot friendlier than he lets on at first, especially to people bearing tape recorders. After a rather stiff first meeting, Reynolds and I wound up talking for more than 13 hours, and the resulting interview will, I think, surprise a number of readers. Before meeting him, I'd been struck by the number of times he'd talked about wanting to be known as an accomplished actor. It provided the opening subject for our interview."
A conversation with the profane travel expert on weird foods and combating his own drug addiction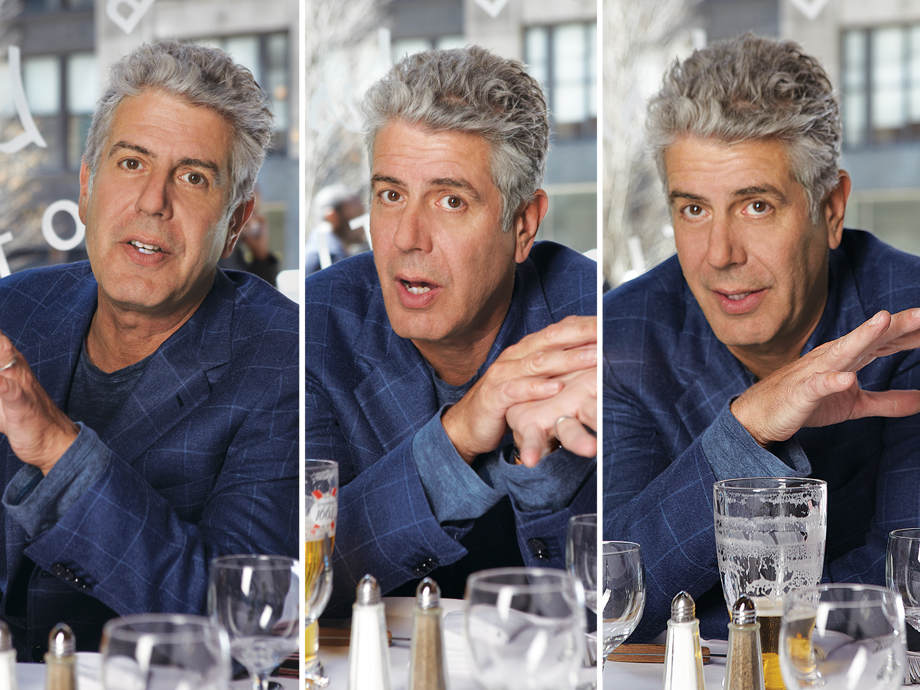 For almost two years now, you've been publicly campaigning to be taken more seriously as an actor. Is it paying off?
Yes, I think it is. For a long time, I've felt that inside this well-paid movie star is a starving artist, which makes me want to run in the other room and throw up--but does sum things up in a Sidney Sheldon sort of way. If you want to be a serious actor, you have to have serious material. I'm seeing better scripts now, and, I've heard from three of the directors I'd like to work with, but that's only just starting to happen. The kind of serious material I'm looking for is something like
One Flew over the Cuckoo's Nest
. I don't think I could have done that wonderfully crazy character better than Jack Nicholson, but that character was not out of my range.
Did you want that part?
Desperately. As a matter of fact, Milos Forman, who directed the picture, came to talk to me in Nashville about it, and it was between Jack and me as far as Milos was concerned. The problem I usually run into is that when I finally find a screenplay I like, the director feels that if he signs Burt Reynolds, he's selling out because he's singing the most commercial actor in town. If he wants to be known as an auteur and stay in good stead with the New York critics, he'll instead hire one of the darlings—
Robert De Niro
, Al Pacino or Dustin Hoffman. A lot of directors in this town don't realize that the hardest thing to do in movies is to make chicken salad out of chickenshit, and I've done that a lot. In fact, I've done that more often than not. Out of all the movies I've been in, I've had maybe three wonderful scripts to work with—
Deliverance
,
Starting Over
and
The Longest Yard
, the only one that was written for me.
If I was trying to prove my sexual prowess, why would I take a picture with my hand covering everything I had?—and I have small hands.

Are you saying that people in the movie industry don't think you can act your way out of a paper bag?
No, because that sounds like I'm sitting in this huge mansion in
Beverly Hills
, making a ridiculous amount of money and poor-mouthing my life and my career. At the same time, it does make me unhappy that this industry doesn't realize what I've done to become a movie star. This isn't the first time I've said this, but it bears repeating: I've become the number-one box-office star in the world not because of my movies but in spite of them. These were movies critics told people they'd be fools to see, but people went to see them anyway.
Were the critics right?
Of course they were right! But they were wrong in the sense that they didn't know what the public wanted to see. They weren't wrong about the material, which was rather lightweight, but why didn't they mention that I rose above the material? You know, If I were wonderful at playing a one-legged goose, I would get 1000 one-legged-goose parts. I happen to be really good at throwaway comedy, and so that's what typecasting comes down to in my case. I've done a Southern accent in at least a half-dozen films, but I also do a great Irish accent, a great Indian accent—I do a lot of accents, because I have a good ear, but I haven't been offered a chance to use any of the others. Let me give you an analogy: O.J. Simpson was drafted by the Buffalo Bills, and as an actor, I was drafted into certain movies. Other guys were drafted into other types of movies. They had better blocking, better management and better coaching. Incidentally, if some people are reading this interview right now and saying, "What an ungrateful asshole Reynolds is," let me remind them that I'm not ungrateful, that I care very much about the public and have tried to show it in every way I know how.
It sounds like you're doing a little grandstanding. If you feel that what critics call your good-ol'-boy pictures—films like White Lightning, Gator, W.W. and the Dixie Dancekings, Smokey and the Bandit, and so forth—are lightweight, why do you appear in them?
Because I love them. I equate them with Chinese food: They're wonderful, but an hour after you leave the theater, you want to see another movie. People are not going to sit around a party intellectually discussing a movie like
Smokey and the Bandit
. It is not a monumental, history-making film. You've got to call it what it is: a Saturday afternoon rainy-day movie that will make you laugh, feel good and have a lot of fun, which is why you may want to see it more than once. But there aren't any awards for that type of picture, and it's not going to be the highlight of any film festivals. Let's face it, when I made
Smokey
, I did not go out and buy a tux for
the Academy Awards
. The reason I'm mentioning
Smokey
is because it's a phenomenon:
Smokey and the Bandit
has made more than $200,000,000 and is one of the five top-grossing movies ever. [Official film-industry sources believe Reynolds' figures to be high—Ed.]
Sally [Field] is a very strong woman; she's career-minded and she's not an easy lady to live with. And I'm not an easy man to live with.

What made that particular Reynolds good-ol'-boy film work so well?
A lot of it was luck, because the script for
Smokey
was one of the worst I'd ever read. I really think it was the chemistry of the people involved and that it was time for somebody to do a C.B. picture, although there'd been a picture out called
Citizens Band
and it had bombed. Hal Needham, my roommate, was the
highest-paid stunt man
in the world at that time, and he came up with the idea for
Smokey
and wanted to direct it. I took him over to United Artists and they said if I'd be in it, he could become a director—but that he'd have to direct
Convoy
, another C.B. movie that later went right into the toilet. Hal then went to Universal, and they gave him a go-ahead. I had only four weeks available before my next picture, but Hal ingeniously figured out how I could do it in that little time, and after that, we went to work. And we just improvised everything. Gleason pretty much ad-libbed his entire part, Sally Field—who was ready to happen—is a terrific improviser and I'm real good at it, too. And for a country singer, Jerry Reed is phenomenal. We'd all just sit around and do shtick together, and somehow it all kind of fit.
Smokey
was a Happening, and it will never happen again like that.
Perhaps not, but your next good-ol'-boy film, Hooper, was also an enormous box-office success. Why do you think you're able to draw people into theaters?
I think it's because I have the ability to make people happy and to have them say, "I like him." People are tired of getting screwed by everything and everybody, and in my pictures, I like to play this character who's not quite all there, who steps down from his truck and scrapes the manure off his boots and who's always fighting for his dignity. He's anti-establishment, he's funny and he's somebody to cheer for—a hero. It's one thing to do that kind of film and quite another to do a film for the Bel Air circuit and the New York film critics. Films are made for them, and the successful ones make all of $3,000,000.
Would you care to name a few?
Oh, there's lots of 'em, but some have been made by friends of mine, and they are friends, so I'd rather not mention them.
How about giving us the titles in French?
Some of those films are French. I remember that period when
France used to send
us all these crumpled-up black-and-white movies that looked as if the negative had been deliberately scratched up and jumped on, and I always thought they ran the film backward. People would actually yell and scream how wonderful those things were, and somebody would always tap me on the shoulder and say, "Isn't this brilliant?" And I would say no. I freely admit that I'm not an intellectual. I will also tell you that my movies don't play the Bel Air circuit, which is where you get Academy Award nominations, but I have an underground following there: Movie executives can't wait to get a copy of
Smokey and the Bandit
for their kids, and they end up loving it themselves. It really was the most popular movie in this town for two years, but nobody thought of it in terms of prestige or awards. Right now, whatever film I do, the movie-industry response is, "Oh, it's just another one of those movies." I promise you that if I'd just come out of Greenwich Village and had been acting off-Broadway and nobody knew who Burt Reynolds was, I would have been nominated for my work in
Semi-Tough
. There's no question in my mind about it. I think it was a good performance, and I got the best reviews I've ever gotten. The same thing happened with
The End
. It was ignored by the film industry because, "Oh, it's a Burt Reynolds picture and he directed it, so it's probably one of those kinds of movies."
What's responsible for that?
I don't know. I think they were too busy running around seeing
Autumn Sonata
or something. Clint Eastwood has the same problem I do: He also has a reputation for making the same kind of movie over and over again. But I remember when Clint made a film called
The Beguiled
, and no matter how brilliant Geraldine Page may have been in that movie, it didn't mean anything, because it was a Clint Eastwood movie. That kind of thing really gets me angry, and it also spreads to the people working with me in a movie. Dom DeLuise gave a terrific performance in
The End
—and he was totally overlooked for a Best Supporting Actor nomination because most members of the Academy didn't bother to see the film until well after they could've nominated him. But people like Mel Brooks thought Dom was brilliant, and on the basis of that film, Dom has really gotten hot. He's now co-starring in a movie with Anne Bancroft and he was asked to direct another film. The End shot him into a new area entirely.
Did you expect it to do the same for you?
Yes, but it didn't. I've now directed two films; both came in on time, both made money and the second one made a lot of money. I went from directing a redneck Southern picture called
Gator
—which made back the price of the negative in Georgia alone—to a really dangerous thin-ice film that everybody had turned down for six years.
The End
was a black comedy about a man dying of a rare blood disease, and the film will wind up grossing about $40,000,000. I think it took great courage to do that movie, but nobody ever mentions that.
Are you telling us you directed and starred in The End as an act of courage?
What I'm telling you is that
The End
was about a very dangerous subject, and I've always felt that if you want to move quickly from last place to first, you have to do it the most dangerous way possible. Instead of tunneling my way through, I prefer being shot out of a cannon. Somebody's gotta say, "Jesus, he got shot out of a cannon!" But nobody did. Meanwhile, I did the best job I could with a very difficult subject and made an entertaining, successful film that I'm really very proud of. And if I had to do
The End
over again, there're only two things I'd change: I'd take out a lot of the profanity and all of the Polish jokes, because they weren't necessary. But otherwise, I wouldn't change a thing.
Are you now planning to abandon the good-ol'-boy films in favor of weightier roles?
No, and that's a misconception everybody seems to have. Those films don't chafe me in any way. If I could do a
Coming Home
, I'd go right back and make
Smokey Goes to Paris
. Let me put it this way: I saw Burt Lancaster in
The Crimson Pirate
on TV the other night, and I enjoyed every minute of it. I'm sure that Burt got to the point in his career where he said, "I'm not gonna do that crap anymore." So he formed Hecht-Hill-Lancaster and suddenly he was in films like
The Devil's Disciple
. I love Burt's work, but when I sat there watching
The Crimson Pirate
, I found myself jumping up and down and enjoying him 1000 times more than watching him in some of his later films. And 100 years from now, who's to say whether, if I did my
Coming Home
, people wouldn't say, "What do you want to see tonight? God, let's not see anything heavy. Let's look at
Smokey and the Bandit.
" I am really in the business of being an entertainer, not like those guys who live in lofts.
Are you referring to the actors you mentioned earlier—De Niro, Pacino and Hoffman?
Sure I am, but my jealousy isn't directed at them, it's directed toward the Coppolas and other directors who won't give me a shot because I'm a movie star. So they keep going back to the guys who hide in their lofts and who come out to act and then go back into hiding. But they don't have to hide, because nobody knows who they are. When was the last time you heard someone say, "Let's go see De Niro?" In New York, maybe, but in Iowa or Alabama? Name the most respected actors in America and you'll be shocked at how many people don't know who they are. I mean, people will know about a movie that won six Academy Awards, and they'll say, "Hey, we better go see that thing, Martha, hot damn!" But they don't know who those people are. Those guys can walk right down the street, and if anybody recognizes them, he thinks they're one of the two other guys. And that really pisses all three of them off, which is probably why they hide. I must get off this by saying that I don't know De Niro or Pacino, but I like their work. I know Dustin only because a few years ago I went over to him and told him I thought he was the best actor in America. I'm not sure that's true now, but at that time I think it was. Anyway, I met him, he was wonderful and charming and funny, and I liked him a lot.
If you don't have any animosity toward those guys, why do you do numbers on them?
Because I think they "safe" it a lot in terms of who they are, not in terms of their work. They have this mystique about them and they own the New York critics. I mean, they own them. You know, I think it would be very interesting if the four of us were to have an acting contest. I would like to see me doing
The Deer Hunter
or De Niro's new film,
The Raging Bull
, and I'd like to see him play Billy Clyde Puckett in
Semi-Tough
. I would like to play Lenny and see Hoffman do
W.W. and the Dixie Dancekings
. I'd like to do
Dog Day Afternoon
and see Pacino do
Smokey and the Bandit
. And then we'd really see who came up to the standards of the other actors.
What do you suspect the outcome would be?
I think I'd be able to do pictures they've done better than they could do pictures I've done. To put it another way, I can do bad material better than they can, and I can do good material almost as well, and some of it as well. I don't really think I could do
Dog Day Afternoon
better than Pacino—he was brilliant in it—but I think I'd shock people with how good I'd be. I'd do it differently, but I'd blow some people away with my performance.
Is it possible not to resent actors who get roles you'd like to play?
I resent it only when somebody gets a chance to do something wonderful and screws it up. Otherwise, no. For instance, I like Jimmy Caan a lot, and I wanted the part of Sonny in
The Godfather
. Jimmy did it well, so how can I resent him for that? What I do resent is that I absolutely could not get in the door. As far as those other actors go, the fact that I'm jealous of the parts they've played—in spite of the success I've had—is the highest compliment I can give them. If Robert Redford went around saying, "Why didn't I get
W.W. and the Dixie Dancekings
?" I'd be so thrilled I'd write him a fan letter.
Do you know Redford?
No, never met him. People say that he's perfect. I'm told that he's very businesslike, has a good mind and is really smart about Bob Redford, and I believe it. And until I did this interview, I thought I was real smart about me.
Are you worried that you won't come off as the funny guy people see on The Tonight Show?
I just find that my humor comes out of inflection and timing, and doesn't really translate all that well in print. I mean, I can sit around and say what I think are amusing things and people will laugh and then, when I read what I've said, I haven't been funny at all, just biting and bitchy, so I have to be careful. You know, people usually come to interview me with the idea that it'll be
The Tonight Show
, and when I don't do it for them, it pisses 'em off and they write, "He's a sullen, pseudo-intellectual man." I don't believe in being on all the time, and when I want to do
The Tonight Show
, I'll do it on TV.
Is it unreasonable for people who've seen your films and who've watched you on The Tonight Show to assume that that's who you are?
It's not unreasonable at all, and they're right, that is me, but that isn't all of me. I mean, I go into the crapper, too, and it doesn't come out in a little plastic bag once a month. And I actually get sick and I cry at movies and I sometimes have trouble breathing. I guess what I'm saying is that I can step back and talk about Burt Reynolds the movie star and the
Tonight Show
guest and the rest of who I am, and sometimes they're all three combined and sometimes they're not. But it doesn't cause me to go to a shrink, because this kind of thing is true of most actors, and the ones who've destroyed themselves—like Marilyn Monroe—are people who haven't been able to step back and look at that.
How important has The Tonight Show been to your career?
It's been more responsible for my success than anything else. The first time I was on the show was about 1971, and after the first commercial, Johnny Carson asked me if I wanted to be a guest host and I said yeah, mostly because I was too dumb to be scared. I did maybe ten guest shots on
The Tonight Show
before I finally hosted it, and by then I'd made a study of what Johnny does. He's really a genius, you know, but you only find that out when you sit in that chair and have four people with you who won't talk or will talk too much, and somehow you have to make them all comfortable and you also try to make them look good.
How do you do that?
By trying to have fun and sometimes by getting people into areas no one connects them with. For instance, one night Roy Rogers came on and I told him I'd heard he was a swinger before he married Dale Evans and he said no, he wasn't. I told him, "Look, Dale won't be mad if you tell me about those days. She's not here and she's probably not even watching the show. And, besides, all those adventures you had with the ladies came before you met her." And Double R, as I call him, said things like, "That doesn't matter with her. God, she blames me for everything," and suddenly, you're not dealing with Roy Rogers, king of the cowboys, but with a married guy who's defending himself, and it was fun, and Rogers is fun.
I heard a wonderful story about him, and if it's true, there's nothing really sacrilegious about it. So I'm sorry, Roy and Dale, but I really want to tell it. One Sunday, a friend of mine went out to the nonsectarian church Roy and Dale belong to, and when the service was over, he walked out, saw Roy standing under a tree and went over to say hello. And Roy said, "Hi, did you like the service?" My friend said yes and Roy said, "I'm glad you did. You know, it's wonderful for all types of people to come under one roof and talk to God, each in his own way. And then, when you come out here and look at the sun shining and the white clouds, you just know that there's a Lord. It makes me feel so good that you know what I'm going to do now?" My friend asked what and Roy said, "I'm going to go home and fuck Dale." Well, this guy fell down laughing and he swears that the story's true—and the little bit of time I've spent with Double R doesn't make me totally doubt it.
Obviously, you can't put that kind of humor on
The Tonight Show
, but I do try to get people talking about things no one suspects they're involved in. Anyway, the first night I finally hosted the show, well, it was unbelievable. I mean, even today, people still talk to me about it.
What was remarkable about it?
Well, when they asked me to do it, I told them to get Judy Carne, my ex-wife, to be a guest on the show, and they asked me if she and I were still good friends. I said, "No, I haven't spoken to Judy in six years and I don't want to speak to her until she walks out onto the stage. It will be a Happening—and it'll either go right into the toilet or it will be sensational." There was still a lot of hostility between us, and there's a lot of comedy that comes out of hostility—especially my kind of comedy, and, knowing Judy, her kind of comedy as well. She telephoned me the day of the show and asked, "What am I doing here?" I said, "You're going to be on the show tonight, but I don't want to talk to you now, so I'm going to hang up on you." She asked if I had any advice for her and I said, "Yes, just show up and have fun," and that was it.
That night, Judy and I were on for more than a half hour together, and it was explosive, frightening and beautiful. She cried and laughed and made me laugh and it was just fabulous, especially for me, because practically every line she threw me was a straight line. I mean, the first thing she said when she sat down was, "God, you look good," to which I said, "I'm sorry to say, so do you." She asked me what I'd been doing and I said, "Oh, just sitting home with my Burt and Judy towels. Anybody want any?" She then told me she'd been married about a month before in Central Park, and when I asked how the wedding went, she said, "Well, it rained. I should have known right then." Her marriage was already in trouble.
The audience loved her and wanted us to get back together, and there really were a lot of sparks flying. You know, a lot had happened to me in the six years since we'd been divorced. I'd grown up, I'd gotten a lot of confidence and I'd become an adult, so I told her all that and said, "You know, whatever problems we had, the divorce was my fault." She said, "No, it was my fault," and all of a sudden we were going back and forth about whose fault our divorce was, and we forgot where we were and it was very funny. But then she did a dumb thing. She asked me who I was dating, and I said a very nice woman, and Judy said, "Oh, yeah, I forgot—you like older women."
The audience immediately left her—because of Dinah. I mean, you do not spit on the American flag, and you do not say bad things about Dinah Shore. Ever. I really had to let Judy know what a dumb thing she'd said—I mean, she didn't even feel the audience leaving her—and I also had to protect somebody I cared about. So I went for her and said, "Not older, Judy, just classier." At which point the audience applauded.
Did things deteriorate from there?
No. Judy teared up and said, "I was a fool to say that and I'm sorry. I really respect her. I was just going for a joke." And I said, "I know that and they know that, too, and they still love you. Don't you still love her?" And the audience applauded and she had them again. I took her out and I brought her back, which is the m.c.'s job. I just didn't want the audience to leave disliking her. In fact, the rest of the time it was pure loving, but very funny and very sad. Judy was talking about how she'd screwed up her life, but not in a real I'm-sorry-for-myself way. And afterward, we went to The Plaza and had a few drinks with her mom and dad, whom I really like a lot. But I knew it just wasn't a good idea to go any further than that.
Were you ready to?
I think it could have happened, but I was in love with another lady. I know this really isn't the
Playboy
philosophy, but I don't screw around: When I'm involved with one woman, I'm involved with one woman, period.
You've never had little lapses?
Only between romances, and then I am carnivorous. I mean, there are certain parts of the country where I could get a most-valuable-player or best-all-round-athlete award, but when I was involved with a woman—and I'm involved now, with Sally Field—no.
What was the longest time you weren't involved with a woman?

Probably the first few years after my marriage to Judy broke up. I dated a lot of girls and it finally got to the point where I woke up one morning and had absolutely no idea who that person was in bed with me. I mean, I couldn't even remember her face and I recall crawling around on my hands and knees to look in her wallet and find out her first name. I hoped to God that she hadn't borrowed Betty Somebody's driver's license.
So you were just hopping from bed to bed?
Oh, it was hectic. In 1966, I was in New York, doing
Hawk
on TV and having a great time. New York is a terrific city filled with beautiful ladies and I was meeting them all over town—and usually in bars, because I was then drinking about a fifth a day. There was a lot of action, and it was almost a running joke with the crew: Whenever a girl came to visit me on the set, we used to have to get her out the door before the next one came on. I also met a lot of women through actor friends, and things often happened with actresses who came in the show. I never really made any overt moves with the actresses, because I didn't have to. Women would report to work having been told, "Watch him, he'll take a run at you," but I wouldn't, so by the fourth day of filming, they'd begin wondering why not, and one thing would lead to another. I was easy. And then there were airline stewardesses who kept flying in and out of my life. I'd like to sum this up by saying I was just an average guy.
At what point did this average guy begin confining his activities to one woman?

It was after
Hawk
ended. I fell in love with a beautiful Japanese girl named Miko and was lived together for about four years. God, she was wonderful. During the time we were together, this very nice, gentle girl saw me in the pits and she was there when things started to break for me. When we met, I was off making some of those movies that play at three in the morning or three in the afternoon. Did you ever see any of those movies that TV stations show when they announce, "It's Burt Reynolds Week"? All week long, you won't see
Deliverance
or
The Longest Yard
, only garbage like
Angel Baby
and
Skullduggery
and other films I've tried to buy so I can burn the negatives. I was then making the worst pieces of shit, including a spaghetti Western called
Navajo Joe
.
I just went crazy. I started screaming and ripping all the feathers off until I was standing there with just my jockstrap on.

Was Eastwood then doing his spaghetti Westerns?
Yeah, he was. When I got to Italy, Clint was doing For a Few Dollars More. His salary had jumped from $15,000 for A Fistful of Dollars to a fast $150,000. Clint's director was named Sergio Leone, mine was named Sergio Corbucci, and if we somehow could've switched Sergios, the road up might've been a lot shorter for me. Corbucci felt he was in a contest with Leone, and I remember our first script conference. He said, "Listen, he killa five guys inna first five minoots; we gonna be more beeg. You gonna killa hondred guys first five minoots." He meant it, too. I remember saying, "Sergio, I've shot a guy, I've strangled a guy, I've garroted a guy, I've ripped a guy's balls off, I've pulled a guy's eyes out, I've torn a guy's nose off—I'm tired, Sergio. How many ways can I kill?" Corbucci got real quiet, and then his eyes lit up and he said, "Dyno-mite!" So the last five days of filming, I killed about 10,000 people in the movie with dynamite.

My costume was really terrific. Dino De Laurentiis was the producer and I don't know what I expected, but I know what I got. The wardrobe guy was a little old man who showed me a drawing of Indians at Plymouth Rock who were wearing long robes. He said only one word to me: "Indiano." His assistants then covered me with feathers until I looked like a float for the Rose Bowl parade. I'd go in every day and this little old man and his assistants would stick all those goddamn feathers on me and I'd complain that they were making me look ridiculous. And every day, he'd step back, look at me and say, "Indiano." Finally, after about a week of this, De Laurentiis came striding onto the set and when he did, I just went crazy. I started screaming and ripping all the feathers off until I was standing there with just my jockstrap on. Dino looked at me and said, "Perfecto!" And so I did that picture wearing a Japanese slingshot and a Natalie Wood fright wig.

Were you at least being paid well for it?
No, I was making terrible money and feeling miserable. I went on to do some more bad pictures and when I finished one called Impasse, I realized I'd come to an impasse in my career, so I told myself I'd better get back into TV.

Was that easier said than done?
No, I was hot as far as TV went, because Hawk had gotten great reviews and I'd done only movies since then. Quinn Martin was then the ace producer in television, so I went to see him with my agent, Dick Clayton, and told him, "Quinn, I'm picking you to work with, I'm not waiting for you to pick me. Get me a series." He said, "Great, the networks love you." I told him I'd play anything but a cop, because Quinn Martin's cops weren't exactly famous for having a sense of humor. Quinn thought about that for a second and then said, "Who's the highest-paid actor on television today?" I told him it probably had to be one of the guys on Bonanza, because their show had then been on the air for something like 10 years. They had to be making anywhere from $12,000 to $20,000 a show. Martin said, "If you play a cop, I'll pay you whatever they're getting." Suddenly, it dawned on me that I'd always wanted to play a cop. I sold out completely and went to work on Dan August, which lasted 26 episodes. By the time it was finished, I was finally on my way, mostly because I'd kidded around for 12 nights in a row on The Merv Griffin Show. Everyone in Hollywood was sure I'd gone somewhere and had a personality transplant.

Why? Did people think you were a hard case?
Well, between Hawk and Dan August, I'd been playing characters who weren't exactly laugh-a-minute guys, and ever since my days in acting class in New York, I'd had a reputation for being somebody who liked to fight.

Was that the truth?
When I first went to New York, yeah, that was true. I remember getting into beefs with actors, and fighting with drunks and panhandlers, and pulling cabdrivers out of their taxis, which was really no big deal, because cabdrivers aren't tough and aren't usually in shape, and I was. I would just about fight anybody at the drop of a hat, mainly because I didn't know that I could lose. I've since realized that not only can you lose a fight, you can also lose a lip, a nose, an eye or an ear. If I'd gotten beat up a few times, it would have straightened me right out, but that didn't happen.

What did?
Well, my fighting days pretty much came to an end after an incident that I'm not very proud of. I mean, it's just the kind of horror story that could happen to a jock asshole who thinks he's really tough, which was me when I first went to New York. I was then in acting class, and before classes, me and this guy from Calif. would sometimes have a couple of drinks in a place called the Theater Bar on 44th Street. I remember one afternoon when we ducked in there around 5:30 to get out of the rain. The Theater Bar was long and narrow, about the size of a streetcar, and on a rainy day, it would be real dark inside. The bar was on the left, and as I went to sit down, I passed a big, big guy with huge shoulders. I sat two stools away from him, my friend was on my right and I was drinking a beer and tomato juice when the big guy all of a sudden started saying, "Motherfucker ... cocksucker ... motherfucker." He was directing that to a young couple sitting at a table, so I turned to him and said, "Hey, there's a woman in here." Being from the South, I mean, in those days, it was not at all surprising for me to tell my friend, "Can you imagine that? The guy is drunk and is insulting that couple for no reason at all. If he says one word to me, I'm going to nail him."

Well, right on cue, the guy turns to me and says, "Hey, asshole," and starts to reach for me. I remember looking down and planting my right foot on this brass bar rail for leverage, and then I came around and caught him with a tremendous right to the side of the head. The punch made a ghastly sound and he just flew off the stool and landed on his back in the doorway, about 15 feet away. And it was while he was in mid-air that I saw ... he had no legs. Well, there was dead silence in the bar, but then the bartender went right on shining glasses, the young couple went right on talking and no one would acknowledge what had just happened. The guy I hit, meanwhile, was like a turtle who'd been turned upside down, and he was making a noise like, "Eeaaahhh. Eaaahhh." I had to get out of there. I stepped over him, looked down and said, "Sorry," and then saw his wheelchair folded up and tucked in next to the doorway. I then realized the reason for his enormous upper torso. My friend from California never talked to me after that, and to this day, whenever my name is mentioned, he says, "That Reynolds is just the meanest man I ever met."

Did that convince you to stop fighting?
No, but for years afterward, I got the shit kicked out of me because every time some guy would choose me out, I'd be checking to see if his legs were OK while he'd be pounding me into the earth. No, that's not true. Actually, I didn't get into a fight for a long time after that, but I still had that reputation years later. As I said, though, when I went on the Griffin show, everybody did a double take, and then my life changed very quickly. That's when Carson invited me on his show, and that's when I started seeing Dinah Shore.

How did you meet her?
That also came about as a result of the Griffin show: She'd seen me on it and thought I'd be good as a guest for her show. Her staff invited me to come on, but she taped during the day-time and I was still shooting the last few episodes of Dan August, so I couldn't make it. Besides that, I really didn't know what the hell I could do on her show, because I'm not a cook and it was a cooking show. But Dinah really wanted me to be a guest--and I don't want this to be confused with anything sexual, because that just wasn't the case. Anyway, it got to be a huge joke with her crew and producers, because every day they would tell her, "Burt Reynolds will be on tomorrow." Well, one afternoon her producers came over and told me this whole story about how they kept kidding her about me. They asked if I'd come to the show and hide in a closet on the set, and then, when Dinah opened the closet—oncamera—I'd step out. I told them I'd do it, and also told them to build me a breakaway table and let Dinah do her cooking on it. Well, they sneaked me into the closet and after the show started, Dinah opened the closet for mustard or something and I popped out and we just immediately started laughing and giggling. The chemistry was terrific. And so, just before I made my exit, I said, "Will you come to Palm Springs with me this weekend?"

You propositioned her while the show was on the air?
Yes, and she was completely flustered by it. She started going, "Umm, uh... you're crazy ... umm... no." I said, "Look, I'm going to ask you just one more time, and then that's it. I want you to know that. I mean, I don't want to make a fool of myself. Will you come to Palm Springs with me this weekend?" Dinah said no again, so I told her, "OK, that's it," and started walking off the set. When I got to the door, I turned around and shouted, "Then I'm going to kill myself!" and I ran and dove through the air and crashed on top of the table she was cooking on, and everything came down on me. Dinah didn't know it was a breakaway table, and she ran over and looked at me and thought I was absolutely insane. It turned out to be a terrific show. Afterward, I went backstage and talked with her for two hours, and, well, I thought she was incredible. She had a wonderful sense of humor, she seemed very kind and she was totally guileless, almost like a 12-year-old kid. That night, I went home to my lovely Japanese girlfriend knowing I wanted to take a run at Dinah. And I thought to myself, Unlike any other relationship I've ever had with a woman, I'm not going to do what guys always do--sneak around or say, "Why don't we date other people for a while?" So that night I just told Miko, "Look, it's over."

Just like that?
Just like that—and we'd really been happy till then. But I was going to try to go out with Dinah. I really didn't know what would happen, but even if she shot me down in flames, I knew she was somebody special. But, really, I wasn't about to be rebuffed. I was going after her.

What was Miko's reaction?
There was not a tear in her eye. That was a long time before the Michelle Marvin case, but I remember telling Miko, "You've lived with me and it's not fair that you go away with nothing. What do you want?" The Oriental mind is fascinating. She looked at me and very straightforwardly said, "I want a car, preferably a convertible. I'd like an apartment in Malibu and some money, $300 or $400 a week, whatever you can afford." I really hadn't figured it that way. I thought maybe she'd settle for some record albums. But I said, "OK, I'll do it, but for how long?" Miko said it would take her a year to get settled and to find work—she was a beautiful Japanese actress and there aren't that many parts for Japanese actresses here, so the whole thing made sense to me. I called my business manager and we made the necessary arrangements and I took care of her for a year. And at the end of that year, almost to the day, she married a very big man in the movie business and she's now a mother, and I hope she's really happy. Not to sound like a real putz, but, like most of the women I was with, I still love her. That doesn't mean I'd want to jump her bones, but if she called me right now and said, "I'm in trouble and I have to move out," she could move in and Sally would have to handle that. I still care about Miko, even though I haven't seen her in about seven years. At any rate, she left and then I started dating Dinah.

Was Dinah at all reluctant to get involved with you?
Yes, I think she was, and there was a lot of talk from a lot of people about, "Well, he's just going to date you until he gets hot, and then he'll dump you." Before we really started going together, I kind of courted her for a year, and in that year, she dated a lot of other people and so did I. I know that a lot of her friends told her, "You're totally out of your mind," and there was a tremendous amount of press bullshit about older woman--younger man, and it was so boring. I swear to God on my mother and father that I don't know or care how old she is, and I've never cared about that. I was born and raised in the South, and when I was very young, I realized that I had no racial prejudice about blacks, whites, yellows, reds and all that. And that feeling lapped over and left me with no prejudice about age. Dinah and I had to deal with the age stuff in the sense that we were constantly being asked about it, but I'd just say, "I don't know about that, and get out of here or ask another question, please."

Were you bothered by all the public interest in your romance?
I was, but Dinah wasn't. Her mail probably increased 50 times over when we started going together, and a lot of it was positive, but a lot of it wasn't. Dinah stopped reading negative things about herself a long time ago, and she tried to teach me to do it. I've finally learned how, but I couldn't do it at the time, and it would kill me. It didn't bother Dinah, though. She's a very strong, positive woman and she had more of an influence on me than anyone else in my entire life. Really, if I have any class at all, Dinah was the direct cause of it. I learned a lot from her.

Such as?
For one thing, she taught me how to control my temper—and if I didn't pick up on that completely, at least I learned how to take a negative and turn it into a positive, which you can do. What I mean is, if someone thinks you're wonderful, there are no surprises; but if someone is negative toward you and you're able to win him over, he'll become your biggest fan and champion you to the end. Dinah turned out to be a lot more sophisticated than I'd thought—and I probably turned out to be a lot less sophisticated than she thought. She's totally unspoiled by her success, and always surprised me with her genuine interest in people. I can't even count how many planes we missed after someone in an airport would come up to Dinah and start talking to her. She'd be saying, "That's nice, that's so nice," and I'd be off to the side, mumbling, "Hey, we got a plane to catch." And when it came to any trouble, she was like a rock. Dinah used to constantly tell me that truth rises to the top like cream and that a lie dies and goes away, no matter what anybody says or writes about you. I doubted that until she proved it to me.

When did she do that?
When I was making The Man Who Loved Cat Dancing, and all the shit hit the fan with the Sarah Miles incident. We were filming in Gila Bend, Arizona, and this poor guy, David Whiting, who was a friend of Sarah's did himself in by taking. I don't know, maybe 50 Quāāludes. It seemed like every newspaper in the country was writing that it was a love triangle, and for a while there, I thought I was going to be tried for manslaughter.

How close did you come to that?
Too close. What happened was that Sarah and this guy were staying in the motel the rest of us were in, and they had a fight the night before my birthday. There'd been a little party held earlier for me, and afterward. I came home and went to bed. Later on, Sarah knocked on my door and said, "He's gone crazy. We're having a fight. Can I stay here?" I went over to their room to talk to him, but he wasn't around, so I came back and said, "OK, you can stay here." Sarah stayed on one side of the room, I stayed on the other, and nothing happened between us. Nothing. Next morning she got up, went to the room and found him in the bathroom. We called the police and they found a slight cut on the back of his head, which he probably got when he fell down. All of a sudden, there was some thought that I'd hit him; maybe they thought I also stuck a tube in his mouth and blew all those Quāāludes down his throat. The medical evidence ruled out any questions about his death, but the press played the story up big.

Because you and Sarah spent the night in your room?
Yeah, that was the hook. And all during that period, my phone never stopped ringing, reporters were always knocking on my door, and if not for Dinah, Dick Clayton, my agent, and Dave Gershenson, my business manager, I might've gone totally insane. I mean, I almost did go out of my mind. Things got to the point where press guys would double up on me. A reporter would come up and ask, "Who you going to kill this week?" and his photographer would then get a shot of me trying to kill the reporter in order to prove I was a murderer. Right in the middle of all this, I was supposed to be a presenter at the Academy Awards, and I didn't want to go. I was sure there'd be thousands of people waiting outside to boo me, and I didn't want to subject myself to that. Dinah said, "You're going. Don't worry, they know it's a bunch of crap." For Dinah, that was strong language. She turned out to be right, too. When we drove up to the awards, I climbed out of the car and got the biggest ovation anyone received that night. I was amazed. That pretty much put an end to what had been the toughest period of my life.

Not long before that, you were in the news because of your centerfold in Cosmopolitan. A number of Hollywood observers feel that was the turning point in your career. Do you?
That always makes me smile and pisses me off, because it turned out not to be a brilliant move. The Cosmo thing made me a household word for two weeks or six weeks or whatever, but for years afterward, I never went anywhere without having guys say, "Oh, I didn't recognize you with your clothes on," or, "Let me pinch your ass." I must've heard those lines 5,000,000 times. As far as my career went, almost everyone in the movie business who was in a position to crush my acting career said, "He will be gone and forgotten in two years." They were incensed that people were paying $60 a copy for Cosmopolitan, and that my name was mentioned five times on the Academy Awards show two weeks later, and that suddenly everybody was coming to me with offers to do pictures—not good pictures, schlock pictures. It was really odd, because everyone around me begged me not to do it and said it would ruin my career. But Deliverance had been shot and was about to be released, and I was sure that after people saw that film, no one would say that I couldn't act. Little did I know they'd still be saying it six years later.

Why did you want to pose nude in the first place?
Just to be clear on this, the nudity amounted to a quarter of an inch of pubic hair showing. I figured it was a harmless thing to do, because I had total control—I could pick the picture and all the negatives would be burned. I wanted to do a take-off on Playboy, because I thought the women of America should have a chance to stick something in their husbands' ears after having to come home and look at all those silicone pinups in the den and garage.

If you're referring to the Playmates, you're wrong about the silicone.
A mere slip of the tongue. Anyway, I was the one who wanted the whole thing laid out like a Playboy Playmate story. Behind the centerfold, I wanted to be shown pushing a shopping cart and saying, "My favorite colors are blue and pink and yellow," and, "I'm looking forward to becoming an actress." I didn't want there to be any doubt that it was a take-off on Playboy. But the thing backfired on a lot of levels. Women's libbers said it was chauvinistic, and I thought it was probably the most un-chauvinistic move ever made. A lot of shit came down. Looking back on it now, everybody says, "What a brilliant move. PR-wise, it thrust you into the limelight." Bullshit. Bullshit!

Are you denying that the Cosmopolitan centerfold got the country talking about you?
Of course people were talking about me, but let's be honest here: If Jimmy Brown had been the first actor to pose nude, do you think Jimmy Brown would now be the hottest actor in town? If John Davidson had been the first guy to do it, do you think he'd be the hottest actor in town now? Brown and Davidson posed nude, but nobody remembers that. George Maharis was in Playgirl, standing next to a horse with his cock out, if you want to talk about ego. He didn't become the hottest actor in town, either. Because I was the first guy to do it, everyone says, "That's the reason you got hot." Hasn't anybody stopped to think that there were lots of magazines out showing guys with OK cocks? Why do you think there was such incredible interest in that one? The reason is because I was already hot! [Angrily] That's the reason at least 4,000,000 copies of the Cosmo centerfold were bootlegged and sold! I've seen that thing on sheets, pillowcases, key chains, floor mats and wallpaper in Hong Kong, London, Belgium, Germany and France! Do you know how much money I was offered to sell the rights to that thing? I could have made about $4,000,000 off it, but if I had, I wouldn't be able to look you in the eye now and I wouldn't be able to say I did it for nothing!

Why are you shouting?
You can't say, "He answered loudly." You can only say, "We asked, and he answered." I read a Playboy Interview last night! You can't say I yelled! Wonderful: I just said I yelled. [Begins laughing.] This is when I know I need to eat. I need to eat when I start yelling.

You ate a plate of cheese 10 minutes ago.
I need to eat some more.

Before you do, finish your point: Why do you think you were a hot commodity before the Cosmopolitan centerfold was published?
I believe that the reason that Cosmo thing was bootlegged all over the world—after the magazine sold out in, like, three and a half hours—is because a lot of ladies were interested in that particular guy. There wouldn't have been any impact if it had been anybody else. Well, maybe Gregory Peck. The point is, by the time the Cosmo centerfold came out, I was already hosting The Tonight Show, and I'd gotten the biggest numbers of any guest host in the history of the show. I'm tellin' you, I was hotter than a burning' tree before it came out, and when it did, I worked my ass off to play it down. In fact, the night that issue hit the stands, I hosted The Tonight Show and my entire monologue was spent doing Don Rickles lines about my body. I said that if I was trying to prove my sexual prowess, why would I take a picture with my hand covering everything I had?—and I have small hands. Every joke you ever heard about it, I did it first. I really did think my little take-off on Playboy would be greeted with laughter; but, instead, I got thousands and thousands of letters saying it was filthy, the Catholic Church came down on me, my dad and mother had to put up with a lot of stuff, and I am very, very certain that if not for the centerfold, I would have been nominated for an Academy Award for my work in Deliverance. Which is why, if I had to do it again, I would not do it again. It did have a lot of impact, but the negative side of it far overshadowed the plus side, and there are still a lot of people out there who'll never forgive me for doing it.

Do you really care what the New York critics think?
People who read the New York Times movie reviews do. Let me tell you something: Deliverance was my big break, it was my deliverance out of shit. Before it came out, I was a canceled television actor who'd made a lot of bad movies. Well, the Times review referred back to the Cosmopolitan centerfold, and it wasn't the only newspaper to do that. So I hope you understand why I feel I never had to live up to that Cosmo thing; I've had to live it down.

Is life as the screen's leading male sex symbol all that repugnant?
It can be if you want to be known as an actor. I once told Pauline Kael, "You know, until I go bald, you're never gonna give me a good review." I told her that after I'd had $8000 worth of hair transplants. She later implied in an article that I wouldn't become a real actor until I took my hairpiece off. All my favorite actors—James Stewart, Gary Cooper, Bogey—wore hairpieces, but nobody mentioned it in those days, I guess because they were real actors. What's interesting is that if you say so-and-so wears a hairpiece, people will go, "Oh, my God"; but the moment you have a transplant and it becomes permanent, it's no longer talked about.

Is that why you got a hair transplant?
No, I just didn't want to bother anymore with the glue and all that shit. I'd be lying to you if I said I did it because I was a movie actor, even though it helps in my work. I did it because I wanted to look better.

How long did you wear a hairpiece?
For about three years. I was really under the illusion that people didn't know about it because a lot of hairpieces look like golf divots, but mine didn't. One night, though, I was out with a Dallas Cowboys cheerleader and she was terrific, and we liked each other a lot. We were riding along, when all of a sudden she turned to me and said, "What about your hair?" I asked her what she meant and she said, "Well, is it going to come off tonight?" I thought that was a great line and I told her, "It's definitely coming off, and you can take it off." After that, whatever lady I was with, I'd say, "Let's not get to the point where you're afraid to stick your hands in my hair. Let's just get rid of that right away. We'll have, a nice shower and I'll Huff up what I have, and then you can just pull it or do whatever you want to with it."

Were you bald?
No, but I'd have to comb my hair straight down, and it got to a point where I'd spend two hours fooling around with it, whereas I could put on a piece in 15 minutes. Without the piece, I had a very stark look, which I didn't think was good for comedy. I did Deliverance without the piece, and sometimes I'd go to parties without it and nobody would notice the difference. And if anybody had offered me a role in which I aged, I'd have taken the lid off. Now I'll have to either have it dyed white or surgically removed.

Were you ever in situations in which women were turned off by your hairpiece?
Not one. I've never known a woman who hasn't said to me, "Well, you look better without it." Which is a total lie. It's like telling a girl who has tiny breasts that she doesn't need a breast operation when you really know that you desperately want her to have a breast operation. Instead, I'd say, "You look terrific, I like tiny things there. What can you do with big breasts? After six or seven hours of playing with them, a guy gets bored."

I have the ability to make people happy and say, 'I like him.' People are tired of getting screwed by everything and everybody.

When were you dispensing such helpful advice? After your breakup with Dinah Shore?
Yes, and I was really having a very tough time, because I wanted to be with her but I couldn't be, because I had to sever the relationship. I don't know what the dark side of the moon was for Dinah in terms of our relationship, but for me it just got to the point where I knew it was eventually going to end. And before it got to where I was running around on her, well, I didn't want it to ever get to that point, because I respect her. We were constantly together for almost four years, and afterward, I didn't get involved with another woman for a long time. I just did what every guy does: I went through a series of burnouts.
Meaning what?
There was a period when I just remember amyl nitrite being shoved up my nose and strange faces and being in pain. Not to get real psychological about it, but it was like I was looking for someone to kick the shit out of me for leaving a terrific situation. The temptation to pick up the phone and call Dinah was so great that it was either that or my form of alcohol and dope—women. And so I'd just burn myself out, and in any direction.
You'd done that kind of thing after your marriage to Judy Carne broke up. Did it get old the second time around?
If you mean the craziness, yeah, it not only got old, it had to get crazier. It got to the point of trying to figure out new ways of abusing myself with women, and I was relentless. I was also lucky, because I have fairly good taste and I met some pretty terrific ladies. I was with one girl who's very well known now, and I gave her that famous I'll-call-you line. Well, three or four years later, I was going to do a picture with her and I'd completely forgotten that she was one of those ladies. So I called her up and said, "Hey, we're going to do a picture together, isn't that gonna be terrific?" And she said, "Are you just now returning that call? I mean, is this that call?"
That sounds as though it could have been Jill Clayburgh.
Yeah, and I said, "What call?" And Jill said, "Remember, you said, 'I'll call you'?" That's a terrific lady, and I met a lot of terrific ladies during that period. The message I sent out was, "This is totally hopeless, and I want you to know that. Whatever happens between us right now is going to be totally hopeless; but if it's OK, let's just go ahead and take it as far as it will go, and if that's only 24 hours or a week, it's fine with me." With me at the time was a guy who's now a born-again Christian, and I think I put him there. He was like the head scout. We'd check into wherever I had to go, and he'd head 'em out and round 'em up and it was frightening.
You had a guy pimping for you?
It wasn't pimping in the sense of "Hey, would you like to meet Burt Reynolds?" It really wasn't that kind of slimy shit, which I hate. It was done in a civilized way, and no woman was ever approached dishonestly. He'd say something like, "Here's the situation: My friend, Burt Reynolds, is in my room and he's crazy and he wants to jump your bones. There'll be some giggles and laughs, but if you get there and decide you're not interested or he's not interested or it's just not going to happen, nobody's going to be angry."
Things got even crazier than that. I remember doing a telethon in Buffalo and about four in the morning, I got a telephone call from a girl who said, "I want to sit on your face." I was looking right into the camera and said, "How much would you like to give?" She said, "Everything, you stupid bastard." And it just got so lewd it was incredible. I was saying things like, "What are we talking about here?" and she'd answer and her voice sounded really terrific, and then another girl got on the phone and I realized it was a definite sister act, which interested me a lot at the time. So I said, "Well, we can certainly work this out. Two-forty-nine, huh?" That was my hotel-room number, and the guy running the telethon then said, "Two hundred and forty-nine dollars, a wonderful contribution," and I said, "No, two dollars and forty-nine cents." When I went back to my room at six A.M., there were these two girls whom I named Franny and Zooey, and they've been friends of mine ever since. Every once in a while, I'll get a note from them and other women I met during that period, and it's always nice and they don't seem to remember anything terrible, so I must have been a gentleman.
That's not at issue here.
It really is; "gentle man" is the issue, because what happened was dangerous, not in terms of the pimping situation but in terms of how it could come back on me. If you don't have the right lady, it can be very dangerous.
In what way?
Oh, there are stories that can be written and sold, false paternity suits that can be started—there're 100 different ways they could have burned me. They didn't, because those ladies all were terrific. But if they'd wanted to, they could have nailed me to the cross.

At some point, did you think you were doing a pretty good job of that by yourself?
At that time, no, never, but in retrospect, yes. I discovered there's something terribly selfish about me and that, like all men, I want to have my cake and eat it, too. Nothing would please me more than to visit all those women periodically and have a relationship with them and then go on my merry way; but it doesn't work that way. The damage you do to yourself is that you get to a point where you don't have a particularly high opinion of yourself, which is not good. And you lose out sharing wonderful moments with people. For example, not too long ago, Sally and I went down to the river where
Deliverance
was filmed, and we shot the rapids together. The guides who took us down were like 17-year-old kids who were in super shape, and I'm 43 now, but at one point, I took the canoe to see if I could still shoot one myself, and they were betting I'd turn the canoe over. It might have been pure luck, but I didn't turn it over; I shot the rapids by myself, and Sally applauded and it was like Tom Sawyer walking on a picket fence for his lady. If you don't have somebody you care about that much, you can go down those rivers and the girl's gone the next day or you're gone the next day and it hasn't meant anything. It's like a sunset that never happened.
When did you get tired of playing around?
It was after my friend decided to become a born-again Christian. There came a time when I thought, I'm not happy doing this. You know, in order to be proficient as a cocksmen, you have to have no guilt at all. And you can't look back--ever. A lot of the cocksmen I know have a portion of themselves that's dead. Obviously, not the portion that's between their legs; it's usually a part of their brain that's dead, and the same thing holds true for women who are like that. It's a double-edged sword: Once you arrive at the point where you're not going to be hurt anymore, where you're only going to hurt other people, you can't experience great joy.
But while you were consuming women like a kid in a candy store, weren't you experiencing joy?
Yeah, but, as I told you, I was crazy. I wanted to have this style. I wanted to have an affair with the 6'2" waitress in the cocktail lounge and I also wanted her to be my friend and to call her from time to time and say, "How ya doing? You got married? Terrific." I was able to bring it off, but it took a lot of effort.
No one ever said it would be easy, Burt.
[
Laughing
] No, it wasn't easy. You know, there're certain people you hear about who were involved with lots and lots of women and you somehow wind up thinking, Yeah, but I'II bet he never treated then with disrespect, I bet he was always a gentleman. I feel that way about Jack Kennedy, even tough every ten minutes another woman gets up and says, "We had an affair and he told me he was going to marry me." And then there are other guys you hear about doing the same thing and you think, That asshole, somebody ought to just take him and blow him away, he's going to ruin the life of every woman he has contact with.
We assume you felt you were closer to the J.F.K. model.
To be honest with you, I really
thought I was Jack Kennedy
. I had that picture of myself, and I thought people would say, "Gee, he's a nice fella." But, finally, there comes a time when you start analyzing yourself and you say, "You're a jerk." And you then come to the realization that a one-to-one relationship is more fun. It took me a year and a half after Dinah to get there, and for the last six months of that, I was almost celibate. A definite record.
And a definite surprise. Why did you suddenly stay away from women?
I don't know, I just didn't have any interest. Part of the reason is that I was directing my first film,
Gator
. The only girl who interested me during that period was Lucie Arnaz, who's finally happening, as she should have by now. But there was nobody else at that time.
During that period, you were supposedly going with any number of women, including Chris Evert. That wasn't the case?
No, it was bullshit. If I was photographed with a woman, it was automatically assumed I was having an affair with her. I was seen several times with Chris Evert, because she and I are good friends. Being a jock, I was fascinated by her philosophy of winning and her incredible ability under pressure and the way she handled the press. I mean, she is not an "ice maiden" or anything like that, she just prefers her privacy. And I had great admiration for her incredible loyalty to Jimmy Connors, because while everyone was telling her he was a total jerk, she just refused to believe it and convinced me that he wasn't. The way he acts on court must not have anything to do with the way he is off the court, because I know Chris, and if she thinks he's special, then he is, because she's really special. I just wanted to know her—but not physically, I didn't want to jump her bones. I wanted to get inside her head. On court, Chris is supercool, but when you get her away from there and when she trusts you, you find she's a real woman who has strong opinions and who is fascinated by everything, not just tennis.
Were you at all ticked off when your friendship was treated with titillation in newspaper sports sections throughout the country?
Oh, I think sportswriters can be far more cruel than even gossip columnists. I remember that when I was doing
Semi-Tough
, the
Los Angeles Times
sports section ran a story saying that I was using a double in the movie and implying that I'm a tiny little guy who never played football. Now, I never went around saying I did play football, 'cause when I talked about
Semi-Tough
on television, I would tell stories such as going up to Too-Tall Jones and telling him, "Think of me as Shirley Temple." But nobody bothered to check it out. I mean, I wasn't a dance major at Florida State, and I didn't hand out jockstraps, and I didn't dream anything up about my background. I was a blue-chip high school halfback, and I played major college football. I was very angry about that, but some of it probably had to do with being sick at the time. When I was supposed to start
Semi-Tough
, I weighed 164 pounds, which is really low for me. I prevailed on Michael Ritchie, the director, to postpone the movie for a month while I went home and tried to gain 20 pounds and tried to find out what was wrong with me. I was sure I was dying.
What was the matter with you?
When it was finally diagnosed, it turned out that I had the worst case of low blood sugar the doctor had ever seen. But until that happened, well, it was scary. For more than a year, I'd been fainting, throwing up all the time, having trouble breathing and getting a rapid heartbeat that felt like my heart was about to pop out of my chest. It started when I was making
Nickelodeon
. I was falling down a lot, so I asked the director, Peter Bogdanovich, if he could shoot around me for a couple of weeks. He said sure, he'd use Hal Needham to double me in a couple of scenes, and I went off to a bunch of doctors who said I was on the verge of a nervous breakdown. What really pissed me off was that Peter didn't tell me that the producers collected insurance on me for two weeks, even though he did not shut down the production. [Bogdanovich says that as far as he knows, no insurance was collected on Reynolds—Ed.] I'd have gone on working if I'd known that they were planning to collect insurance on me. I've never shut down a company.
Once it has paid a claim because you don't work, for whatever reason, an insurance company won't cover you again, right? Is that a black mark for an actor?
It's a big black mark, because if producers can't insure you, you won't work, which is why Orson Welles, for example, isn't cast in major roles anymore. I didn't find out I wasn't insurable until I got ready to make my next picture. I was very pissed off at Peter, and I was also determined to prove there was nothing wrong with me, even if I was still fainting all over the place. So I had a meeting with the insurance people, and found out they felt there was something wrong with my heart. I asked 'em what the ultimate test was for heart problems and they said there's only one sure test, catheterization. Very nice: They stick a tube in your arm and up to your heart and they televise it. I said, "OK, assholes, I'll go to the hospital and have one of those." One guy told me, "Look, you're not a young man anymore and this is a terribly dangerous test. It can kill you." Well, I took the test and even though everything looked perfect, the doctors didn't want me to leave without doing something for me. So they gave me a lot of stuff that slowed my heartbeat down and left me taw ... king ... like ... a ... zommm ... bie.
Why weren't they able to discover that you had hypoglycemia?
They didn't give me the six-hour low-blood-sugar test, just the four-hour variety. And because they didn't give me the six-hour test, I went right back to doing the things that made me sick: drinking—booze turns to sugar very quickly in the body—and eating things like apple pie for energy, which would put me right out. I'd go to sleep early, and the next thing I'd know, somebody would be poking me and it would be time to go to work, and I'd feel like I was coming out of a faint. It continued like that when I made ˆ, except by then I was taking massive doses of Valium—at least 60 milligrams a day—to keep my heartbeat down. And when that didn't work, I also started eating Seconals as if they were candy.
Weren't you at all worried about overdosing?
I didn't really think about O.D.ing. I just thought, If I don't stop my heart from beating so fast, it's going to explode. If I can just make it through this movie and then die, at least I'll have one more in the can. Great thinking. After
Smokey
, I had three days before starting
Semi-Tough
, and then I caught a break that seemed like a miracle. There were all kinds of problems getting permission to film in the Cotton Bowl, and that's when I prevailed on Ritchie to delay the picture a month.
I went home to West Palm Beach and found a doctor who gave me the six-hour low-blood-sugar test—they take a little blood from you every 15 minutes for six hours—and the next day, he told me I had a really bad case of hypoglycemia. He said it would take me two years to recover fully, and he was right. For the first year, I had to eat something every 30 minutes. I took B12 shots every day and I took anti-nausea pills every six hours, which usually meant setting the alarm every night for four A.M. I still can't drink or have anything sweet, and I also found out that marijuana was out, because if you smoke a joint, afterward you want something sweet, like a brownie or a cookie. I almost thought I'd join the Mormon Church and become an Osmond brother. I'd be the dirty Osmond, because with hypoglycemia, you have to give up just about everything but sex. Anyway, that chapter in my life is finally closed, and I can go on to bigger and better things.
Apparently, one of the biggest and best things in your life right now is your relationship with Sally Field. We'd be remiss if we didn't ask the question most often heard about you two: Are you planning to get married?
I really don't know. In fact, I don't really know if the two of us will be together by the time this interview is published, because we've arrived at a point in our relationship where Sally, I think, has made a decision that I have to make a move one way or the other. And this is usually the point where I take flight.
Sally has two children, and I've been making a very conscious effort to find out whether or not I can handle being a father. For all my talk about how much I want to have children, to have a ready-made family thrust on you, one where the children will never bear your name, well, it's a very unselfish thing to do. You set yourself up for taking care of them, and for sending them to college, and for getting them out of jams, and for loving them and for having to discipline them, and for having them turn around to you and say, "You're not my father. How dare you say that to me?" You're dealing yourself in for a lot of pain, but hopefully, there will also be times when they come up and put their arms around me and it'll be wonderful and worth everything. Sally's got two boys, a nine-year-old and a six-year-old, and I really adore both of them, and I think they like me. But it's a major, major decision, and I don't want to be wrong. I don't want to screw up their lives, and I don't want to get married and not be able to make it work.
What makes you think it wouldn't work?
Well, Sally is a very strong woman; she's career-minded and she's not an easy lady to live with. And I'm not an easy man to live with. But the positive things about us are really there: I've been with Sally for three years, and it's been wonderful, and I love being with her in any situation, good, bad or indifferent. I just like being around her.
Why?
Because she's tough, she's gritty, she's got a great sense of humor and she gets prettier every day—and other people have seen that, too, not just me. I mean, pow, she's just blossomed. And she's also blossomed as an actress; Sally has gone from being a television actress to being in a
league with Jane Fonda
and Jill Clayburgh, and the same thing's happened to her as a woman. I saw it happen. I was there at the time, and it's exciting to be there when that happens to a woman.
You can kill, you can maim and you can even hurt people, but to be boring is truly a sin.

How did you two connect in the first place?
Well, I'd always loved her work—starting with The Flying Nun and then in TV movies—and when we decided to do Smokey, I wanted her in it. At that point, Sally hadn't worked for some time, because, unlike me, she will absolutely starve rather than do something she doesn't want to do. And she didn't want to do Smokey, but I literally laughed her into the part. We'd never met, so I called her up and told her a bunch of dumb jokes and really got her laughing. I told her Lionel Barrymore could play my part, because we'd never get out of that car. I said, "What have you got to lose? Big deal, so you have to work with the biggest box-office star in the world, that's not such a bad thing. And we'll have fun. We'll drive around and you'll get to see great places like Waycross, Ga." Sally got the giggles, and I think she kind of liked this crazy guy who was calling her.

Did she immediately agree to do the picture?
No. She said, "I don't want to be in that silly thing." I said, "Trust me. We'll make it funny, and we'll make it work." And, of course, we did. I finally met her face to face in Atlanta the night before we started shooting. I called up and said, "I think it's silly for us to meet on the set. Let's go out and have a drink or something and get to know each other a little bit before we start working together." So we went out and, well, that was it. I told Sally something very corny that night. I said, "I just want to warn you right now: I think I'm ready to fall in love." She laughed, but I wasn't kidding. And, since then, the relationship has just grown and grown and gotten better and better.

How instrumental do you think you've been in her career?
Well, we made three movies together and I do give her career advice. For instance, I asked Sally to get a better business manager and she did, and I asked her to get a big agent, even though she had a really nice lady agent who was loyal to her and all that. But Sally had to move into another area, and she's now with the William Morris Agency, which handles the world. But I also pushed her into a drastic mistake: After she made Norma Rae, I told her, "You should do a commercial picture now, so that you can say not only are you an artistic success, you're also a commercial success." Sally's very stubborn about her career and she really didn't want to do that kind of thing, but I convinced her to do it. She got a lot of money for Beyond the Poseidon Adventure—and it turned out to be the worst acting experience of her life. She absolutely hated every minute of it. I don't know how the picture's going to turn out, but I suspect that it won't be very good. As far as Norma Rae goes, Sally would have done that regardless of what I thought, but I remember my reaction when I read the script. I turned to her and said, in my best Academy Award presenter's voice, "The envelope, please." There's no way she won't get nominated.

You've mentioned the Academy Awards a number of times in the course of this interview. Is winning an Oscar really important to you?
Only in the sense that it's in my plan and that everything else I've set out to do, I've done.

You think all your fantasies can come true?
They've all come true, every one of them. But none of them has been easy. For instance, I had a fantasy about playing pro football, and until I banged up my knee at Florida State, I was sure I would play pro ball. Well, that fantasy was eventually fulfilled, because I got paid for playing football in The Longest Yard and Semi-Tough. So now I have my touchdown in the last two seconds of the Super Bowl, and it thrills people almost as much as if they were watching films of Gale Sayers. I know there isn't the same awesome respect there that Gale Sayers gets as an athlete, but there is in terms of thrills.

I'll tell you something else, and nobody will believe this, but it's true: I never doubted that I was going to happen, and that I was going to happen in this magnitude. And I know right now that a lot bigger things are going to happen for me. As an actor, I haven't even scratched the surface of where I'm going, and now that directors like Marty Ritt and Sidney Lumet and Francis Coppola are coming toward me, I'm even more certain I'll get there. I'll even give you a date: Within five years, I'll have accomplished what I want to as an actor. I will have gotten the script—my Cuckoo's Nest—and after that, I'll move into directing, producing and writing.

And by then you'll have won an Academy Award?
I'd give such a terrifically hysterical speech it would almost be a shame to deprive me of that moment. And, yes, I do think that moment will come. There's only one thing I think could stop it from happening. I hate to sound like a melodramatic putz, but I have a fear that something's going to happen to me—that I may die—before my best work is done. I don't care what happens after it's done, but I want the chance to do it. And then maybe I can complete the rest of my fantasy.

Which is?
Cary Grant once said to me [imitating Grant], "Burty, Burty, Burty, when it stops being fun, just walk away." Well, the old Jimmy Cagney idea of just walking away appeals to me. And when I do, I'd like to be able to one day tell my children, adopted children, whatever, that in 1979 I was the number-one box-office star in the world, and it would also be nice to be a little part of history by having an Academy Award. Of course, I'd have to make sure they were interested in hearing about it, because I've always known that the biggest sin of all is to be boring. You can kill, you can maim and you can even hurt people, but to be boring is truly a sin. And God will punish you for that.