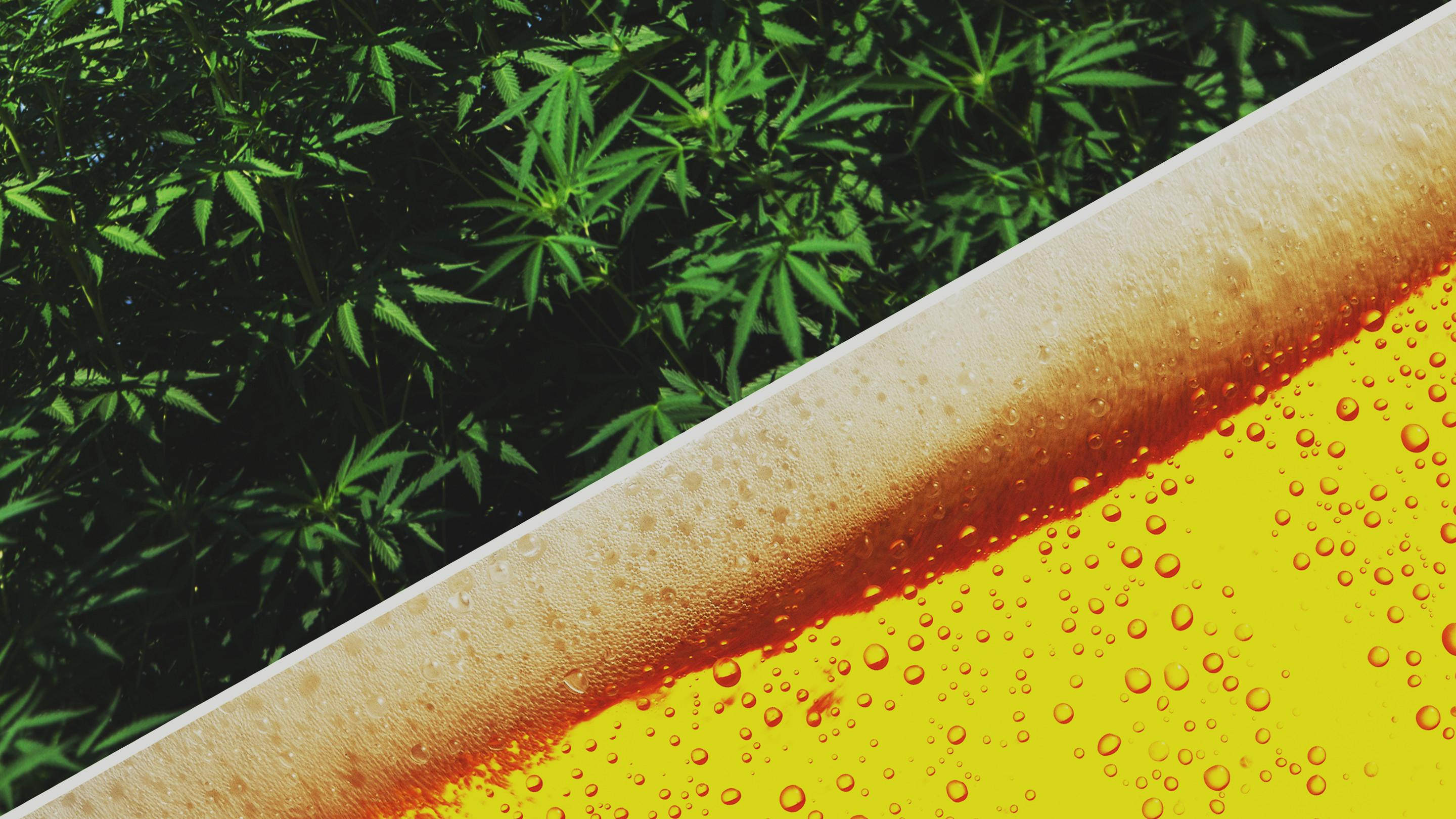 Can Cannabis Ever Disrupt the Alcohol Industry?
Written by Andrew Daniels

Published on

January 02, 2018
Predicting pot's future might be a fool's errand as long as Attorney General Jeff Sessions has a spot in Donald Trump's cabinet. Because everyone needs a hobby, Sessions is an aggressive cannabis critic, proclaiming the drug to be "only slightly less awful" than heroin and hinting that the Department of Justice might crack down on recreational marijuana, including in states where it's legal. But vague federal threats haven't stopped bullish market projections: The research firm Greenwave Advisors, for example, expects all states to legalize pot by 2021, which could make an already-booming, $9.7 billion industry positively explode in the years to come.
With that hope on the horizon, cannabis companies have begun to seize upon other sectors, such as
tech
and
travel
. And now they want a piece of the world's favorite recreational pastime: alcohol.
Monk Provisions
, a high-end cannabis-infused drinking botanicals brand based in California, recently announced plans to expand beyond its low-dose THC and CBD elixirs and release craft cocktails with infused premium spirits in 2018. With the move, Monk says it's the first cannabis company to venture into alcohol.
That's a very different distinction, however, from the first cannabis company to produce drinks containing both alcohol
and
THC, the main psychoactive compound in cannabis. Federal regulations don't allow companies to manufacture such products, which is why Monk cofounder Aaron Burke says he and his team are "discussing a number of potential arrangements with partners in the liquor industry" to bring Monk's ready-to-drink cocktails (without THC) to the shelves next year.
Burke isn't naming his potential partners, but other wine and spirits brands have already beaten them to the punch when it comes to experimenting with cannabis. Earlier this year, California's
Humboldt Distillery
released Humboldt's Finest, an 80-proof organic vodka infused with a locally grown, food-grade hemp without any detectable THC, which makes it legal in all 50 states.
Humboldt and other distillers are able to use hemp, the strain of cannabis grown for food and fiber, thanks to the 2014 U.S. Farm Bill, which legalized the growing and cultivating of "industrial hemp," provided it has a THC concentration of less than 0.3 percent. (As of this writing, at least 34 states have passed
industrial hemp legislation
.) So while Humboldt's Finest won't get you high, at least it still smells a bit like fresh cannabis.
Alcohol is threatened by legal weed, simply as a competing intoxicant.
Elsewhere in the U.S., Colorado's
Coal Creek Distillery
serves up a small batch of hemp-infused whiskey at its Crested Butte headquarters; Connecticut's
SoNo 1420
offers hemped bourbon, rye and gin; and several craft breweries, including Oregon's
Coalition Brewing
, infuse their beers with non-psychoactive CBD oil, which is extracted from hemp stalks and flowers. Meanwhile,
Rebel Coast Winery
just launched the world's first THC-infused sauvignon blanc, which is legal in California only because it doesn't contain any actual alcohol. Critics—and even competitors—may call such products glorified gimmicks. "Certainly, we've seen some in this space that can be accused of being just that," says Monk cofounder Mel McGraw. "There aren't yet many truly clean and healthful products in the cannabis market, particularly when looking at infused beverages."
Amanda Chicago Lewis, an investigative reporter who has covered cannabis for BuzzFeed, GQ and VICE, among other outlets, says there's something a "little disorienting about drinking THC," including the pacing and dosage. "I've had a cannabis beverage in my fridge for four months and never even had a sip. Meanwhile in that time, I've probably been consuming other infused products at least twice a week."
Regardless of whether or not these products are novelty-driven, Big Booze wants in. In October, Constellation Brands, the American liquor company that features Svedka, Corona, Modelo, Ballast Point, Black Box and Robert Mondavi in its beverage portfolio, paid $191 million to acquire a 9.9 percent minority stake in Canopy Growth Corp., a Canadian medical cannabis producer. Constellation says it won't sell cannabis products until the drug is legal at "all government levels," but the monster acquisition signals that major players are willing to pony up big bucks to join the pot party—and they might need to. In a recent
study
from the University of Connecticut and Georgia State University, researchers examined product sales in 2,000 counties where marijuana was legalized between 2006 and 2015 and observed a 15 percent drop in monthly liquor sales. This could explain why some companies, like Constellation, are taking a proactive approach to the future of cannabis and alcohol, says Adam Rogers, the U.S. research director for the IWSR, the leading source of data and analysis on the beverage alcohol market. "But any product that has the potential to steal consumer share of wallet is a threat, be it coffee, cannabis or abstaining altogether," Rogers says. "Of course, alcohol is threatened by legal weed, simply as a competing intoxicant," says Lewis. "But the booze industry shouldn't be as worried as the pharmaceutical industry. I'd generally say that most consumers are not going to be full-stop replacing alcohol with pot or abandoning pot entirely, while many of the people on opioid painkillers could easily start using cannabinoid medicines instead."
If there's any tension between the alcohol and cannabis industries, it appears to be minimal. "It's mainly for those large, profit-driven companies worried about squeezing every last dollar from consumers," says Brett Konen, an editor at
Leafly
and contributor to the newly released
Leafly Guide to Cannabis
. Besides, most insiders say the thought of a joint collaboration is too intoxicating to pass up. "Some people feel tension, some people feel opportunity," says Burke.
One roadblock standing in the way of a successful—and mega-profitable—partnership: a lack of solid research on the effects of crossfading.
McGraw agrees. "There's a legitimate DIY, pioneering spirit that exists in the cannabis industry that we think would energize any market," she says. "The same creativity and dedication to mastery and innovation exists in the alcohol industry. And frankly, the sheer wealth of intellectual capital that exists in the alcohol sector is staggering. For an industry moving from prohibition into a mainstream market, we can glean a tremendous amount of insight from our partners." As for how the two industries can team up to serve each other, Konen says she's already seen an "explosion of events," such as wine and cannabis pairing dinners, that will only become more popular as more states legalize. "As that happens, hardcore consumers of one product or the other may be turned on to new brands they like in new spaces," she says. "Your Walla Walla wine club member may find they love Walla Walla-grown cannabis, too, while a seasoned cannabis consumer may find flavor profiles they love about the
Jack Herer
strain in, say, a new dry-hopped IPA."
One roadblock standing in the way of a successful—and mega-profitable—partnership: a
lack of solid research
on the effects of crossfading, or combining THC and CBD with alcohol. "It's understandable that there's concern with mixing the two, and that concern is warranted insofar as most people new to mixing cannabis with alcohol don't know their limits," says Konen.
But while safety is indeed paramount to the growth of cannabis-infused alcohol, it may not matter much to amateur mixologists. "It's likely today's consumers will start infusing their spirits with cannabis at home where it's sold legally or not, similar to how the edibles market started," Rogers says.
Still, it all comes back to widespread regulation. "We know consumers are constantly looking for what's new and innovative, so there are certainly opportunities here," says Rogers. "But it's unlikely that major beverage alcohol companies will publicly get behind the cannabis industry in the U.S. until it's legal at the federal level."