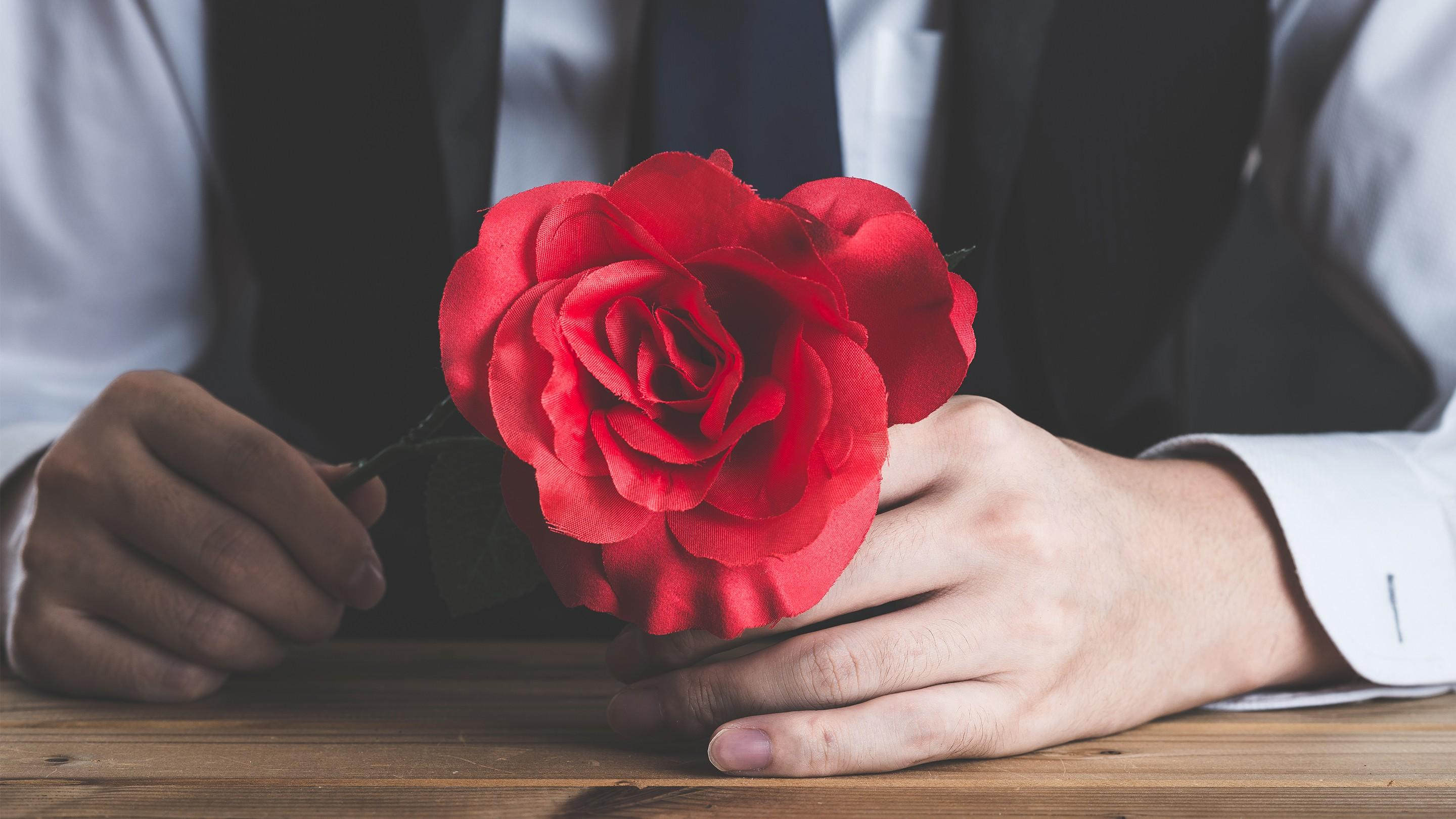 Confessions of a Reality TV Serial Dater
Written by Luke Winkie

Published on

April 03, 2018
Adrianne Curry has no regrets, save for the boob job. That's it. That's the one thing she'd take back. They get in the way of her pull-ups, and they're a bitch to strap a seatbelt around. She's 35 now, and was barely out of her teenage years when a few producers convinced her to go under the knife. A symptom of the industry, she says. For 10 years, she was a full-time reality TV star. Her life, her marriage and her annoying cat—all beamed out to a bemused audience. This was the job; overexposure, immaturity and transparency, live and uncut on lonely weekday nights, bouncing between dozens of shows eager to mine her fears, fights and fucks. Curry was made for it. After all, the only reason she even made it onto the first season of America's Next Top Model is because a casting director, in no uncertain terms, dubbed her "reality-TV gold."

She won that season by the way. For what it's worth, Curry is and always will be America's first Next Top Model. Nobody can take that away from her. It was 2003—the dawn of a golden age for reality programming, and Curry was off to the races. She signed with a modeling agency and worked all over the world—"Young and full of fuck you," as she describes it to me. To be on more reality shows—much less to make that kind of programming her career—was not part of the plan, until VH1 called her modeling agency. They wanted her to star in
The Surreal Life
, part of the network's emerging, controversial "celebreality" brand. The idea was to link up a small cadre of has-been or never-been stars under the same roof and film 12 banal episodes. It was like a demonic
Big Brother
starring guys like Dave Coulier. Season 4 was a true murderer's row: The Go-Go's guitarist Jane Wiedlin; the late, great WWE powerhouse Chyna; the eternally drunk Verne Troyer. And most importantly, Christopher Knight—a.k.a the salt-and-peppered, middle-aged version of Peter Brady. Yes, that Peter Brady. The one from
The Brady Bunch
. He and Curry meet-cuted over the length of the season, and things were never the same.
"I was living with him, and I think VH1 smelled blood in the water," she remembers. "I'm 35 now, and I'm engaged, and if someone approached me and said, 'I want to do a reality show on you and your fiancé,' I would probably raise my shotgun and point it at their fucking face and tell them to get the fuck away from me. I was not aware of how much pressure it would cause. I was not aware of how, partially—and I can't speak for him—[there was] a [desire] to revive a career on my head. Would he have stayed with me if we hadn't been on TV? I don't know—I truly question that."
Out of all the truly cynical romance shows that populated VH1 in the mid-2000s,
My Fair Brady
takes the cake. It was built on the uncharitable foundation that a 22-year old model and a whatever-year-old former child star could never find true love. And they were right. We watched as two elementally incompatible people, fused together in the fires of opportunistic, voyeuristic reality programming, struggled mightily to put on a show for the public. The marriage episode, in the second season, is perhaps the grossest and most compelling artifact from the show's run—as two people traipsed through ginned-up TV drama on what's supposed to be the happiest day of their lives. It was weird and sad, a real-time representation of someone who's meshed business and pleasure past the point of no return. There was a happy ending though: Three years after
My Fair Brady
went off the air, Curry and Knight separated. "My ex-husband and VH1 wanted me to breed for TV, and I'm like, 'No!' If I have a kid, I want to protect my kid, and I don't see how shoving it on a TV show is going to be me protecting my child. That caused a lot of strife and issues," she says. "I was just young and living moment to moment without a care in the world. I would love to feel that way again in my life, but I don't think I'll ever capture it."
---
Ostensibly, romantic reality television is supposed to capture humanity at its most candid. The rare chance to take an inside look at the thrilling, incandescent sparks that slowly billow into true love. And maybe, once upon a time in the early 2000s, that was true. Trista Rehn and Ryan Sutter, The Bachelorette's first winners, are still together—they found a lasting relationship in the primordial soup of dating shows, long before production companies upped the ante with ghoulish curveballs.
You know what I'm talking about. Millionaire Matchmaker, in which mild one-percenters are set up with an infinite supply of commercial actresses. Joe Millionaire, in which a semi-good-looking construction worker was propped up as an uber-rich heir, only for the rug to be pulled out from under the lucky lady in that classically perverse finale. My Fair Brady was one of several VH1 celebsploitation properties—right alongside Brigitte Nielsen and Flavor Flav's Strange Love, Flav's subsequent barge fire Flavor of Love and, of course, the infamous Bret Michaels resurrection tour Rock of Love. Between the glut of programming options, and the very real possibility to morph a modicum of cable infamy into a real TV career (hello, Omarosa, Jonny Fairplay, The Miz), any semblance of romance, flirtation,and honest-to-god vulnerability has been thrown into doubt. Nothing is real, and maybe that's what makes this industry so easy to digest.
"Addiction to the process, as well as the experience and attention, is powerful," says Troy DeVolld, a reality TV executive and the author of Reality TV: An Insider's Guide to TV's Hottest Market. "Look at Megan Hauserman, who did Rock of Love, I Love Money and Megan Wants a Millionaire, for example."

Of course, not everyone ends up having a breakdown on cable TV. Sometimes, reality-show pastiche can be fun. Nobody knows this better than Mindy Robinson, a small-time actress who most recently has made her name as a Trump supporter on Instagram. Her IMDb page is ridiculous. Eight episodes of the short-lived, George Lopez-hosted Take Me Out, one episode of CelebriDate (she was paired with Larry Birkhead, most famous for dating Anna Nicole Smith), two appearances on the somehow-actually-real Who Wants To Date a Comedian? and, of course, a segment on Millionaire Matchmaker. "It was fun, it was easy, there was no lines to memorize—I played the bimbo that said smart shit," she says.

"They don't like to see one person on a bunch of shows, so I just filmed everything at once. I almost felt bad," continues Robinson. "I said, 'Look, guys—I'm an actress,' and they were like, 'Yeah, sure, nobody is going to recognize you.' They gave me a fake name, they said I was getting married, it was a totally fake story. And I warned them! The episode premiered, and their Facebook blows up, like, 'That's an actress! That's Mindy Robinson! Your show sucks!' The producer calls me, bitching me out, and I'm just like, 'Are you fucking kidding me!'"

Would he have stayed with me if we hadn't been on TV? I don't know—I truly question that.

Robinson tells me that she did not take part in a single authentic flirt throughout her entire dating-show run. She considered the gigs improv comedy—a ridiculous role on ridiculous programming—and threw her weight behind the social-media machinery to get herself recognized as a minor star. She knew she was exactly what they needed as soon as she walked through the casting director's doors—perky, profane, dressed to the nines in a suffocating cocktail dress. You know, the proverbial "reality-TV gold." Robinson was 30 when she started on that circuit, and took pride in running laps around the 22-year olds lined up in the linoleum halls. "It was pretty cool to always be picked for those things," she says.
In case you harbored any lingering, unwarranted faith in the purity of this business, Robinson tells me that she sourced all of her auditions through acting sites. The girls she was working with? Mostly aspiring models or actresses, looking for a big break in the saddest corners of Hollywood. This is echoed by Laurie Ouellette, a professor of cultural studies at the University of Minnesota, and the author of
Lifestyle TV
. "The mindset is actually strategic—on the shows, 'finding' romance becomes a calculated goal that involves strategic self-performance, so the idea of true love is both perpetuated and undermined," she says. "Keep in mind that most people who appear on reality TV shows, including dating shows, are not really there for romance, but for the exposure, fame and potential commercial rewards that being on television can bring."All that's true, and Mindy made it out no worse for war. Today, she's thriving. She put in her time and left with a respectable career. It's been five years since her dating-show heyday, and today she's in a committed relationship with the rugged and large Randy Couture—former MMA champion, current
Expendables
star. Robinson is still hustling, of course, but by the looks of her Instagram, there are a number of midnight drinks in romantic European bars to make the misery of the B-tier junket far more palatable. Funnily enough, she tells me she can never get back on the dating show circuit. As fake as they are, they still have the word "dating" in the name.
"It'd be weird, it'd be disrespectful—it's not like [me and Randy] are in the closet," says Robinson. "If I'm on a dating show, people would be like, 'What the fuck?' And also, their show [would look] fake, so it wouldn't help the show. The contestant days are done. … I'm an actor, I can improv, and I love doing those shows, but I'm not a fake person in real life."

---
Ideally, this is the preferred trajectory for the reality-show star. Get in and get out, with minimal embarrassment, a boatload of cash and maybe end up falling in love with a chokehold artist along the way. Josie Goldberg was not as lucky. She ended up in the industry shortly after failing out of graduate school (she tells me her big break was when a casting director noticed her on the Jewish dating app JDate), and quickly found herself as a fixture on the fabulously dadaistic Farmer Wants a Wife—in which clueless city girls compete for the love of a hunky farm boy. From there, it was Millionaire Matchmaker, the immediately forgotten Battle of the Bods, something called American Nudist—you know the drill.
Her real star-making moment came on a 2010 episode of Dr. Phil, where she graciously and intentionally dehumanizes herself for everyone to see. The episode was called "Spoiled and Entitled," focusing on women who supposedly exceed in those two traits, and Josie Goldberg was more than happy to be a terrible person for 22 minutes. She was racist, borderline anti-Semitic and tailor-fucking-made for daytime-TV scolding from a pop-psychologist. She knew the game, and got herself invited back two more times.
This is the part of reality TV most of us can't stomach. I can't even imagine what it must be like to happily indulge the ugliest parts of yourself, to out-petty everyone else in the room, to settle on a persona and put in the work to make sure everyone in America hates you. "I'm Josie, I'm spoiled and entitled, and there's nothing wrong with that," she says at the top of her Dr. Phil segment. True words spoken by someone who was willing to do whatever it took to sit on that couch.
"The only time it was really hard for me was when I wasn't producing shows or moving forward," says Goldberg, when I ask her how she found it within herself to be hated. "When I was moving forward … I didn't care what people thought of me because I was in magazines, and my IMDb was always top of the line."

They say, 'Get rich, or die trying.' I'm not trying to get rich, but I'm trying to find my niche.

Goldberg hasn't been on television since 2011. That's not for the lack of trying. Over the course of our interview, she makes references to several evil producers, who removed her from several failed TV pilots. In the meantime, she's been working on an upstart lifestyle brand called (of course) Spoiled and Entitled. The website is a sight to behold: earrings, tank tops and a YouTube embed of her toxic
Dr. Phil
appearance. It's strange that she cherishes such an objectively gross moment, but that's the paradox of the dating-show economy; every clip, every embarrassment, every televised excoriation is worth its weight in gold. We see a train wreck, and Goldberg see another rung in the ladder. She's still running the tabloid ropes, she's still calling the paparazzi,
The Daily Mail
is still printing headlines like "Reality star Josie Goldberg squeezes her voluptuous figure into a leopard-print bikini." I suppose that's a victory.
"At the end of the day, you say, 'Well, maybe people [are saying these hurtful things] because where's the end result?'" says Goldberg. "But I'm a closer. I own race horses, and my race horses close at the last second. God seems to bless me when I'm really down. I'm a tough competitor, and I'm going to keep fighting until I die. They say, 'Get rich, or die trying.' I'm not trying to get rich, but I'm trying to find my niche. … The best is yet to come."Perhaps someday, Josie Goldberg will find her niche. Hopefully, somewhere more glamorous; hopefully, somewhere with less shame. An actress or a model, or someplace in between.
But perhaps, the one way you truly win in reality television is when you turn the other cheek and embrace a merciful life as a civilian. Adrianne Curry proudly tells me that she's living in what she describes as a "retirement community," baked somewhere deep in the Arizona desert. "I ran the fuck away from Hollywood two years ago," she says. "I wasn't finding any happiness in it … the whole game, I was just tired."
Believe it or not, right now she's selling Avon. Yeah, you know, the beauty-product line. It was a comedy of errors. Curry needed surgery to remove a benign tumor, and her doctor prescribed her a dosage of Percocet for her recovery. While she was blasted out her mind, she turned on Edward Scissorhands, and signed up to be an Avon sales rep. After four months on the job, Curry says she's was already No. 28 in the country. The former Ms. Brady, the former Queen of VH1, living in the middle of nowhere and selling makeup on the internet. Finally, a real chance of happiness. On her own terms, with no cameras in the room. Maybe that kind of mundanity sounds maddening, but remember, you didn't spend the entirety of your 20s on a reality show.
"People ask me, 'Do you miss this, do you miss that?' I've done so many interviews, I've done so many red carpets—I feel like I've done it all," she says. "I'm so stoked to live a normal life."