I meet Dave Rubin inside his suburban Los Angeles diggings, professionally decorated mostly by his husband, David Janet, who's provided Rubin enough space within the glossy interior to fill with his toys: an autographed Seinfeld script, a basketball signed by Clyde Drexler, comic books, retro video games, Star Wars memorabilia, and everything else that makes the host of The Rubin Report look like an everyman. Camera-ready in a slim gray suit, Rubin is unwinding to a jazz playlist. "I don't like listening to words in music," he says. "I really like ambient stuff or smooth jazz."

Rubin's day consists of talking to people all the time, which results in perma-chapped lips and a brain scrambled by the ideas of today's most divisive scholars. When we meet, he's booked four back-to-back interviews during a 24-hour break from
Dr. Jordan B. Peterson's "12 Rules of Life Tour."
He's just come off 30 stops, having appeared in theaters alongside across the United States, Canada and United Kingdom as Peterson's comic foil and squire. The Lewis to Peterson's Martin, if you will. By the time this piece is published, Rubin will have just completed a month-long cleanse from social media and YouTube, where
The Rubin Report,
the "largest talk show about free speech and big ideas" airs. Such mental vacations are necessary, because as his intellectual clout grows, so do the commitments.
"It's massive. It's bigger than any of us thinks it is," says Rubin. He's referring to the recently coined intellectual dark web, of which he is a member. A network of internet personalities, writers, scholars, Tweeters, YouTubers and thinkers profiled in May by
New York Times
writer Bari Weiss in a piece titled,
"Meet the Renegades of the Intellectual Dark Web,"
Weiss defines the group as having "little in common politically" and sounding "unlike anything else happening, at least publicly, in the culture right now." Alongside Rubin, the network comprises names like Christina Hoff Sommers, Sam Harris, Jordan B. Peterson, Maajid Nawaz, Joe Rogan,
Debra W. Soh
and Eric Weinstein, whose doctrines have all given the mainstream media a scare. "The media doesn't know what to make of this," Rubin says. "But some of these ideas are trickling up into politics. I know for a fact the conversations we're having are getting into the higher halls of power."
The Rubin Report
originated as a liberal panel show on The Young Turks network in 2013, where Rubin advocated for the legalization of marijuana and gay marriage. (Rubin came out as gay in 2006 and announced his engagement on YouTube in December 2014). "I was progressive, I truly was," says Rubin, who got his bachelor's degree in political science at Binghamton University in New York. "And because I couldn't marry the person I wanted to marry, it became disproportionately important for me."

The Rubin Report
initially felt more like a gay entertainment panel, with Rubin sitting behind a desk and taking on pop culture as often as politics. When asked to name a specific ground-zero moment that sparked a new direction, the host cites the now infamous exchange between actor Ben Affleck and Sam Harris on
an October 2014 episode of
Real Time with Bill Maher.
"I saw the left try to destroy this decent, calm neuroscientist because Affleck said 'gross and racist.' Nobody in their right mind thinks Sam Harris is racist."
According to Rubin,
The Young Turks staff
was presenting Harris, a critic of radical Islam, as an Islamophobe—an accusation that upset many people, including Rubin. By January 2015, Rubin found himself furiously defending the 12 slain
Charlie Hebdo
cartoonists on a The Young Turks panel, from the position of being a free speech absolutist. "
Charlie Hebdo
reminded me of how sick I was of pandering to radical Islamists—of course not all Muslims—who would love to have us killed," he says. "This idea that we would let some people tell us what not to draw, and not poke the bear? I think that's the soft bigotry of the left." Rubin's criticism of radical Islam put him at odds with The Young Turks' far-left overlords. "That's really when I realized how badly I wanted to get out," he says. "After that, I realized I wanted to do an interview show."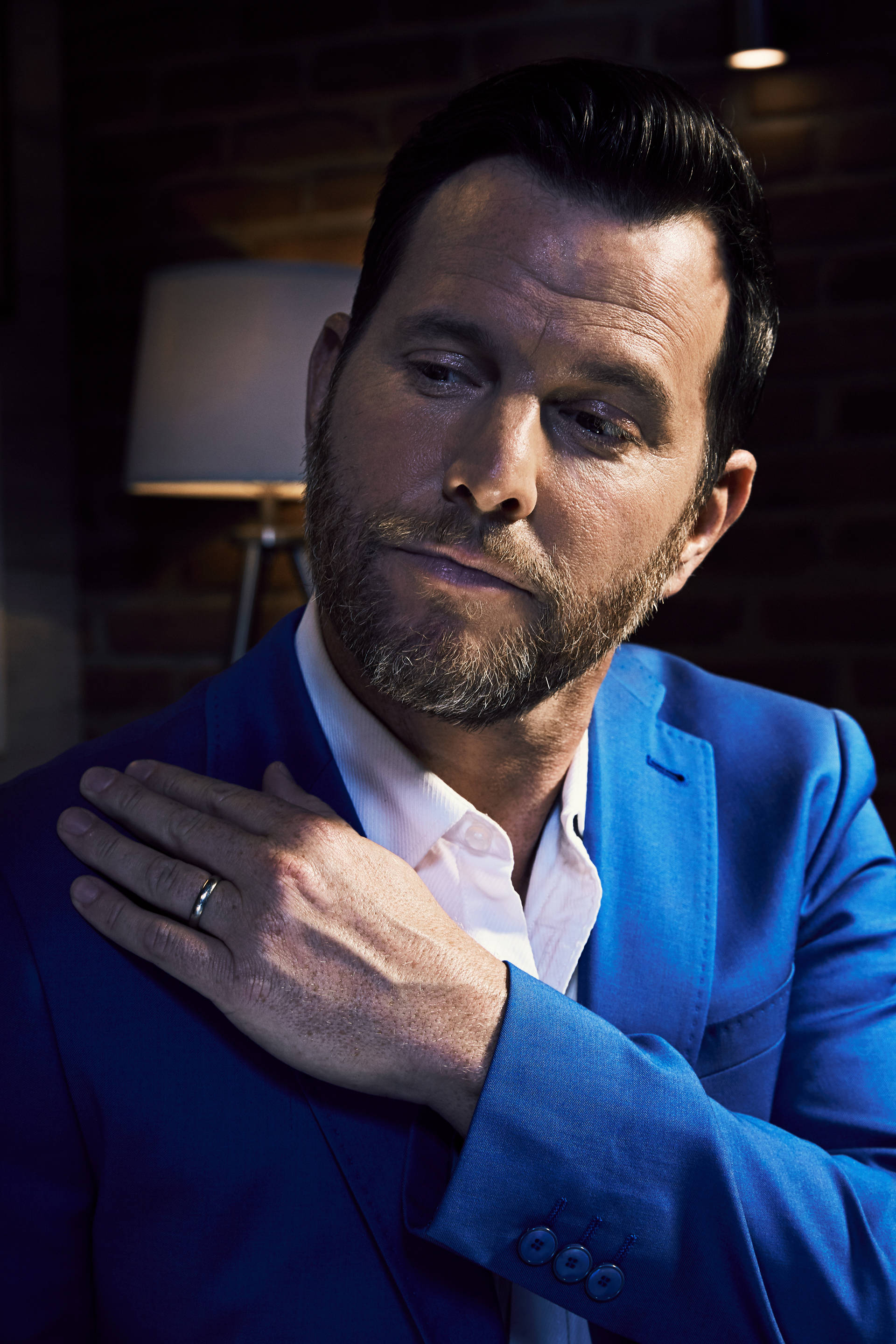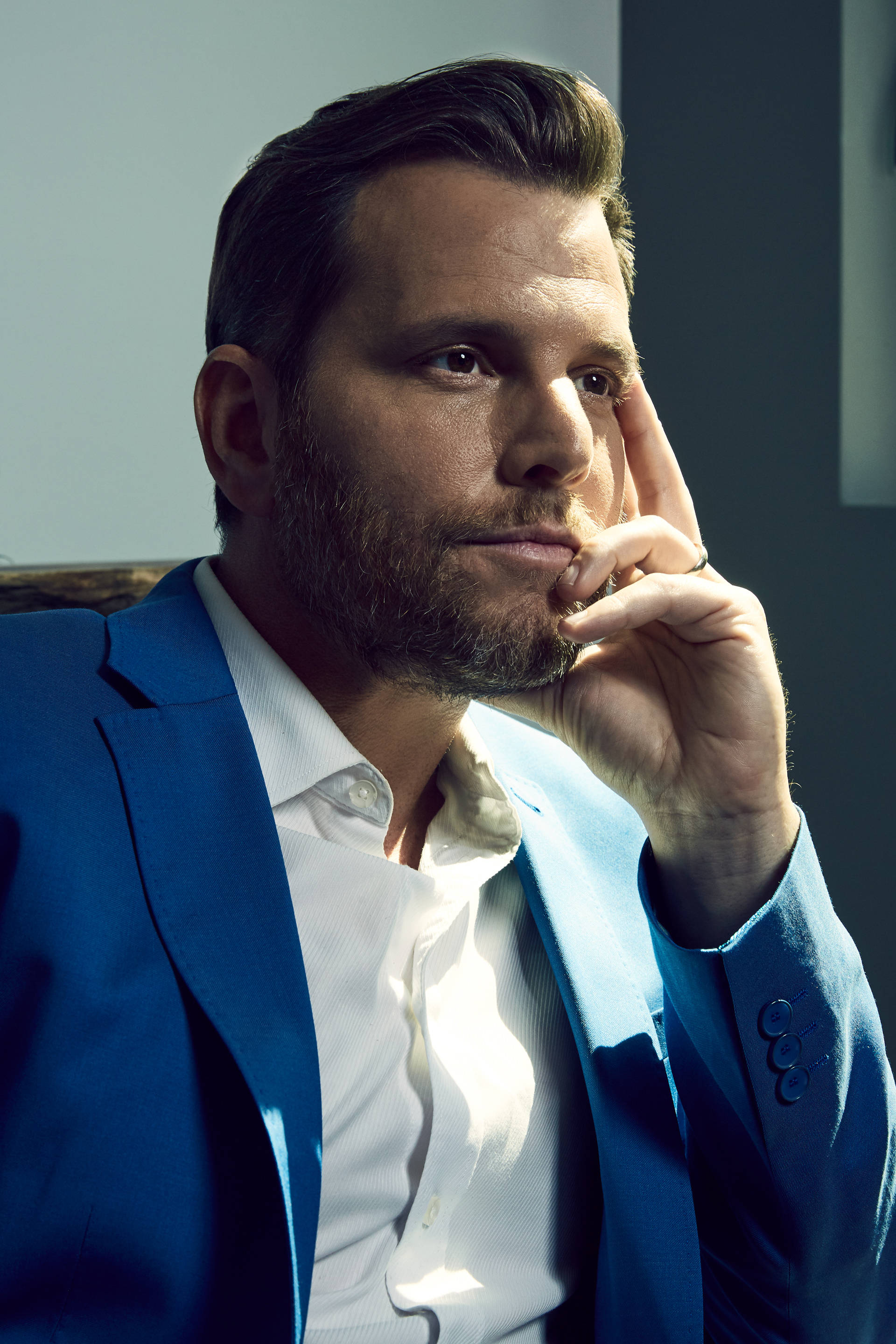 On September 4, 2018, the day that marked his return to social media and hosting duties on
The Rubin Report
, Rubin uploaded to YouTube
a two-hour, seven-minute conversation with Ben Shapiro
, editor-in-chief of the conservative website
DailyWire.com
. The video was not Rubin's first one-on-one with Shapiro; they've previously discussed abortion on his program. Rubin describes himself as "begrudgingly pro-choice" because "it's a horrible decision for anyone to have to make." Shapiro, on the other hand, is a pro-life traditionalist.
Rubin's flirtation with the right, as you may have already guessed, is what has turned him into the left's Benedict Arnold—so much so that conservatives at
The National Review
defended Rubin in June 2017 in
an op-ed titled, "
Mother Jones
Smears Liberal Talk-Show Host Dave Rubin for Daring to Interview 'Alt-Right' Figures."
That's because Rubin isn't a simple talk show host, nor one who's only willing to host fellow members of the intellectual dark web in his garage studio, where
The Rubin Report
films. Rather, it's because he's playing quarterback for a jersey-less squad that includes an effete mathematician (Weinstein), a Vulcan-like neuroscientist (Harris) and a clinical psychologist (Peterson) who's much too salty to host his own talk show.
"I have a knack for taking really complex things and making them palatable for regular people," Rubin says. "Over the years, a couple people have said that I actually remind them of Johnny Carson, which I take as the biggest compliment, because what I always felt when I watched him was that he was decent, thoughtful, funny and just listened. He had Ayn Rand and
then Burt Reynolds
, and it was just to talk about things." His intellectual populism has led to accusations by
The Daily Beast
that he's "amorphous" and a "PR person" rather than an indispensable interviewer. "Look, they're here because they've staked out positions that are interesting or edgy or possibly offensive," Rubins says of his guests, which most recently included Silicon Valley billionaire and Donald Trump backer Peter Thiel. "For me to jump in and fight them isn't necessarily how I like to do it."
I was wondering where the real conversations had gone, and why everything had become these five-minute screaming fests.

That sets up Rubin as quite the opposite of, say, William F. Buckley Jr. on Firing Line, detouring around attacking guests with stone-cold wile. "How is a viewer supposed to know better?" questioned Weiss, concerned that Rubin's approach with his guests, some of whom he's built alliances with, makes him incongruous with the journalistic practice of "hard ball."

"Everyone else on cable news is yelling at people for talking points," Rubin says. "I'm not interested in that and I've said repeatedly the more rope you give people—they'll hang themselves if they don't know what they're talking about." Subconsciously, Rubin may be referencing the January 2016 interview he did with conservative Larry Elder—what he calls "a massive wake-up or 'red pill' moment." During that exchange, Rubin suggested that systemic racism persisted in America. Elder vehemently disagreed and grilled Rubin, probing him, "Give me the most blatant, racist example you can come up with." Rubin looked like a lost witness being cross-examined on his own show.

"When I said the systemic racism thing, it's just one of those things you hear in the media so often that you just say it and you don't really know what it means," he admits. "It was the worst moment of my professional career because I wasn't armed with the facts, but it was the best because it showed people that if you don't have these conversations, that's what's going to happen to you." Today, Rubin says he no longer believes in the theory that systemic racism persists in America.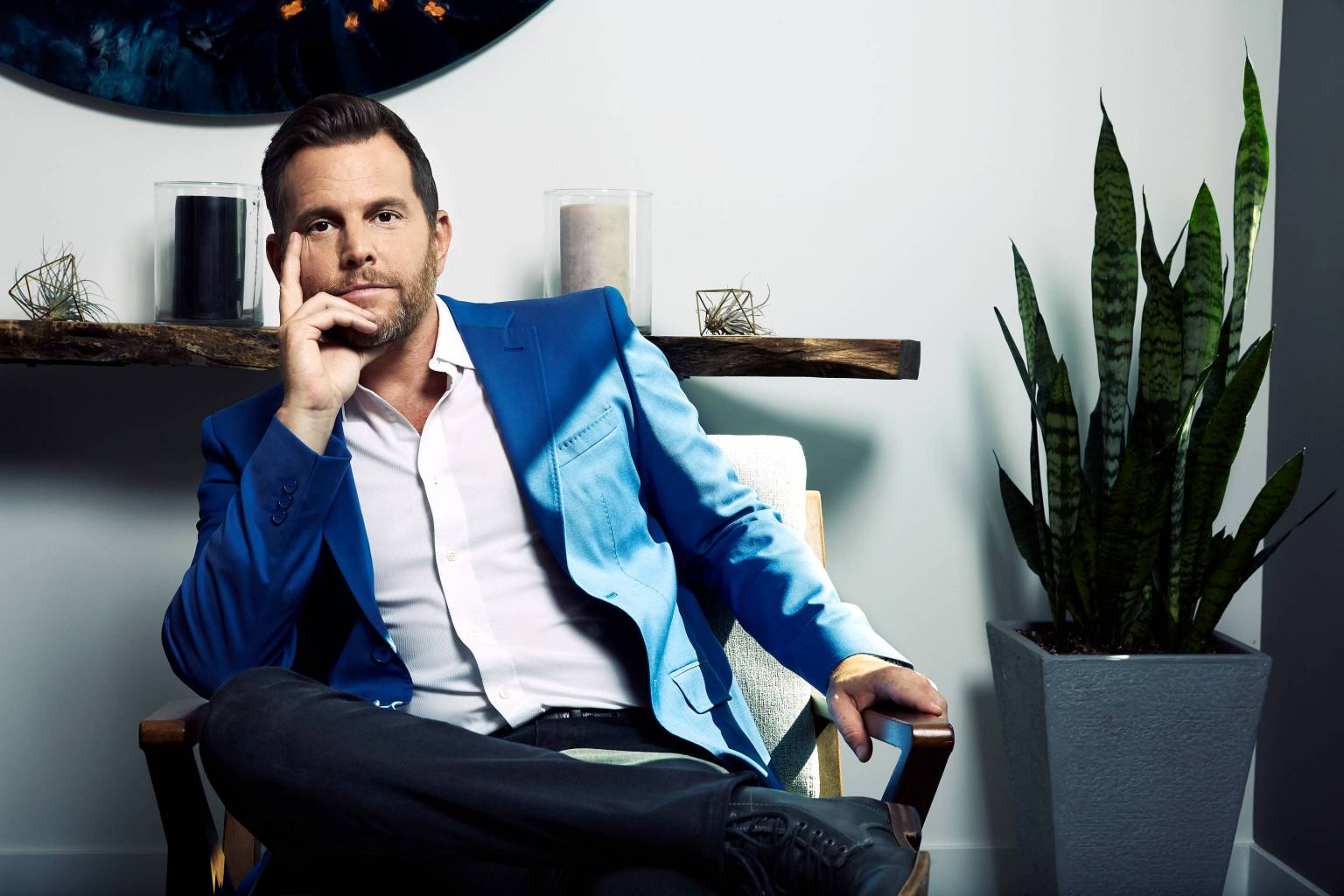 As true journalism becomes compromised in the proxy wars between the left and the right, Rubin has continued to triangulate the front-lines with conversational therapy, and
The Rubin Report
can be considered alternative programming that contrasts the he-said-she-said dynamics of cable news. "I was wondering where the real conversations had gone, and why everything had become these five-minute screaming fests," he says. His long-form interviews, occasionally hours-long, draw between 9,000 to three million views on a YouTube channel that now has more than 800,000 subscribers. Episodes with the aforementioned Shapiro, Harris and Peterson observably get the most traction, but episodes also feature Democrats like U.S. Senate candidate Jenny Wilson and
male feminists like Steve Pinker.
Even so, despite the fact that he is cozy with members of the intellectual dark web, he isn't simply giving nonconformists another platform or monetizing their respective IQs via YouTube views. He's producing an OTT television experience that combines the fan-to-fan respect of Bob Costas with the neighborly mise-en-scène of Jay Leno's 1990s
Tonight Show
.
"I just want the show to feel comfortable, homey and decent," he tells me. "I want people to walk in there and feel like they're in my living room. Like they're having a conversation with a friend. I don't want it to feel like CNN. That's fake and overproduced. I want it to feel like home."
---
According to two recent Gallup polls, 62 percent of Americans now believe the news is biased, while 44 percent think its inaccurate. The blowback has manifested in the rise of new media guerrillas that operate via streaming and outside the rules of broadcast—i.e., free from the jurisdiction of traditional journalism. InfoWars, for example, doesn't belong to any known universe except maybe
The X-Files
, but
host Alex Jones maintains a hypnotic hold
over a hefty slice of the Trump brood, stronger now that Mark Zuckerberg and Jack Dorsey has banned him from their platforms. On the far-left, the mad-eyed socialists at The Young Turks own a YouTube channel with more than four million subscribers. That means more leftists are hooked into The Young Turks than Rachel Maddow.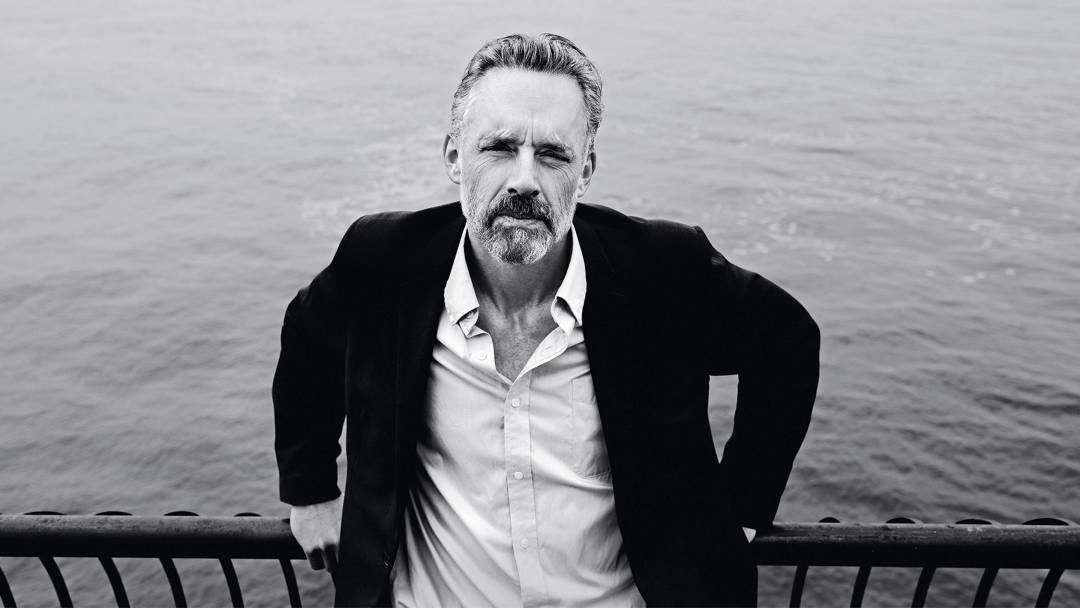 Since when do Canadian professors incite protests?
"They're not journalists, they're activists," says Rubin, excoriating the broadcasted groupthink that's
routinely diagnosed as "fake news"
by the president of the United States. Rubin is basically a mensch, but there's a wrinkle in his personality—a dark side under the baby face with a million-dollar smile. "If I was on someone else's show, I would be much more aggressive, in a way where I wouldn't in my home, in my studio, toward someone I've welcomed onto my show," he says. When Rubin takes to Twitter, for example, he abandons his dovish foreign policy. That is apparent again when he quips to me that some journalists are "shitty fiction writers" or when he requested retractions from
The Daily Beast
after a writer accused him of being an "alt-right cheerleader."
Rubin likes to publicly call out the same proponents of "call-out culture" he's often savaged on his own show. "That's not me at my best," he admits. "I try, at least as much as possible, to focus on ideas, not individuals. That's the mob getting the better of me." When I ask what it's like being a liberal with ties to Turning Points USA, a pro-Trump non-profit speaking network that activates at the collegiate and secondary education levels, he says, "Look, they never imply what I can or can't say. We actually relish the moments when we disagree." In a recent stop at the University of New Hampshire, Rubin describes how a group of campus radicals heckled him for standing in front of a Turning Points step-and-repeat, chanting "hate speech does incite violence." Taking loaded questions from them, Rubin says he "could see this look in their eyes, and it was true evil."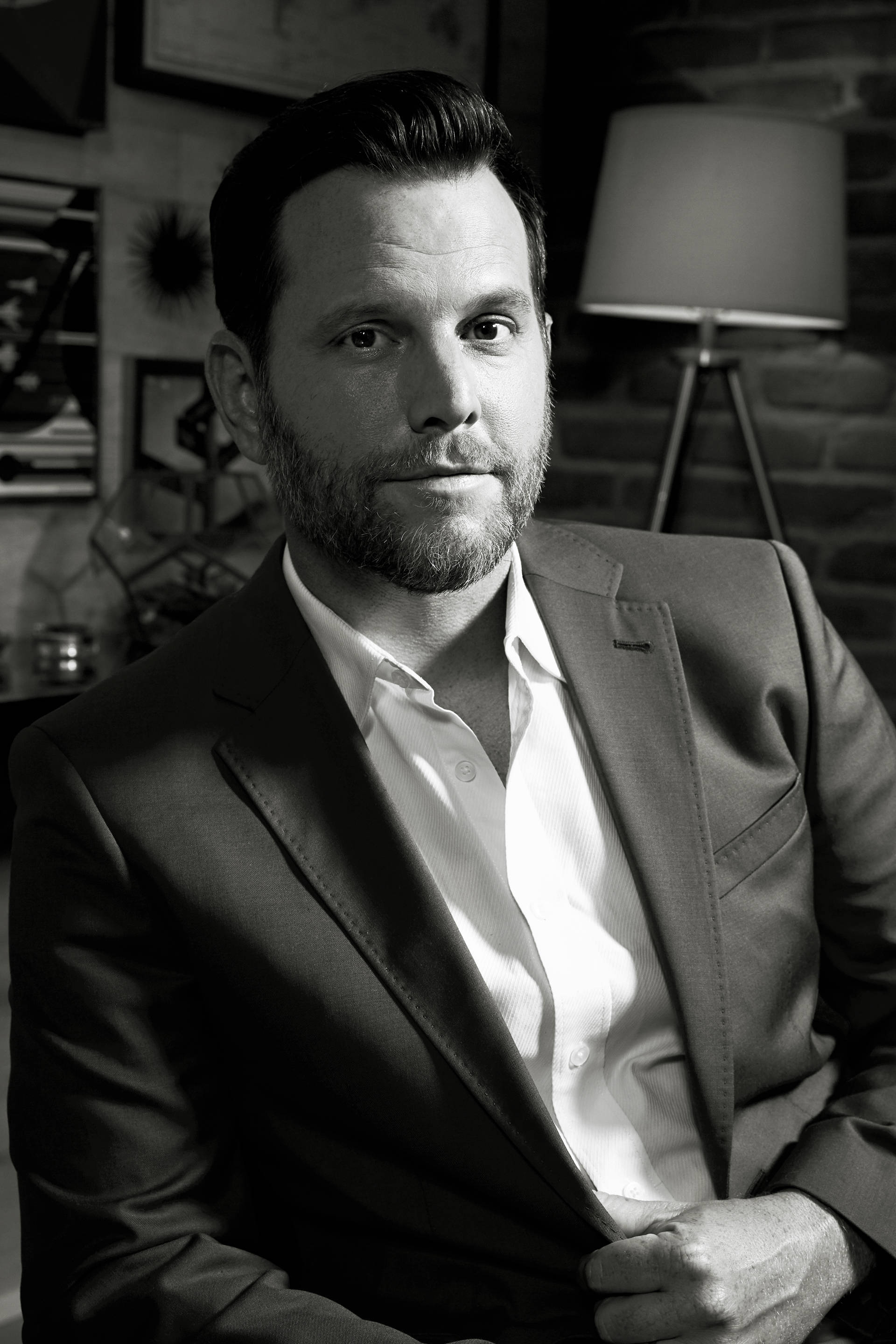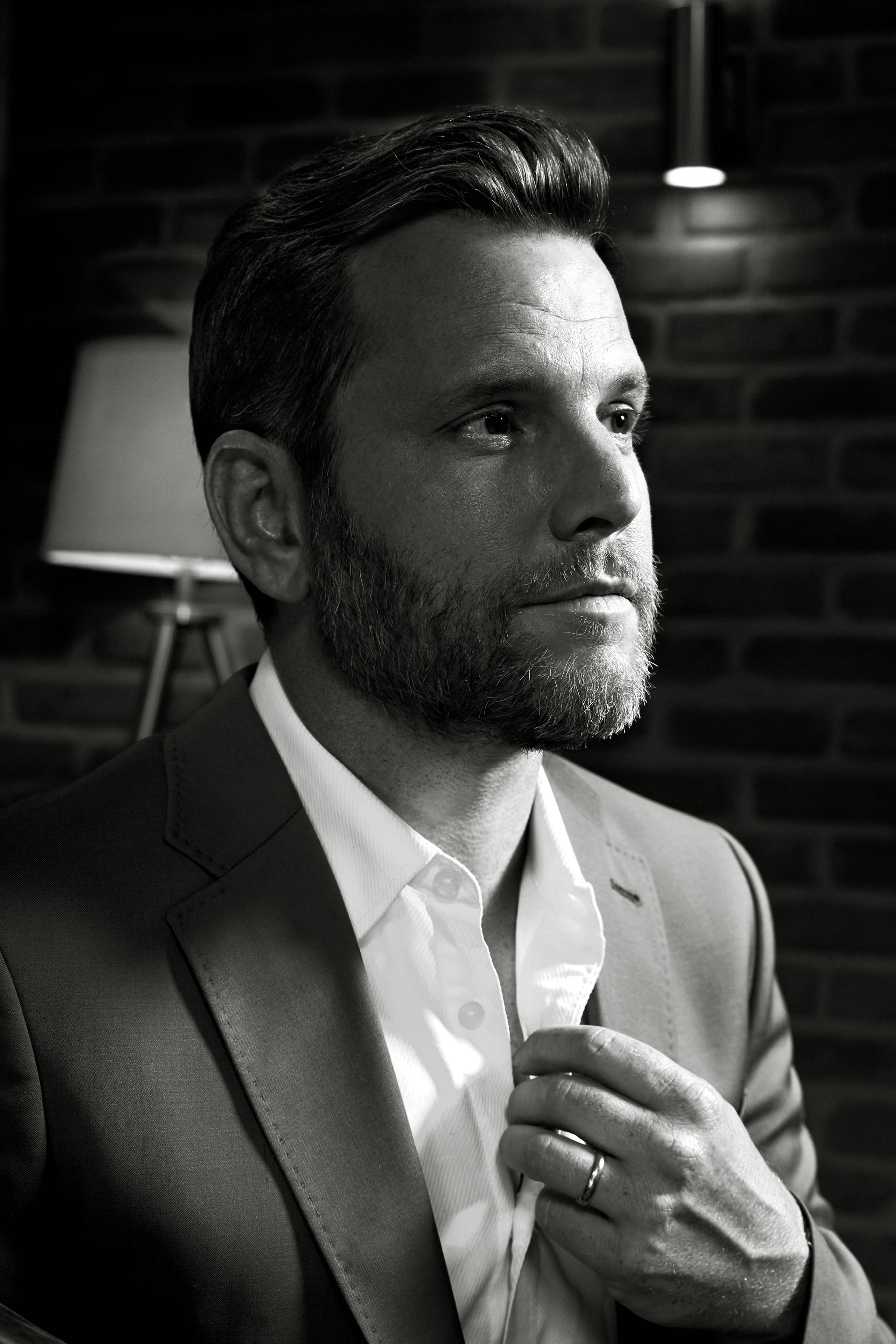 "What we now have is not the liberalism I grew up with," he says. "It's more much authoritarian and controlling. I believe the role of government is a very light touch. [Classical liberalism] is about reigning in power as much as possible. It's the basic idea of equal laws for everyone based on individuality, and respect for your fellow human being. I think that's the best set of ideas there is."
---
After defecting from The Young Turks,
The Rubin Report
landed at start-up RYOT News in March 2015. There, Rubin introduced "Direct Message," a series of monologues in which he began to proactively champion free speech. The first video, appropriately titled "Dave Rubin Defends Free Speech," became
The Rubin Report
's philosophical reflection on the failures of the "regressive left."
By September, the show had relocated from RYOT to Larry King's Ora TV and Rubin had nabbed Harris for an interview—the seemingly first "intellectual dark web" interview for the
The Rubin Report
as it exists in its current format. In March 2016, Rubin interviewed Milo Yiannopoulos ("You're never going to see Anderson Cooper or Andy Cohen spend a half-hour talking about really intense issues about the gay community," he says of that conversation) and by June,
The Rubin Report
went indie.
Rubin's audience enthusiastically followed him; the show launched a Patreon account to help fund its production, which now boasts more than 4,600 patrons, with subscriptions starting at $5 a month. Altogether, the show's Patrons pump an average of $30,000 each month into its coffers. On February 6, 2017, Rubin cut a four-minute takedown of progressivism for conservative education network
PragerU titled, "Why I Left the Left,"
which may have very well cemented Rubin as anathema to the cause of liberals. "I was actually pissed," he tells me. "I never actually said those words ["why I left the left."] I was trying to fix the left from the inside. But about a half-hour later, I realized it was catching fire. And I was like you know what? It's okay that they did it, but up to that point, I still considered myself part of the left."
Does Alex Jones do a lot of crazy shit? Of course he does. But he's got a massive audience, and some of them are good people.

With more than six million views on YouTube, Rubin's outing became PragerU's second most watched video, which further ingratiated Rubin with the right.
The Rubin Report
now has 177,000,000 views on YouTube, driven by the same conservatives and former leftists who have permanently joined Rubin in the "freedom space," as he describes it.
But how much freedom does
The Rubin Report
actually exercise? There are those who accuse Rubin of the same censorious nature of the de-platformers on the left, which he continually derides. Rubin says he's invited Elizabeth Warren and
Chelsea Handler
on the show, but he won't humor YouTubers from the left, such as Sam Seder, host of
The Majority Report
, who's challenged Rubin to a debate and who's regularly posted videos
questioning Rubin's intellectual capital
. Seder is also part of a larger network of leftist YouTube channels, including "The Progressive Voice," that seems to have made it its mission to take Rubin down. "If you're doing misleading videos about me all day, I don't need you in that chair," responds Rubin. [
Editor's Note: Playboy did not reach out to Seder for comment on this story.
]
Seder's accused Rubin of being
"on the take,"
a programming tool of the
fiercely capitalistic Koch brothers.
The criticism is linked to Rubin's partnership with Learn Liberty, a libertarian subsidiary of the Institute for Humane Studies, which has received funding from Koch Family Foundations. "Learn Liberty sponsors an episode per month, which we announce at the top of the show," he tells me. "They have thousands of donors. They have no control over our content and have never asked me to do or say anything. For the record, though, I'd be happy to have the Koch brothers on the show, just as I'd talk to George Soros or any other interesting, influential people."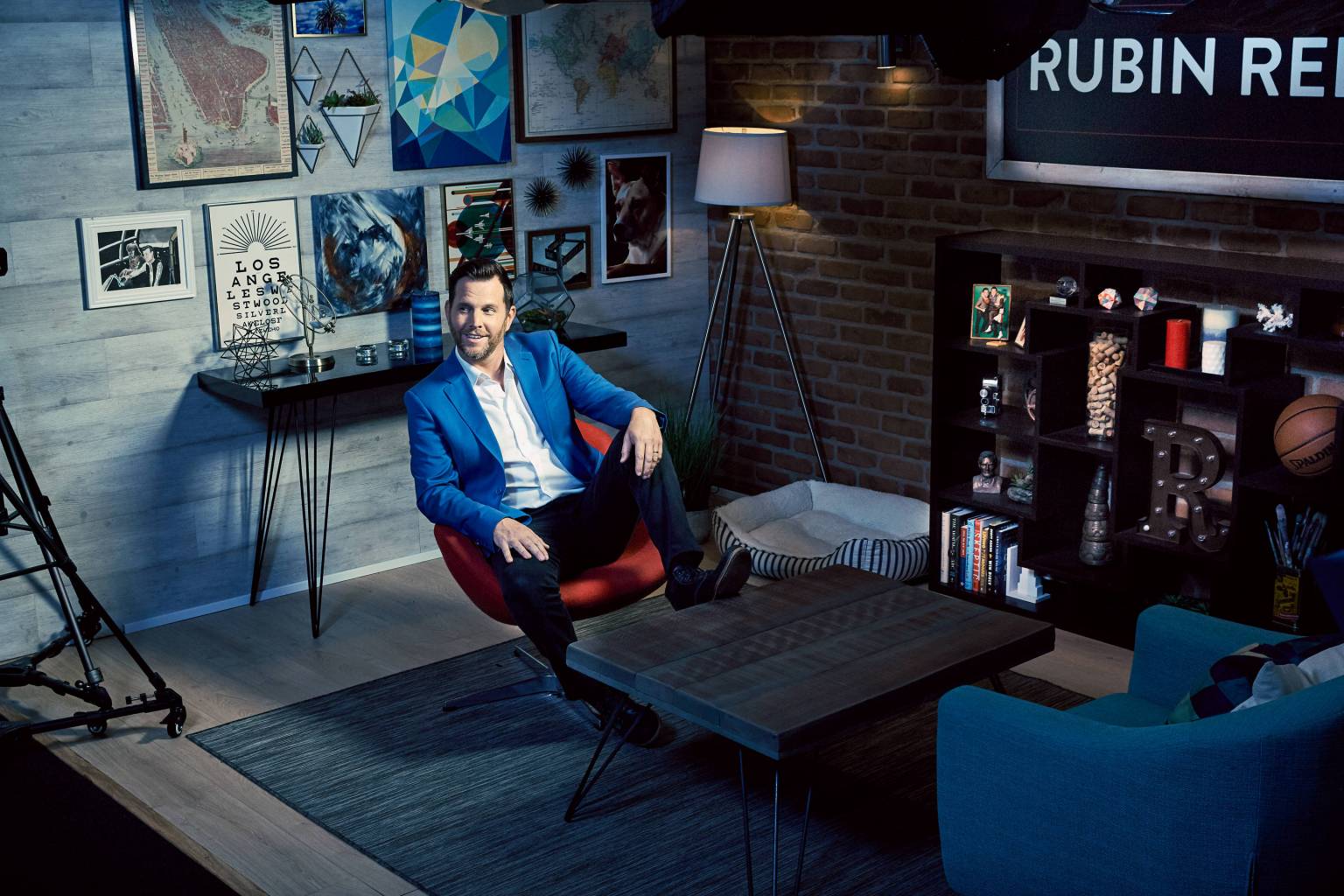 Flatly denying that his talking points are for sale, Rubin admits that Learn Liberty has given him a list of suggested guests, some of whom he's booked, like economist Deirdre McCloskey and Georgetown law professor Randy Barnett.

Another question is whether The Rubin Report can maintain ideological purity as an advocate of the First Amendment as it continues to rely on fans' patronage. I ask Rubin a few times if he struggles with appeasing those who pay the rent (Rubin's home studio received a makeover during his August vacation and has soundproof walls, a control room and an impressive lighting rig) or if they could force him toward uncomfortable ideologies. "I could piss off 80 percent of my audience on any given day," he says. "Anything could happen, but I've consistently never said anything I don't believe. I've made mistakes, but we've left them in."

More nuanced thinkers will notice someone who is clearly still finding his place, as he occasionally stumbles into the murky terrain of conspiracy theorists, at the expense of his own hubris. An appearance on InfoWars in March 2017 was clearly a "fuck you" to the left, following the PragerU video. Rubin laughs at my claim that going on InfoWars was an act of trolling. "It really wasn't that. The video came out, it was catching fire, and I didn't get any requests from CNN or MSNBC. I've never been invited on those networks. Does Jones do a lot of crazy shit? Of course he does. But he's got a massive audience, and some of them are good people, so I thought if I go on there and talk about what I believe in, then maybe some of these people will watch my show and pick up some of these ideas."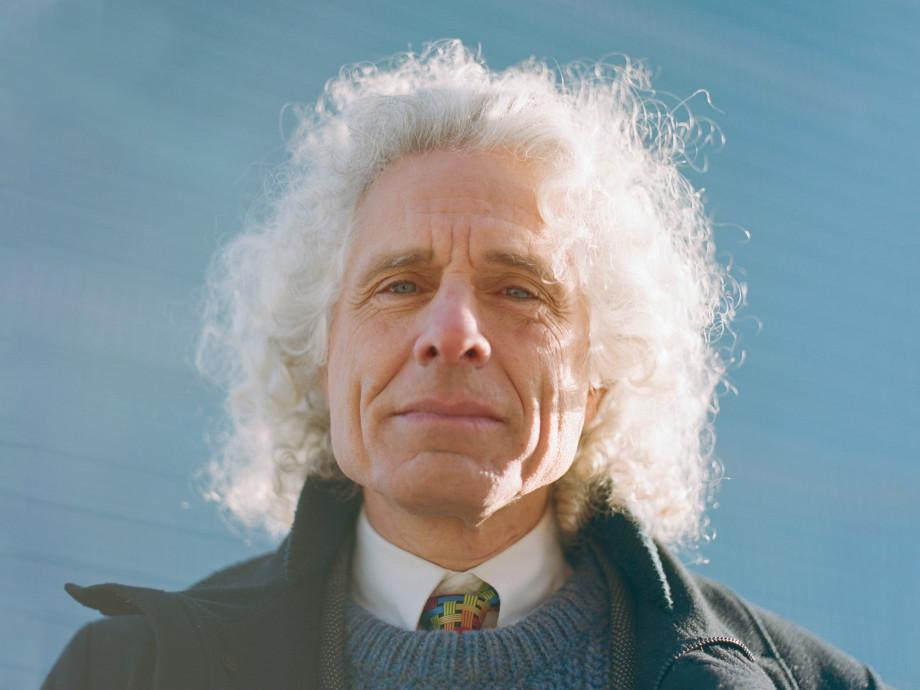 In 'Enlightenment Now,' Steven Pinker is on a mission to convince you that civilization is working.
Reporters and media critics are also dumbfounded by Rubin's disinterest in cross-examining figures like extremist libertarian Stefan Molyneux, who appeared on his show last November. Molyneux has stated on his own YouTube show that he believes those who follows U.S. drug laws are engaging in murder.
Rubin's two-part interview with Molyneux
focused on "race and IQ," one of Molyneux's fetishes, but Rubin never poked holes in some of Molyneux's absurd theories, or asked him to explain his more insidious comments, such as telling his followers they should separate from their families.
"I can't only interview people I like. If I'm going to sit down with shady characters, hopefully I'll be able to expose their ideas. I did ask him, repeatedly, to explain why he cares about these issues so much. His answers might be honest, or disingenuous, but people can dive into that themselves. I felt like I asked the appropriate questions during the Molyneux interview, but if something got by me, then that's quite possible. I'm not perfect."
Even so, it's clear that Rubin's successful because he produces a mostly nonpartisan product that's filling a void for anyone who wants, but can't get an hour-long interview with a critic of third-wave feminism. He's successful because he's a pro-choice, gay married liberal who can calmly interview a pro-life traditionalist, like Shapiro, and in the process reexamine the exactness of his own views. He's successful because during any given interview, he can become a proxy for both the experience of red-pilling and mutating under the acrid cloud of Trump-era polarization. "I'm evolving with them," Rubin tells me. "I'm not controlling them. We're all just figuring this thing out together."
As many Americans reconfigure their politics during the Trump era, Rubin will reconfigure, too. In June of last year,
Mother Jones
diagnosed Rubin's openness to conservatism as an indicator that he's "far-right," or that his talk show is part of an industry that is "further to the right than Breitbart," which unfairly insults Rubin's character—a self-described "classical liberal" and a "freedom guy."
"If the left is going to offer me identity politics, more government, collectivism, authoritarian control and higher taxes—I would vote for Trump in 2020." (He voted for Gary Johnson in 2016.) Though Rubin says he's more libertarian than conservative these days, I ask him, at 42 with graying whiskers on his chin, if he's becoming more conservative. "I have a little more in common now with conservatives than the left, but I would say I'm more libertarian. But it's hard to see how far it can go before you have no government at all. For the last year and a half, I had reached out to the left, to start defending free speech; to stop being hysterical and outraged about everything; to stop calling everyone a racist. I tried to be an honest actor. Maybe 10 years from now the rational left can reemerge, and I can be a part of that."

---
There was before The New York Times, and after The New York Times. That's Rubin's world now, and everything's been upgraded since then. When Rubin's not touring America with Dr. Peterson or producing his shows, he spends hours in his red chair reading the works of Skeptic Magazine publisher Michael Shermer and Yale Law Professor Amy Chua; the latter has probably opted to appear on The Rubin Report because it's the only place where the "gay cake debate" is given an hour-long discussion, sans talking heads. Rubin's nonjudgmental and clock-free interviewing style rarely produces dissonance.

This thing about leaving the left, and really getting away from identity politics—obviously I've hit on something that makes people want to listen.

As a Miles Davis track plays in the background, I ask him if he views himself as an intellectual—an ambiguous title, especially in the current milieu, but one he's been criticized for holding. "I'm not an academic. I don't consider myself an intellectual in the traditional sense the way those guys are," he says. "I'm good at conducting conversations that allow more regular people like myself to hear their ideas. This thing about leaving the left, and really getting away from identity politics—obviously I've hit on something that makes people want to listen to what I have to say."

Rubin is not some hard-nosed reporter or seasoned think-tank libertarian. His critics view his lack of combativeness as an inadequacy or circumstantial evidence that he, like many Americans, have grown tired of political correctness and the left's "catastrophic failure" to defend free speech. But Rubin has no legal or moral obligation to adhere to the zero-sum view of traditional journalism, or to honor it as a pipeline to condition and educate the American people. Rubin's talent is the interview, not journalistic assassination; he has no interest in using his gift to wound or besmirch the integrity of his guests.

For Rubin's base of "disaffected leftists," libertarians and conservatives, his nonjudgmental and congenial style have provided a necessary alternative to the hot seat and to the yelling. For regular Americans who haven't invested in a public media career or campus activism, Rubin's oeuvre may be a reintroduction to healthy political discourse, guided by the psychology of today's most divisive thinkers. His interviews also happen to beam a bat signal that demands, "Fuck political correctness." Though he's not quite ready for primetime when it comes to defending every tenet of libertarianism, Rubin does offer long talks unregulated by the mainstream media's urgency to parent or control.

In that sense, he may very well be a threat to the established order of broadcast journalism. "I don't yell at or berate people. I think it's much more effective to humanize people and get better answers out of them," he says. "Almost every guest who comes on tells me how refreshing it is to sit there, and just look someone in the eye, and talk for an hour."

RELATED TO DAVE RUBIN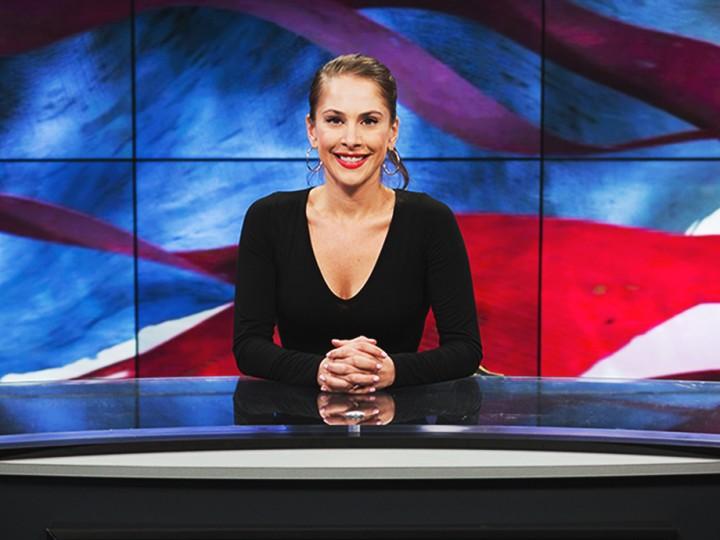 Why does the "Young Turks" cohost, a progressive, ignore the Armenian genocide?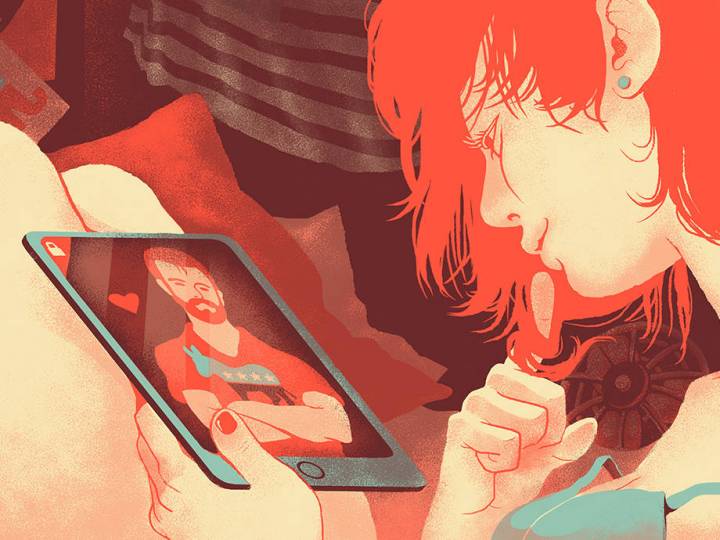 Political feuds have become lovers' quarrels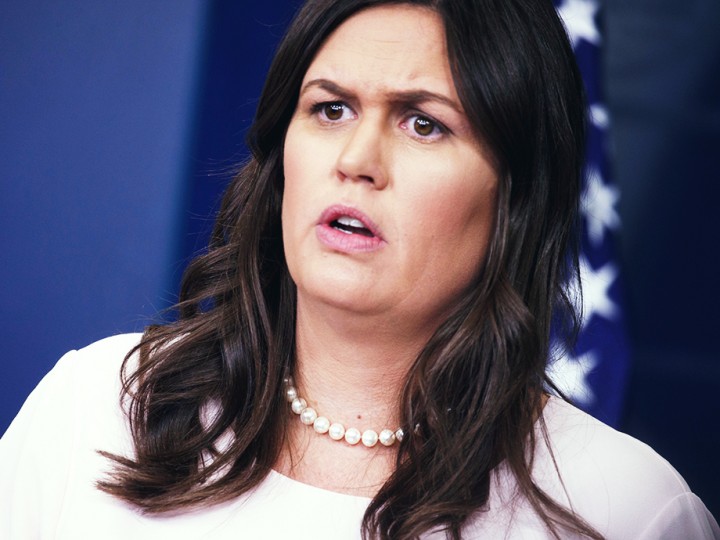 Sanders was booted from Lexington's The Red Hen, and both Democrats and Republicans are cheering