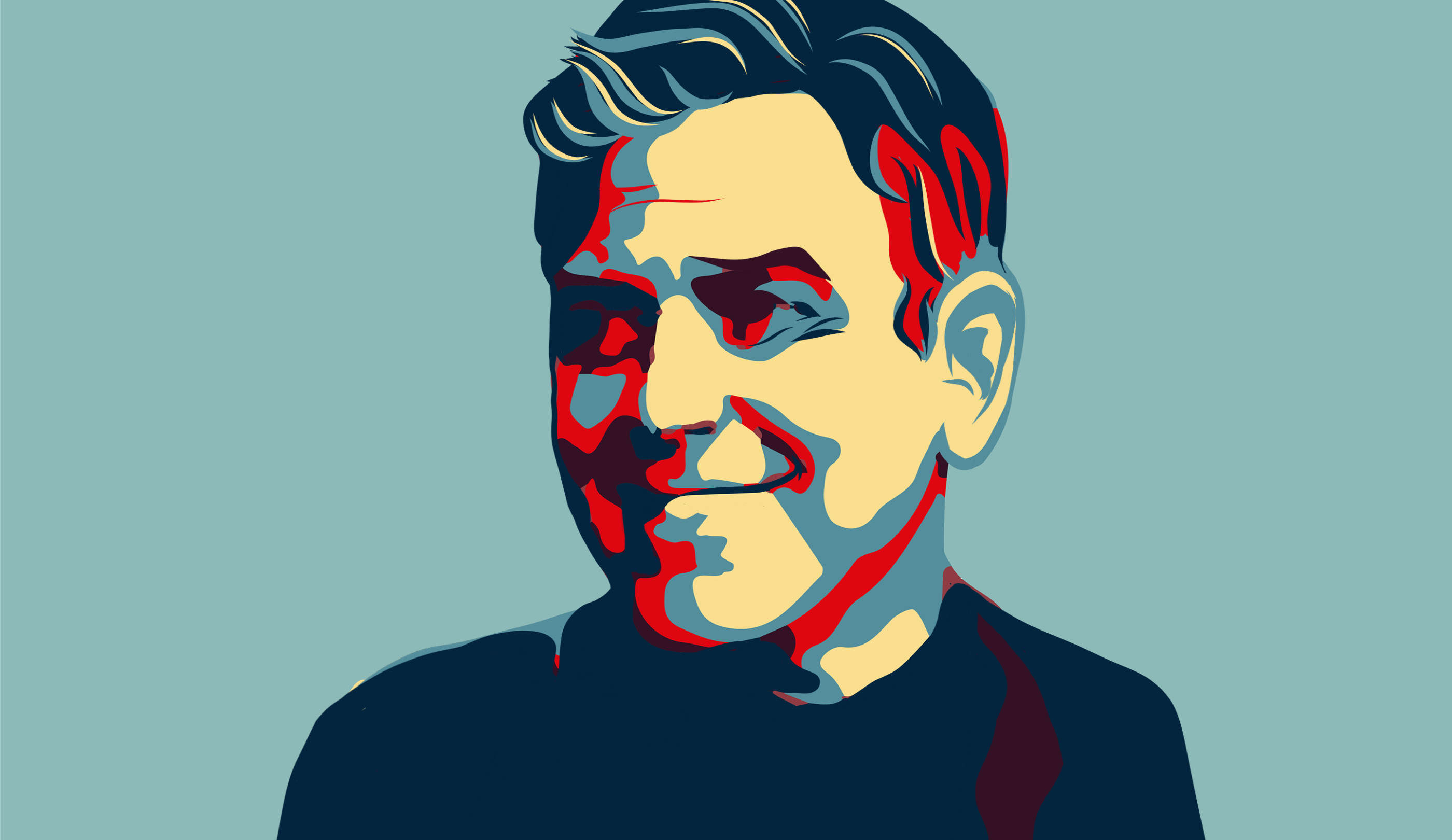 What Would a George Clooney Presidential Run Look Like?
Written by Daniel Barna
Illustration by Katie Bailie

Published on

October 26, 2017
George Clooney has a new movie, Suburbicon, which means it's once again time to ask whether or not Hollywood's preeminent gentleman will ever run for president. The question inevitably comes up whenever Clooney embarks on a press tour, especially during this latest phase of his career, when the new father of two seems to feel more comfortable behind the camera than in front of it.

If you characterize a leader as someone who others will follow into battle—sometimes blindly, as we saw last November—then Clooney fits the bill. How else can we explain the existence of his latest directorial effort, Suburbicon, an uneven pastiche of a genre—crime romps gone horribly wrong—that the Oscar winning Coen Brothers have defined. Think Hail, Caesar!, Burn After Reading and Intolerable Cruelty, all of which Clooney stars in. Joel and Ethan Coen penned the first draft of Suburbicon years ago and even offered Clooney a part, but the brothers eventually abandoned the project altogether. It's easy to see why. Suburbicon feels like an attempt to reimagine Fargo for 2017 audiences without realizing it's already been done—and quite successfully—on television by Noah Hawley.
When I attended a screening of the film at this year's Toronto International Film Festival, there was a noticeable chill in the room. People groaned where they should have laughed and laughed where they should have groaned. I exited the theater bewildered by what I'd seen and was left questioning the motives of the supremely talented people—Matt Damon, Julianne Moore and Oscar Isaac, just to name the top billing—who joined forces to make it.
How could something starring these acting luminaries go so awry? Shouldn't they have known better? You see, that's the thing about natural-born leaders. They have a unique ability to execute their vision and make it a reality without much pushback, because they make others feel empowered. They get the job done. And George Clooney is definitely a leader.
Suburbicon's harshest critics—and there have been many, as evidenced by the film's heinous 37 percent score on Rotten Tomatoes—have lamented the film's subplot which involves a black family that causes an uproar when it moves into the seemingly idyllic, all-white neighborhood for which the film is named. While Clooney's attempt to take aim at America's long history of racism feels timely—especially after Charlottesville—it also feels ill-fitted and ad hoc, as if he shoehorned it in because making an apolitical piece of pulp would somehow fail us all.
If you were to take one look at Clooney's oeuvre as a director, it becomes clear that this is a man who wears his political heart on his sleeve. The Ides of March, his most overtly political film to date, is a cynical morality tale about the depths of corruption in our electoral system. Even The Monuments Men, which is built like a white-knuckle World War II thriller, doubles as a preachy anti-fascist screed.
Because Clooney's work is so political, the press have never shied from probing the star about his own political aspirations. That's been especially true during Suburbicon's promotional blitz, which has thrust Clooney into the spotlight for the first time since Donald Trump took office and at the same moment when actors are expected to issue diatribes on systemic sexual assault in America. Never one to mince words, Clooney has been scathing in his criticisms of the president. In Venice, he told reporters that he felt compelled to make Suburbicon after watching Trump front one of the most divisive campaigns in this country's history. "It's probably the angriest I've seen the country, and I lived through the Watergate period," he said. "There's a dark cloud hanging over our country right now. I'm an optimist… I do believe in the youth, and I believe that we're going to get through all of these things, and I think that the institutions of the U.S. government tend to work."
He should know. Clooney is no political naïf and has been operating deep withing that world for a good chunk of his adult life. He helped raise money for Hillary Clinton. He still texts Barack Obama. In 2004, he watched his father, Nick Clooney, lose a congressional race to a Republican who used his son's fame against him.
That experience might explain why Clooney has taken such umbrage with Trump pitting his deep-red base against the so-called "costal elites." In a recent interview with The Daily Beast, Clooney mapped out his blue-collar roots before bashing the president for stoking a violent culture war. "People in Hollywood, for the most part, are people from the Midwest who moved to Hollywood to have a career. So this idea of "coastal elites" living in a bubble is ridiculous," he said. "Who lives in a bigger bubble? He lives in a gold tower and has 12 people in his company. He doesn't run a corporation of hundreds of thousands of people he employs and takes care of. He ran a company of 12 people!"
In that same interview, Clooney implied that directing movies is far better prep for public office than doing whatever it is Trump did before becoming president. "When you direct a film you have seven different unions all wanting different things, you have to find consensus with all of them, and you have to get them moving in the same direction," Clooney explained. "He's never had to do any of that kind of stuff. I just look at it and I laugh when I see him say "Hollywood elite." Hollywood elite? I don't have a star on Hollywood Boulevard; Donald Trump has a star on Hollywood Boulevard."
Apart from his leadership credentials, Clooney has the morality Trump lacks. As one of Hollywood's most distinguished humanitarians, Clooney has advocated for human rights, particularly in Sudan's Darfur region. In 2008, he founded Not On Our Watch, an NGO dedicated to protecting and assisting "the vulnerable, marginalized and displaced." In fact, his humanitarian efforts have been so extensive that in 2008 the United Nations designated him a Messenger of Peace. This past August, Clooney and his wife Amal donated $1 million to the Southern Poverty Law Center, an organization dedicated to fighting hate groups. "Amal and I wanted to add our voice (and financial assistance) to the ongoing fight for equality," Clooney told USA TODAY. "There are no two sides to bigotry and hate." Now that's how you sound presidential.
But before you start dreaming of a cabinet filled by the Ocean's 11 cast, an elegant First Lady who is also a human rights lawyer and a martini perched atop the Resolute desk, temper your expectations. Clooney has set the record straight time and time again that he has absolutely no desire to be president. "I've been asked that for almost 20 years now and the answer is just no," Clooney said in 2015. "Who would ever want to live like that? I'm friends with a lot of those guys and I just think it's hell." Just last month, he reaffirmed his position. "Would I like to be the next president? Oh, that sounds like fun," he cracked, before lobbing a thinly veiled barb at Trump. "Can just say that I'd like anybody to be the next president of the United States?"
But as 2020 draws closer, a serious threat to Donald Trump has yet to emerge. What if suddenly Clooney decides that he's our only hope? In this era of politics-as-theater, an actor winning the presidency with no previous experience in office isn't as far-fetched as it was pre-2016. In fact, he might be better equipped at defeating Trump than career politicians like Joe Biden, Elizabeth Warren or Bernie Sanders. Clooney is charming, witty, stylish, genetically gifted and immensely successful—all the things that make Trump feel inferior. Trump would have nothing to sink his fangs into—unless of course, he's seen Suburbicon.