It was the fried chicken that scared flight attendant Gwen Wong Wayne the most. Not the turbulence, or the passengers who drank one too many glasses of wine, but the dish she and other Jet Bunnies prepared from scratch for their boss, Hugh Hefner, on the Big Bunny, his personal plane. The recipe was simple: chicken pieces, a handful of flour, Lawry's seasoning salt, garlic powder and dried parsley, all shaken together in an air-sickness bag and then fried. The location—a tiny forward galley in a DC-9 jet flying at 30,000 feet and cruising at a speed of 565 miles an hour—was not. Decades after her stint in the skies, Wayne says she always prayed they wouldn't hit an air pocket that might jolt the plane and send hot oil spattering.

The challenges of finding the perfect sky-high bachelor pad began almost as soon as Hefner expressed an interest in having a plane."He liked to eat certain things," Wayne remembers about Hefner, whose tastes, when it came to food, were famously consistent and unadventurous. Boxes of Twinkies were stashed so they'd never run out on long flights. A bottle of Pepsi had to be waiting for Hefner when he boarded (to be refreshed every hour) and a glass of cold milk served with his meal. Meal preparation was the only nerve-racking part for Wayne, a Playmate (April 1967) who had been working at the Los Angeles Playboy Club when she traded in her ears for wings and became a Jet
Bunny
.
"Was it a hard job? At times it was, but also it was something that was just…almost like you have to pinch yourself to know that this is real," Wayne says.
---
Painted solid black with a white
Rabbit Head logo
on its tail fin, the
Big Bunny
was one of the most recognizable planes of its time. It shuttled Hefner and his coterie from Chicago to Los Angeles and across the Atlantic for excursions to Europe and Africa. It incited envy among other executive-jet owners. It acted as the brand's winged ambassador, spreading the message of lust and luxury. Behind all the opulence—and occasional charitable undertakings—a flight crew including a pilot, first officer, flight engineer and two to three Jet Bunnies like Wayne worked to keep passengers happy and flights safe and seamless.
The challenges of finding the perfect sky-high
bachelor pad
began almost as soon as Hefner expressed an interest in having a plane.
He said to me, "This is going to be a flying mansion. And I need a dance floor and a bedroom with a round bed."

"One day in the late 1960s he came to me and said he wanted a large corporate jet," says Dick Rosenzweig, who was then an assistant and eventually became an executive vice president at Playboy Enterprises. Rosenzweig initially looked into the Lockheed JetStar, the largest corporate jet available at the time. But when he reported back on his extensive research, Hefner waved the suggestion away.

"He said to me, 'Oh no, that's not what I'm talking about. This is going to be a flying mansion. And I need a dance floor and a bedroom with a round bed. I need something with international capability,' " Rosenzweig says.

More searching turned up the McDonnell Douglas DC-9 fan jet. The aircraft manufacturer agreed to create a special model of the plane: a stretch version with extra fuel tanks that could take it across the Atlantic. Hefner approved the plane but wanted nothing to do with the standard two-aisle, 100-plus passenger configuration. He hired designers Daniel Czubak and Gus W. Kostopulos to create an aircraft every bit as lavish as his mansions.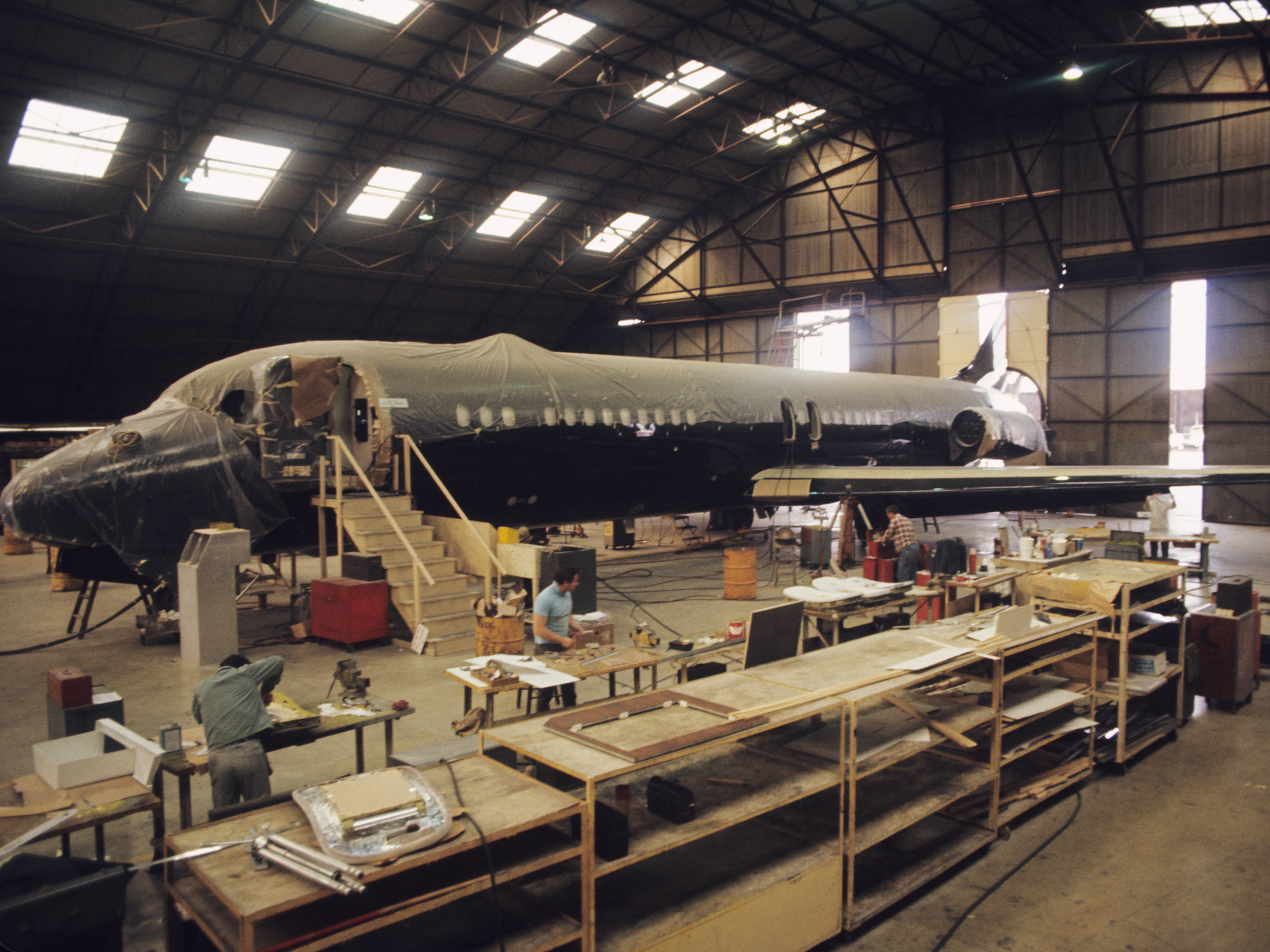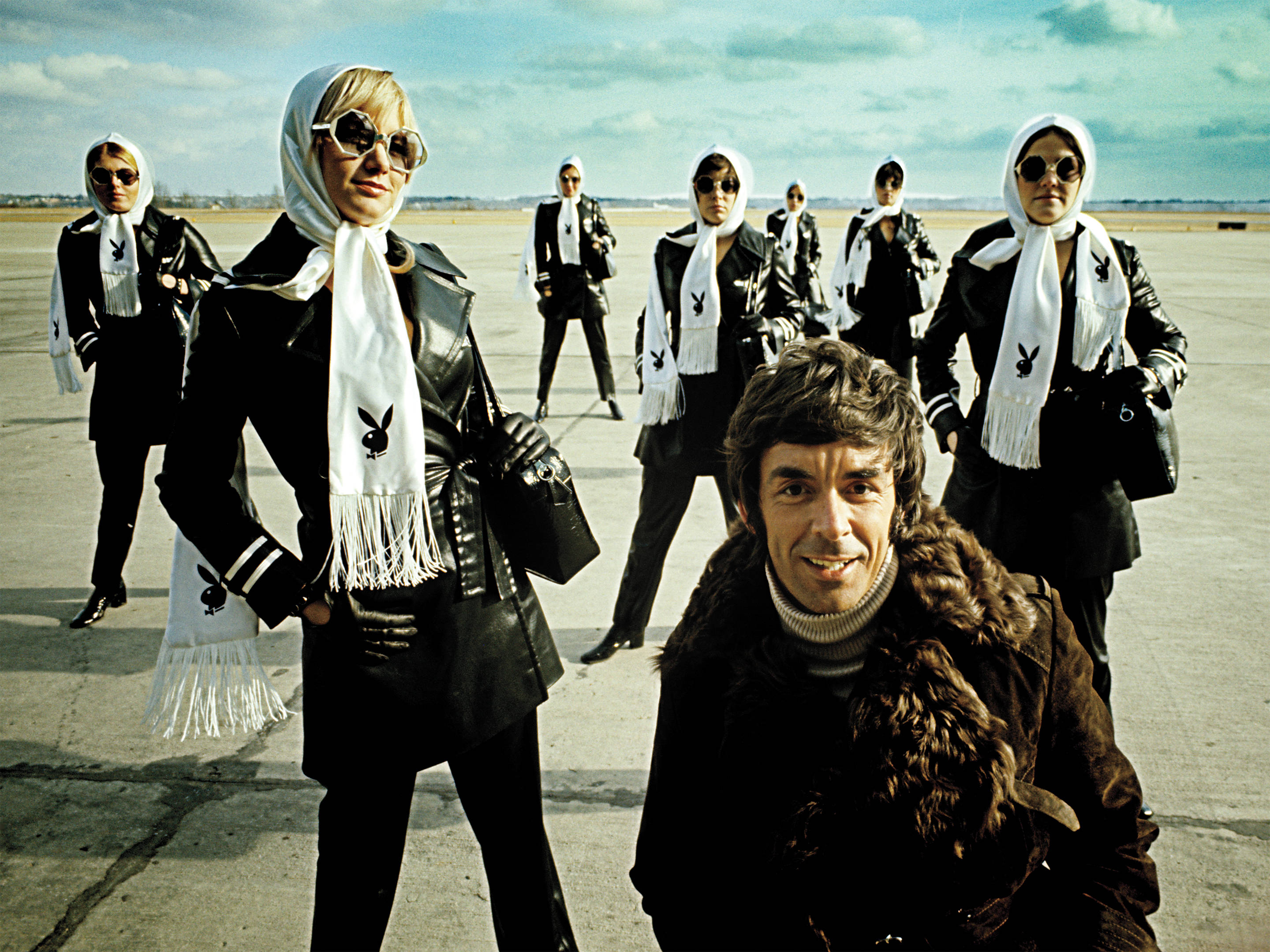 "Through the use of soft, flowing contours, sculptured forms and controlled lighting, we are shaping the interior to eliminate the tunnel effect you now get in a standard aircraft," Czubak reported in 1968 after the plane was ordered.

But things didn't go quite as smoothly as the designer might have hoped. Fitting custom-made high-end furnishings and cutting-edge audiovisual equipment into a functioning mechanical package wasn't easy.

"As it was under construction, the FAA took a look at it and said, 'Wait a minute, this does not meet our specifications,' " Rosenzweig recalls. Everything that had been done to that point had to be ripped out, costing more time and money. From then on builders followed the precise weight and design restrictions set by the Federal Aviation Administration. Even the plane's unmistakable paint scheme and array of lights shining on the Rabbit Head design required approval. But the final result was well worth the effort.
---
Taking its first test flight in February 1969, the Big Bunny debuted as the world's largest and costliest business aircraft, at 119 feet and $5.5 million (about $38 million today). Fewer than a dozen other people owned similarly large business jets at the time; their ranks included Howard Hughes, singer James Brown and MGM owner Kirk Kerkorian.

Everywhere it flew, the jet was instantly recognized and clamored over. Reporters invited aboard for promotional tours sipped drinks from crystal glassware and dined on Spanish prawns, oysters Rockefeller and sirloin steaks served on fine china. The plane was equipped with special ovens to cook roast beef and duckling, plus grills for crepes and waffles—not to mention fryers for the chicken. A fully stocked liquor cabinet ensured guests would stay well lubricated.

There were other corporate jets, but they weren't like that.

The sumptuousness extended far beyond the meals. The plane included movie projectors that showed films in CinemaScope. Seven built-in screens situated throughout the jet played color videotapes, at a time when only about 33 percent of households had color televisions. The Big Bunny included a discotheque dance floor (rarely used, according to Wayne), a lavatory with a full-length mirror, a seating area where the chairs could transform into comfortable sleeping areas and even a "sky phone" for making mid-flight calls.

The crowning glory was Hefner's private suite, complete with an elliptical bed covered in satin sheets, an electric blanket and a striped bedspread made of Tasmanian possum fur. His bathroom held a shower with two showerheads and recessed seating.

"The plane was really a very glamorous adventure for us," says Rosenzweig, who was a regular passenger. "There were other corporate jets, but they weren't like that."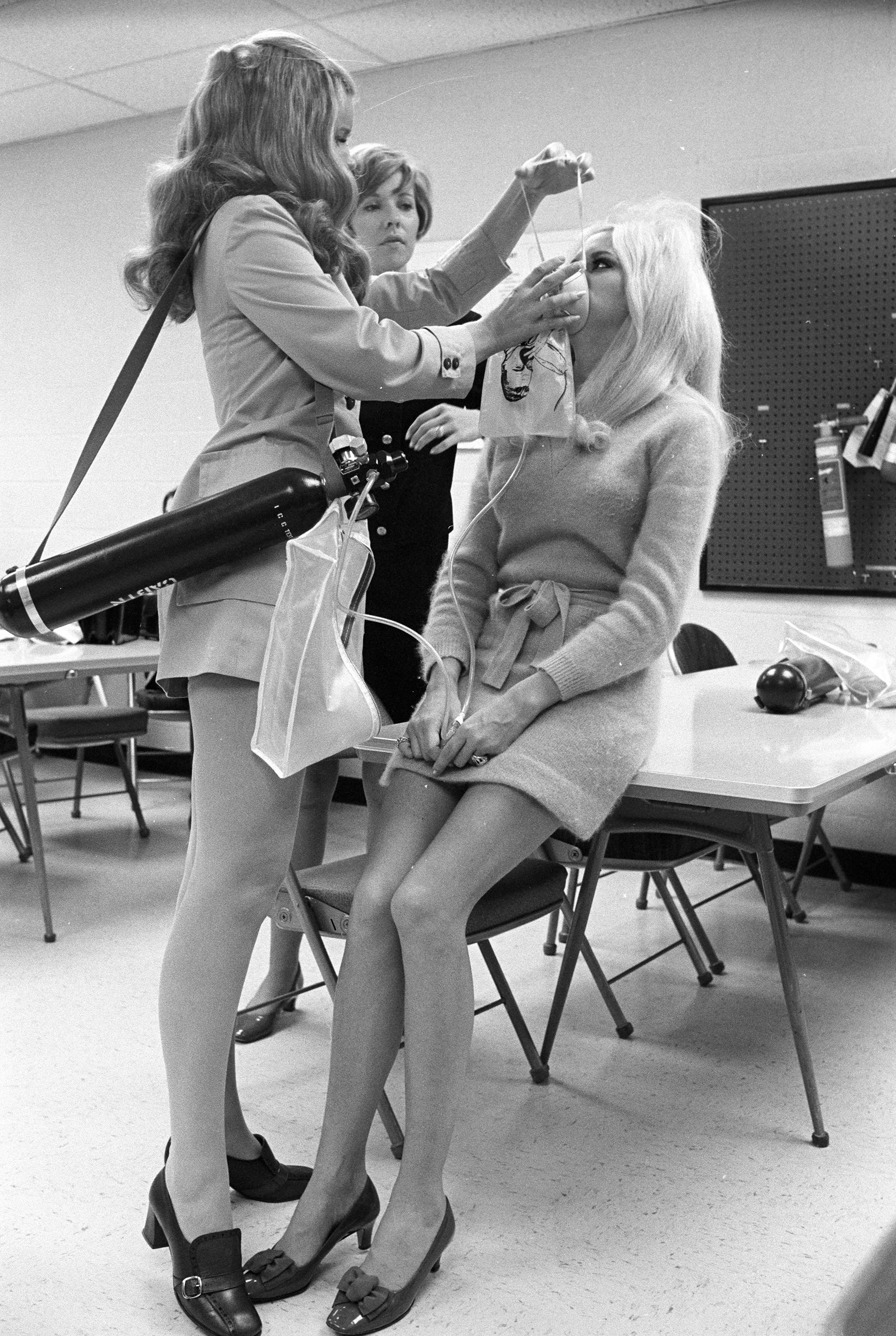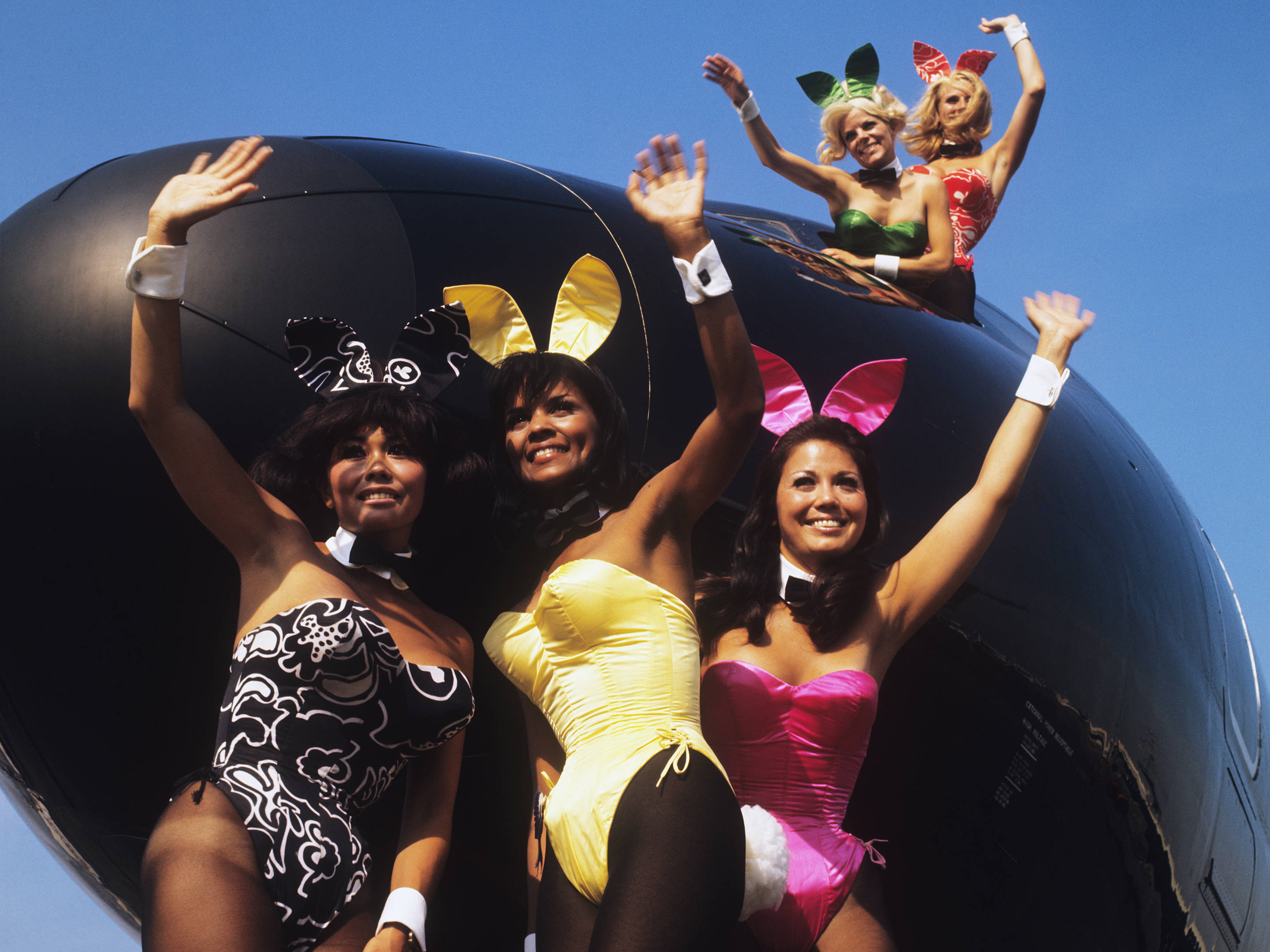 Completing the tableau were the Jet Bunnies: trained flight attendants chosen from among the hundreds of women working as Bunnies in the Playboy clubs. They coordinated with the pilots—hired through an airline company—to comply with FAA regulations and to cater to their guests' every whim. In addition to passing flight-attendant training courses, the women followed stringent rules regarding their appearance and presentation. They dressed in Bond-girl-esque outfits designed by couturier Walter Holmes; with the exception of their regulation Jet Bunny watches, no jewelry was permitted, and wearing white scarves when greeting guests was required. Their hair was to be sleek, their makeup natural, their underwear black and their behavior amiable.
"If you go over five pounds above your ideal weight, you will automatically be suspended from flying until you have reached your ideal weight again," warned the 130-page Jet Bunny manual. "At no time can you display boredom or irritability. You must be, above all, the epitome of a charming, well-mannered young lady."
If the standards sound impossibly high, the women at least felt well compensated. For Wayne, being a Jet Bunny meant taking a break from the even more exhausting work of serving in a Playboy Club—and it came with the bonus of
travel adventures
. She remembers being a crew member on a two-and-a-half-month-long trip to Europe and Africa. Although she worked when the plane was in transit, her days and nights on the ground were filled with sightseeing; she and the other Jet Bunnies were invited to every exclusive club that Hefner's traveling party visited. She saw one of the Beatles in London, marveled at the Parthenon in Rome and dined on fresh fish in Kenya in the shadow of Mount Kilimanjaro.
"Every place we went, it was like something that you read about in books," Wayne says. "It was far more than I had expected, ever. It was the trip of a lifetime."
Elvis Presley took the Big Bunny on tour in the summer of 1974, and Sonny and Cher chartered it for their international tour.

But the Big Bunny didn't just serve as a flying palace. It also extended the philanthropic arm of the Playboy brand. This was achieved through various high-profile missions, beginning in July 1970 with the transport of a male gorilla named Jack. A resident of the Baltimore Zoo, Jack had been promised to the Phoenix Zoo as a breeding companion for its female gorilla. But when other methods of transportation fell through, actress Amanda Blake put a call through to Hefner to request a loan of the jet. He happily complied in the name of primate love.

"The flight was by no means the 'fun trip' the newspapers or persons might imagine. The whole thing was very last minute and hectic," Playboy vice president and promotion director Nelson Futch wrote to John Dante, another of Hefner's assistants, after the ape transfer had been completed. Futch praised the Jet Bunnies who worked on the flight for their ability to handle the situation with aplomb. "I am sure there are any number of young ladies around who would refuse to board the plane, even with the assurance that the gorilla would be 'sedated,' since such an undertaking had never occurred before."

In his tranquilized state, Jack spent the duration of the flight on Hefner's own bed and successfully arrived in Phoenix to meet his new mate.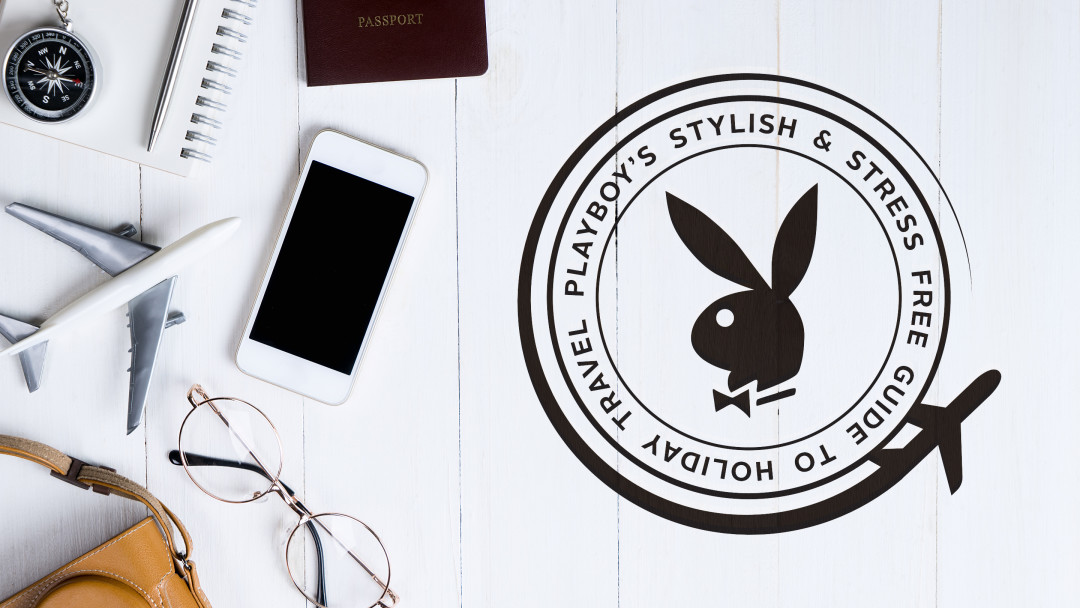 It is all about finding a balance between comfort and style.
Much more impactful was the
Big Bunny
's involvement in what came to be known as Operation Babylift. The Vietnam War–era effort to bring orphans from the war-torn country to families in the United States required more planes than the military easily had at its disposal. Once again Hefner offered to provide assistance, this time at the behest of actor Yul Brynner. In April 1975 the plane ferried some 40 infants across the country, from San Francisco to Denver and then New York, with assistance from the nonprofit group Friends of Children.
"Each and every person on the plane worked so hard—it is a night I will long remember," wrote Constance Boll, director of Friends of Children, in a letter to the
Chicago
Playboy Club. "Our thanks to you and all the crew you rounded up who helped us move the babies a little closer to their new homes."
---
When the jet wasn't busy ferrying Hefner between L.A. and Chicago, or transporting kids and wildlife, other celebrities occasionally leased it for their own travels. Elvis Presley took the
Big Bunny
on tour in the summer of 1974, and Sonny and Cher chartered it for their international tour. Other A-list passengers included Frank Sinatra, Tom Jones, Shel Silverstein, Roman Polanski and Rod Serling, creator of the
Twilight Zone
, who filmed aboard the plane.
"The plane was all part of the Playboy dream, just as the mansions were," Rosenzweig says. "There were people who thought, until Hef's passing, that the plane was still in the company."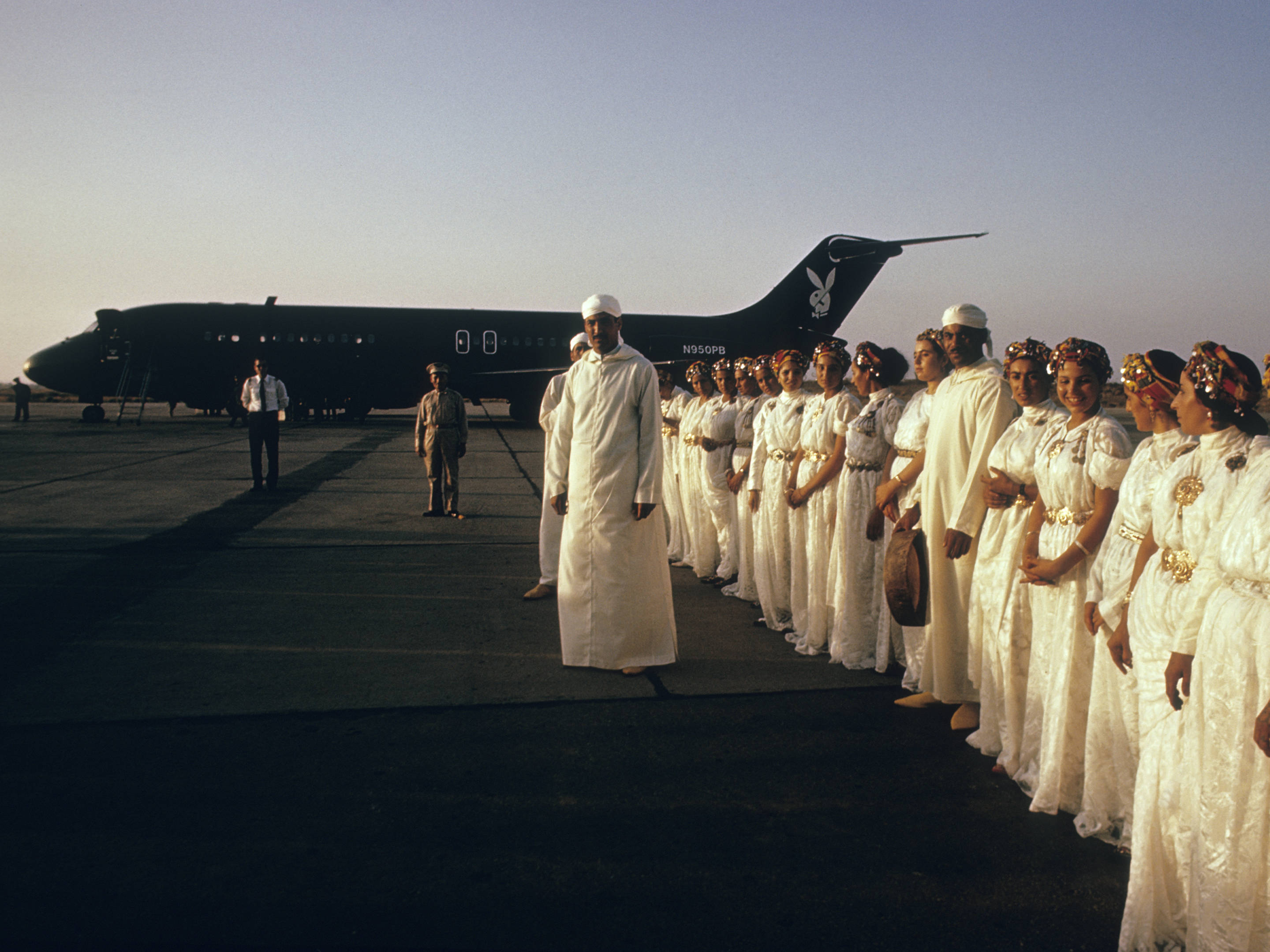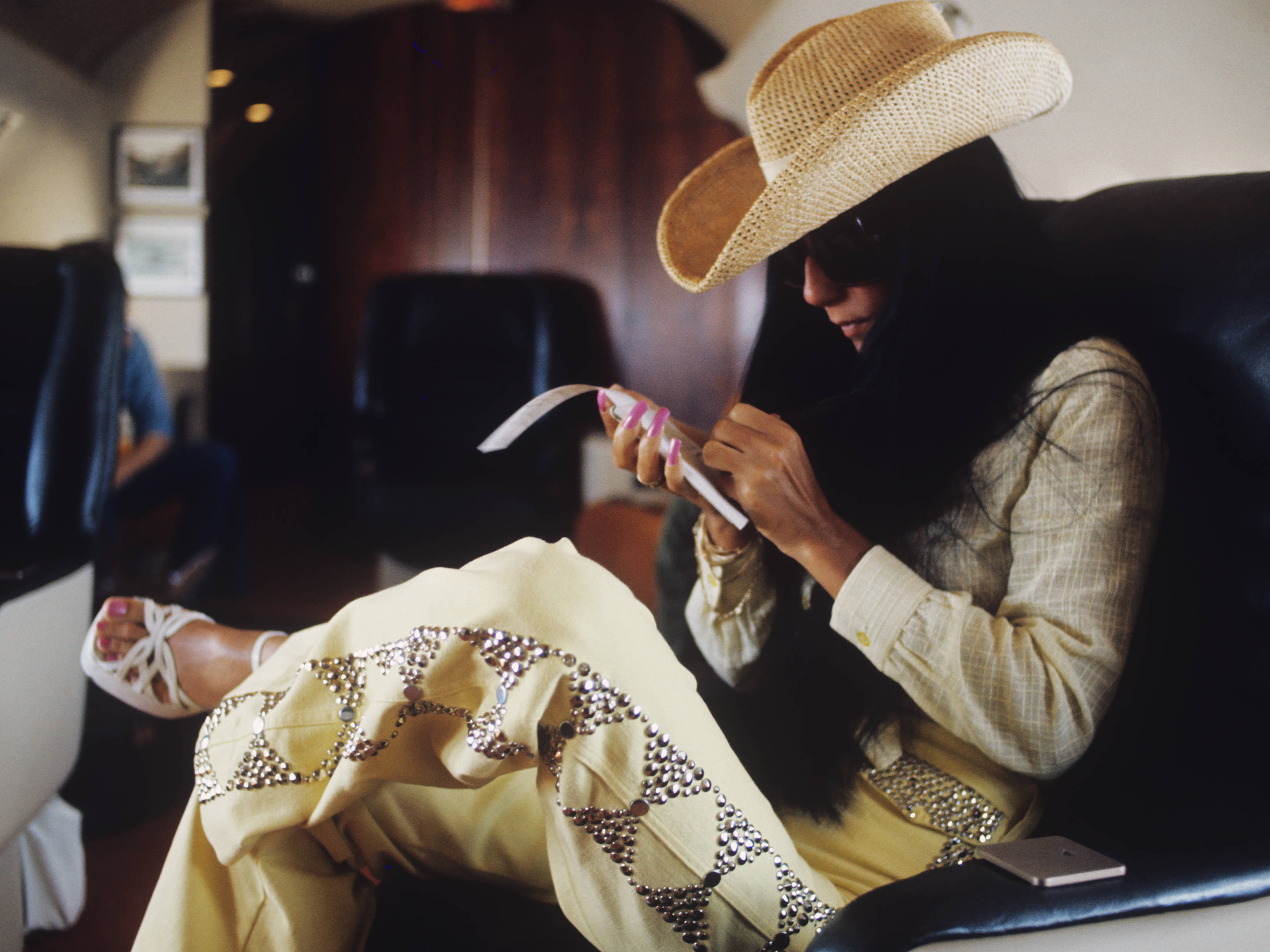 Despite its comfort and allure, maintaining the
jet
grew too costly to justify after Hefner decided to make the Los Angeles Mansion his primary home in 1975. Around 90 percent of the flights had been between Chicago and L.A., Rosenzweig estimates, and Hefner was no longer making that trip on a regular basis. And so the
Big Bunny
was sold, first to Venezuela Airlines, then later to Aeromexico. It continued its service as a commercial aircraft—albeit without the black paint job—until 2004. After the plane languished for several years in disuse, its fuselage was finally donated to a park in Querétaro, Mexico in 2008.
The iconic plane and its sophisticated, proficient Jet Bunnies had helped Playboy Enterprises reach
new heights
. Long after the jet was grounded, the winged symbol of sex and prestige lives on as a reminder of the Playboy fantasy.
From the Winter 2019 Playboy.