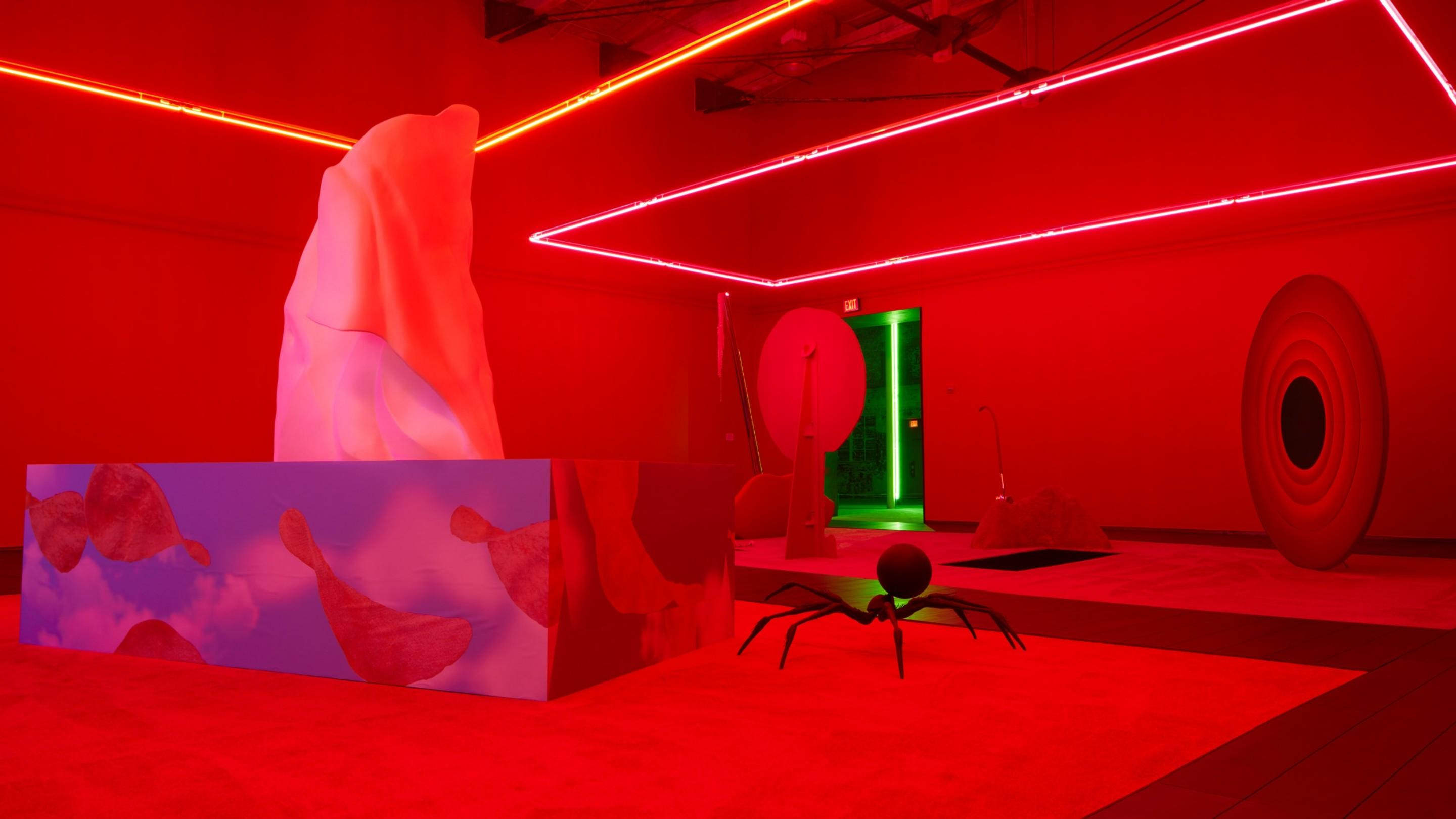 Artist Alex Da Corte Fills the Void
Written by Kyle Fitzpatrick

Published on

January 05, 2018
The concept of emptiness is polarizing. For some, the nothing can suffocate and drag one down in the same lonely sadness that swallows white horses in mythical bogs. Others find emptiness freeing, an opportunity to create the unknown, a philosophy that artist Yves Klein related to his iconic blue paintings, finding their ethereal inspiration to represent "an imaginary beyond, a beyond pure and insubstantial." Blankness can inspire mania and temptation or, as chaotic neutral Taylor Swift is often misinterpreted, a blank space can be great for "all the lonely Starbucks lovers."
The possibilities for transforming a space tempt with endless possibility which, for installation artists, is a draw to transform a given space into a world of one's own. For artist
Alex Da Corte
, that is the attraction--the ability to breakdown emptiness and empty spaces into something so far removed from the literal that it becomes an absurdist, surreal abstraction of life. His works are a concert of disciplines, of James Turrell neons meshed with Fauvist pastels and Richard Anuszkiewicz optic patterns accompanied with Pop Art ephemera. It's undoubtedly fun to behold, but Da Corte suggests that the way we fill the emptiness of the space--or within the self--comes with the history of what came before it.
"Every space has its own ghosts," Da Corte proclaims. "I never wanted to privilege the whiteness of a space—the white cube as the penultimate way a space should be—as I have always recognized that whiteness has its own kind of special effect on people."
"The kind of spaces I want to make are of a queerer slant, ones that invite but also avoid the kind of polished acceptance a white cube can offer," he says. Da Corte likes to toy with ways that people "should not" fill a space, ways that make a room almost impossible to see a human within. They represent everything from the impossible to the perfect, the impractical to the fantastic. "My spaces are dream spaces, or spaces without us," he says. "They assume a role that doesn't need the viewer—or it maybe exists as a place that converses with itself and the viewer is more like a camera, a voyeur, a ghost moving through it but never filling it."
You'd think Da Corte filled his spaces with next dimensional objects but instead they draw from Western consumption and material greed. He notes Hollywood inspirations of stuff-gone-wild from movies like WALL-E, Toy Story 3, HER, and Mannequin, films that suggest the inanimate, the created, are preparing to rebel from being cast as disposable. "We are stuffed," he says. "Black Friday stuffed. We see, we like, we want, we like, and we want more. The physical becomes a relic of an experience, a place where desire lived for a time and that place is quickly transplanted to another place by the time we get our arthritic hands on them."
Still, this "stuff" is indeed the stuff that makes our reality real and unreal. Da Corte fashions himself to be a conductor of this "stuff" with his installations, noting a love of the Disney film Fantasia as a touchstone in relationship to orchestrating materials like color and light and music. "I want this in my work although I am not a musician and have no real sense of it," he says. "There is a mood or an invisible thread of rhythm that uses color and icons, and the graphic language of stuff to dictate how and where things live in these spaces. This language is part painting, part performance, part voyeurism and part explorer, gnawing and digging."
"I want things to move and be moving," he says. "The work, although sometimes kinetic, may only move in your mind. It performs in a space I create in a theater of color and then retires or gets cast in another role elsewhere."
In a way, he's recycling. He's creating and recreating things (paintings, sculptures, films, etc.) that mash into everyday materials that most Americans have access to. The combination of his creations with the everyday creates a Warholian celebrity tension–a star power–as their likenesses are embedded deep in our subconsciousness. Da Corte is then, in a sense, constructing his own life, but in no way is the work autobiographical. Instead, it tells the story of us, of America, of the West. "It is about a person who lives in this world eating from this particular cornucopia of stuffs," he explains. "I like that image of SZA sitting in nature surrounded by a bunch of old computers. There is control and then there is nature and we really have nothing on the latter."
While Da Corte's work and style is reaching a critical mass of becoming pop cultur-- from directing St. Vincent's "New York" to impersonating Eminem in recent works--everything he makes, in each and every form, is an acknowledgement that he and everyone else in the world have agreed that this is life. That is the comment.
"Everyday I wake up and agree to participate with the world, as the world has woken me and I want to be receptive to what it offers--a sponge, a very fun sponge," he says. "For every season, or redesign of the Pepsi logo, turn, turn, turn."
Alex Da Corte's work is currently on display at Josh Lilley in London. He's preparing for the opening of a new show at Karma in New York, opening February 2018.
---