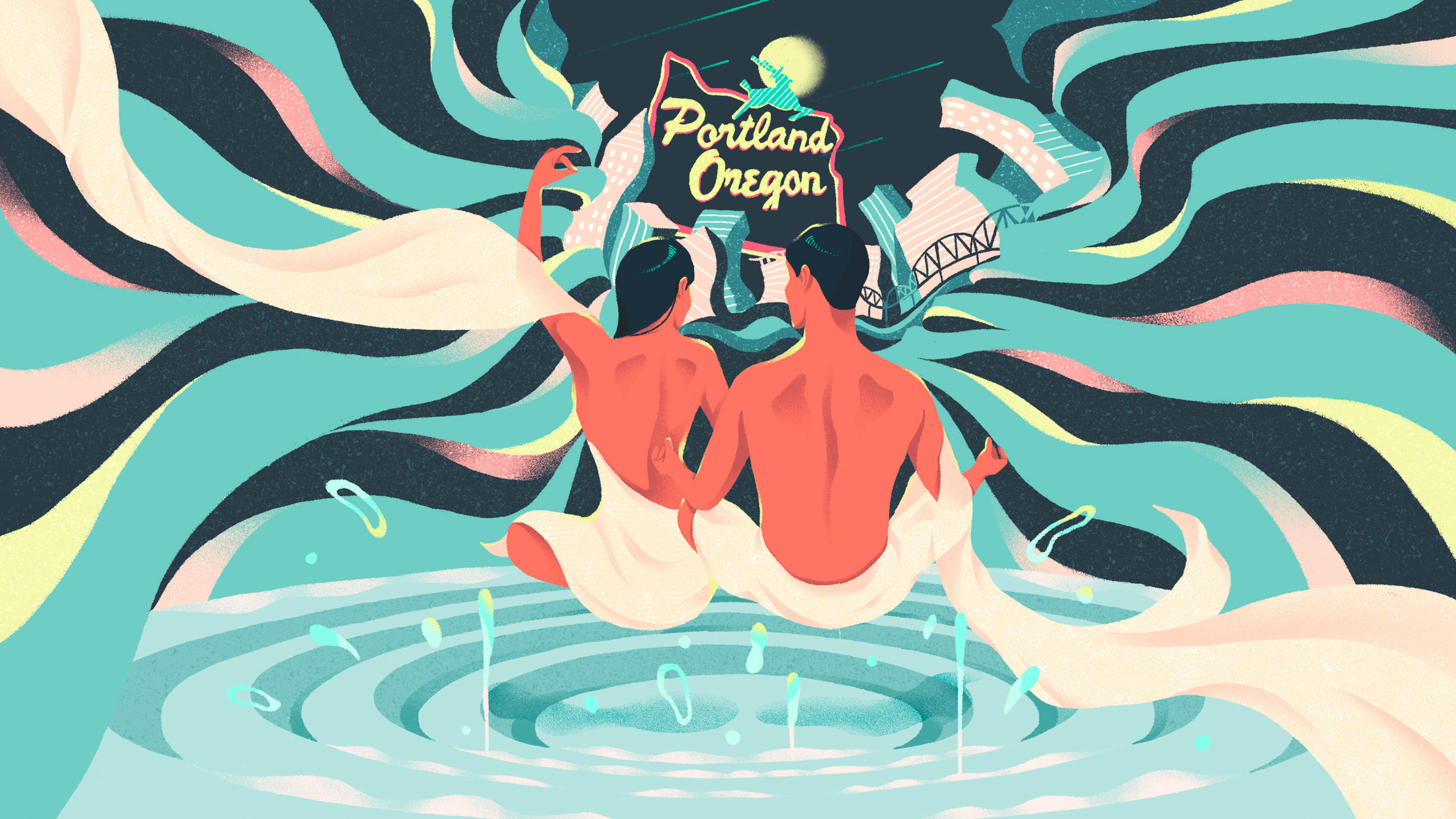 How the Least Religious City in America Became a Psychedelic Mecca
Written by Deanna DeBara
Illustration by Mikyung Lee

Published on

June 26, 2018
I'm standing in a small, nondescript yoga studio in northeast Portland, Oregon with about 20 other women. We've all gathered to go on a healing journey to reconnect with the four elements—Earth, Air, Fire and Water. There is a small altar in the center of the room, surrounded by crystals, Angel cards, and our own personal, sacred items. In the center, three candles burn, their flames flickering with the movement of the room.

We've already moved through the Earth portion of the retreat—a grounding yoga practice—and now it's time to move on to the Fire ceremony. One by one, we approach the altar, where we slip a small piece of paper into the flame. On that paper, we've listed the things that no longer serve us, the things that keep us separate from our spirit, the things that hold us back from reaching our highest potential. We watch the papers—and all the things those papers represent—slowly turn to ash.

The facilitator turns on a primal drum track and instructs us to close our eyes and let the fire move through us. We dance, uninhibited and unrestrained, allowing ourselves to connect with the fire within. If this all sounds a little "out there" by conventional standards, that's because it is. But with a motto like "Keep Portland Weird," it should come as no surprise that the city attracts unconventional people. This is a place where literally anything goes—including riding around the city on a unicycle, playing the bagpipes in a Darth Vader costume or ditching the unicycle for a normal two-wheeler and the Darth Vader costume for…well, nothing (as thousands of Portlanders do every year at the World Naked Bike Ride).

Traditionally, places with this kind of laissez-faire approach to life don't mix well with organized religion—and Portland is no exception. Forty-two percent of residents in the Portland metro area identify as religiously unaffiliated, making it the least religious city in America.

But just because the majority of Portlanders aren't hosting weekly Shabbat dinners or spending their Sunday mornings in church doesn't mean Portland isn't spiritual. Portland is a place that embraces the offbeat, the avant garde, the unorthodox—and that includes the city's approach to spirituality.

The unconventional spiritual edge Portland offers is exactly what I've always wanted in a city. Since abandoning the Christian beliefs I was raised with in favor of my own spiritual exploration in my early 20s, I've been attracted to more alternative approaches to spirituality. While church services felt hollow and impersonal, exploring things like meditation and ecstatic dance filled my spiritual cup and made me feel present in a way I never found in more "mainstream" religion.

We can't ignore that psychedelics are mystical medicines that beckon us to consider spiritual matters. This is, in large part, how they work and why they outperform so many other therapies.

And, as it turns out, Portland welcomes people like me with open arms.

From a spiritual perspective, there's a little something for everyone in Portland. For those looking for a more intellectual approach to theology, the spiritual bookstore scene is thriving. Perhaps the most popular is New Renaissance Bookshop, housed in a two-story Craftsman in the city's affluent Nob Hill district, where you can chat with an Intuitive or Vedic Astrologer in between trying on crystal pendants and browsing a seemingly endless array of spiritual, metaphysical, and New Age texts. But New Ren is hardly the only option in town. It seems every neighborhood has its own library for spiritual seekers. The Raven's Wing Magical Company is an occult shop tucked between a yoga studio, antique stores, and a few popular brunch spots on the main strip in the suburban Sellwood neighborhood, and Invoke can be found in Southeast with an impressive collection of thoughtfully curated items from spiritual traditions around the world.

But the spiritual opportunities in Portland extend beyond the intellectual—and, for many, those opportunities include pushing the bounds of our current understanding of reality. Substances that have been demonized for decades in the U.S.—like cannabis and psychedelics—are embraced in many circles in Portland as legitimate tools for expanding consciousness and aiding spiritual growth.

"[Cannabis] allows users to break down the perception that we live as isolated beings and opens awareness toward exploring one's relationship with both spirit and soul," says Eric Inman, founder of "Depth Experiences Using Cannabis in Nature," a Meetup group that embraces cannabis as a way of self-discovery through nature. "I think there is certainly an element of spiritual awareness with the use of cannabis… [and] I think that this is something that Portlanders are more open to and aware of. Thus people can be more free and even supported in their exploration of this realm that cannabis helps to move consciousness toward."

Since cannabis became legal in Oregon in 2015, Portland has seen more groups and events that aim to bridge cannabis and spiritual practices, like Buddha Bud Yoga! (which combines cannabis and yoga) and Mary Jane Fonda's Mind Workout (which incorporates cannabis into meditation practice).

Portland has also gained a reputation as the "psychedelic underbelly of America"—and, thanks to the prominence of psychedelic culture, it's also starting to become a place for people to explore higher levels of consciousness through psychedelics and integrate those explorations into their spiritual experience.

While the use of psychedelics as a spiritual practice may seem extreme, it's actually a tradition that dates back centuries. "Psychedelics have deep roots in spiritual ritual, ceremony, and individual and collective healing. The exploration of spirituality and consciousness through psychedelic use is ancient," says Sara Gael, director of harm reduction for the Zendo Project, a pro-psychedelics organization that helps transform psychedelic experiences into opportunities for learning and growth.

"I hear of scientists talking about ways to re-formulate psychedelic substances to deliver just the 'healing constituent' without causing the mystical 'trip,' and I think this approach is somewhat misguided.

The Zendo Project provides a safe space for people who use psychedelics to process their experiences—which can help them gain deeper personal and spiritual insights. "Psychedelics can catalyze a healing process, which can include ego dissolution. This experience isn't always easy to understand or manage and can take the support of people who hold knowledge of not just psychedelic compounds but spirituality, psychology and physiology," says Gael. "Spaces like the Zendo Project create a container that can hold the sometimes messy, big, disorienting, frightening, or elated experiences that people have."

And, thanks to the open-mindedness that is so deeply ingrained in the city's culture, it seems Portlanders are having more of those experiences than most. "It makes total sense to me that [Portland] would be ground zero for the new psychedelic movement. The culture is much more fluid here than in other American cities," says Dr. Erica Zelfand, a Portland-based family physician who frequently presents on psychedelic medicine. Through her research, personal experience, and time volunteering with the Zendo Project, Zelfand came to realize the profound healing and spiritual applications of psychedelic substances.
"We can't ignore that psychedelics are mystical medicines that beckon us to consider spiritual matters. This is, in large part, how they work and why they outperform so many other therapies," says Zelfand. "I hear of scientists talking about ways to re-formulate psychedelic substances to deliver just the 'healing constituent' without causing the mystical 'trip,' and I think this approach is somewhat misguided. Connection with spirit is, in my opinion, a big part of what heals us."
Cannabis and psychedelics aren't a part of my personal spiritual practice, but I appreciate the fact that I live in a place where people won't bat an eye if that changes. Since I moved to Portland last year, I've received a "reiki attunement." I've done a "past life regression." I've been to meditations and sound baths and reconnected with the Fire within, dancing to the beat of a primal drum as my fears and limiting beliefs disappeared into the flames. It's been a spiritual whirlwind, but in the best possible way.