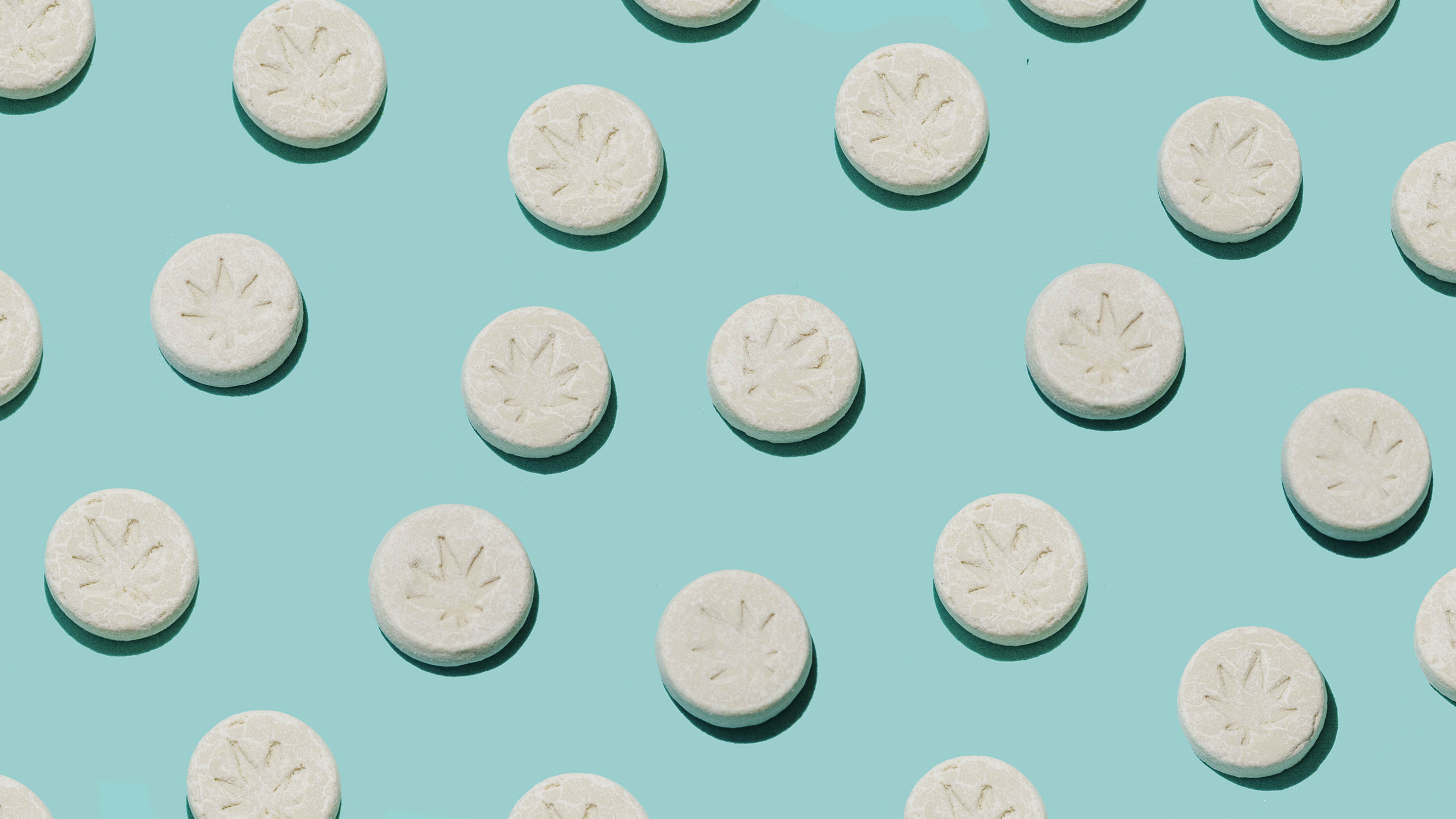 All About CBD Wellness: Because Cannabis Isn't Just About Getting High
Written by Hayley Fox

Published on

June 19, 2018
At first glance, Green Helix's line of health products look a lot like traditional vitamins and nutritional supplements. Sold as tinctures, thick salves and capsules, packaged in dark glass bottles labelled with the intended benefits such as Deep Sleep and Acute Stress Relief, Green Helix products promise everything from "full body homeostasis" to "mental clarity."

However, these supplements consist mostly of Cannabidiol (or CBD, for short), a compound derived from hemp and cannabis that can deliver therapeutic or medicinal benefits without getting you high. That's why Joseph Caruso, founder of Green Helix, takes his entrepreneurial role seriously. "This is healthcare," Caruso insists. "There's a massive responsibility when you're helping people with their health issues."
A self-described "former Wall Street guy," Caruso started the company in 2016 but just went live in February of this year. At its inception, Caruso aimed to create a line of 50 mg CBD capsules that are not only potent, but that also range that catered specifically to a multitude of a ailments. One example? The Menstrual Relief pills, which include not only CBD but a proprietary blend of ingredients such as Vitamin B12 that work together to ease discomfort and enhance mental clarity.

In addition to being sold at health food market chain Erewhon and even select Gold's Gyms, Green Helix can be ordered online and shipped across state borders, because its CBD is sourced from hemp as opposed to cannabis. This marketability is one of the reasons the hemp CBD industry is exploding as a whole. Within just three years, hemp CBD is expected to be a billion-dollar market, according to a January report from Forbes and Brightfield Group. The prospective profitability is so great, even some weed cultivators have made the jump to growhemp.

CBD has become such a buzzy ingredient you can find it in all types of food and beauty products, from peanut butter to mascara, fresh-pressed juices, cookies and shampoo. There's even a CBD Spanish wine dubbed Cannawine (currently available only in Europe), and a CBD Pizza Kitchen that recently opened in Denver, selling the compound as an additive to pizzas and paninis.

As CBD spreads with wild abandon, regulation and oversight struggle to keep up. As a result, consumers have ended up taking an ineffective product and at worst, a damaging substance that could cause long-term harm. In Utah, 52 people suffered from confusion, altered mental states, seizures and more after consuming products that were falsely labelled as CBD oil, according to a report released in May from the Centers for Disease Control and Prevention. "Right now we're at a place where there's total anarchy and no accountability," says Martin A. Lee, director of Project CBD, a nonprofit that aims to educate people on the medical uses of CBD.

Lee—who is also the author of Smoke Signals—says that while he won't recommend specific CBD brands, a basic understanding of the differences in CBD may help consumers pick a safe and effective product. For starters, know the difference between CBD sourced from hemp versus marijuana. Under the 2014 Farm Bill, hemp is defined and distinguished from cannabis in that no part of the plant can exceed .3 percent THC. Hemp is a low-resin plant, Lee describes(which means it has less of the sticky icky feel that Snoop Dogg sings about), but also means it contains less CBD than its marijuana counterpart. "You have to grow a lot of Hemp to grow a little CBD," Lee says. As a result, to concentrate enough CBD to obtain a therapeutic amount, the extract will need to be repeatedly refined and mixed with other compounds; often, toxic solvents that can leave residue behind. "The CBD molecule is the same whether it's in hemp or marijuana...what's different is what else is [in] there," Lee furthers.
CBD is often ingested in the form of pills or edibles, but it also can be consumed through a vape pen. In these instances, the CBD —which, when extracted from hemp turns into thick tar with no smell—must be thinned into smoothing smokeable, Lee says. "The thinning agents they use in this stuff should be banned for human consumption." These agents can include propylene glycol, which while generally approved for use in food products, has not been widely tested when heated and inhaled, like in a vape pen, Lee says. The little testing that has been done shows that when heated, the compound turns into formidable carcinogens such as formaldehyde.

That's why the key to picking a CBD product is knowing what goes into it. Some companies, such as CBD For Life, tout rigorous testing processes that ensure no dangerous materials end up in the final products. CBD For Life's lotions, face creams, rubs undergo testing at multiple stages of manufacturing, and are evaluated in three different state-certified labs, says Co-Founder Julie Winter. Her company sources their product from Colorado hemp, and tests to ensure its 99 percent pure, free of solvents and contains no pesticides. "We do that for our own protection and obviously for our customers' protection," she enthuses.

Winter launched the company with her sister about three years ago when living in New Jersey, where there was a less-than-stellar medical marijuana program, she says. Both women suffered from the skin condition Rosacea and Winter's sister had scoliosis, an abnormal curve in the backbone that can be very painful. The two started researching CBD and ultimately deciding to make the products themselves. "About five years ago there really weren't CBD products on the market that had everything we wanted."

What they wanted were products that were vegan, GMO-free and had stylish packaging to boot. Now, CBD For Life sells health and beauty products online, at wellness markets and spas and even pharmacies. According to Winter, while CBD is often touted as an anti-inflammatory—beneficial for gout, arthritis and overall pain—it has also been effective in reducing the itching and redness associated with her own Rosacea, and can be helpful in treating other inflammatory skin conditions as well, such as psoriasis.

CBD, or a combination of both CBD and THC, could potentially be beneficial for an even wider range of conditions, from diabetes to cardiovascular issues, Lee says, with "CBD-rich remedies" already having been approved to treat neurologic diseases and pain in dozens of countries. In fact, GW Pharmaceutical, a major British pharmaceutical company, is close to getting approval from the U.S. Food and Drug Administration for its drug Epidiolex, which could be used to treat certain patients with epilepsy.
For everyone else however, sorting through the CBD sold online and at dispensaries can be difficult. "They can roll the dice and hope for the best." Lee goes on, "Frankly, it's an unregulated and rather corrupt industry." Actually, many products are mislabeled; according to a 2017 study published in the Journal of the American Medical Association, approximately 70 percent of the CBD products reviewed included inaccurate information on their labels—such as claiming to contain no THC when the psychoactive drug was actually present.

So Lee suggests a few general pointers to consider when choosing a CBD product. For one, seek out hemp that's organic and grown in America, where it typically contains more CBD than its European-grown counterpart, and is subject to rigorous control under the U.S. government. Be diligent about reading product labels and buy products that contain no artificial coloring or flavoring, and no dangerous thinning agents. If possible, purchase CBD products that are made from marijuana, as they're typically more potent and are sold through licensed dispensaries, where products are more thoroughly vetted and tested.

In California for example, all edibles sold at licensed dispensaries are subject to strict requirements in terms of testing and packaging. Some brands, such as LA-based Calivolve, started producing childproof containers and lab-testing products in advance of the regulations in order to ensure they stayed one-step ahead of compliance. "This is a brand new industry. It's [CBD] a brand new product," Lilly Cabral, co-founder of Calivolve, explains. "There's no benefit to our industry to bringing out inferior products."

Cabral and co-founder My Thai produce both THC and CBD chocolate truffles for sale at dispensaries in addition to online and at boutiques, including a wine store and gourmet grocer. Cabral and Thai got into the weed game last year to create a luxury product that also contains wellness properties, and at $35 - $50 per box, they are firmly in this market. Calivolve's Hemp CBD truffles are dark chocolate (known for antioxidants), designed for microdosing, and contain Ashwagandha—a popular ancient herb with a litany of health benefits—and Maca, a natural superfood. In addition to the everyday health benefits of CBD, the compound is exploding in popularity because it's increasingly being considered as an alternative to dangerous and addictive opioids, Cabral clarifies.

"As many athletes have revealed, their doctors and trainers get them hooked on opioids to help with pain management from the physical impact on their bodies," Cabral says. "We're learning CBD's anti-inflammatory and anti-anxiety benefits provide similar relief to opioids without causing addiction. CBD is a natural, plant-based healer."