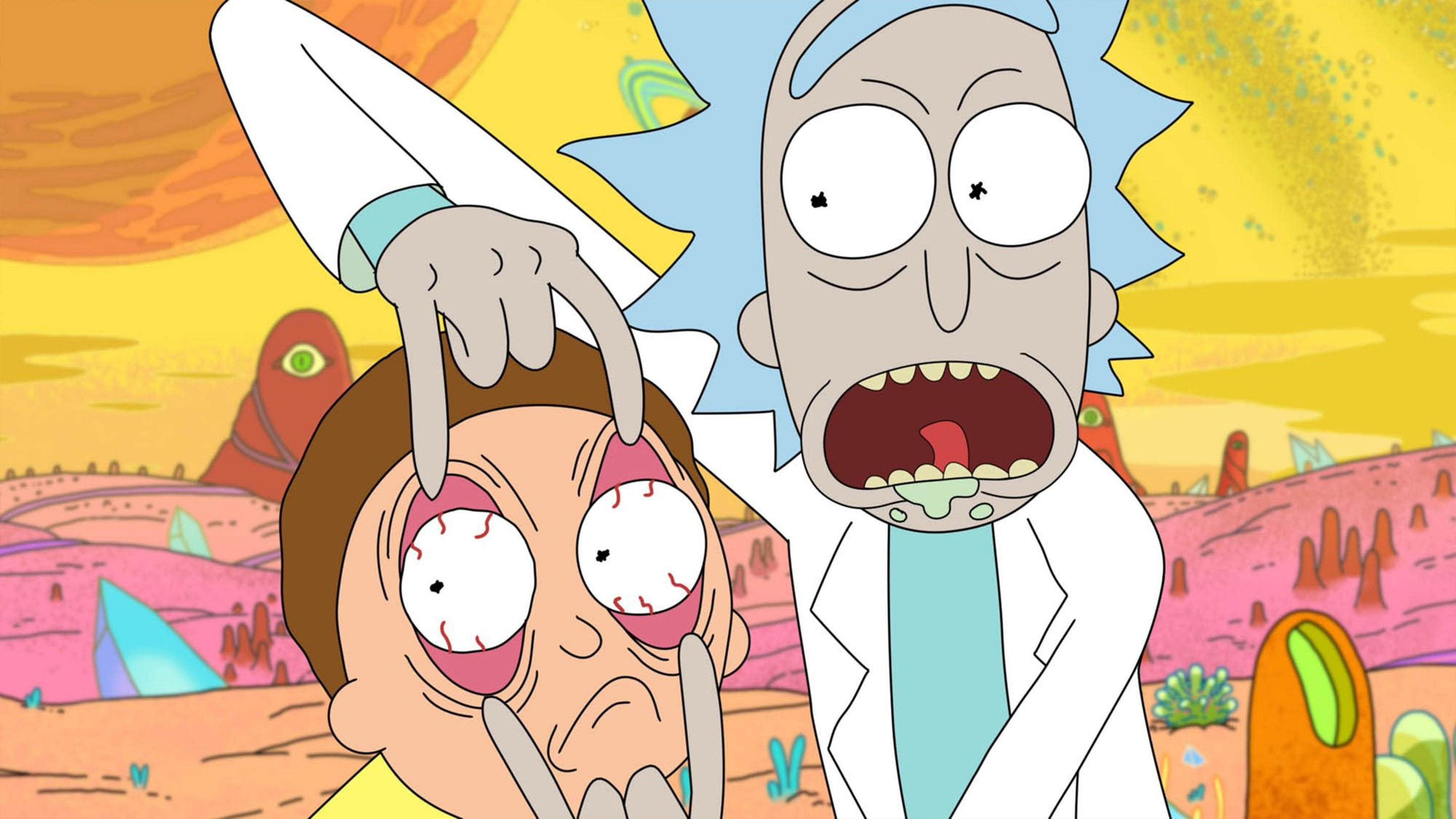 Is There Such Thing as Too Much 'Rick and Morty'?
Written by David Opie

Published on

May 10, 2018
Rick and Morty co-creator Justin Roiland sent a wave of relief through the multiverse this week when he announced that Adult Swim has ordered a whopping 70 new episodes of his beloved brainchild, bringing the season total up to 10. While this deal doesn't provide Rick with the nine extra seasons he needs to finally get his hands on that Szechuan dipping sauce, it does push Rick and Morty into syndication territory, which is a move of schwifty proportions for Adult Swim and the fans alike.

One thing that's clear now, at least, is that this renewal is exactly what its devotees wanted, and then some. Co-creator Dan Harmon tweeted in March that Rick and Morty had yet to be renewed for a fourth season, briefly sending fanatics into a tizzy. Certainly, a renewal was all but expected, given that the offbeat sci-fi animated series has become Adult Swim's flagship property, but no one could have anticipated the longterm nature of the deal.

Today's jaw-dropping renewal gives fans—including the famous ones—plenty of reason to get excited. After the announcement, Harmon explained in an interview that he and Roiland will now be able to focus on Rick and Morty exclusively, something which may reassure fans, who usually despair at the extended wait between seasons. While both creators have previously spoken up about the pressures of working on a show like Rick and Morty, the renewal will theoretically free them up to write and animate episodes at a healthier pace (although it's also possible that the short seasons and long waits between seasons add to the show's mystique).

Logistically, it's easy to see why the network aimed to lock the show down for many years. It's as if Adult Swim traversed the multiverse alongside Rick and finally found the one dimension where money really does grow on trees. After all, season 3 was a milestone for the show, with the series becoming the top-viewed show in 2017 among millennials. Why wouldn't the brass do whatever possible to continue their most prized possession?

Historically in the world of live-action TV, huge renewals of this nature rarely work. The syndication company Debmar-Mercury pioneered something similar to Adult Swim's latest deal in the form of the "10/90" approach, where shows that achieved acceptable ratings for their first 10 episodes would be renewed for 90 more. After numerous missteps (was anyone clamoring for the latest episode of Anger Management?), the model was eventually quashed completely.
It doesn't take the intellect of Rick Sanchez to see that it's nigh impossible for the creators to produce 70 more episodes without at least one bad, Birdman-sized egg.

Broadcast networks are typically loathe to promise more than a single-season renewal at a time, and the results back up this decision. Glee fans remember that the second season of a two-season renewal for Ryan Murphy's once-hot Fox series was eventually truncated to 13 episodes when the show quickly lost its ratings luster. That said, new-media platforms appear more willing to take risks with longer commitments, as Netflix nabbed Murphy's Ratched by offering a two-season order (which presaged the prolific producer's recent overall deal with the deep-pocketed streamer).

Animation, however, is a different beast. Despite the fact that many still yearn for the "golden age" of The Simpsons, a show that arguably peaked back in the '90s, the animated giant remains a sturdy ratings performer, leading Fox to renew the series in Nov. 2016 for an unprecedented 29th and 30th seasons. Of course, long-running animation series like Simpsons and Family Guy, while still maintaining their devoted fan bases, are no longer close to the ratings magnets or water-cooler topics that they once were.

Rick and Morty's producers have previously proven willing to listen to feedback and pivot where needed, with Harmon and Roiland hiring female writers after season two to finally remedy its gender imbalance. That said, there aren't many shows that are capable of putting out their best episodes after 10-plus seasons. It's hard to imagine now, particularly for a show that prides itself on risks and high-concept experiments, but what if we get to a point one day where we'd rather see the entire world Cronenberg'd than watch another season of Rick and Morty?

Morty famously said once, "Nobody exists on purpose, nobody belongs anywhere, everybody's gonna die." These immortal words remain a favorite among Rick and Morty fans, yet few seemed to actually take them to heart, wreaking even more havoc than a Citadel of Ricks back when McDonald's rolled out its fabled Szechuan sauce for just one day. Imagine what fans' reaction might be if Harmon and Roiland creatively stumble and actually air a bad episode for once. It doesn't take the intellect of Rick Sanchez to see that it's nigh impossible for the creators to produce 70 more episodes without at least one bad, Birdman-sized egg.

Without Rick's Interdimensional Goggles, it's impossible to know whether a renewal this large was the right thing for Rick and Morty at this stage, no matter what dimension you may reside in. But at the end of the day, does any of this really matter anyway? Sure, it's exciting to imagine Rick's face when he does eventually get his hands on that dipping Szechuan sauce, but it's just like Morty said. We're all going to die anyway, right? Just keep one of Morty's Mind Blowers on hand in case you live long enough to see Rick and Morty jump the shark completely.