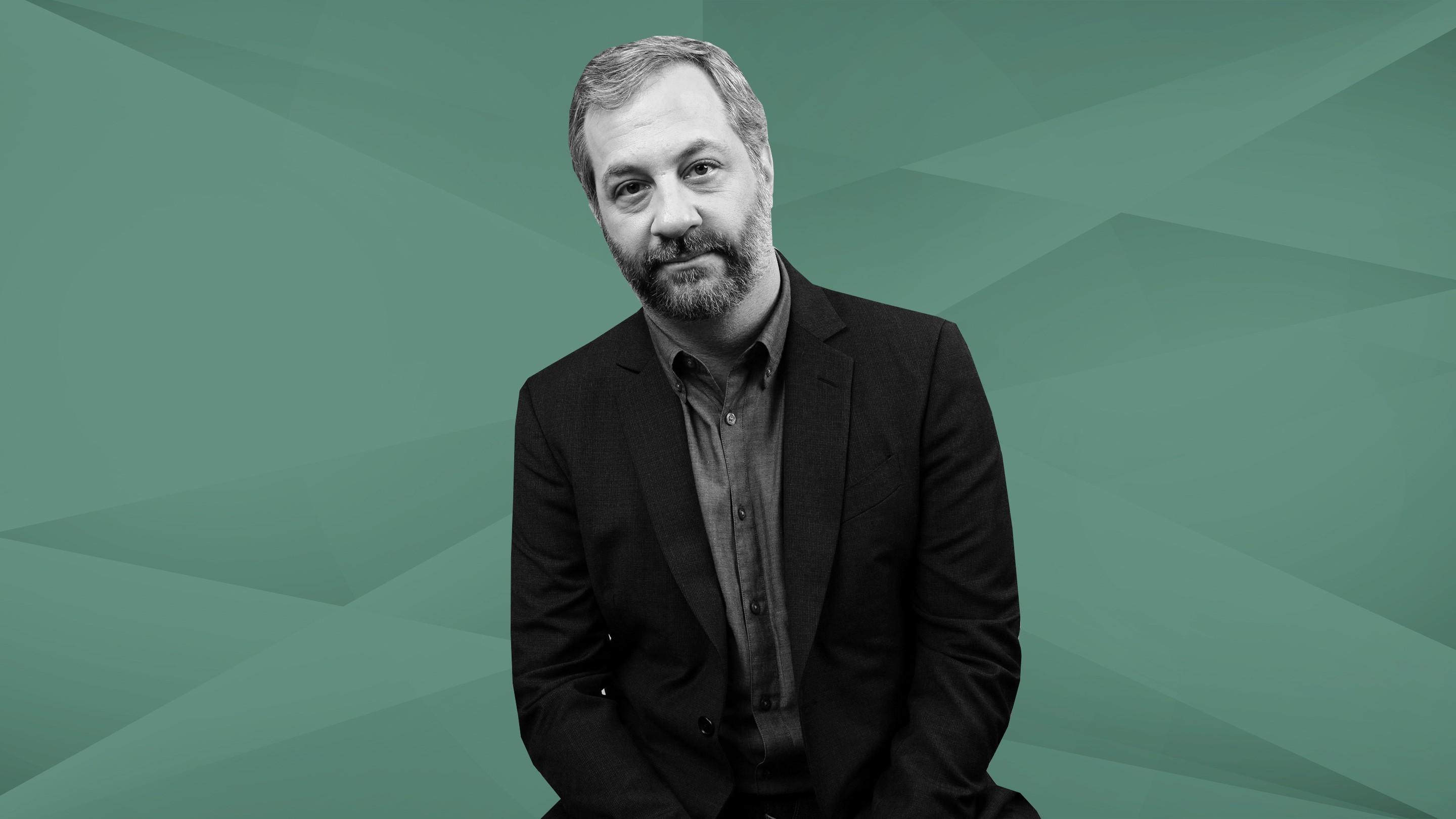 Judd Apatow on Comedy's Imperfect Heroes
Written by Julie Seabaugh

Published on

March 26, 2018
Early 2016 marked a pivotal point in Judd Apatow's career. The comedy impresario's resume had already included the films Anchorman, The 40-Year-Old Virgin, Funny People, Talladega Nights, Knocked Up, Superbad, Step Brothers and Bridesmaids. But TV series Girls and Love increasingly delved deeper than his films. He had already begun gravitating from Will Ferrell, Seth Rogen and Paul Rudd toward projects with next-generation comics Amy Schumer, Pete Holmes and Kumail Nanjiani. After a 25-year absence, he'd returned to stand-up stages in New York and L.A.

It felt like a transitional period, one he'd explore to redefine his voice and redirect focus. Then, on March 24, 2016, Apatow's lifelong mentor Garry Shandling suffered a fatal heart attack at age 66.
"It's rare that you know somebody so intimately for so long," Apatow says today. As a teen, he interviewed Shandling for a high-school radio show. He later contributed jokes when Shandling hosted the 1990 Grammys, and in 1993, became a writer on his
The Larry Sanders Show.

The 2009 Apatow film Funny People was a deliberately serious portrayal of comedian unrest. It nailed exterior pathos but couldn't quite crack the interior quest for understanding.

Apatow's new HBO documentary, The Zen Diaries of Garry Shandling, airs in two parts—on Monday, March 26, and Tuesday, March 27—marking the second anniversary of its subject's death. This time, Apatow's portrayal proves universal. Compiled from personal journals, performance tapes and archival material, Zen Diaries presents Shandling as a comedian of multifaceted influence.
It's rare that you know somebody so intimately for so long.

"TV comedy was presented in a very traditional way before
It's Garry Shandling's Show
and
The Larry Sanders Show
," Apatow explains. Where the former broke the fourth wall and introduced a mockumentary format, the latter self-parodied TV production itself. "You really feel his philosophical approach to comedy in a lot of the culture, especially single-camera television comedy," Apatow continues, citing progenitors
The Simpsons
,
The Office
,
Modern Family
,
Arrested Development
,
30 Rock
,
Parks and Rec
, etc.
Shandling was similarly inward-looking as a stand-up, admittedly to the point of neurosis. Says Apatow, "When you're a comedian, you spend a lot of time thinking about your behavior and your emotions. But Garry also preached a certain style of comedy, which is based on being as truthful and as deep as you can be. That is the work, to dig deep."
Positing that comedians' ultimate goals must include being honest with themselves and their audiences, Apatow assigns their higher duty to society at large. It wasn't just Shandling's work, but his journey—from a kid whose beloved older brother died young, to flawed spiritual seeker—that continues reverberating in current times.

"I think he felt that we live in a culture that's too much about winners and losers, and people want to succeed at all costs. People are trying to serve their egos and not try to serve their fellow man. I know he was deeply troubled by the idea of Donald Trump … and I think he would be very concerned right now, as we all are."
---
A jaw-dropping $100 million lawsuit against manager and Larry Sanders Show producer Brad Grey took a landmark stand against industry conflicts of interest. (The case settled in 1999.) Just this month, similar issues returned to the foreground when the Writers Guild of America cited the packaging domination of agencies WGA and CAA as deliberately upending employer-employee roles–and loyalties.

Zen Diaries admits Shandling held others, and himself, to impossible standards. He often failed himself in the process.

In 1995, Larry Sanders Show actress (and former Playboy model) Linda Doucett filed a lawsuit alleging wrongful termination and sexual harassment after being fired following the couple's breakup. Experiences from It's Garry Shandling's Show writer Janis Hirsch—in which she alleged that fellow writers excluded her and an actor laid his genitals on her shoulder—made the rounds for years. She'd gone on to The Nanny, Frasier and Will & Grace before her story publicly came to light in a Hollywood Reporter #MeToo editorial in October 2017.

Though Zen Diaries was already complete, Apatow discussed the incident with Hirsh, whom he says didn't blame Shandling personally. "And sadly, especially in that era, there was a lot of awful behavior that people thought was funny that we now realize was humiliating to people, and hopefully that's changing," he adds. Hirsch attended the film's March 14 Hollywood premiere.

In his earlier days, Shandling was notorious for firing writers. Later in life, he made himself available to read drafts, watch cuts and offer notes to numerous creatives including Apatow, Sacha Baron Cohen and Jon Favreau. Apatow tries to do the same.

Today's comedy community continues growing larger than it's ever been, while simultaneously boasting a wider scope of talent. Apatow only saw George Carlin and Robert Klein on TV as a young comedy fan. "Now a lot of comedians are putting out a special every other year, they're doing a lot of podcasting and so on. Their audience really knows and has an ongoing relationship with them. I think that's why this comedy boom isn't fading because it's based on more significant, intimate relationships with the artist."

Though Apatow previously released documentaries on musicians the Avett Brothers, and—for ESPN's 30 for 30 series—former Mets players Daryl Strawberry and Dwight Gooden, he's in no rush to pin down new subjects. "There's something about getting to the truth of stories directly without writing a script that I find very satisfying," he says. "But it's hard to move on and find something else to do after taking on something so important to me. The ideas in the documentary about life and spirituality in addition to comedy are so profound that I don't know if I will easily find that again. I feel like making this documentary about Garry is a once-in-a-lifetime situation."

He hopes the big takeaway is prioritizing kindness. In that way, Apatow says, Zen Diaries takes on the role of Trojan Horse: "You're following the story of this man who we all think is so funny, but by learning about his life, it makes you think about how to live your life."