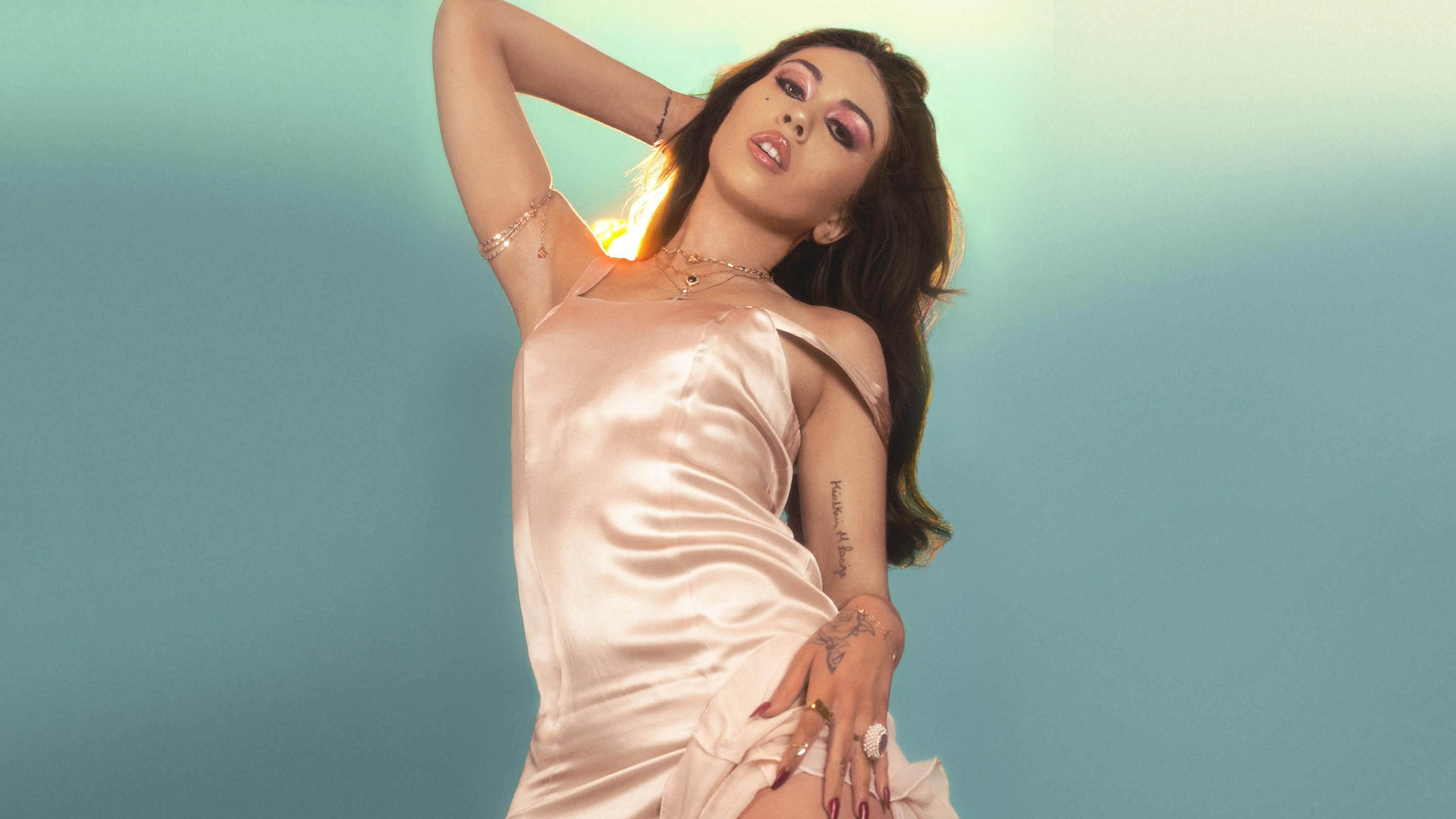 Kali Uchis' Time Is Now
Written by Max Mertens

Published on

April 20, 2018
When I call Kali Uchis to talk to the Colombian-American singer about her long-awaited debut album, it's a week before she's set to release Isolation, but she isn't feeling nervous. The record's been a while in the making, and despite several delays, she insists that its timing was meant to be.

"It's hard to find the words because I've been working on this for so long," says Uchis over the phone from Colombia, where she's enjoying a well-deserved holiday with her family. "I'm finally kicking my bird out of the nest, finally ripping the Band-Aid off and allowing everything to align the way it needs to align."
Looking at the singer's accomplishments in the past year and a half, you can't blame her for wanting to take a few minutes to catch her breath. In 2018 alone, she's opened for Lana Del Rey on the noir-pop star's North American stadium tour, attended the Grammy Awards (her collaboration with Canadian R&B singer Daniel Caesar, "
Get You
," was nominated for Best R&B Performance) and
announced her album
on the
Tonight Show
.
Born Karly Loaiz, the daughter of parents who immigrated to the U.S. in the early '90s from Pereira, Colombia, to escape violence, she grew up outside of Washington, D.C., and attended high school in northern Virginia. A rebellious, artistically inclined teenager, she ended up getting kicked out of the house by her father, sleeping in her car and working odd jobs to get by. In 2012, she self-released her debut mixtape
Drunken Babble
on DatPiff, which was praised for its mix of R&B, hip-hop, jazz and doo-wop, and caught the attention of artists including Snoop Dogg and Odd Future ringleader Tyler, The Creator. She followed it up with a 2015 studio EP,
Por Vida
, which featured production from Diplo, Kaytranada and BadBadNotGood. Her soulful vocals drew comparisons to Amy Winehouse and Billie Holiday, but it would be another three years before her debut album saw the light of day.
Right now, it's a time where everybody is very dedicated to trying to put things in boxes and subcategories of what things are.

When conceptualizing projects, she often associates them with certain colors,
Por Vida
being pastels and pinks. "I was still such a little girl, and that all fit for me," she explains. If that's the case, then Isolation is bright hues—all sapphire blues, ruby reds and topaz yellows. Not only is this reflected in Nick Knight's album portraits (the influential photographer discovered Uchis' music on Instagram and frequently uses it to soundtrack his shoots), but also in the singer's kaleidoscopic visuals, which draw on her background shooting videos and designing mixtape covers. The clip for the sultry "
Tyrant
," which features rising British R&B star Jorja Smith, envisions a Technicolor world that's part old-school Hollywood glam and part '90s net art. "
After the Storm
" is more surrealistic, with Uchis playing a '60s housewife, and Tyler, The Creator costarring as a human Chia Pet (Parliament-Funkadelic founder Bootsy Collins, who contributes backing vocals to the track, also makes a cameo as a talking cereal cartoon).
Of her intentions for the record, she says, "I really wanted it to be a well-rounded group of songs that were all different points of my life." Uchis originally recorded slow-burning closer "Killer" while she was living in her car with a toy keyboard and a "little janky mic," but couldn't find an arrangement she liked until a New York City recording session with throwback soul band the Dap-Kings. She describes her music as an "open diary," and the 15 tracks address romantic trials and tribulations, recognizing your own self-worth, and her family's experiences as immigrants, while incorporating elements of bossa nova and reggaeton. Raised bilingual, she sings in both Spanish and English, and album highlight "
Nuestro Planeta
" features Colombia reggaeton star Reykon.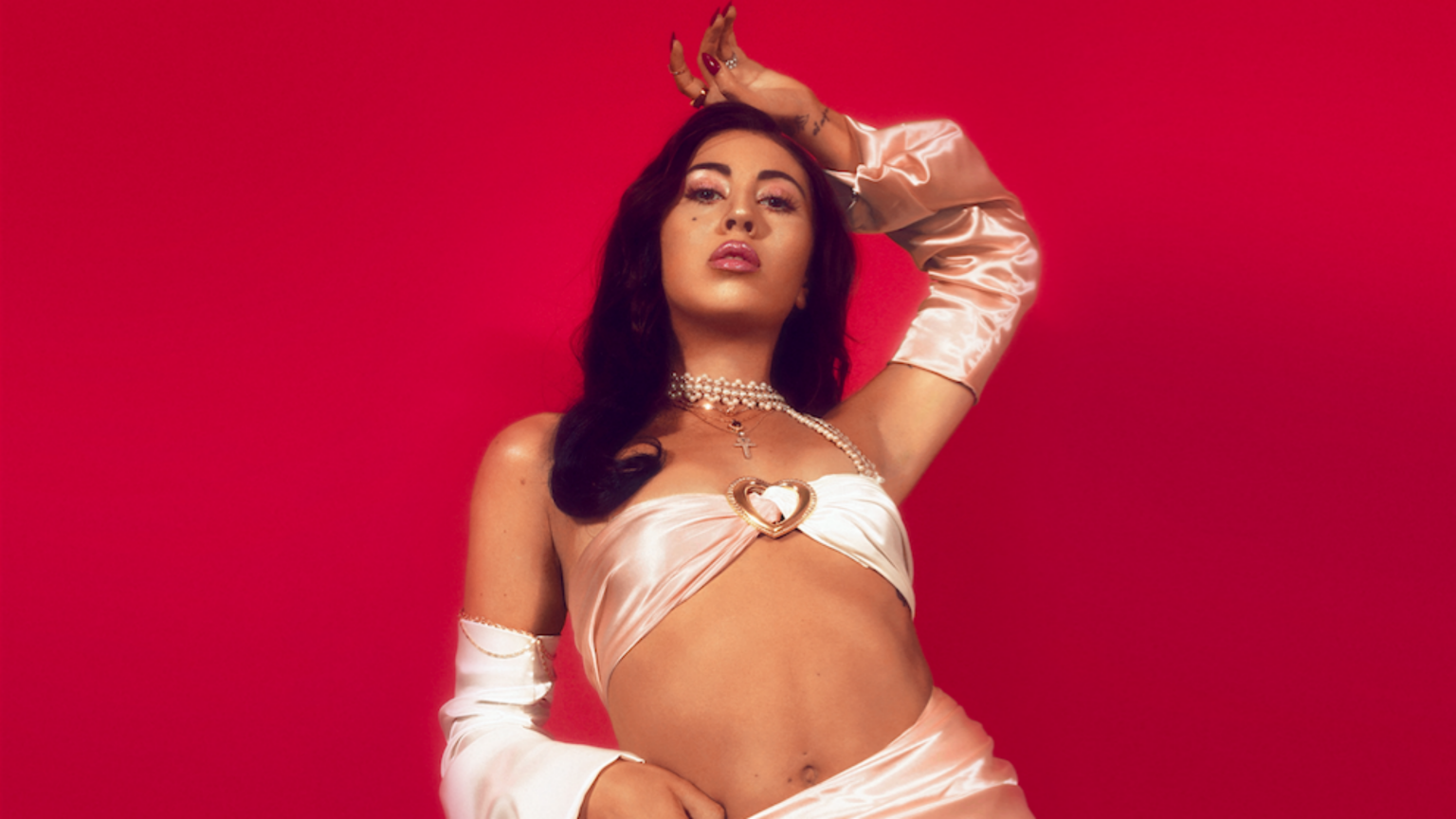 "It's really about time Western civilization accepts Spanish music because for so long in Latin countries, we've been working on music in English and being supportive of everything English," says Uchis. She points out that previously the only Latin artists to achieve success in North America were those who sang in English.

Like many young artists whose every social media move is heavily scrutinized, the 23-year-old has faced some backlash for comments she's made online. After a Twitter user insinuated Uchis was recently trying to capitalize on being "suddenly brown," and others accused her of not speaking out on Latin politics, she responded with a flurry of angry tweets. "I'm not brown, but I'm Latina," she says, adding that it's important for the Latin community to continue to have discussions about equal representation. "Right now, it's a time where everybody is very dedicated to trying to put things in boxes and subcategories of what things are," she says. "I think I'm the wrong person to turn into a martyr for that particular topic."

One guiding compass throughout Uchis' journey continues to be her family. While they were initially skeptical of her career, she tries to speak to her parents as often as possible on the phone when she's in Los Angeles or on tour. In the days to come, Uchis will post Instagram videos and pictures that show her hanging out with relatives in Colombia, watching fútbol with her father (whose name is tattooed on her left bicep) and playfully lounging with her boyfriend, rapper Yung Gleesh (she'll also fool both her followers and loved ones by posting a sonogram and pretending to be pregnant on April Fool's Day). The singer mentions that a family house is currently being built, though its unclear how much time she'll get to spend there, given her busy schedule.

Now that Isolation has dropped, there's fan meet-and-greets to organize, her first Coachella performances—her second-weekend show, set for Saturday, will certainly go more smoothly than the first weekend, where her guitarist was a no-show—and, of course, more visuals and shows. Uchis knows there will be always be naysayers, and she mentions her ability to detect "negative frequencies," but she's taking everything in stride. After all, she's already conquered the biggest challenges.