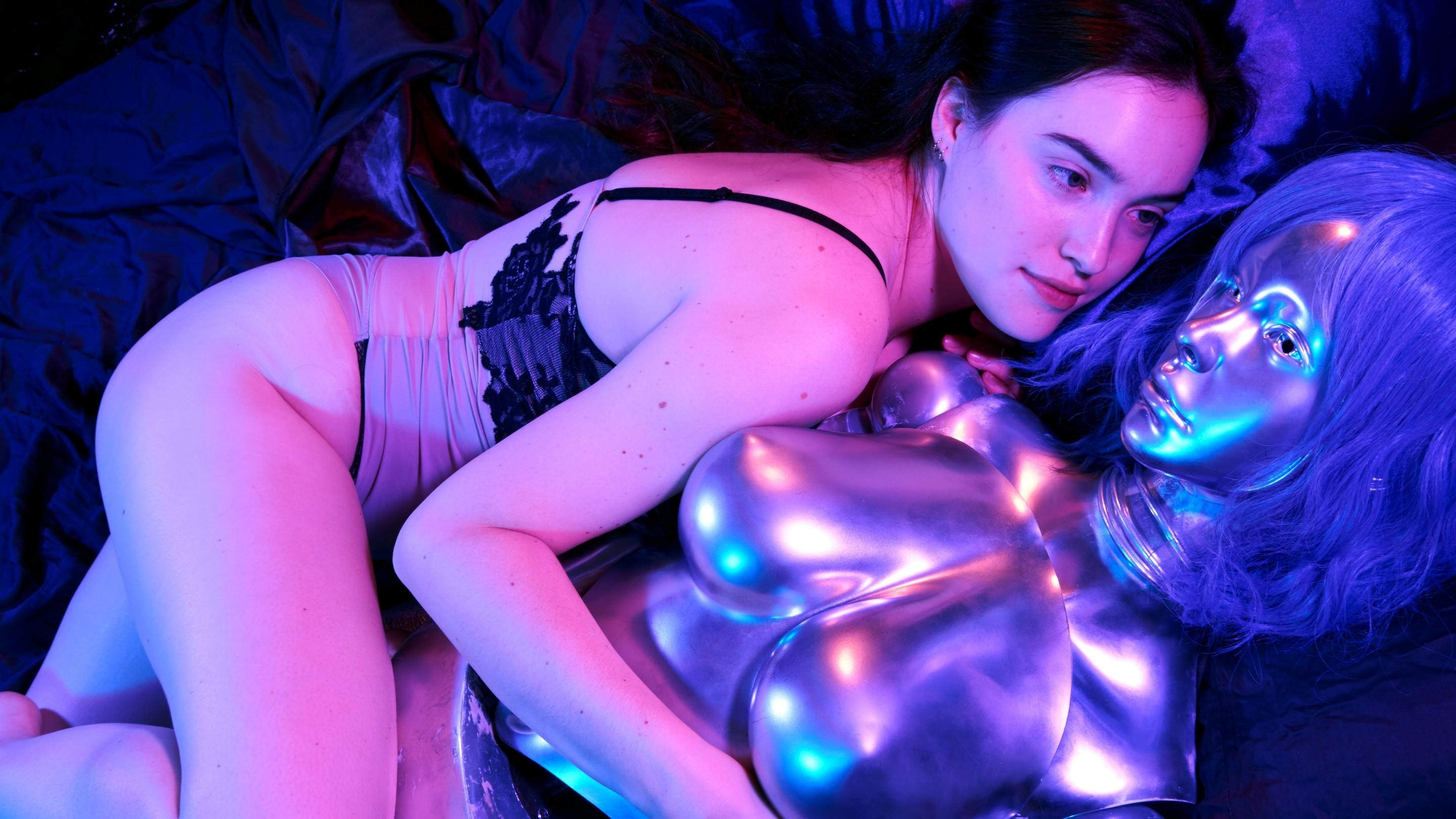 Meet Luci 6000, the Sexting Robot
Written by Nora Whelan

Published on

January 02, 2018
There are a lot of confusing takeaways and outright contradictions when it comes to. the study and speculation focused on millenial sex--a theme artist
Maggie West
is exploring with her latest installation, a satirical sexting robot named Luci 6000, now inhabiting New York City's
Museum of Sex
until February 15.
"I developed the concept for Luci after noticing a large number of articles about sexual activity among millennials," West tells Playboy. "We've been portrayed as both hypersexual digital narcissists, obsessed with dating apps and incapable of commitment, and desexualized drones, too obsessed with our digital personalities to engage with each other sexually. Luci plays at both stereotypes, mocking our genuine digital narcissism and the hyperbolic media pieces about our generation."
Despite her inhuman origins, Luci is as sex and technology-crazed (according to those ham-fisted headlines) as any millennial. In addition to her installation in the window of MoSex, from which she'll exchange lusty texts with curious passersby (made extra public via a large outward-facing screen), she's also active on various social media platforms. Luci's Instagram is run by West, while her Twitter includes pre-programmed responses (such as "buffer for me daddy" or "stick it in my PCI slot") conceived by West and friends like Darcie Wilder, Kas5h, Eric Curtin and Greg Mania, among others.
Luci is a collaboration between West, MoSex and luxury sex toy makers Lelo, who also funded West's recent exhibit, 98. As with 98, which tackled sexual assault and slut-shaming, West's provocative photographs of Luci include appearances by writer Gaby Dunn, artist Whitney Bell, model Jazzmyne Jay, and adult performers Abella Danger, Ana Foxx and Riley Nixon.
West hopes her latest project will encourage adults of various ages to truly play with Luci via text and/or social media, enjoying rather than attacking the differences in communication methods between themselves and other generations. "It's easy to assume things about a group you don't understand," says West. "I think this often drives people to make negative generalizations about those younger than them. But the truth is that as technology changes, so do our methods of communication."
"I don't think that millennials are inherently detached or unable to to make personal connections," West says. "I just think that we have a different ways of speaking to each other than previous generations. And since this whole project is satirical, I hope people can see the joke and have fun with it." No doubt Luci will be enjoying herself (a relief to all those straight men suddenly concerned with their partners' pleasure); West describes her as "a non-judgemental polyamorous lovebot who's dying to connect in virtually any way you can imagine. Although, I have heard she's pretty into choking."
Still, like her human woman counterparts, the bot does have hard boundaries. "If you send Luci dick pics or start being mean," West says, "she will block you."