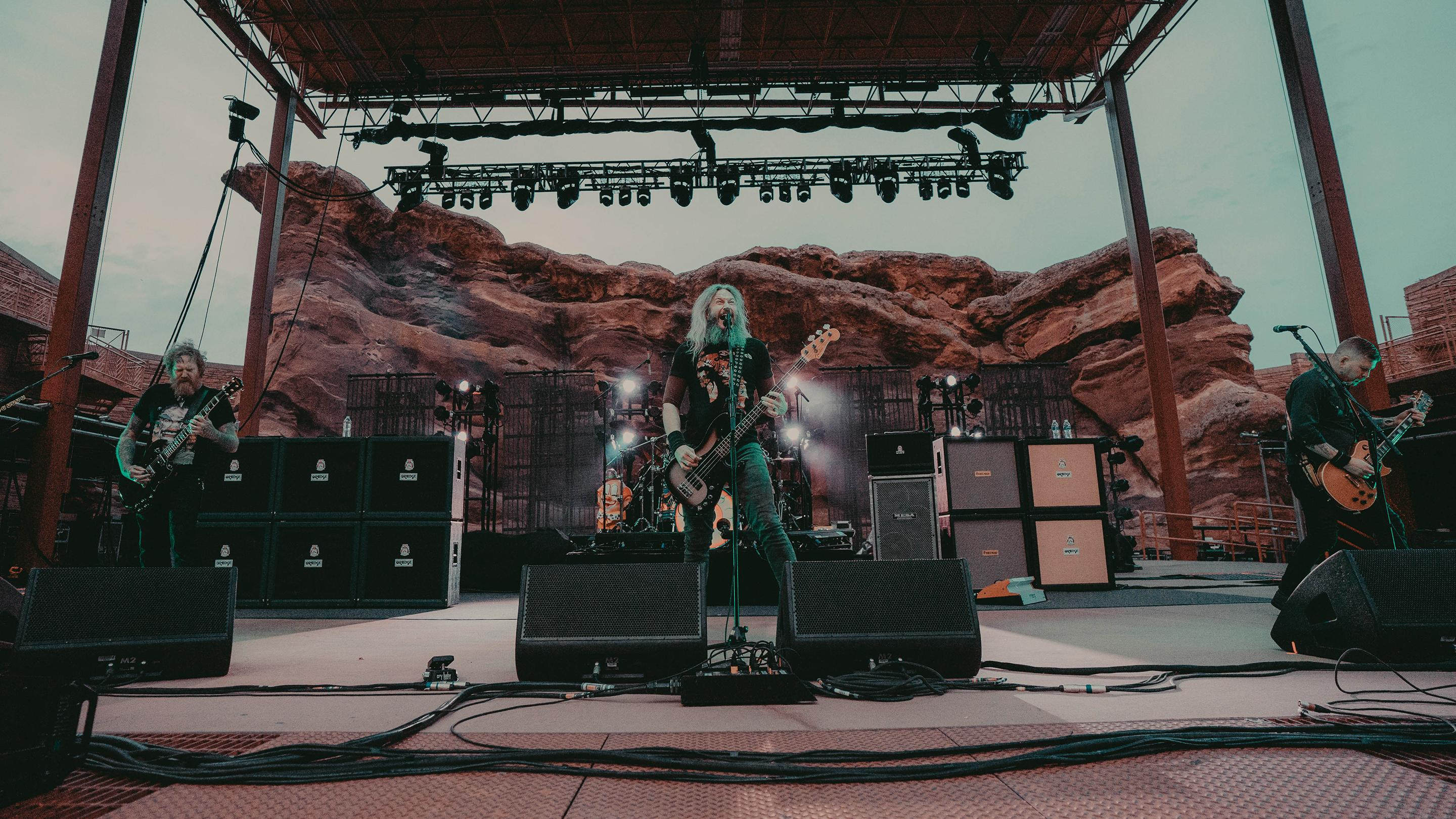 Thrashing Outside Genre Lines: How Mastodon's Experimentation Reaffirms Metal in 2018
Written by Chris Walker
Photography by Jacki Vitetta

Published on

May 18, 2018
Mid afternoon on May 6, more than a dozen ushers working for Red Rocks Amphitheater, the famous outdoor concert venue in Colorado, huddle on a staircase landing beneath a giant slab of sandstone. It's a couple hours before doors open and the 9,000 seats in the venue are still empty, but the ushers are already at work.

They're going over assignments ahead of the night's concert, clad in bright yellow shirts except for the supervisor who is dressed in blue holding a clipboard. His face, decorated with a goatee, is serious. "Alright!" he shouts. "Remember, we're always enforcing against smoking." He pauses momentarily to consult his clipboard. "Now, Steve's going to be up on the north side…"

He proceeds to list off multiple assignments before his focus shifts to the audience members expected to attend the show that night, a double bill featuring the band Primus and the four-piece metal band Mastodon. The supervisor's expression maintains its severity. "With this crowd, if you find you can't do something by yourself, go grab a partner," he advises the ushers grouped around him. "It's not worth risking your safety, even if it's just to resolve a seating issue."

His implied message is: be careful with all the metal heads coming for Mastodon. You never know what to expect with those testosterone-driven, body odor-drenched, metal-loving barbarians. If shit gets heavy, call in reinforcements. It's not worth dying over some hairy ruffians. Yet as he's giving this talk, the warnings seem out-of-sync with a scene playing out only 200 feet away. In front of the Red Rocks stage, the four members of Mastodon, one of the world's most popular metal bands, are hanging around a group of dedicated fans who've coughed up extra dough for VIP tickets and a chance for a pre-show meet-and-greet.

None of them are spoiling for a fight, pounding 40s, biting off bat heads, or performing satanic rituals. Rather, Brent Hinds, Mastodon's vocalist and guitarist, laughs as he explains some of his tattoos (he has a lot of them) on his arms to a young couple. (Hinds then walked away, not to be seen again until the band hit the stage.) Nearby, some kids are taking photos with bassist Troy Sanders, drummer Brann Dailor and guitarist Bill Kelliher. The guys seem happy to do it, accommodating extra photographs so the shots are Instagram-perfect. The band is relaxed, even a little awkward and shy, as fans heap praise on them.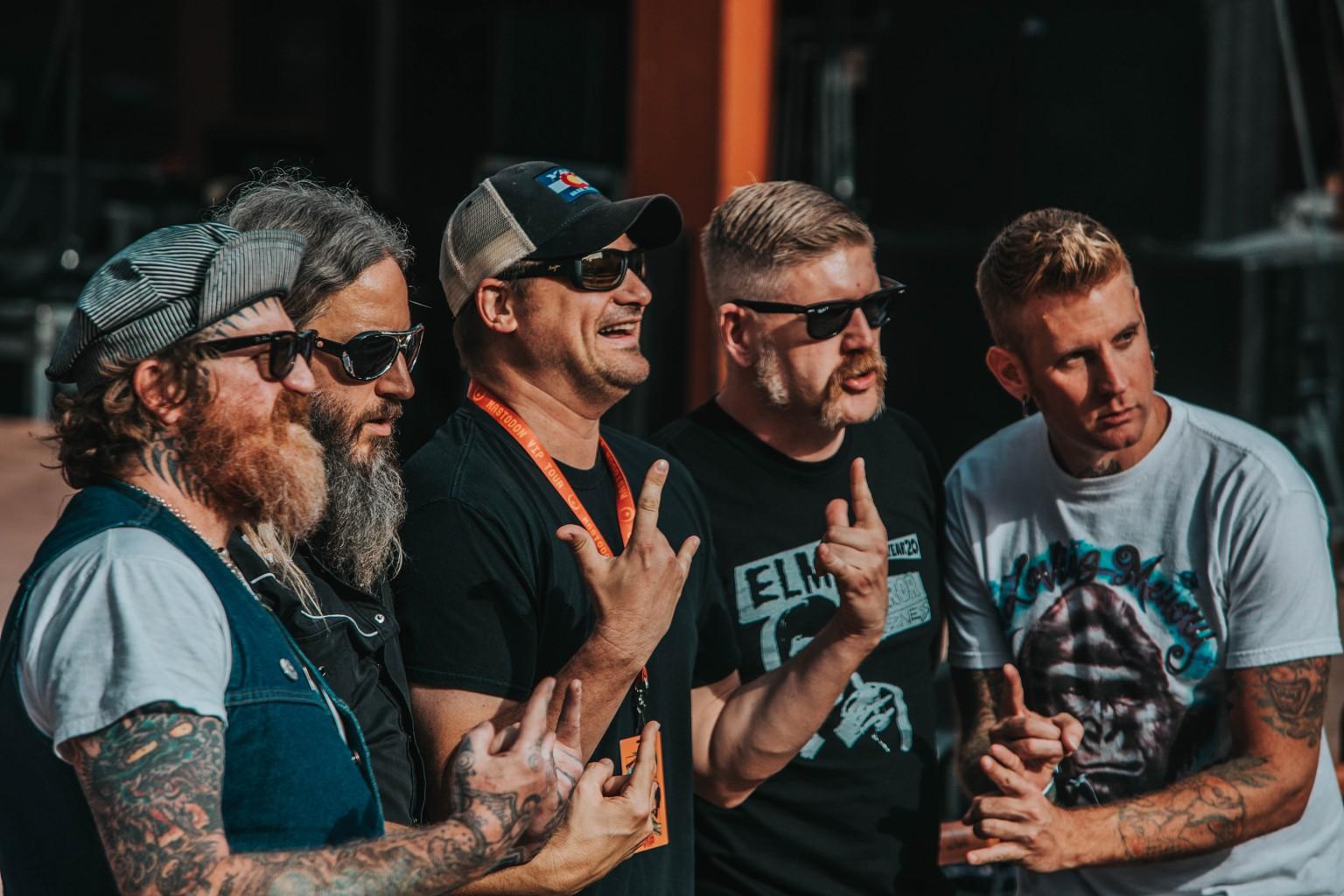 The disconnect between Mastodon's down-to-earth vibe and the ushers' dire briefing raises some larger questions about the way metal music is perceived in 2018. And where's metal music heading these days, anyway? The genre has evolved and branched out so much during its history, from late 1960s pioneers like Black Sabbath and Led Zeppelin, to hair metal in the 80s, to Metallica taking over MTV (and the world), to an embarrassing decline–but later recovery—caused by the Nu Metal wave (think Korn) of the 1990s and early aughts.

If Mastodon is to serve as our barometer for metal music, the Atlanta-based band is a curious case too. The band has a hard-to-pin-down style that began in 2000 around distorted guitar and guttural vocals and then expanded with successive albums into realms such as hard rock and psychedelia. Mastodon's members have famously railed against genre terms like "heavy metal" and hate to be musically pigeonholed, and yet the group is still, for all intents and purposes, a metal band. In fact, they might be THE metal band of 2018, having started the year in the biggest way possible with a Grammy win for best metal performance.

And so Mastodon, a band that tentatively embraces metal, is ironically being thrust by mainstream forces (like the Grammys) as the torchbearer for an entire genre that's been without a clear leader since Metallica reigned supreme. It's a lot of power for one group to hold, so how is this band using it—and where does Mastodon, in particular, want to take metal going forward?

The layman thinks that it's a caveman's style of music. A lot of people don't see the extreme, technical aspects of metal.

Backstage before the Red Rocks show, Mastodon's four members still joke around like they did in their 20s when they formed the band in Atlanta 18 years ago. In this instance, the joke's on Bill Kelliher when he spies a small spray bottle on a dressing room counter and immediately spritzes the liquid into his mouth. Only then does he realize it's not breath freshener, but a topical spray meant to relieve shoulder pain. "Fuck!" the mustachioed guitarist exclaims.
"Don't worry, man, it's just herbal shit–it's fine," chuckles bassist Troy Sanders.

The joking diffuses a lot of nervous energy, as well as the tedium of a long checklist of things to do, before their first show with Primus on a three-month tour. Kelliher has already finished giving private guitar lessons to three Colorado locals—he does that before every show for $175 a pop. ("Just email me and we can set it up," he advises fans). And now the band's tour manager comes into the dressing room to tell Kelliher and drummer Brann Dailor they have another chore: doing press with Playboy. "Okay. So when do I whip it out?" Kelliher quips.
But the guys do turn serious when I ask about their big Grammy win on January 28 in New York. Kelliher and Dailor both classify their "best metal performance" win as deeply meaningful, especially since Mastodon had been nominated but lost three times in prior years—to Slayer in 2007, to the Foo Fighters in 2012 (a contentious loss), and to Tenacious D in 2015 (even more contentious. You can imagine how that went over in the metal community).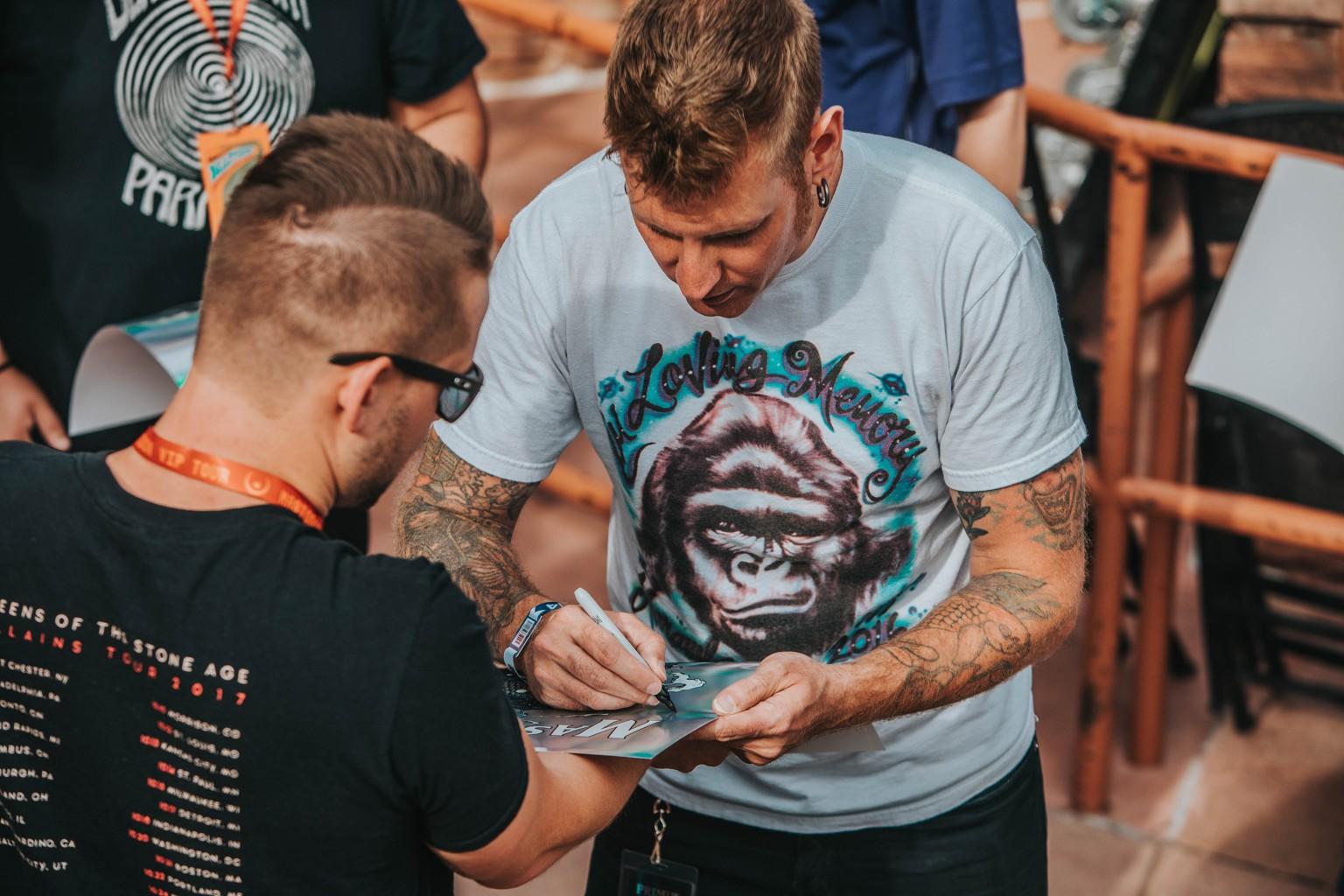 This year, the band went into the awards ceremony with tempered expectations. Dailor's expectations were so tempered, in fact, that he didn't register the words "Sultan's Curse," the name of Mastodon's song nominated off its 2017 album Emperor of Sand, until his wife punched him in the shoulder and yelled, "Holy shit, that's you!" Then the track "Enter Sandman" by Metallica, appropriate if clichéd, blared over the speakers in Madison Square Garden as Mastodon walked to stage to accept their award.

Neither Kelliher nor Dailor remember much about their acceptance speech, calling the moment "surreal." Reflecting on the win, though, Dailor says, "that one song ['Sultan's Curse'] got picked and put us up there, but that's just a placeholder for almost twenty years of slogging in the metal scene, playing in basements and eating baloney sandwiches and sleeping in a van and all that shit."

Indeed, it's been a long road, figuratively and literally given Mastodon's excessive touring, since January 2000, when Dailor and Kelliher moved from upstate New York to Atlanta, Georgia, met Hinds and Sanders at a High on Fire concert, and formed Mastodon. Things took off with the band's debut Remission in 2002, which immediately caught the attention of alternative metal fans for its sludgy, viciously dark soundscape. Ditto with the band's next effort, Leviathan, released in 2004. But while some fans wanted Mastodon to continue writing music in that heavy, distorted style, the band looked to explore other musical avenues. And so over five more albums, including 2017's Emperor of Sand, Mastodon has evolved and pushed its sonic textures into progressive rock, hard rock, reverb-soaked psychedelia and harmonic vocals.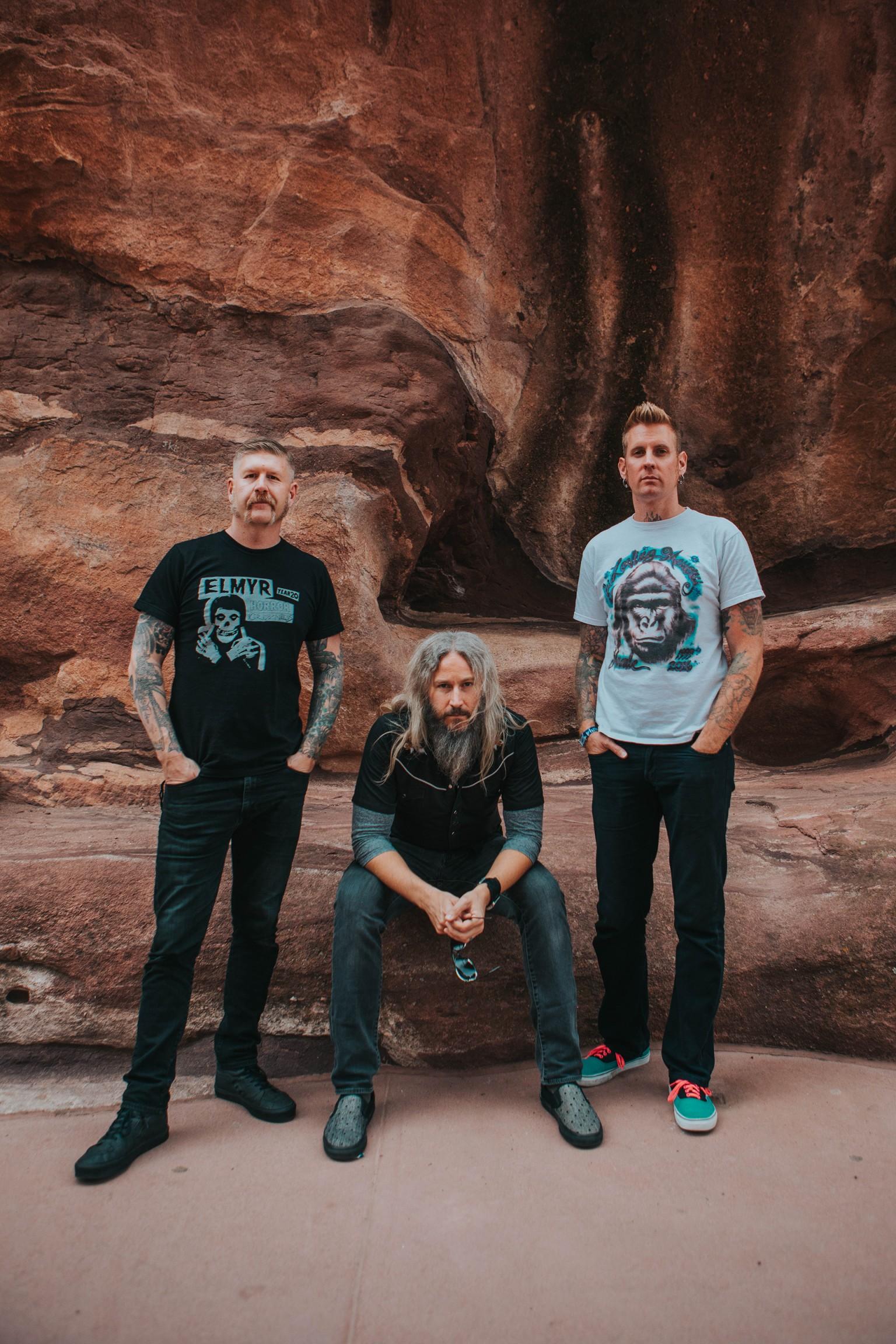 It's also impossible to understand the fandom of Mastodon without mentioning its concept albums, a few of which are fucking far-out. 2009's Crack the Skye, for instance, follows the story of a quadriplegic that learns how to travel through wormholes in space and somehow ends up back in time on Earth reincarnated as Rasputin in czarist Russia. Even for all that fantasy mumbo-jumbo, Mastodon's lyrics tend to be metaphorical and relate to real-life tragedies that the band members have contended with during their career. Dailor's sister Skye, the namesake for Mastodon's aforementioned 2009 album, died by suicide at 14. Brent Hind's brother died of a heart attack in 2010 while hunting and became the inspiration for the band's fifth album, The Hunter. And Mastodon's 2017 release, Emperor of Sand, deals with the ravages of cancer—Sander's wife was recently diagnosed and Kelliher's mother passed away after fighting the disease.

Dailor explains that Mastodon isn't just making music that the guys think is fun or cool, but that they purposely elevate the thematic elements of their songs. "I've always been a fan of concept albums," Dailor says. "I can remember as a kid listening to the Lamb Lies Down on Broadway [by Genesis] and hearing the story and thinking, 'that's cool, there's this whole other element to get into with this record.' In Mastodon, with every song, every riff, I attach something visual to it. It really helps with lyrics writing, because I feel like I'm not that great at loose-leaf lyrics writing. For a whole album, it helps me if there's a story attached to it so that I know, 'this is what's happening in the first song, this is what's happening in the second song, right on down the line so that then I have this outline."

The inspirations for the fantastical elements of Mastodon's music don't come out of nowhere, either. Take 2004's Leviathan, which loosely follows the plotline of Herman Melville's classic, Moby Dick. Dailor said he happened to be in an airport bookstore before a long flight to Hawaii with his wife for their honeymoon in 2003. "We had already done Remission [In 2002] and decided that was a 'fire' record, so next we wanted to do a 'water' record," Dailor recalls. "So I saw Moby Dick in the bookstore and thought, 'water!' And by the time I got to the second chapter on the plane and Melville was referring to sperm whales as sea salt mastodons, I was like, 'it's a sign.'"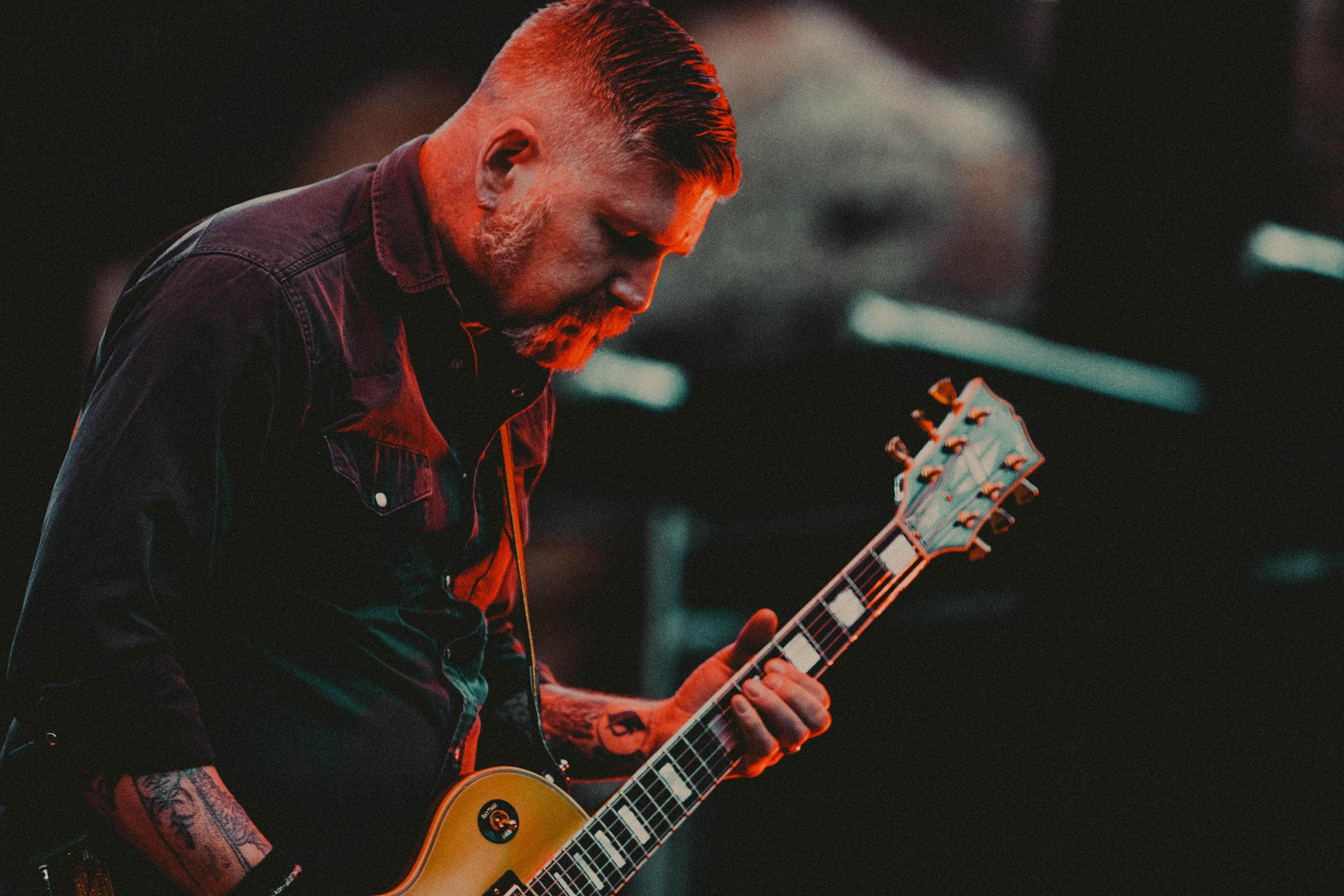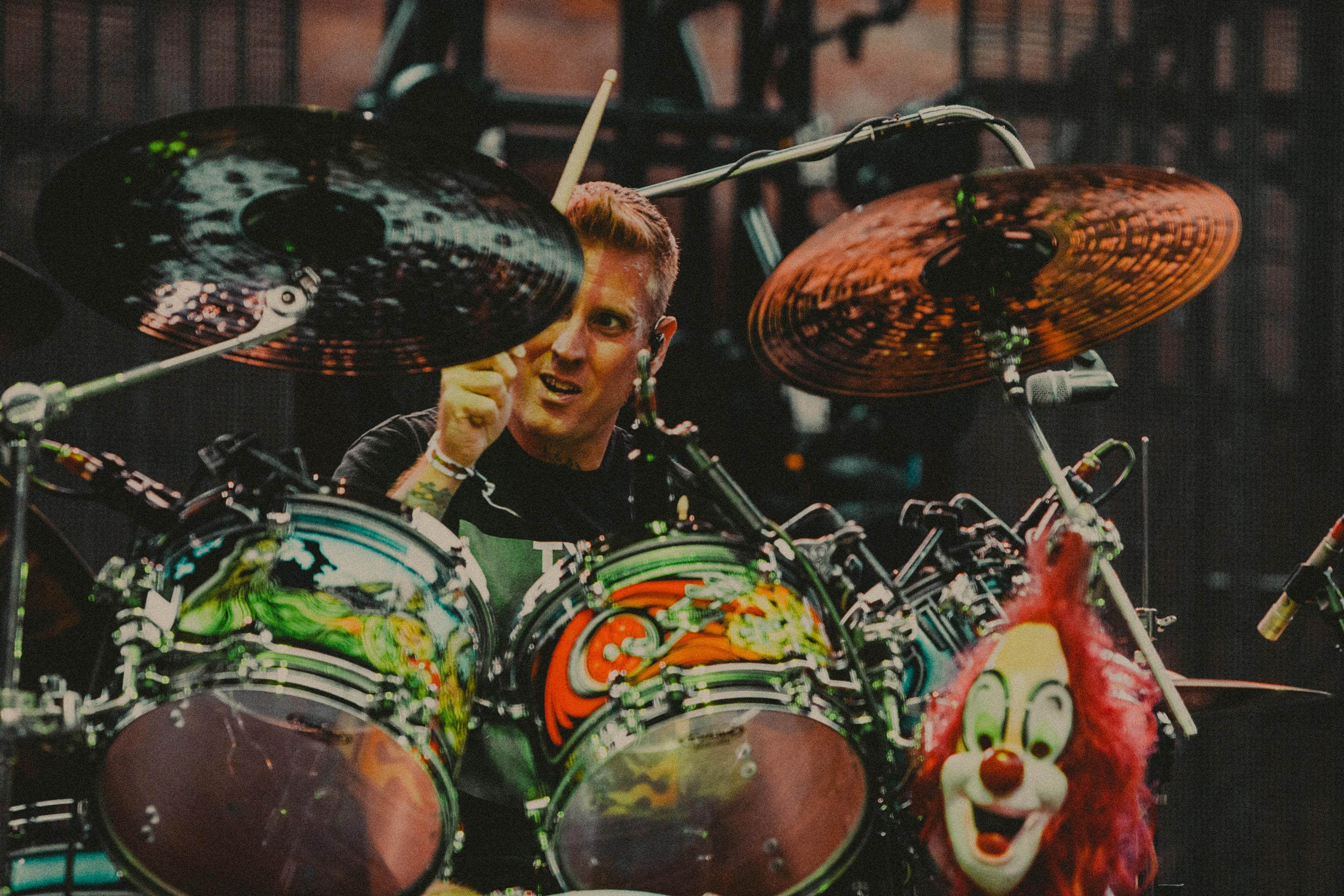 Dailor says whenever he or other band members have an idea, they form a pitch, not unlike what you might hear on Shark Tank, and try to get the others on board with the concept. Some pitches, like basing an album around Moby Dick, are easier than others. For Crack the Skye, with its astral-traveling quadriplegic, Dailor took ideas from his visits to Russia and from his grandmother, who herself believes in astral travel and was into the occult. But he jokes, "I needed to have my shit together for that pitch so everyone didn't think it was crazytown. But I sold it!" He already has an idea sketched out for a future concept album. He'll only reveal, for now, that it's going to involve underwater fish people and a sun coming out of a volcano.

Mastodon is far from the only metal group to create fantasy or sci-fi related music. Led Zeppelin kicked that off with references to elves and Lord of the Rings, and more contemporary bands like Iced Earth and Hammerfall have made that their whole shtick. Still, Mastodon's dabbles with fantasy (the members even appeared on episodes of Game of Thrones in 2015 and 2017) have allowed them to tap into an existing fan base of nerdy metal heads.

But how do the Mastodon guys feel about metal in general? What do they think "metal" means to people in 2018, and does being labeled a metal act hurt or hinder their commercial viability? Dailor and Kelliher both say it's complicated. While metal fans tend to be extremely passionate and guarantee a fan base in any city they tour in, the label "metal" can also dissuade a more general audience from checking out Mastodon.


We try to fold it all in to the heavy universe because it's up to bands like us to widen that universe and claim it.

"I think that people tend to take you less seriously as a musician when you tell them you're in a metal band," Dailor hypothesizes. "The layman thinks that it's a caveman's style of music. A lot of people don't see the extreme, technical aspects of metal. They don't see Dillinger Escape Plan. They don't see Periphery. They don't see how difficult it is to do what those bands do." Dailor even admits to having some personal insecurity around the term. "The thing that's negative is my own internalizing about that. Like, I may be speaking to someone on an airplane or something, and I'm embarrassed by the term 'metal' because of what they might think about me," he says. "But that's my fault for feeling that way. Because I'm looking at that person and sizing them up and I'm judging them, thinking that if I tell them I'm in a metal band, they're going to think I'm not very bright or something. That's a bummer. I shouldn't be like that. I should announce it loud and proud."


By 7 p.m, Red Rocks is completely packed. Despite the swelling crowd, the venue's ushers, who'd been so concerned about violent outbreaks, are not screaming into their walkie talkies and calling for back up. Rather, the audience is benign, a diverse mix of young and old, black t-shirts and flannel, women and men, tattooed and non-tatted.
Surveying the crowd, I'm reminded of something Kelliher had told me earlier in the day. "I see metal fans changing and opening up and being more diverse," he had noted. "At our shows, we now see sixty-year-old dudes rocking out, girls rocking out. We see hipsters. And we didn't see that 15 years ago. It was all dudes in black T-shirts with long hair. And to me that's because metal is evolving. Both metal and punk came from the same cloth. When you're 14 or 15 and you're a boy that wants to rebel against your parents, you want to put on the heaviest, angriest shit you can find. You want to scream! You're so fucking angry you want to get it out of your system and piss off your parents with the loudest music, the most brutal lyrics. So I think that's where it all stems from. And I was there too. But some people just grow out of it."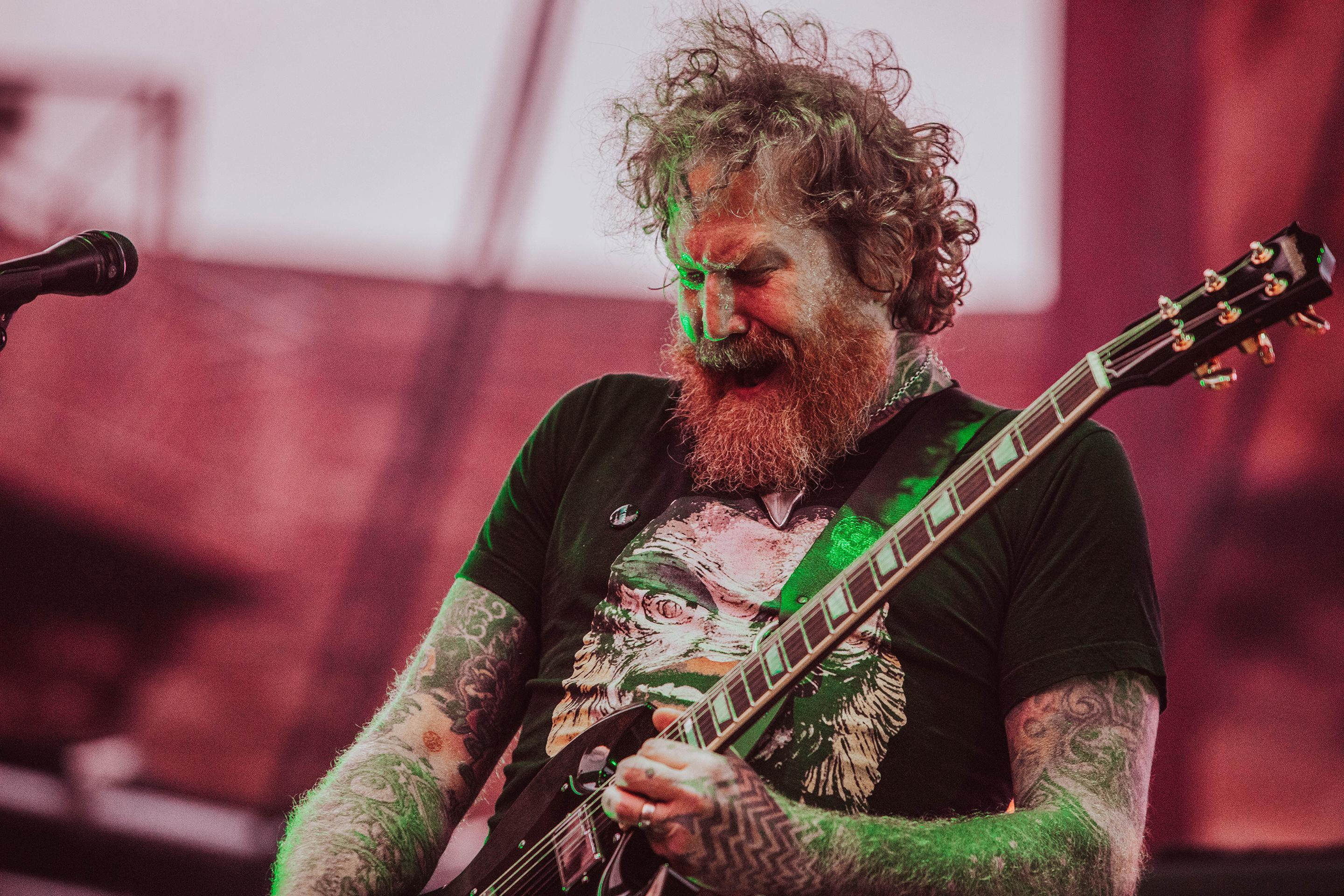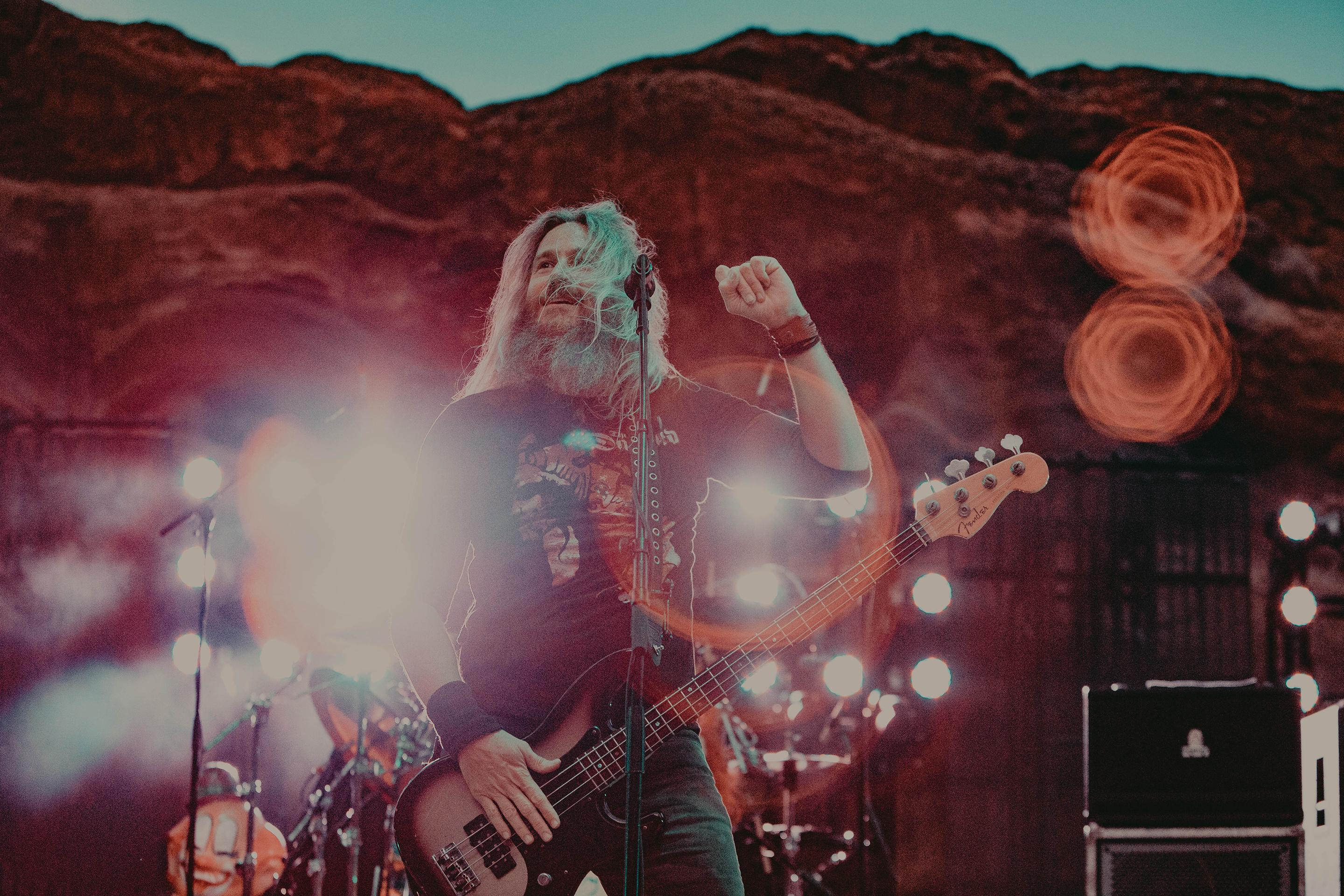 I realize that the supervisor I'd observed briefing the ushers earlier had not grown out of it—at least his antiquated perception that metal is all about anger and violence and fucking shit up. As Mastodon's music blares into the amphitheater, curving along the natural rocks framing the seats, plenty of people are head-banging, making "rock on" signals with their hands, scrunching their faces during the heavy passages of the band's songs. But throughout the concert, they're just as into the lighter, more psychedelic moments. If anything, the variety makes Mastodon's heavy sections stand out more, metal underscored via non-metal.

That's one of Mastodon's greatest talents: the ability to take traditional metal fans along with them into other musical realms, and also appeal to more mainstream rock fans but give them some doses of metal.

If that's where Mastodon is taking metal, it's going good places.