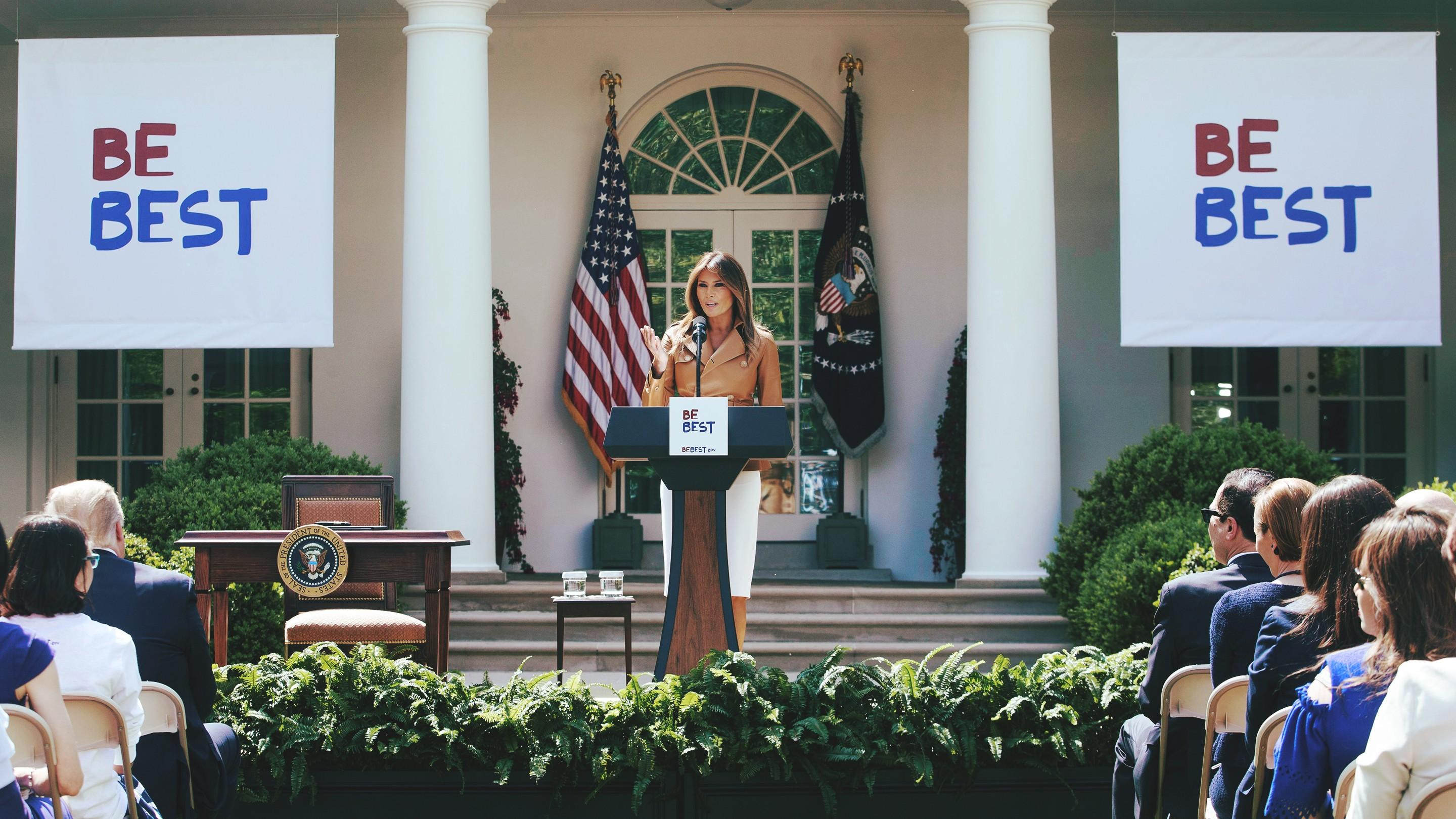 Melania Trump's "Be Best" Anti-Bullying Campaign Should Be Better
Written by Kenya Foy

Published on

May 10, 2018
Blind optimists may view it as inspiration or even a coincidence, but it doesn't take perfect vision to see how Melania Trump's clumsily titled anti-bullying initiative "Be Best" tries hard and fails to pretend that it's not just another poorly executed replica of the previous administration's efforts. Since the First Lady announced her plan to promote "encouragement, kindness and respect" among children while prioritizing "well-being, fighting opioid addiction and positivity on social media," critics have pointed out several legitimate conflicts with the campaign's presentation.

To begin with, after taking a year to decide on a non-partisan cause, you would think there'd be more of an effort to come up with a title a little more original. It bears a striking similarity to the slogan "Be better," which Michelle Obama once used to implore men to become more effective allies in the fight for women's empowerment. Social media users have also accurately pointed out that "Be Best" doesn't really make grammatical sense. That burden doesn't fall entirely on Melania though, who is not a native English speaker. However, her staffers should've taken "best" measures to ensure that her slogan was clear and connected with its intended audience.

Additionally, an educational booklet included among the campaign materials was originally credited to the First Lady and the Federal Trade Commission, although it appeared to parrot portions of the pre-existing FTC booklet that was issued during former Pres. Obama's term. In response to these collective claims of plagiarism, Mrs. Trump's communications director Stephanie Grisham fired off a lengthy statement, accusing the media of making "baseless accusations toward the First Lady and her new initiative."

"Our office will continue to focus on helping children, and I encourage members of the media to attempt to Be Best in their own professions, and focus on some of the children and programs Mrs. Trump highlighted in her remarks yesterday," wrote Grisham.
From NFL players to former colleagues, Trump's victims are numerous, and his bullying forms a disturbing pattern that precedes his presidency and has only increased in frequency since he took office.

Despite Grisham's swift defense of the FLOTUS' efforts, "Be Best" feels equivalent to an unmotivated student putting her name on someone else's homework, crudely rewriting an answer or two and attempting to pass it off as hers. While many are certainly exasperated by the constant flow of foolery coming from the White House, we haven't yet arrived at a point where folks are eager to slap a passing grade on the assignment and move on with feigned ignorance. Besides, we've been here before: In 2016, the First Lady dealt with accusations of plagiarism after delivering her Republican National Convention speech, which was basically a
shoddy revision
of what Michelle Obama said in her 2008 Democratic National Convention speech.
Thus far, many people have taken the First Lady's well-documented disinterest in her husband and his official duties as convincing evidence that she's an unwilling participant in the entire presidency and everything it entails. However, unless this is one of those moments where she's subtly trying to tell us that she doesn't agree with his behavior, this initiative comes off as painfully hypocritical.
It's difficult to take FLOTUS' efforts to tackle bullying seriously when the president himself is an unapologetic ringleader of launching reckless online attacks against anyone he feels slighted by. From NFL players to former colleagues, his victims are numerous, and his bullying forms a disturbing pattern that precedes his presidency and has only increased in frequency since he took office.
If unchecked, child bullies may very well grow up and morph into adult bullies, much like the president. FLOTUS certainly isn't responsible for what he says or the manner in which he uses his social media platform. Regardless, her silence leaves us no choice but to assume that she supports his violent rhetoric and discriminatory ideologies, despite what her "Be Best" campaign would have the public believe.
In the end, it doesn't appear that questioning all the issues with this initiative will stop the administration from defending its current copy and paste tactics. However, as a society, we must always advocate for children who ultimately learn by example, instead of resorting to the old parental dismissal of "do as I say," especially when what you're saying doesn't even remotely align with your actions.