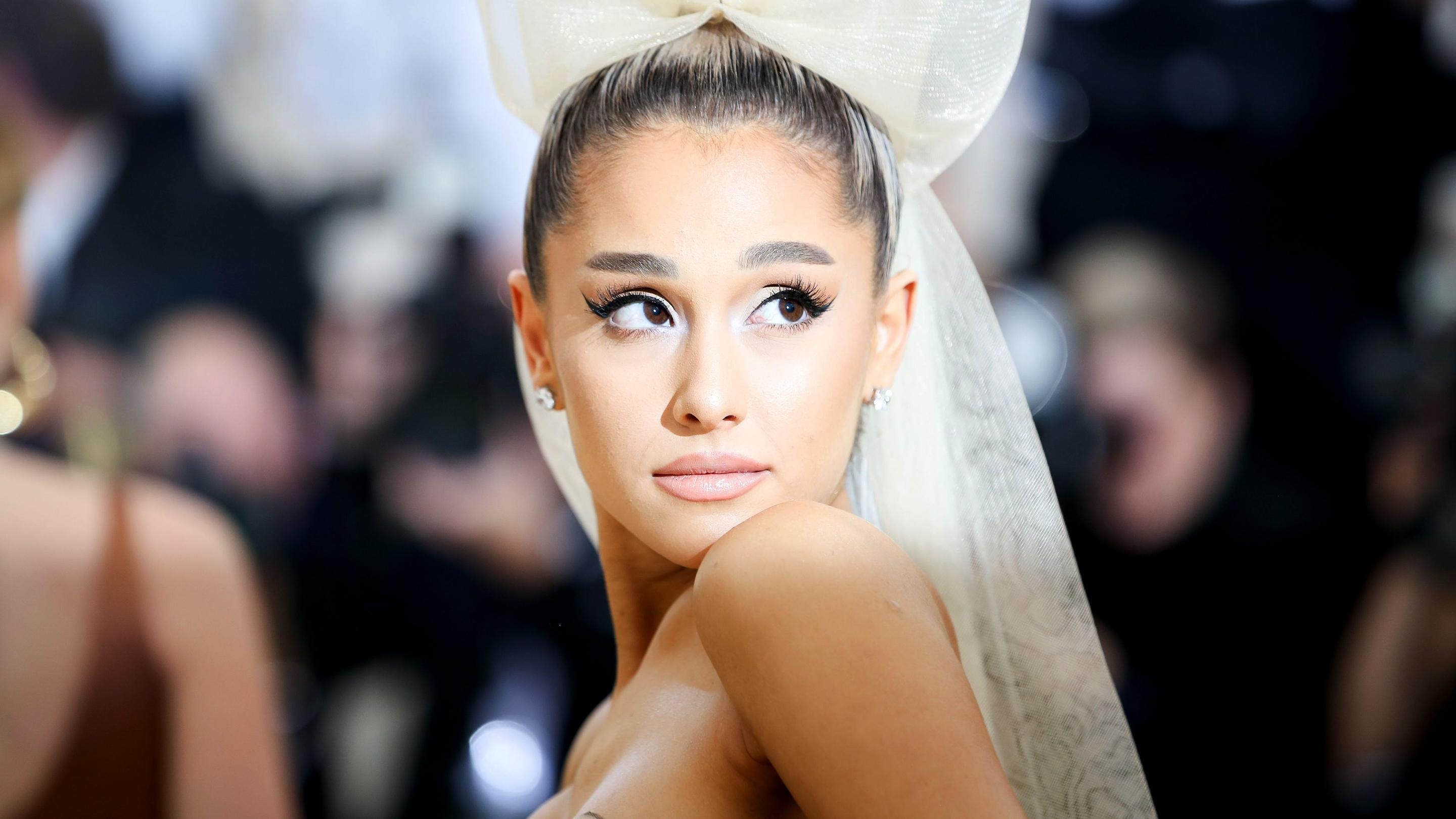 On Our Noxious Obsession with the Dating Lives of Famous Women
Written by Helen Donahue

Published on

May 23, 2018
When news broke this past weekend that Ariana Grande, who recently separated from rapper-producer Mac Miller, is casually dating Saturday Night Live's Pete Davidson, the internet (as it tends to) went up in flames.

While the online world is still reeling from Grimes and Elon Musk's—sorry, Grusk's—
newfound caprice
, Grande's latest fling (which comes complete with cute matching cloud tattoos) seems like the next in a trend of "surprise!" courtships we've collectively become as titillated by as any of the made-for-tv murder trials we binge watch alone in bed. In previous weeks, we've become comprehensively sussed out that a goth-like Grimes would stoop to date an American oligarch like Musk, tickled that punk-rock princess Avril Lavigne has found herself in
cahoots
with a Texas billionaire's son after dating the likes of Nickelback's Chad Kroeger and Deryck Whibley of Sum 41 (who, since we're discussing "odd couples," I'll remind you, dated Paris Hilton in the early aughts). We're stunned that a striking, old-Hollywood beauty like Amber Heard
would go
for a moderately unknown art dealer like Vito Schnabel. And we're just absolutely fucking CONFOUNDED that a fiery songstress like Grande could fall for a goofy, lanky comedian like Davidson.
Why are we so intrigued by who women choose to date? When did we collectively determine what makes an "odd couple?" And, given that masses don't actually know Grande in reality, who are we to judge that Pete Davidson isn't her type (whatever that means)? And if Davidson is, in fact, her type, why are men suddenly feeling like there's "hope for them, too?"
To me, it seems pretty shallow—we need women in their respective professions to stick to their own, and if the woman is beautiful, she should probably be with another beautiful person. We demand relationships that we approve. We want Brad and Angie, Tom Brady and Gisele Bundchen, Ryan Gosling and Eva Mendes, Ryan Reynolds and Blake Lively. We want our celebrity relationships to make sense because we crave stability. We want to feel like we know them, like we can piece them together like paper dolls, possibly even match-make for them. We want to feel like they're our stars, not their own people. They don't get to be anymore, right? They gave that up when they joined social media or the illuminati or whatever.
Grande and Miller represented an "authentic" couple to onlookers, a pop star and a rapper (how unprecedented!) for two years, until today, when Grande set the record straight about their toxic relationship after some imbecile on Twitter blamed her for Miller blowing
two times
the legal limit before being arrested for a driving under the influence last week. It's clear, from Grande's exceptionally
generous words
toward her ex as well as Miller's adverse actions, that her rapper-producer ex-boyfriend does not have his shit together at all. Maybe Grande needs someone who has their shit together, and maybe, just maybe, Pete Davidson is that someone.
Nothing about a person's physical appearance is an adequate indicator of their actions, personalities, or convictions, nor should we expect that.

All mega-hit belting aside, Grande is also known to have a sense of humor, regularly appealing to America's late-night talk show crowd with her hilariously on-point
celebrity impressions
. Fuck, she's a better voice impersonator than most modern comics. And who could forget her famous
"My dick is in flames"
tweet? I don't care if a friend grabbed her phone and sent the tweet without her knowledge. That was funny, and she evidently thought so too because she never deleted it. Why is it any surprise she would choose to date a dude like Davidson? By the way, he's not some fucking swamp monster—he's a cute dude and unquestionably the latest
SNL
hunk.
In the post-election malaise of 2018, we forget the policing of who women should date—even facetiously—has always been a thing, social media just hasn't always been around to freak the fuck out about it, or worse, preface a shared verdict of these unexpected unions.
Remember when Natalie Portman dated Moby? Of course you don't. When Jennifer Aniston dated Adam Duritz (yes, the white, dreaded lead singer of Counting Crows)? What about when Courteney Cox dated him? Or when Katy Perry dated Josh Groban? When January Jones dated Josh Groban? When Selma Blair dated him? Who hasn't dated Josh Groban? And what about every woman who has ever dated Marilyn Manson (Rose McGowan, Evan Rachel Wood), aside from Dita Von Teese, who we apparently believed was appropriately goth enough for him? The world practically went to shit when Nicole Richie started dating Joel Madden. And when Cameron Diaz started dating his brother, Benji Madden. Well, they all got fucking married and lived happily ever after, and Cameron and Nicole are sisters now, so joke's on y'all.
It works the other way too—many celebrity relations in which the man is considered more conventionally fit or attractive or revered career-wise have either come under fire or incited the same "oh my god, there's hope for us all!" remarks on social media. When Chris Evans and Jenny Slate dated, nerdy girls en masse roared from the rooftops that there's hope for funny girls, too. But Jenny Slate isn't just a "funny girl"—she's genuinely gorgeous, smart and talented. Why was Evans held on a pedestal? Because he played Captain America? Well, Slate starred in 2014's
Obvious Child
, a humorous millennial take on abortion, which—sorry—is objectively cooler. Here's a few more that sparked unnecessary attention: Amy Poehler and John Stamos. Janet Jackson and Matthew McConaughey. Zac Efron and Michelle Rodriguez. All of these women are just candidly cool, talented and beautiful, yet celebrity gossip sites continue to make them seem so small compared to the scalding-hot hunks standing next to them on red carpets.
This brings me to a point I've been dying to make: literally fucking nothing about a person's physical appearance is an adequate indicator of their actions, personalities or convictions, nor should we expect that. Grimes has never been lauded as a socialist icon—she's not above capitalism like Musk's, (though she did, in a recent
tweet-and-delete
, tell her fans her boyfriend's anti-unionization stance is "fake news.") but why did we ever expect her to be? Because she looks and sings like a Renaissance Festival faerie 24/7? That's on us.
And why, oh why, is Grande ostensibly restricted by the collective conscious to dating hip hop's bad-boys like Miller and Big Sean. Is it because of her appearance and profession? Precisely one year following the Manchester Arena bombing of Grande's concert that shook her world and shaped her newfound activism, she could probably use some humor in her life. So, here's to hoping Grande and Pete Davidson give us hilarious little babies in the coming years, maybe some kooky celebrity impressions, get even more matching tattoos, and grow old together, or at least stick around long enough for us to become infatuated with someone else's "wacky" celebrity relationship. But please, I'm begging you: stop pigeon-holing women into roles that fit your depraved celebrity narrative of who they should and should not date.